Cristiano Luzzago is offering this Alfa Romeo Giulietta Sprint  Series 1 750B for sale. 1000 MIGLIA ELIGIBLE. Matching Numbers. Only 3.000 km Restoration. Facetti Engine Tuning.EZ Electric Power Steering.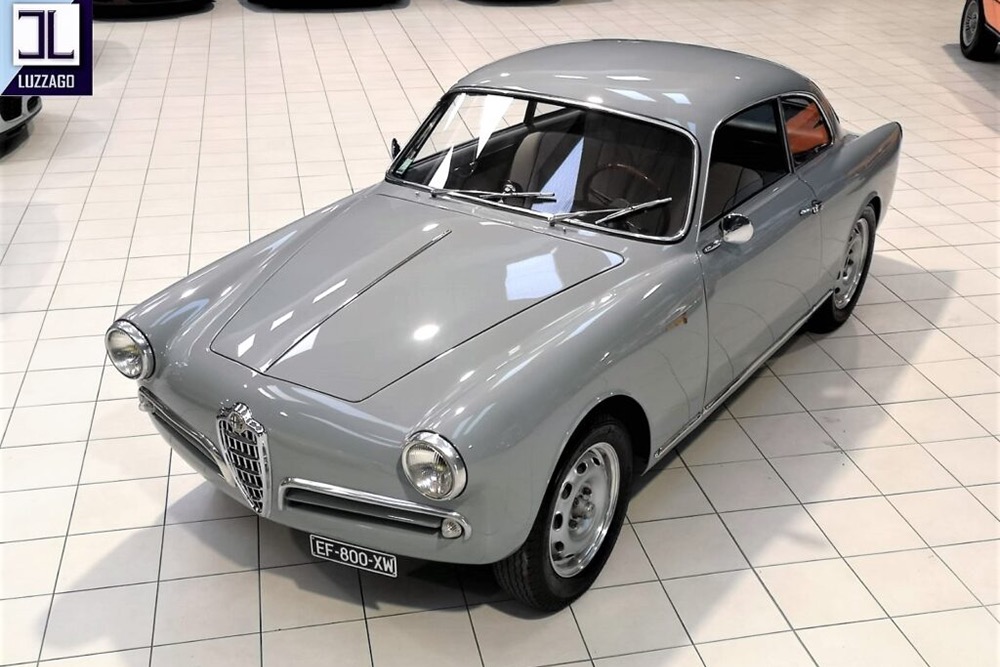 1957 Alfa Romeo Giulietta Sprint
Produced on January 12, 1957 and sold in New York on January 29, 1957, this splendid Giulietta Sprint type 750B with matching chassis and engine numbers spent its entire life in the United States until it was imported to Europe in the 2000s.
Purchased in 2011 by a collector in original condition and complete with all its parts, this Alfa Romeo has undergone a long professional restoration that lasted over five years, carried out with the support of all the best Alfa Romeo specialists.
The bodywork after being sandblasted and restored was subjected to an electrolytic anti-rust treatment.
The mechanics have been fully restored to 100% in every original detail.
The upholstery has been rebuilt to the original factory specifications with original fabrics and materials.
In the first phase of restoration, completed in 2016, this Alfa Romeo was brought back to its original condition as can be seen from the photographs below.
At a later time, as the particularly demanding owner wanted to have better performance, it was subjected to a high-level mechanical preparation.
At this stage the engine was again overhauled with the FACETTI preparation, the KONI road shock absorbers were replaced with competition shock absorbers.
Special suspension with competition springs and shock absorbers were installed keeping the originals separately.
The rear axle was replaced with a limited sleep differential.
The standard steel rims on which new Cinturato Pirelli tires had been installed were replaced with the finest and most expensive Borrani bimetallic aluminum alloy rims with AVON road racing tires.
The exhaust system was also replaced by a stainless steel sports system and the water cooling radiator with a special increased one.
The original (new) steering wheel has been replaced with a wooden Nardi steering wheel.
All original spare parts are supplied with the car.
The car has traveled 3000km since the total restoration and only 500km since the preparation of the Facetti engine.
There is an extensive photographic documentation of the restoration work and all invoices for the work carried out by the specialists for the processing and for the spare parts used.
An EZ electric power steering was installed for ease of use and maneuvering.
The Alfa Romeo Giulietta Sprint is equipped with the original tools.
Click here for further information  
---
collectorscarworld is partnering with the most renowned classic car specialists and dealer-ships in the world. We always offer selected rare and sought-after collectors cars and supercars for sale and every day a special car is featured for one of our partners. The passion for classic cars is diverse, sometimes it concerns the beauty of forms that can be admired at a concours, sometimes it is the smell of rubber , old leather and gasoline at a racing event or trip in the sunset.
Or its a classic car you have great memories with or which your parents owned a longtime ago. Classic cars and supercars are an expression of the lifestyle that someone shares with other petrolheads, and which is immortal, enduring and always a lot of fun. If you are looking for a special car or need support in the evaluation and history of cars, please contact us at info@collectorscarworld.com
---