Canepa is offering this Mercedes-Benz 300SL Gullwing for sale.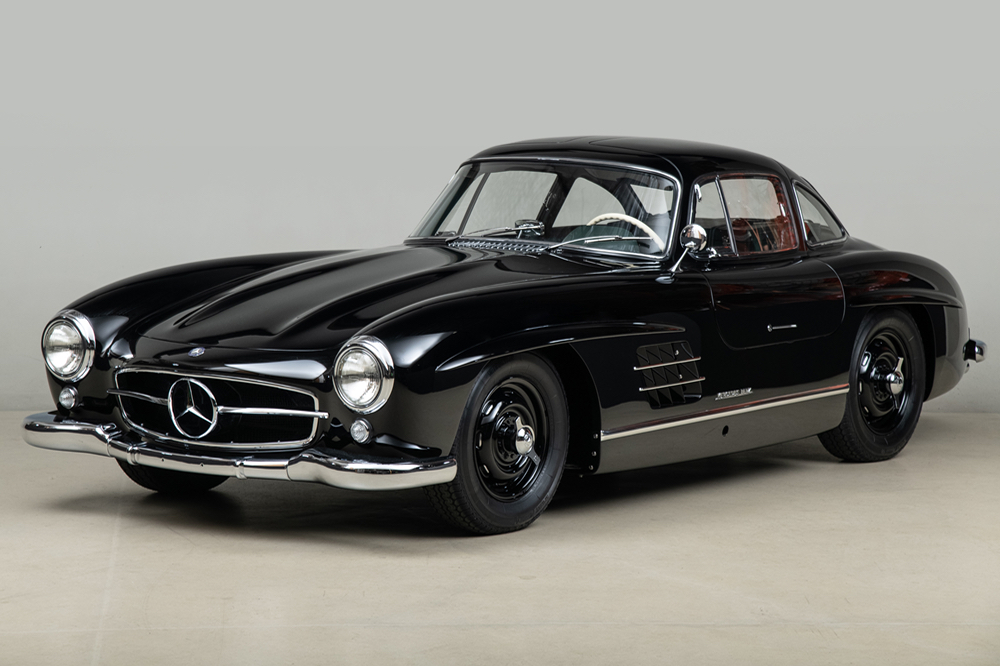 Stunning black over green color combination
Matching numbers chassis, body, and engine
Spectacular concours restoration by expert Rudi Koniczek of Rudi & Company
Known history, with five owners from new
Includes matching luggage set, tool kit, spare wheel, and owner's manual
Mercedes-Benz's most sought-after post-war sports car
Very few cars exude the same level of class, desirability, and recognizability of the Mercedes-Benz 300SL Gullwing, a constant benchmark in "timeless design." With its long swooping hood, perfect curves, iconic upward-opening doors, and a body design that is considered to be this day the epitome of style, the 300SL Gullwing has aged remarkably well. The 300SL has become a staple of many collectors "must have" items in automotive collections, despite the Gullwing starting from humble beginnings from an educated bet of a single person: Max Hoffman.
Max Hoffman was Mercedes-Benz's authorized United States importer in the early 1950s. He also was/would become the importer for BMW, Alfa Romeo, Porsche, Volkswagen, and Jaguar. He correctly guessed that the American public (specifically those with the wherewithal) were looking for a luxury car that also had lots of performance. Max's bet proved to be correct, with Mercedes-Benz making 1,400 examples of the Gullwing, selling nearly 80% of them to American buyers. Considered a resounding success, when the 300SL was released it was considered the best sports car of its era.
The 300SL Gullwing succeeded because it was able to do two things well, not just one. A full-blown luxury car along with a record-breaking high-performance sports car, the Gullwing provided huge performance in a luxurious package. With its dry-sump 3.0-liter engine producing 215hp via mechanical fuel injection and its low-drag bodywork made it capable of reaching 163 miles per hour. In today's speeds this doesn't seem high, but this was 65 years ago where many cars barely went past 100 miles an hour! A 4-speed manual transmission kept the driver engaged, and the cabin inside was appointed like what you expected from a halo model from Mercedes-Benz. They were luxurious, designed well, and were swathed in the best materials to remind you that you were driving something special. For all of this luxury and performance the price didn't come cheap, with the 300SL Gullwing ringing in at $6,820 in 1954, although would be considered a bargain in 2023 money at $77,501!
One of the most unique features of the 300SL was the use of a tubular frame like many of the race cars of the era. Designed specifically for strength while reducing the amount of weight, it ensured that each car had an immense amount of stability upon high-performance maneuvers. The added plus of being able to design an entire chassis in this way was ensuring that the center of gravity was lower and towards the middle of the car, improving handling.
This 1954 Mercedes-Benz 300SL Gullwing was completed on November 18th, 1954 according to factory records where it was then shipped to New York City on November 24th. It was acquired in early 1955 through suburban Detroit dealer Falvey Motors, of Ferndale, Michigan by Jose J. Calvillo. Mr. Cavillo's Detroit studio produced commercial artwork for the automotive industry, most notably the cars depicted in Chevrolet ads of the late 1950s and early 1960s.
Factory records indicate that the car was originally finished in Light Blue (DB 334) over a Blue Vinyl and plaid (L1) interior, although, in a strange turn of events, the car arrived at Falvey Motors finished in Dark Green. This especially upset Jose Cavillo since he originally ordered a silver car! Eventually the businessman took delivery of the car.
The Gullwing passed into the ownership of Fred T. Haddock, of Ann Arbor, Michigan with whom it remained for many years until it came into the ownership of Rudi Koniczek. A world-famous restorer of 300SL automobiles that have garnered awards at events such as the Pebble Beach Concours d'Elegance and the Gull Wing Group National Conventions, Rudi put this 300SL through a no expense spared restoration. Rudi & Company restored this Gullwing at the same time as a matching 300SL Roadster, restoring them as a pair. Every mechanical and cosmetic item was addressed, no matter how seemingly small, and restored to factory standards. The Gullwing was then treated to a deep black paint exterior finish, giving the 300SL a luxurious and sinister look at the same time, paired with a Dark Green interior of vinyl and plaid seats, both of which were correct colors of Mercedes-Benz and offered in 1954.
In early 2011 the Gullwing was acquired by an enthusiast who maintained a collection of cars in his estate in Montecito, California, and while in his ownership the car was attended to by Jack Bianchi. A well-known veteran of the area's motorsport community and a respected sports car and race car mechanic. In September of 2022 the Gullwing was treated to a $10,000 service which was performed after the car had been in storage for a few years. This service included servicing the fuel injection pump, drain and flushing the fuel system, coolant fluid drain and flush, new engine fluid, new differential fluid, new transmission fluid, brake system flush, and new Vredesteins tires.
After a December 2009 restoration, the 300SL Gullwing looks as if it recently left their facility. It was apparent that this was a Rudi Koniczek "ground up" restoration. The factory-correct mechanicals and finishes, from the engine down to the smallest fasteners, all in the correct places and period-correct finishes. When you picture "concours winner", this is an image that should pop into people's heads.
There is nothing cooler than Rudge wheels on a 300SL Gullwing. Upon arrival at Canepa, black finish Rudge wheels were installed with new brake drums, hubs, and axles–a $75,000 upgrade. After an initial inspection, each and every collector car that comes to Canepa is put through an extensive and diligent process called the "Canepa Difference." This includes a major and comprehensive mechanical inspection where all systems are checked and serviced as necessary. They also receive an award-winning concours-level detailing, a thorough cleaning of each and every surface that ensures that every car is a sight to behold. Finishing off with a foam-pad-only polish to enhance the paint finish, each and every car is a perfect example and a personification of Bruce Canepa's impeccable attention to detail. This process helped enhance the already impressive 300SL, polishing the deep black paint finish to an irresistible sheen, detailing underneath the belly pans to make sure all surfaces are spotless, and confirming with test drives that it is indeed a fantastic example.
Sparking a number of emotions from a wide array of drivers, the Mercedes-Benz 300SL Gullwing is a special automobile. A car whose style has withstood the test of time and arguably improved as the years have progressed, there is no better combination of luxury and performance from the 1950s. From its gullwing doors to long sloping hood, tube-frame chassis to its powerful 3.0-liter inline six engine, the 300SL Gullwing is and will remain timeless for years to come and continually transport its owner and driver back to a time of elegance, luxury, and performance. Those looking for an early Mercedes-Benz 300SL in fantastic condition and ready to be enjoyed should look no further.
Click here for further information 
---
collectorscarworld is partnering with the most renowned classic car specialists and dealer-ships in the world. We always offer selected rare and sought-after collectors cars and supercars for sale and every day a special car is featured for one of our partners. The passion for classic cars is diverse, sometimes it concerns the beauty of forms that can be admired at a concours, sometimes it is the smell of rubber , old leather and gasoline at a racing event or trip in the sunset.
Or its a classic car you have great memories with or which your parents owned a longtime ago. Classic cars and supercars are an expression of the lifestyle that someone shares with other petrolheads, and which is immortal, enduring and always a lot of fun. If you are looking for a special car or need support in the evaluation and history of cars, please contact us at info@collectorscarworld.com
---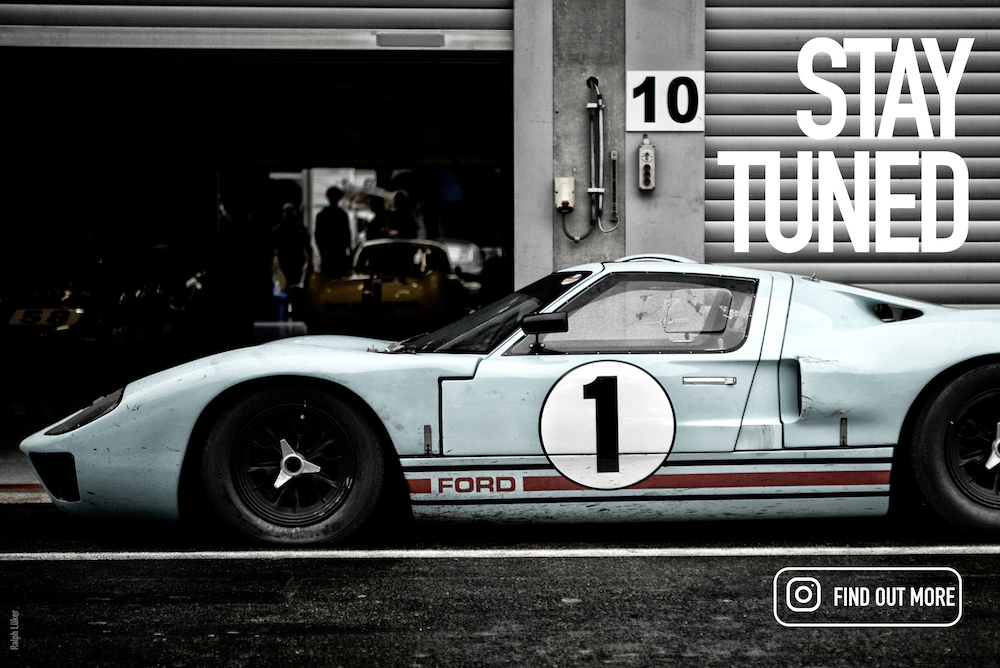 Interested in further "Cars For Sale"? Click here.