Amazing Porsche 356 / 1300 Cabriolet by Glaser – one of the few remaining Cabriolets handbuilt by Glaser Karosserie!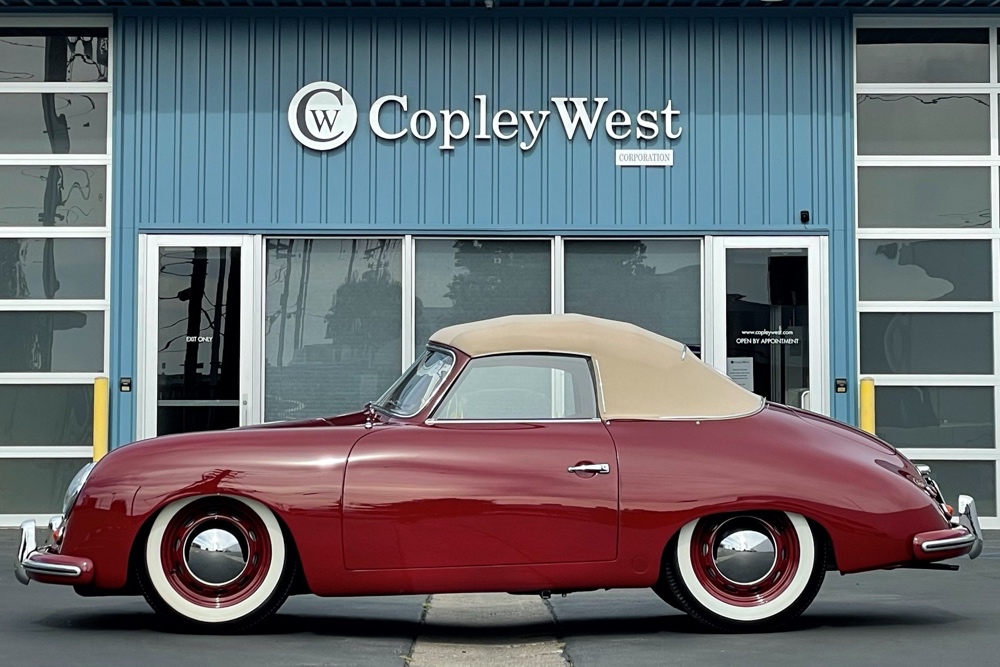 1952 Porsche 356 1300 Cabriolet by Glaser, S/N 12375, Erdbeerot (strawberry red) with tan leather interior, carpets and soft top. Originally fitted with a 1,300cc flat 4 and a 4 speed gearbox.
One of the few remaining Cabriolets handbuilt by Glaser Karosserie and one of the final Glaser's produced. Glaser built the "America Roadster" for Porsche and about 80 Cabriolets, this being #66 and one of their last cars as they filed for bankruptcy and Porsche and Reutter had to complete the remaining run, sources estimate less than 30 Glaser Cabriolets exist today.
#12375 was sold new to Los Angeles as per the Kardex and was owned by Frank Atkinson, of Pasadena, for over 63 years. Frank was a well-known car guy in LA, he owned VW's and Porsches, had a car lot in Pasadena and wrote a book about hot rodding Volkswagens, "Souping up your Volkswagen". Frank raced this car in the 50's under the flag of the Pasadena Sports Car Club.
Copley Motorcars was told he blew up the original motor, a second replacement motor and in 1954 received the car's current motor, a Porsche factory replacement motor, KD 033831. It's a 1,500cc motor that he warmed over back in the day and it has been fully rebuilt by a local 356 specialist.
Spending its entire life in So Cal and under the same ownership for so long, the car was free of rust, just a long raced and a used racing car. Rescued a couple years ago by Porsche specialist, Liberty Motorsports, this coachbuilt Glaser has just been fully restored to its original glory. Ready for the show or touring circuit, this rare and early little Porsche ticks all the boxes. The original owner's manual, spare, wooden fuel stick, complete tool roll and plastic cabriolet dust-cover come with the car. *titled as a '53.
Click here for further information  
---
Want to see further Porsche? Click here.
---