Beautiful and rare Healey Westland Drophead  on sale at Classics2Drive. Only 64 examples were built. One of the last B-type chassis Westlands.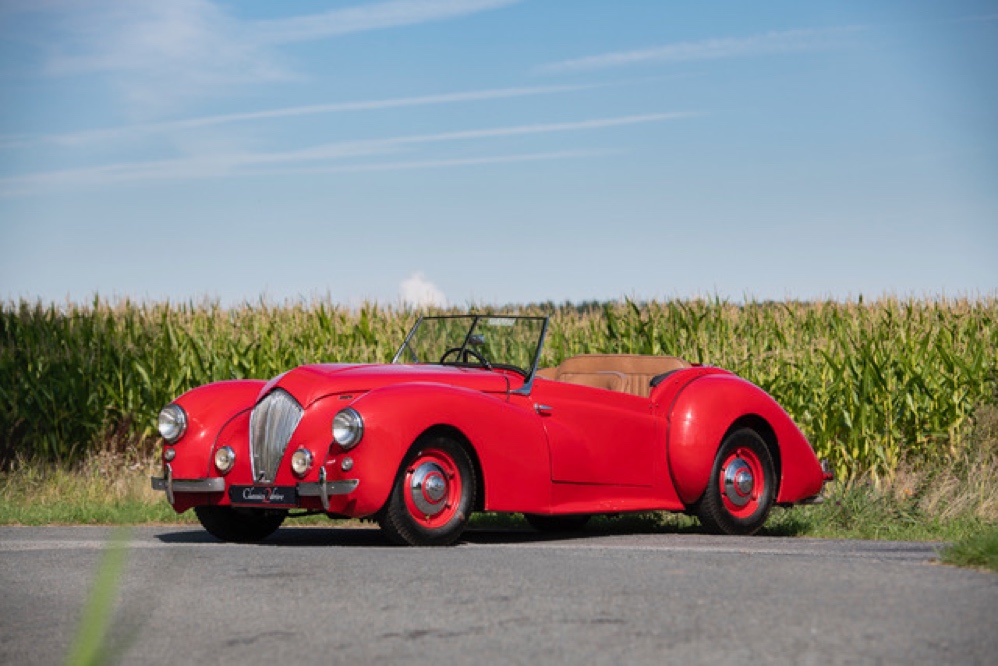 This outstanding Healey Westland Drophead is a two-door roadster version with a very shapely, aluminium handcrafted, curved four-seater body.
Handcrafted body all driven by a 2.4 litre Riley engine, four-speed gearbox and rear axle.
Technically the car is in very good condition and drives well. Cosmetically the car has a charming patina with signs of usage, imperfections and slight scratches in its paintwork. It is a surely not a concours car but a car which has been kept with much love and care and always good maintenance.
Not the original colour: presumably the car was out of a darker colour, probably dark blue when it became its cherry red colour in the years '90. Car presents itself in a very charming colour combination.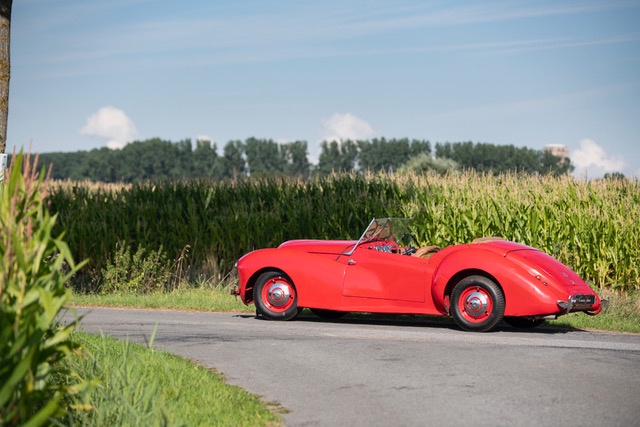 Purchased in 2006 the car is part of a major Healey collection in Belgium, registered on Belgian number plates. Family owns the car since then and car benefits from good care. Regularly serviced and maintained. Recent service and MOT just carried out.
Family keeps its files with even some letters of original owner and old pictures and some history. Car has been with 3 owners since new.
One of its owners was an engineer who worked at the Westland company who restored the car. The Westland Healey Roadster was the first Healey motor car to be built, designated by Donald Healey. The car was manufactured and assembled at Westlands Motors Herefordshire, with many of the components manufactured by the associated Aeroparts Engineering Company. Both were situated very close together.
These cars were hand assembled and they were the fastest cars of the 1940's, capable of 104 mph with tremendous acceleration.

www.classics2drive.com
8000 Bruges, Belgium
+32 (0) 485 442 410 Sandra Hermsen Kowalski
info@classics2drive.com
The Westland was the first Healey that went into competition.
In earlier times they were mainly sold to very wealthy people and film stars. The Westland was released in 1946.
A new high performance touring car, as fast, well-built and reliable as a pre-war sports racer.
As of 1946 these Healey's competed successfully in the Mille Miglia. Alpine Rally and other important competitions.
The car has FIVA papers and has been participating with members of family in several rallies and classic car events.
Click here for further information
---
collectorscarworld is partnering with the most renowned classic car specialists and dealerships in the world. We always offer selected rare and sought-after collectors cars and supercars for sale and every day a special car is featured for one of our partners. The passion for classic cars is diverse, sometimes it concerns the beauty of forms that can be admired at a concours, sometimes it is the smell of rubber , old leather and gasoline at a racing event or trip in the sunset.
Or its a classic car you have great memories with or which your parents owned a longtime ago. Classic cars and supercars are an expression of the lifestyle that someone shares with other petrolheads, and which is immortal, enduring and always a lot of fun. If you are looking for a special car or need support in the evaluation and history of cars, please contact us at info@collectorscarworld.com

---