Graber Sportgarage AG is offering this Alfa Romeo 6C 2500 SS Cabriolet for sale. One of the rare first series Super Sport, 2-seater cabriolet build with an Aluminium body by Carozzerria Pinin Farina – fully documented and beautifully restored!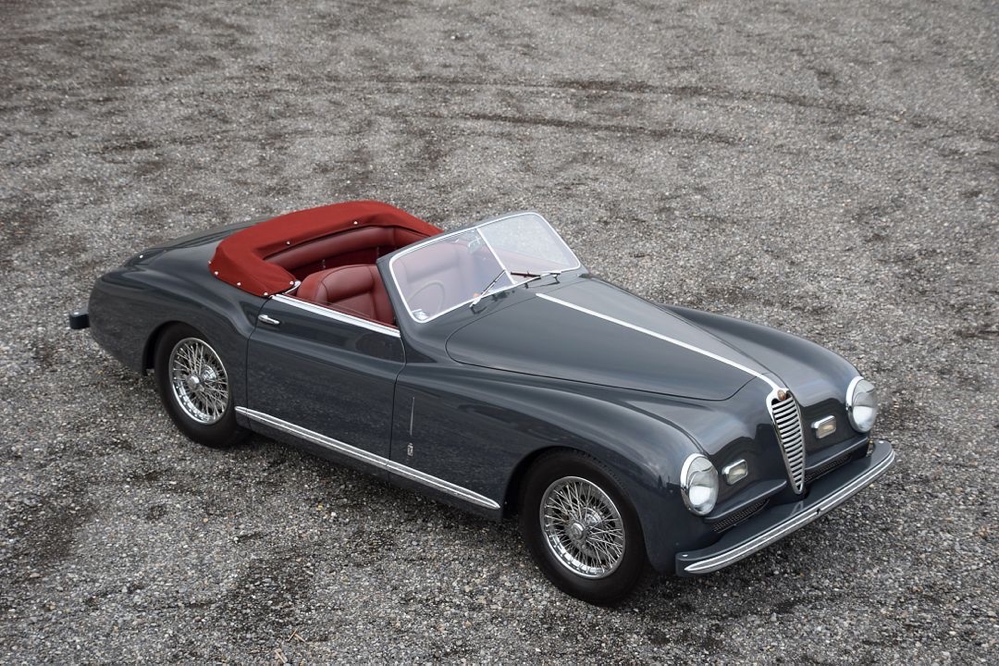 Alfa Romeo's final variant of the vaunted 6C platform, the 6C 2500 was introduced in 1938 and remained in production until 1952. After the war, the production of Alfa Romeo's automobiles still followed their pre-war practices, as was the case with Pinin Farina who provided the bodywork for the example presented here, although the Art Deco obsession somewhat faded. These post-war bodies omitted much of the brightwork, which allowed for their handsome lines to make their own statement. Such is the nature of this beautiful 6C 2500, which is the most desirable short-wheelbase model with the most powerful engine, known as the SS, or Super Sport.
Completed by Alfa Romeo in 1948, chassis no. 915.566 is a rare example of the coachbuilder's first-series of 6C 2500s, built with lightweight aluminum coachwork. Following its completion, the car was delivered to Alfa Romeo Distributor Franz Gouvion of Brussels. The car remained in Belgium until 1960 when its then-owner, a Mr. Ophorst moved from Antwerp to Rotterdam in the Netherlands.
In 1979, the car was acquired by Dutch Alfa Romeo collector Roy Karstens in Noordwijk. Passing through Maurice Kruseman of Maastricht in 1995 the car was acquired by Mr. H. Zappeij of Groenloe. Upon his acquisition, the car was fully restored with work completed in 2013 (all invoices and pictures available).
In 2015, the car was acquired by a Swiss collector and exported to Switzerland. Graber Sportgarage in Toffen was commissioned to overhaul the brakes, radiator, and water pump in Switzerland (2017 – CHF 18'000) and further work was done in July 2020 (CHF 16'000) – Mainly the following – Valve clearance checked and adjusted (the leakdown test shows only 4% on each cylinder which is excellent) – replacement of the dynamo regulator, replacement of spark plugs, circuit breaker, condenser, checking and adjusting the pressure of the clutch unit, checking all instruments, etc..
The car remains in excellent and well-restored condition today, and is accompanied by the previous Dutch registrations (it was never registered in Switzerland), as well as all invoices from both its restoration and service work done by Graber Sportgarage. Its attractive grey over over red colour scheme only serves to highlight its incredible Pinin Farina coachwork.
Click here for further information 
---
collectorscarworld is partnering with the most renowned classic car specialists and dealerships in the world. We always offer selected rare and sought-after collectors cars and supercars for sale and every day a special car is featured for one of our partners. The passion for classic cars is diverse, sometimes it concerns the beauty of forms that can be admired at a concours, sometimes it is the smell of rubber , old leather and gasoline at a racing event or trip in the sunset.
Or its a classic car you have great memories with or which your parents owned a longtime ago. Classic cars and supercars are an expression of the lifestyle that someone shares with other petrolheads, and which is immortal, enduring and always a lot of fun. If you are looking for a special car or need support in the evaluation and history of cars, please contact us at info@collectorscarworld.com
---