Any Crocker Big Twin is a thing of beauty and one of the most desirable motorcycles in the world, but a Crocker like this remarkable 1939 Big Tank Crocker is in another league. Once the property of Bob Ross of Motorcycles Only in Los Angeles, this machine was slightly modified with very racy, kicked-up, open exhaust pipes.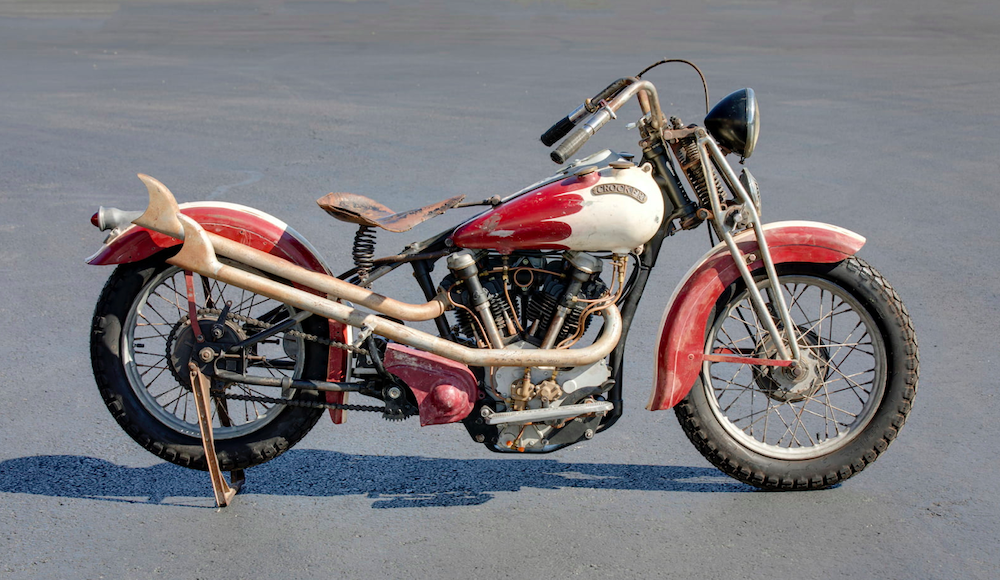 The current owner, Chilli Childs, purchased this machine from legendary early American motorcycle collector Jim Lattin, and in turn, Lattin said he bought this Crocker, which retains its original 61 CI motor, directly from Bob Ross' widow along with six other Crockers.
Childs explained, "I've rebuilt the whole machine and got it all up and running well. It's still 61 CI, we kept it at that engine capacity, so it's a pretty standard machine inside, although it's got a new updated clutch. It's a nice-looking beast. I love those pipes—they scream '50s, and it certainly looks the part. The bike isn't restored … we just put it all back together with new internals."
Al Crocker advertised his Crocker Big Twins for the princely sum of $480 in 1936, to which one could add a $5 special paint job. The first prototype with hemi-heads and small tanks weighed 475 pounds and developed 50 HP at 5,800 RPM, according to Al Crocker, who only planned to build 12 machines originally—and he'd already sold those machines before the first new story came out about his new Big Twins.
Such was Al Crocker's reputation as an "old timer" in the motorcycle industry, having started as a racer and engineer at Thor at the dawn of the 1900s, later moving on to Indian before starting his own small manufacturing business first with Speedway racers of his own design and then with his amazing V-twins.
An interesting note from a 1936 article in The Motorcyclist: "Crocker does not plan to go into large scale at any time, but rather stay closer to the field of custom built motorcycles." Crocker continued manufacturing his V-twins into 1941, but he never built many, as he intended all along to keep his machines bespoke. A 1939 Crocker like this beautiful machine is thus extremely rare, and it's about as enticing a prospect as they come.
Click here for further information
Report by mecum.com
---