Thiesen Automobile is offering this special Lagonda V12 Le Mans Specification for sale. Very well built recreation. Very nice driving experience. Only one owner after recreation works in 2004.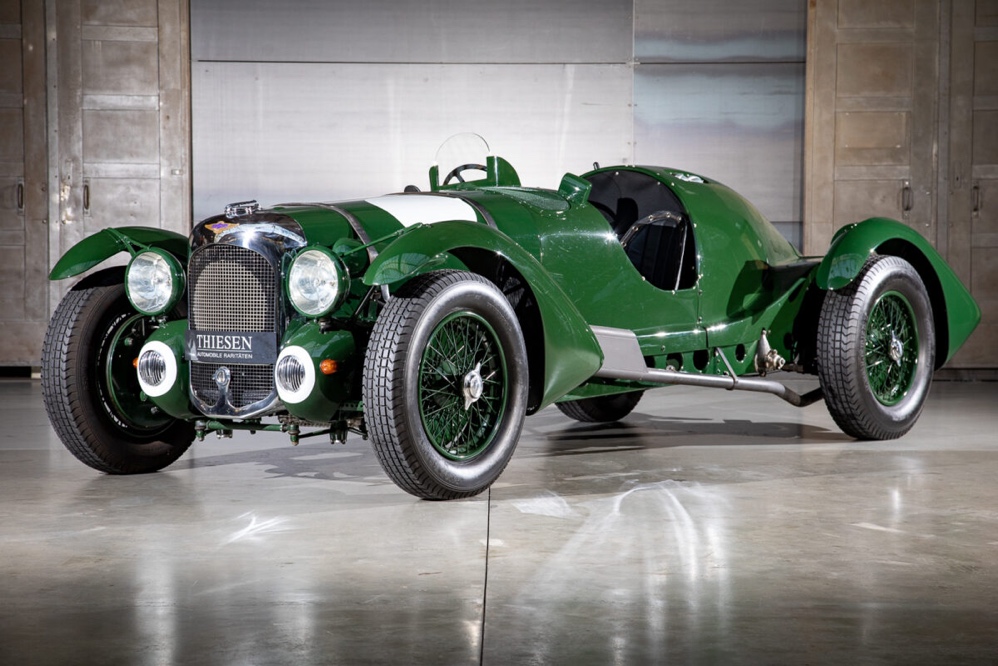 Under W.O. Bentley Lagonda developed a 4.5 liter V12 for a new luxury class. The new Lagonda V12 competed with Rolls Royce and Daimler. In addition to the factory body, there were also special bodies for which Lagonda supplied the chassis and engines. In 1939 two Lagonda V12 competed in the Le Mans 24 hour race. With the help of W.O. Bentley could be built a competitive car in a matter of months. The engine had a higher compression and thanks to four SU carburetors it now had 200 hp. The chassis was made easier by drilling and thanks to the aluminum body the car weighed only about 1350 KG. Result: 3rd and 4th place.
1938 the Lagonda V12 with chassis no. 16034 was first registered as a saloon. At the beginning of the 2000s it got the structure in the Le Mans Specification by the specialist LMB Racing from Belgium. The Lagonda has a German historic license and a new technical control.
Click here for further information  
---
collectorscarworld is partnering with the most renowned classic car specialists and dealerships in the world. We always offer selected rare and sought-after collectors cars and supercars for sale and every day a special car is featured for one of our partners. The passion for classic cars is diverse, sometimes it concerns the beauty of forms that can be admired at a concours, sometimes it is the smell of rubber , old leather and gasoline at a racing event or trip in the sunset.
Or its a classic car you have great memories with or which your parents owned a longtime ago. Classic cars and supercars are an expression of the lifestyle that someone shares with other petrolheads, and which is immortal, enduring and always a lot of fun. If you are looking for a special car or need support in the evaluation and history of cars, please contact us at info@collectorscarworld.com
---