Moto Guzzi Factory Certificate of Origin shows this matching numbers GT16 was built in 1934. It was restored by Italian marque specialists about 2013-14.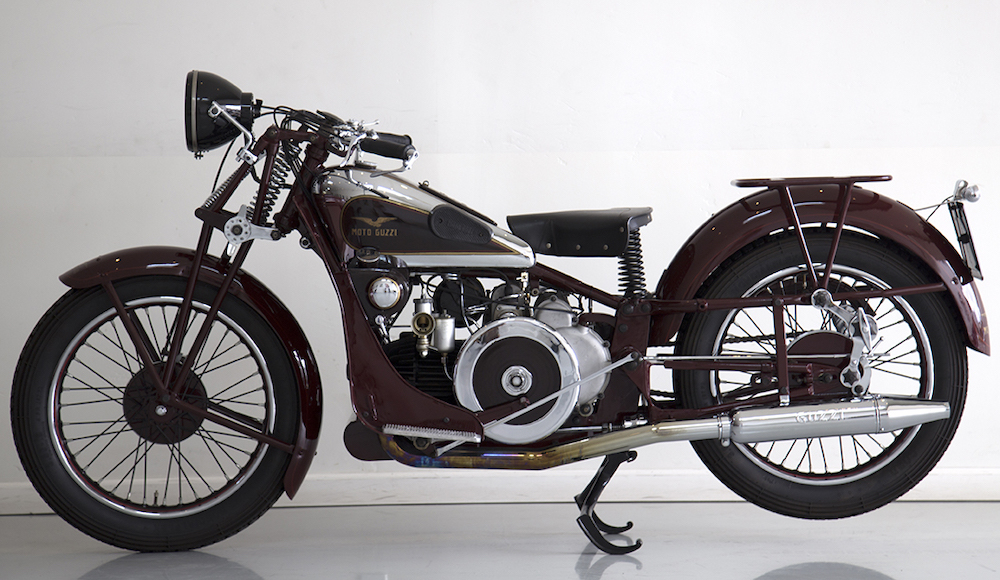 Imported to California in 2015, it was then displayed with eight other Moto Guzzis at The Quail Motorsports Gathering showing the evolution of the Moto Guzzi 500 where the display won "The Spirit of The Quail" award for then-owner Mark Leonard. In 2016, the bike won the Chad McQueen Award at The Friends of Steve McQueen Car and Motorcycle Show. These awards clearly acknowledge this bikes excellence in design, technology, restoration and appeal.
Only 754 GT16 were built, from 1931-34 – this is the final year of production. Its engine and frame were derived from the Sport 15. An advanced bike for the day, it had the new sprung frame design perfected by Carlo and Giuseppe Guzzi. The pressed steel box containing the four springs in compression was an integral part of the structure.
It was fitted with a saddle tank. It had foot rests and leg shields. The rear part of the frame differed from the predecessor the GT (Norge) design: the kickstart was moved to the right side of the bike with the typical Moto Guzzi exposed flywheel, exposed valve spring and pushrods on the engine and right-side tank mounted shift. The color scheme included two shades of amaranth red with black, red and gold pin-striping, like the Sport 15.
Make Moto Guzzi
Model GT16
Type500 Single
Year1934
Frame#1828
Engine#21312; 13.2 hp at 3800 rpm
ColorsAmaranth frame, fenders and leg shields, with amaranth and chrome fuel tank, gold pin-striping and chrome wheels
Click here for further information
more information: grandprixclassics.com
---