Preserving a fleeting moment in time is something that historians and romantics alike often wish they could do. The paintings of automotive artist Nicholas Watts are dedicated to doing just that. He has mastered the art of capturing a brief second in time, not only through the event and local environment, but the emotional aspect as well.

Born in Tunbridge, England in 1947, Watts is a virtually self-taught artist. From an early age he was fascinated with the automobile, including its structure, form and function. Each painting of his is a celebration of that fascination, and is painstakingly researched and detailed.
Working usually with gouache-on-board and later in acrylic on canvas, Watts' work is always exploring auto racing from different angles and perspectives. This is clearly evident in his recent work, which not only opens up new views to historical moments in the sport, but also explores new techniques of capturing speed and action on board and canvas.
By stopping time just seconds before the most fateful event of the race, Watts has managed to hold on to the feeling of that specific moment. Even people who didn't witness the race, or don't know of its outcome can sense the tension in the air.
"I want to put more of myself into my paintings," explains Watts. "I can do this through my use of color and brush strokes, without losing the exact shape of the vehicle. I doubt my style will ever become completely impressionistic, but I have moved away from the photo-realism I began with."
He continually offers us new approaches and perspectives of the motor races, keeping his work fresh and new, and in high demand. If the past 40+ years have been any indication of his growth and potential, we expect Nicholas Watts to remain at the forefront of automotive art for years to come. In his own words, "I only hope I have enough time to create all of the ideas I have in my head."
The Maestro original painting of by Nicholas Watts, hand autographed by Fangio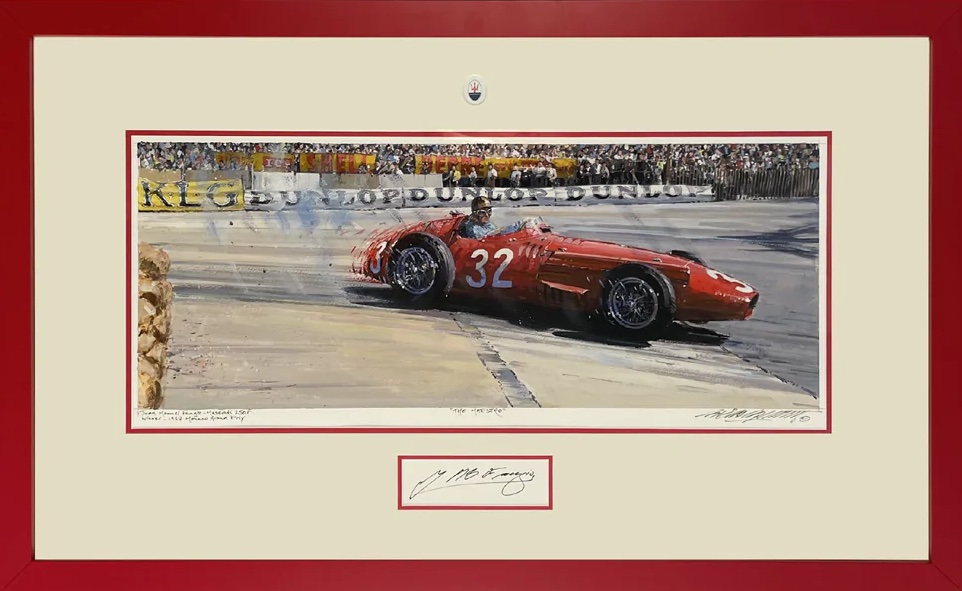 Showing Juan Manuel Fangio in his Maserati 250F at Monaco where he was on pole, had the fastest lap time and won the race, includes a hand signed autograph of the champion, acrylic on board, signed by the artist, 34" x 21" including mats & frame, A+ cond. Find out more
On the Banking giclée by Nicholas Watts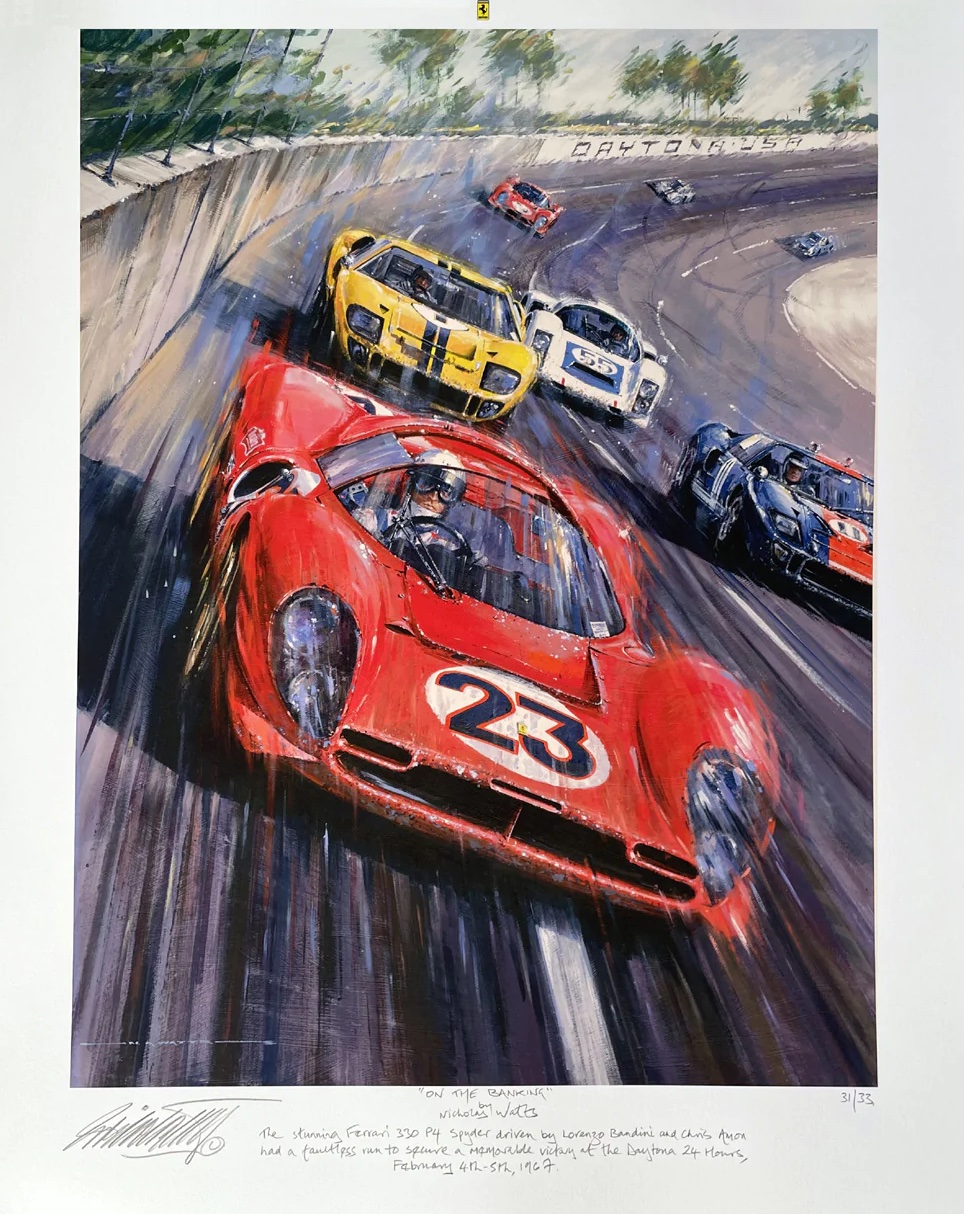 Featuring the Ferrari 330P4 of Lorenzo Bandini and Chris Amon on their way to victory at the 24 Hours of Daytona in 1967, being chased by the Ford GT40 and the Porsche 906, printed on archival paper, signed and numbered edition of 33, includes certificate of authenticity, 24" x 30", A+ cond. Find out more
Spirit of America – Le Mans 1964 giclée by Nicholas Watts, hand autographed by Gurney and Bondurant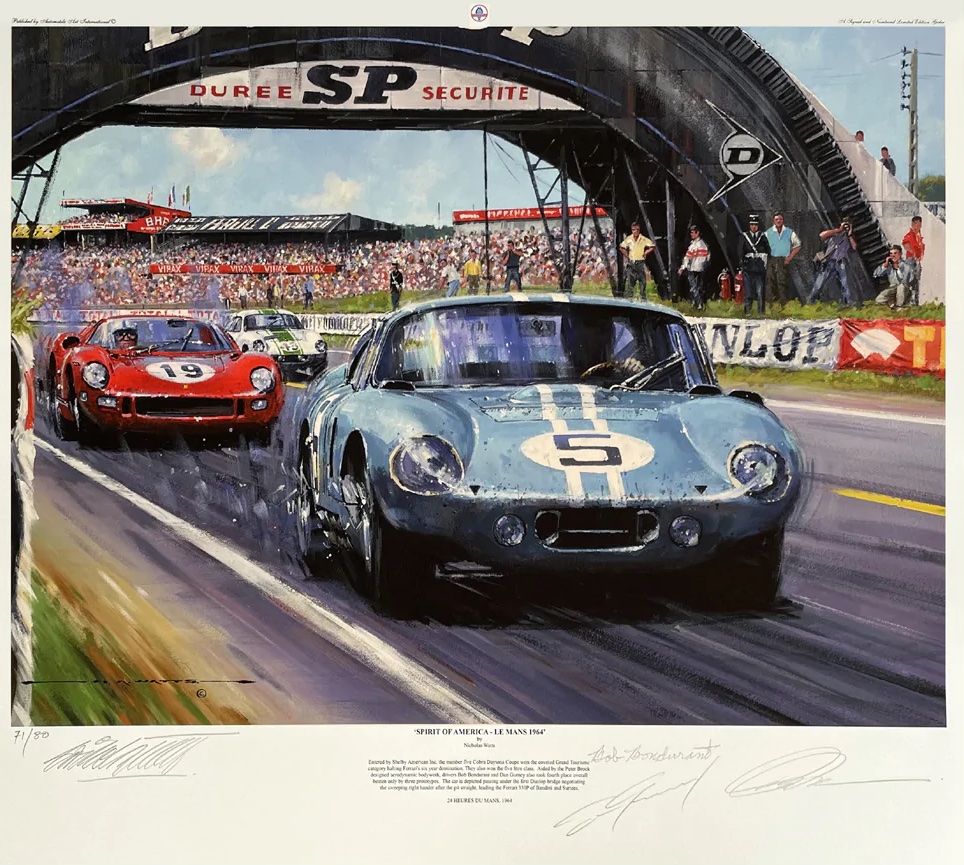 Featuring the Ford Cobra Daytona Coupe of Dan Gurney and Bob Bondurant winning the GT class at Le Mans and finishing 4th overall, autographed by both drivers and the Cobra Coupe designer Peter Brock, printed on archival paper, signed and limited numbered edition of 80, includes certificate of authenticity, 24" x 27.5", A+ cond. Find out more
view their Nicholas Watts collection here