Let's pretend it's the mid-1980s, and you've decided you need to design and build a supercar from the ground up. It should have a striking design, low-volume production, and shocking performance (of course), but what does this theoretical machine absolutely require to set it apart from the typical Italian exotic? A bespoke engine would be nice, at least 12 cylinders—16 if you can manage it. And that engine should be mid-mounted, naturally. Since we're talking '80s supercars, it's gotta have a set of pop-up headlights. While we're at it, better make it two sets of pop-up headlights.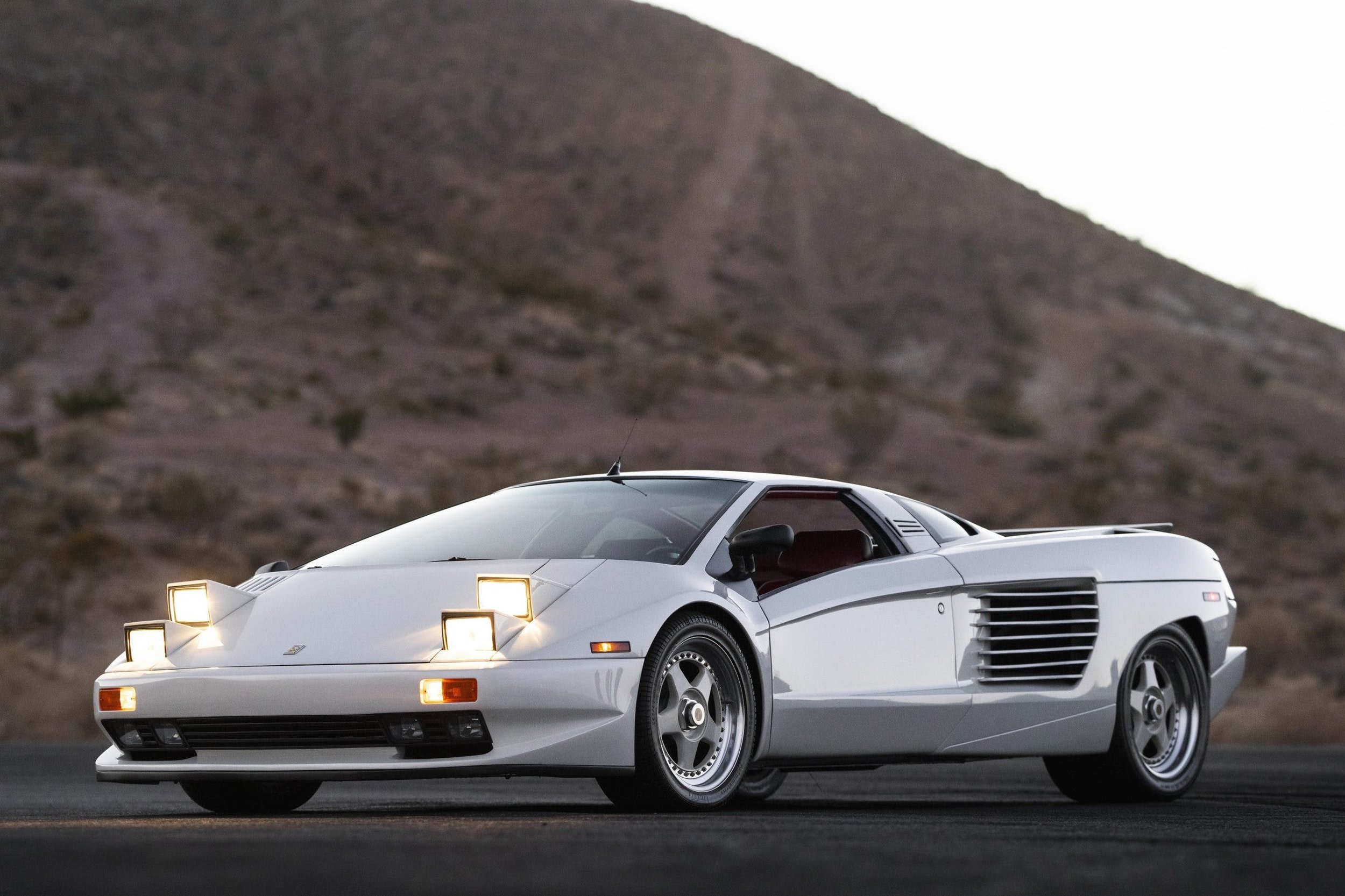 Listing all of the criteria like makes such a car sound like a pipe dream, yet that broadly describes the Cizeta-Moroder V16T, a wonderfully eccentric supercar even by Italian standards.
Although the company only made a handful of cars, far fewer than it had hoped, this one in particular is special because it was the first Cizeta-Moroder prototype, carrying chassis number 001. Early this year, it was up for auction at RM Sotheby's 2022 Arizona sale and sold for $1,363,500 USD.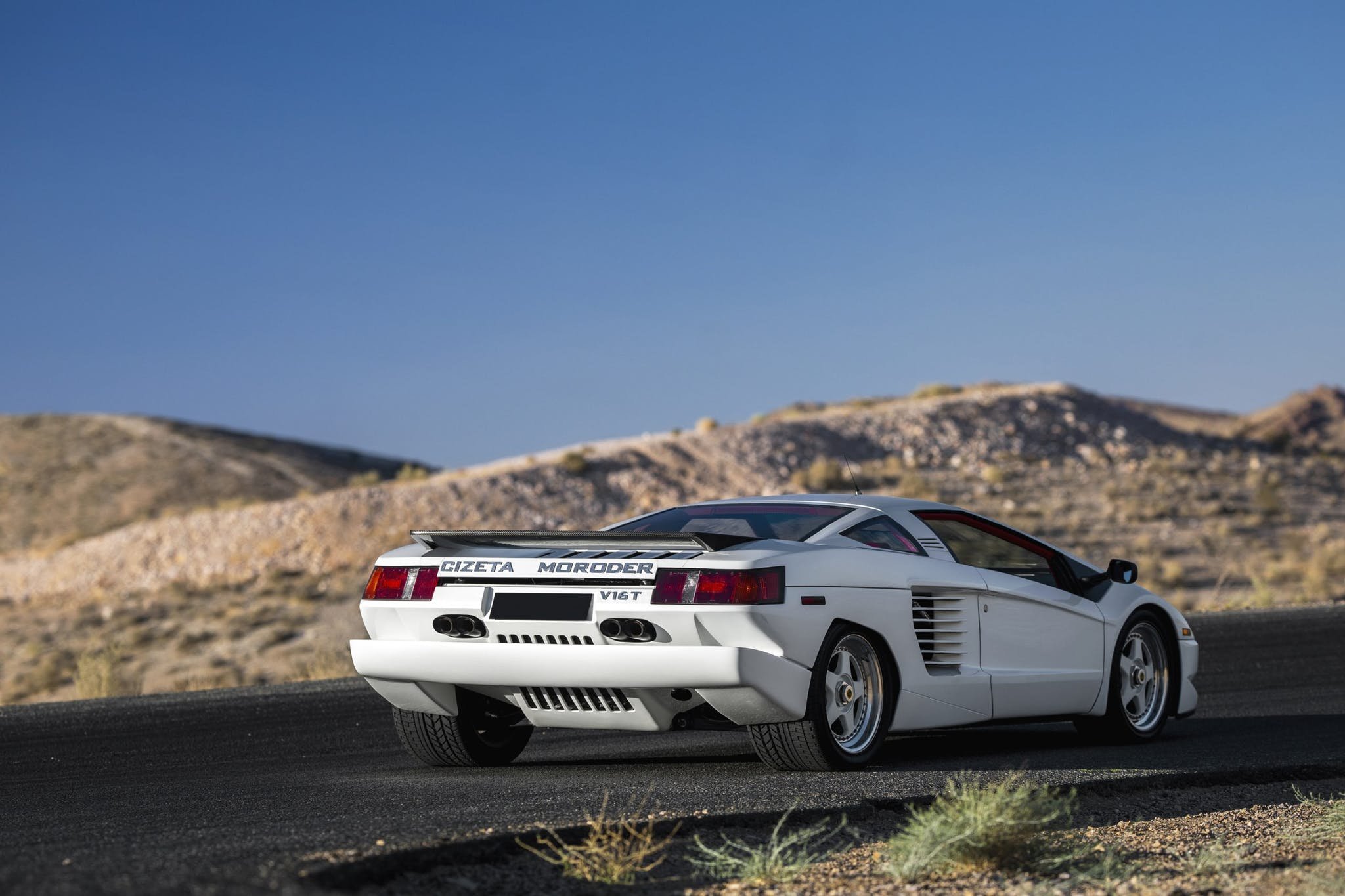 The Cizeta-Moroder V16T was the brainchild of former Lamborghini test driver Claudio Zampolli and his business partner, composer Giorgio Moroder. The two sought to build an even more audacious supercar than Lamborghini, and Zampolli called on some of his former Lamborghini colleagues to make it happen. The design was a collaboration between Marcello Gandini, who had penned the Countach, and Zampolli himself. The aluminum body was mounted to a tube chassis and fitted with one of the more ambitious engine designs of any automotive startup. Based on Lamborghini V-8 architecture, a cast-aluminum V-16 block used four cylinder heads, eight cams, and displaced a rather modest 6.0 liters. Still, the output was an impressive 540 hp at 8000 rpm. Mounted transversely with a five-speed transaxle, the engine made for a wide bay. Considering the power on tap, however, a wide body was required to fit over the V16T's ample tires.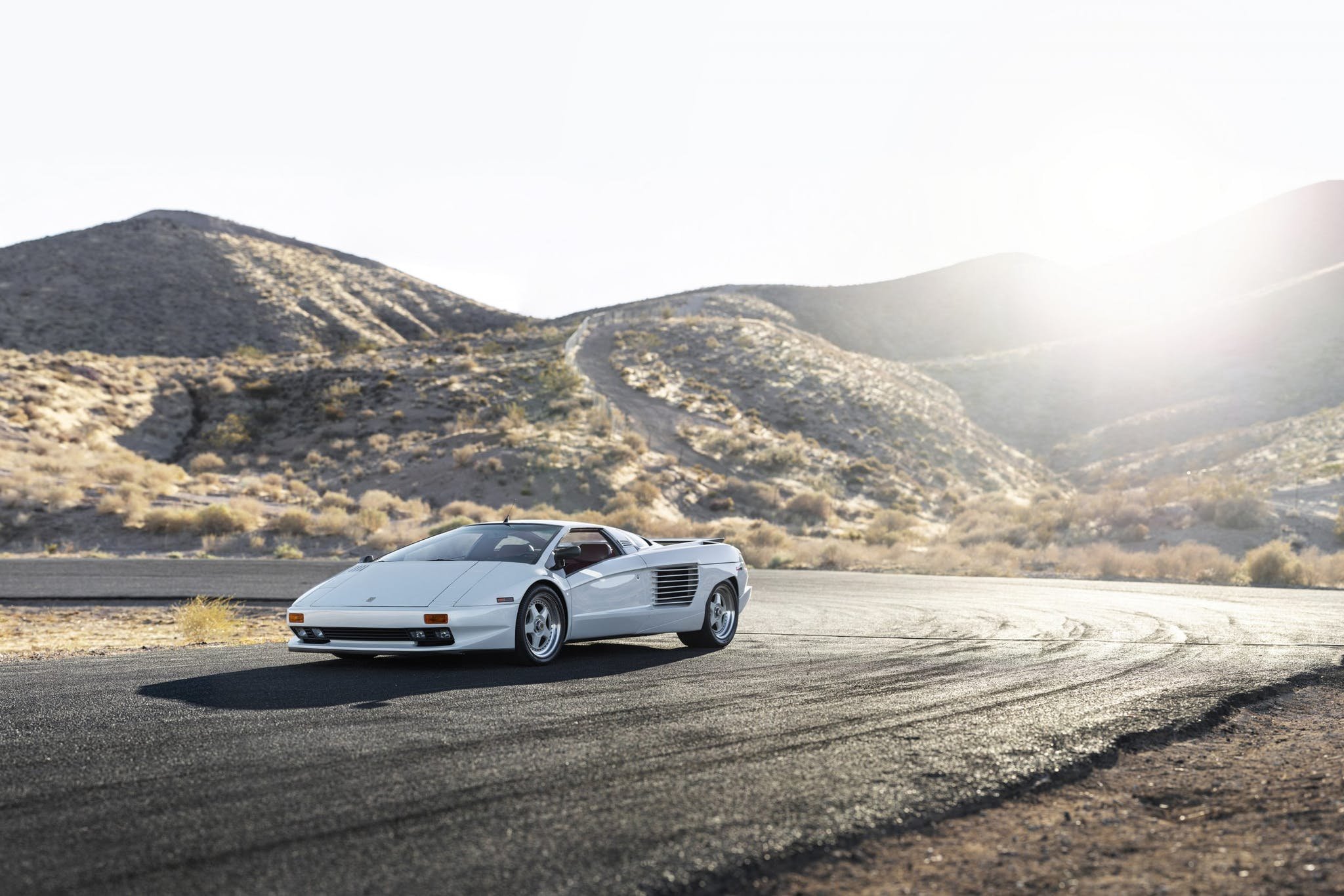 This car, V16T 001, was owned by Giorgio Moroder himself and was used to usher in the brand at a Los Angeles event on December 5, 1988, before appearing at the 1989 Geneva Auto Show as well as the 1989 Los Angeles Auto Show. The prototype has some unique design elements that didn't make it to the later production models. Compared to the later builds, this early model has a marker light in the fender rather than in a wraparound unit in the lower fascia, as well as larger side vents to feed the V-16 engine that use seven strakes rather than the production version's six. Inside, the interior of the prototype uses a different dash, console, door panels, and steering wheel compared to later models. Likewise, the engine bay reveals that this prototype used an intake plenum that placed its twin throttle bodies much closer to one another.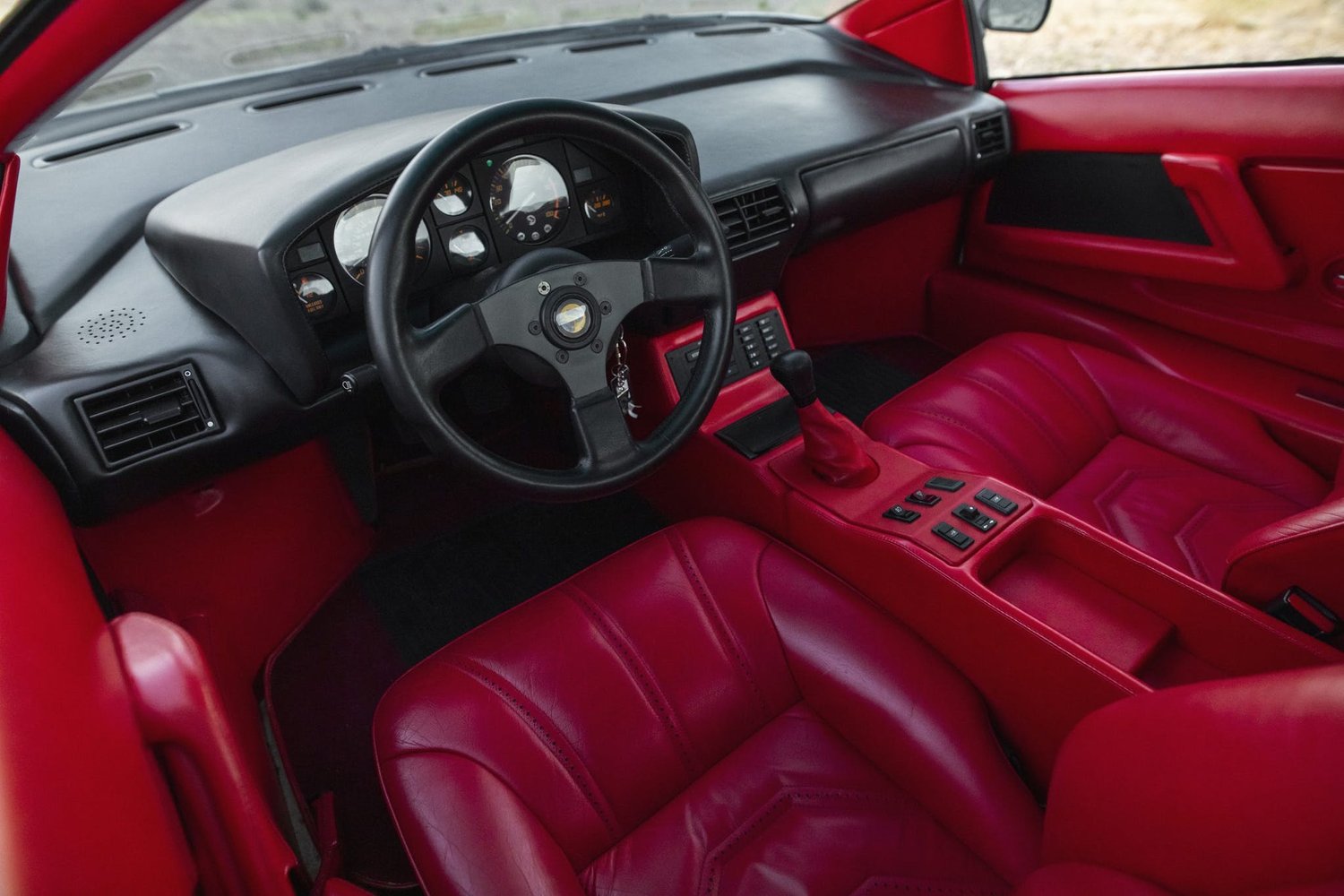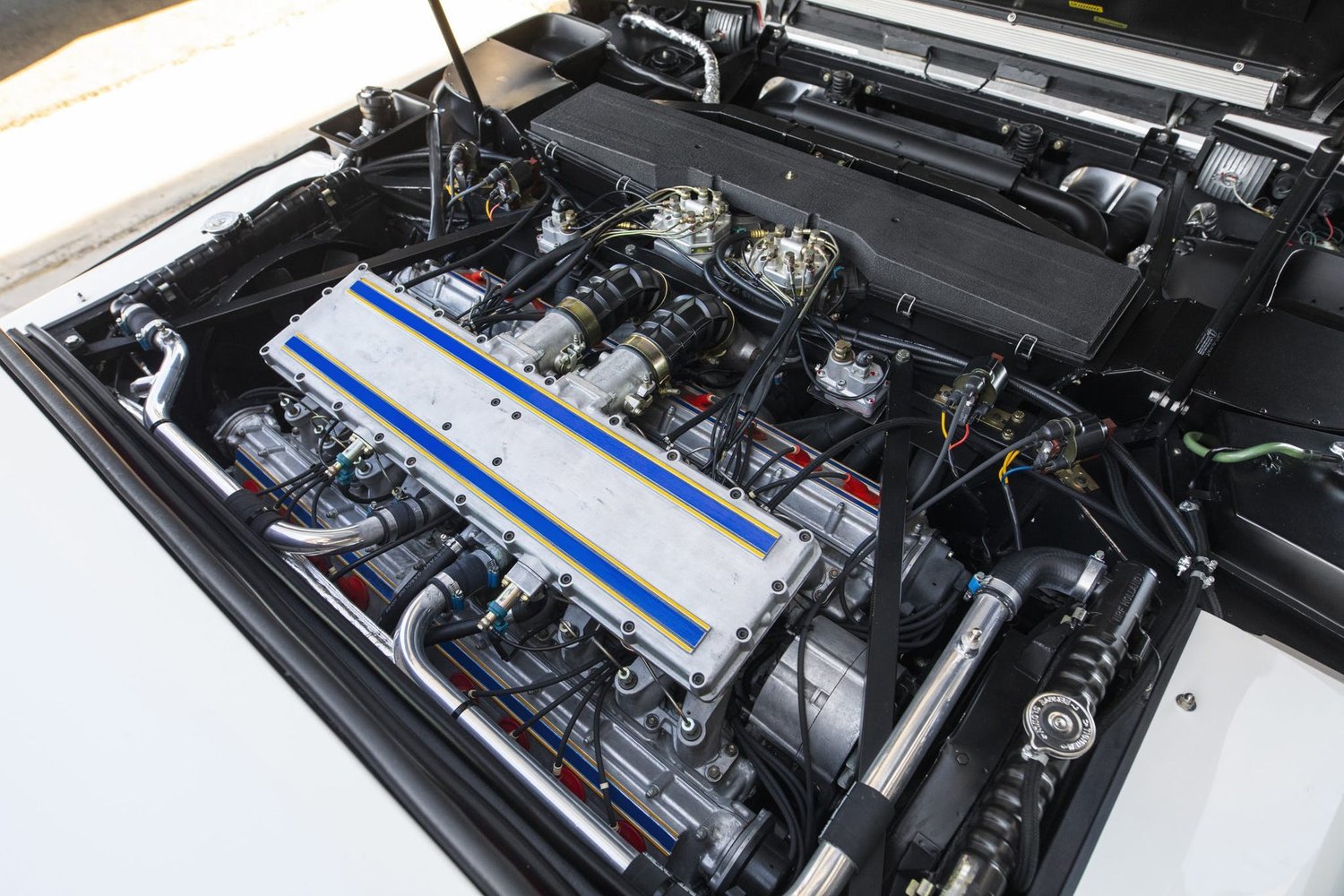 We're sure that an even closer examination will find more unique telltale signs that this was an early imagining of the Cizeta-Moroder V16T vision, but at least some of the bits and pieces that may have been lacking due to its prototype status have been addressed by a team of craftspeople at Bruce Canepa's restoration shop in Scotts Valley, California. The recent once-cover by the shop added some heat shielding and got the car back into road-ready status in plenty of time.
Hagerty Valuation Specialist Andrew Newton noted that the car's provenance makes it particularly interesting to collectors, and the fact that it's been sorted out by Canepa—a crew comfortable with the kind of finesse that a low-volume car usually requires—will likely add some assurance that 001 is operating at its best.
As the collector car market continues to heat up, this one-off exotic with quite the story to tell might prove to be an irresistible V-16 oddity. More information
Patrick Ernzen ©2021 Courtesy of RM Sotheby's
About Petersen Automotive Museum
The Petersen Automotive Museum Foundation is a non-profit 501(c)(3) charity. The museum is located at 6060 Wilshire Blvd. (at Fairfax) in Los Angeles, 90036. Admission prices are $16 for general admission adults, $14 for seniors and $11 for children ages 4 to 17. Active military with ID, personal care attendants and children under age 4 are admitted free. Museum hours are 10 a.m. to 5 p.m. Tuesday through Sunday. For general information, call 323-930-CARS or visit www.petersen.org.