Mecum , the world's largest collector car auction company, is returning to the Del Monte Golf Course at the Hyatt Regency Monterey Hotel and Spa in Monterey, California , this August 17-19. Headline classics are a 1966 Ferrari 275 GTB/6C Alloy Berlinetta (1 of 80 built) , a 1963 Ferrari 400 Superamerica Series II (1 of 22) , a Ferrari 1965 500 Superfast Series II and a 1990 Ferrari F40. Here is an overview of the main attractions: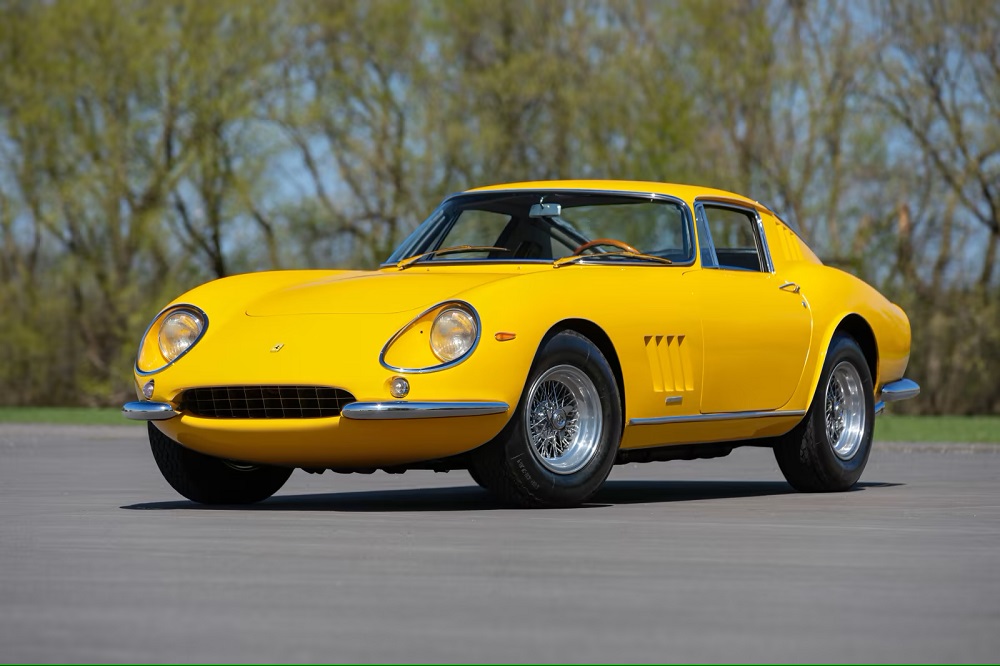 1966 Ferrari 275 GTB/6C Alloy Berlinetta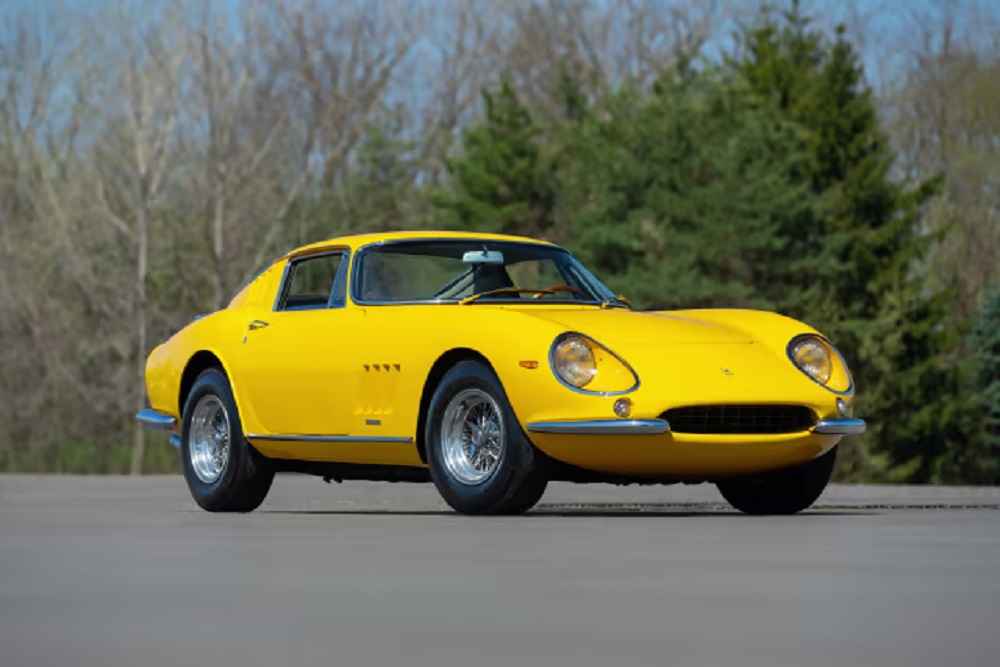 Estimate: $3,000,000 – $3,500,000
Ferrari combined elements of its superb 250 GTO and 250 LM racers to create the stunning 275 GTB, which was introduced at the 1964 Paris Auto Show along with its Spider counterpart, the 275 GTS. Although strikingly different in exterior styling, both cars were the first Ferrari road-going models to have independent rear suspension, a vast improvement over the dated live axle system.
Available with both steel and aluminum bodies, the 275 GTB was purposely styled by Pininfarina to resemble the beautiful GTO, and in 1966 the look was arguably improved by the introduction of a long-nose version designed to reduce front end lift. Additionally, the rear window was enlarged for better visibility and the trunk hinges were moved to the outside of the body. When sculpted in aluminum and armed with the six-carburetor version of the highly developed Colombo V-12 engine, the 275 GTB rated as one of the most intoxicating grand tourers of its time, one described by Autocar Magazine as "a car so good it comes close to perfection."
One of just 80 Ferrari 275 GTBs built with aluminum long-nose coachwork by Scaglietti, Chassis No. 8157 is powered by its original 3285cc Colombo-designed V-12 engine (Engine No. 8157) with the desirable option of six Weber twin-choke downdraft carburetors. Records show this alloy-bodied 275 GTB was sold new to the Pirelli Tire Company, who kept the car in Italy from 1966 to 1968 for the purpose of testing its high-performance tires; indeed, a photograph of this car being driven by noted automotive writer L.J.K. Setright was taken at the Pirelli Proving Ground during testing and was later featured in the Setright's book, "Ferrari." Material evidence of Pirelli's ownership is found in the rear fender flares, which it is believed were added by Pirelli to accommodate wider tires in testing.
In 1968, the Ferrari was sold to Pietro Achilli of Milan, soon after which it was exported to the United States in 1969. By 1984, it was in the ownership of Earle W. Hartley Jr. of Thomaston, Connecticut, and in 1987, Peter Malinchoc purchased the car from exotic car dealer and vintage racer Nick Soprano of Motor Classics in Bedford Hills, New York, who verbally conveyed the previous owner had been Peter Livanos, the famed Greek shipping magnate who was then also a majority shareholder of Aston Martin.
Malinchoc then commissioned Berlinetta Motorcars of Long Island, New York, to completely restore 8157 and finish the car with Giallo Fly (Fly Yellow) paint and a black leather interior. The effort was rewarded when the car earned First in Class honors at the 1991 Ferrari Club of America's National Concours in Washington, D.C. Part of a private collection since the mid-1990s, 8157 remains in sensational condition and is offered with maintenance records since 1999 and the all-important tool roll.
find more information here
1963 Ferrari 400 Superamerica Series II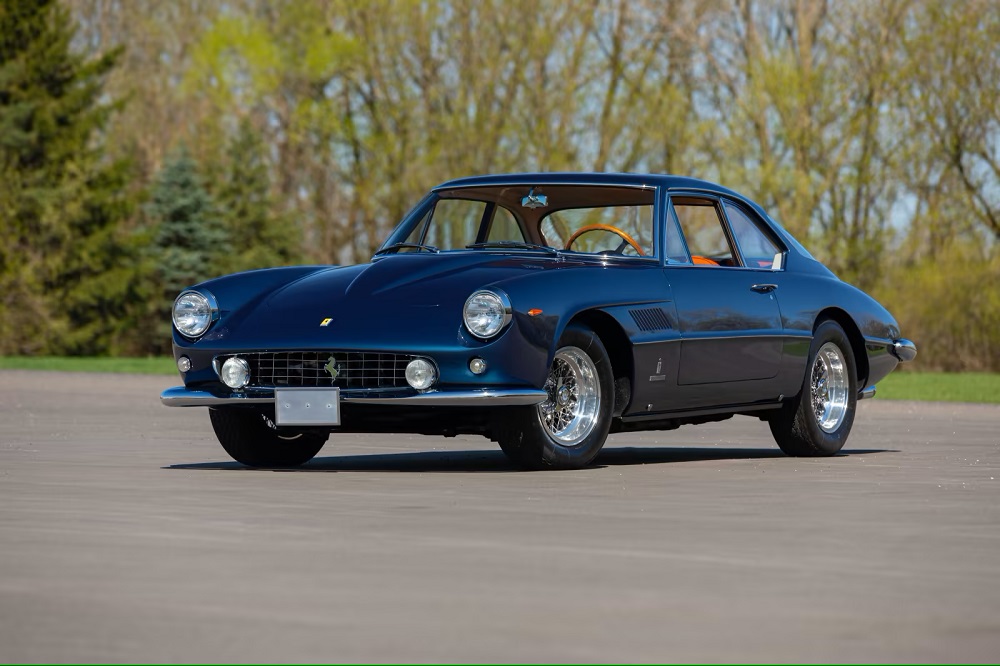 Estimate: $2,900,000 – $3,000,000
Featuring Chassis No. 4651 and Engine No. 4651, this 1963 Ferrari 400 Superamerica is one of just 22 long-wheelbase Series II examples built from 1962 to 1964. Successor to the 410 Superamerica introduced at the Brussels Motor Show in February 1956, the 400 Superamerica first appeared at the Turin Auto Show with custom coupe bodywork designed by Pininfarina for Fiat President Gianni Agnelli. After the 400's "official" introduction at the 1960 Brussels salon, production proceeded in early 1961.
The 400 SA departed from its 410 predecessor in several ways. The chassis was new, with a shorter wheelbase (95.2 inches versus the 410's 102.3) and narrower front and rear tracks. The 410's Lampredi-designed "long-block" V-12 gave way to the venerated Colombo V-12, now in its most powerful form; bored and stroked and adopting all the improvements found in the 250 GT, its 4.0 liters produced 340 HP at 7,000 RPM.
Those differences aside, the 400 SA filled the same role as the 410 as the company flagship, an elegant and powerful grand tourer reserved for Ferrari clientele looking for even more refinement and exclusivity than could be found in the already sublime 250 GT series cars. Of 47 examples produced, only 11 featured cabriolet bodies. The rest bore a variation of Pininfarina's beautiful Coupe Aerodinamico styling that became the model's benchmark design. (The only major revision to the 400 Superamerica came in 1962 with the increase in wheelbase from 95.2 inches back to 102.3 in the Series II.)
According to Bruno Alfieri's Superamerica book, 4651 SA was delivered new on November 4, 1964 to a Mr. Moratti of Milan, Italy, sporting rare open headlights and equipped with the 3967cc Colombo V-12 engine, 4-speed manual transmission with overdrive, Bendix-boosted Dunlop 4-wheel disc brakes and Borrani knock-off wire wheels. A Mr. McCurdy of Norwalk, Connecticut, is listed as the car's second owner.
Part of a private collection since 1999, it combines sparkling blue metallic paint with exquisite tan upholstery and lavish attention to finishing and details. Its history includes a mechanical restoration by Sport Auto Ltd. of Ridgefield, Connecticut, bodywork by The Panel Shop in nearby Milford, paint by Continental Auto of Portland, Connecticut, and upholstery by East Coast Auto Trim in New Rochelle, New York, all done to superb concours standards befitting this treasured showpiece of Ferrari and Pininfarina artisanship.
find more information here
1957 Mercedes-Benz 300SL Roadster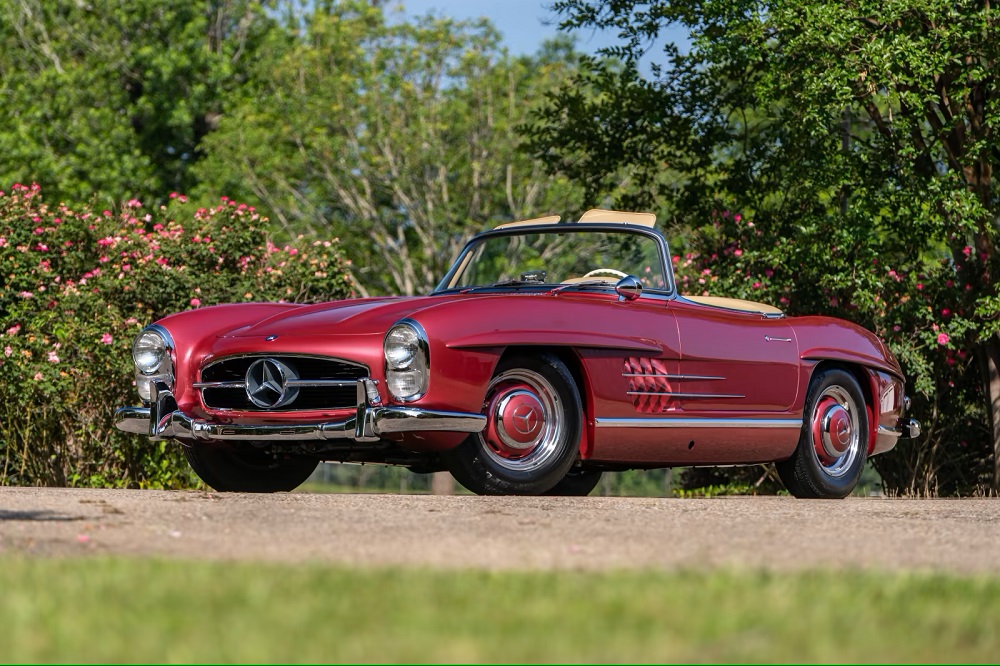 Estimate: $1,450,000 – $1,650,000
Ever since it debuted to immediate and widespread acclaim at the March 1957 Geneva Salon, the Mercedes-Benz 300SL Roadster has continued to rank among the finest and most influential sports cars ever produced. Clearly based on the outgoing W198 300SL Gullwing coupe, itself derived from Mercedes-Benz's W194 racing cars of 1952 that dominated international competition, the 300SL Roadster was internally designated W198 II and ushered in numerous welcome updates, all the while maintaining the electrifying all-around performance envelope of its predecessor. While the streamlined, wind-cheating styling of the Roadster was certainly similar to that of the prior Gullwing, removal of the fixed roof and carefully engineered chassis revisions allowed the Roadster's use of conventionally front-hinged doors for easier, more dignified ingress and egress.
As Mercedes-Benz's well-heeled buyers expected, the 300SL Roadster was an outstanding performer with strong acceleration and a factory-claimed 137 MPH top speed, depending upon the final-drive ratio selected. Despite its formidable performance envelope, the Roadster delivered a more pleasant ride and more forgiving handling characteristics than its predecessor. As with the Gullwing before it, development and production of the glamorous 300SL Roadster was championed by famed New York Mercedes-Benz importer Max Hoffman, who acutely understood the automotive aspirations of his elite clientele.
According to marque experts, just 1,858 examples of the glamorous Mercedes-Benz 300SL Roadster were produced in all at the company's facilities in Sindelfingen, Germany, where they were largely hand-built to unerring quality standards from 1957 through 1963. Sporting rare and highly attractive Strawberry Red Metallic paint, accented by a Crème convertible top and matching leather interior with square-weave carpeting, this 300SL Roadster is one of 554 produced for the inaugural 1957 model year. According to Mercedes-Benz archives, this is the first Strawberry Red Metallic 300SL Roadster produced, with the eye-catching hue offered only for 1957.
Originally delivered to W.R. Stott of Ridgewood, New Jersey, this 300SL Roadster continues to benefit handsomely from a comprehensive, body-off restoration performed over a two-year timeframe by the Mercedes-Benz Classic Center of Irvine, California. Powered by a matching-numbers 2996cc/215 HP inline 6-cylinder engine paired with a 4-speed manual transmission, this handsome 300SL Roadster includes a matching luggage set neatly stowed inside the trunk. Other proper highlights include correct VDO gauges and a dash-mounted timepiece.
Confirming its rarity and outstanding restoration, this 300SL Roadster garnered the Amelia Award at the 2012 edition of the Amelia Island Concours d'Elegance. Riding on a set of Strawberry Red Metallic-finished wheels mounting chrome trim rings, iconic Mercedes-Benz Star hubcaps and Dunlop tires, this stellar 300SL Roadster from the first model year is accompanied by an owner's manual and books within their leather document pouch, plus prior titles and documents supplied by the Mercedes-Benz archives. A tool roll and roadside jack are also present and accounted for.
find more information here
1968 Ferrari 330 GTS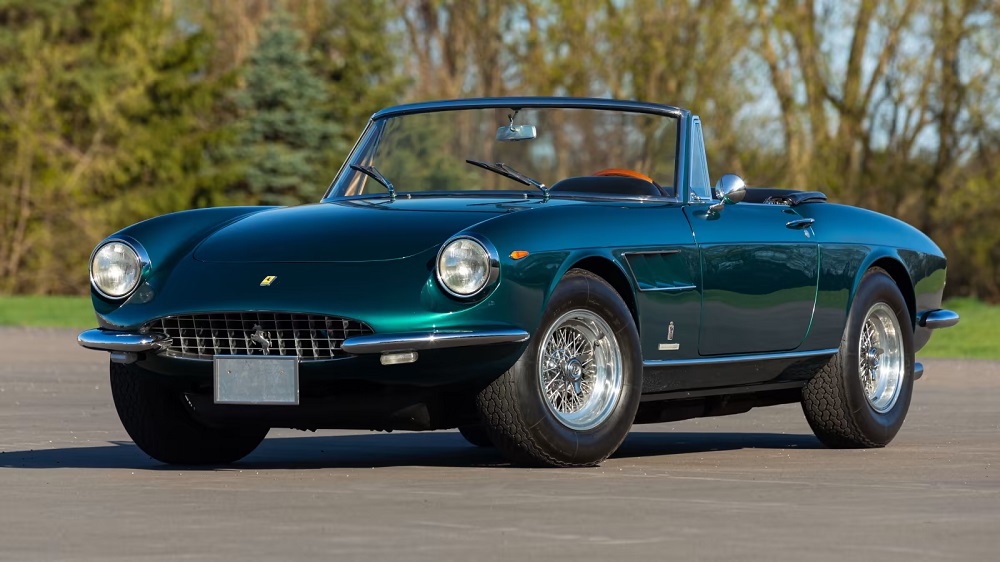 Estimate: $1,800,000 – $2,200,000
Like its coupe predecessor, the Ferrari 330 GTS spider variant capitalized on the 275 GTB/GTS chassis' all-independent suspension, driveshaft torque tube, solidly mounted rear 5-speed manual gearbox and 4-wheel Dunlop disc brakes. But for a select few customers (one hundred, to be exact), the GTS also provided the thrill of open-air grand touring in the finest road Ferrari to date. Such was the brilliance of Pininfarina's blending of the 275 GTS and 500 Superfast styling attributes that the convertible 330 GTS lost none of the model's inherent elegance, but rather accentuated it instead.
Featuring Chassis No. 11179 and Engine No. 11179, this exceedingly rare 1968 Ferrari 330 GTS is a very late production model, the 95th of 100 designed and built by Pininfarina. Optioned with electric window lifts, a Blaupunkt AM/FM radio and rare factory air conditioning, the car retains its original 3967cc Colombo V-12 engine and further benefits from its desirable combination of Pino Verde Metallic paint, sparkling Borrani knock-off wire wheels and a handsome tan interior that retains the original leather upholstery and carpet. The car now shows just 27,490 miles, demonstrating its significance as a collector's item that has been carefully preserved and maintained in superb condition.
This 330 GTS was delivered new on April 18, 1968 to Montreal, Quebec, importer George Woolley, who sold it to the original owner, Denis Gaherty, Esquire of Montreal, Quebec, Canada. Gaherty owned the car briefly, selling it on June 4, 1970 to Peter Hughes of Huron Park, Ontario, as documented by a sales tax receipt and inspection certificate dated 1970. In 1998, the car was offered by Ferrari of Toronto and sold to Alex Greenberg of New York City. Greenberg enjoyed the car until 2003, when he sold it into a private collection.
This rare and especially well-preserved 330 GTS includes important documentation and accessories, including the owner's manual leather pouch set with warranty booklet (in French), operating handbook, spare parts catalog and radio instructions, the original registration certificate and insurance card from 1968, a Bosch invoice dated August 28, 1968, the tool roll, jack, wheel chock and knock-off hammer, and maintenance invoices from Sport Auto LTD of Ridgefield, Connecticut, since 2000.
find more information here
1963 Ferrari 250GT/L Lusso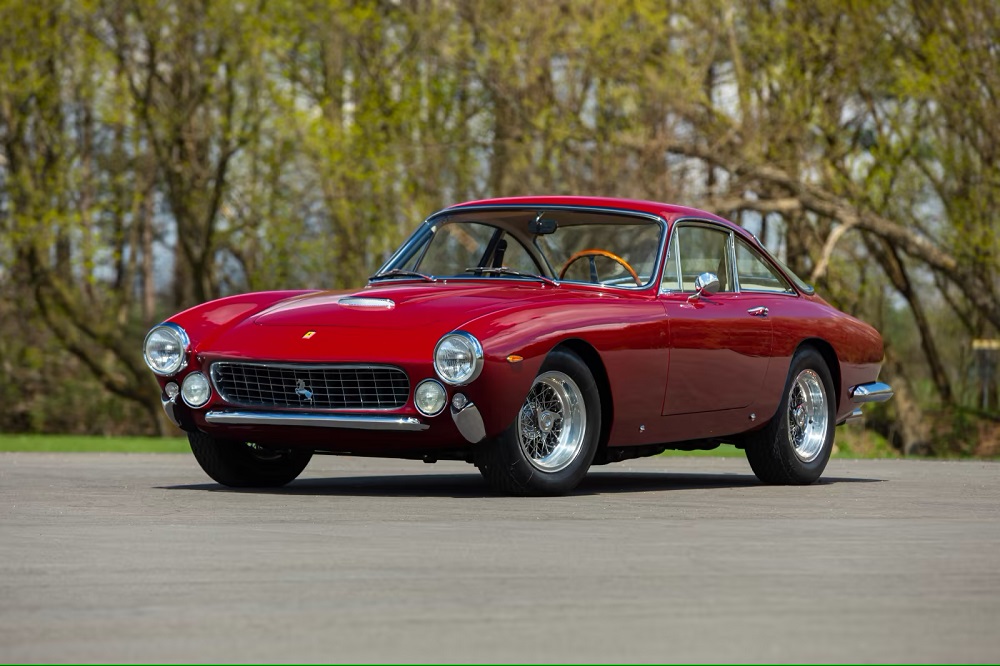 Estimate: $1,400,000 – $1,700,000
The end of 250 GT coupe production in 1960 left the dual-purpose 250 SWB as the only two-seat, enclosed, 3.0L model in Ferrari's lineup. The obvious need for a proper road-going model was filled by one of the loveliest cars of the entire 20th century: the marvelous 250 GT/L "Lusso." Produced from 1962 through 1964, the Lusso was a pronounced departure from the 250 SWB, combining design elements from the SWB and the 250 GTO.
While certainly inspired by the SWB, the Lusso's front end was longer and raked forward, the fenders more elegantly curved; the flowing fastback roof terminated in a subtle molded-in spoiler (the first on a road-going Ferrari) over the GTO-inspired Kamm tail containing a pair of simple round tail lights. The airy greenhouse and practically ornamental bumpers emphasize the enduring elegance of Pininfarina's design.
Produced by Scaglietti, the Lusso body was formed in steel with aluminum doors, hood and trunk lid, and it was the first to carry the "design di Pininfarina" badge indicating a design built by another firm. Based on the fabled 250 GTO, the Lusso chassis featured the same 94.5-inch wheelbase, independent front coil-spring suspension and live rear axle with leaf springs and trailing arms, Bendix-boosted 4-wheel Dunlop disc brakes, and Borrani knock-off wire wheels.
One of 350 produced from 1962 to 1964, Chassis No. 4595 was located in Pennsylvania by renowned Ferrari specialist Francois Sicard for a private collection in 1998, at which time it was finished in black with a red interior. A comprehensive restoration was performed by a select group of Ferrari experts, incorporating mechanical restoration by Sport Auto LTD of Ridgefield, Connecticut, bodywork by The Panel Shop in Milford, Connecticut, and paint by Continental Auto of Portland, Connecticut. Now finished in deep Maroon paint with a tan leather interior, it is powered by a 2953cc all-aluminum V-12 engine, which was rebuilt to GTO specifications with special competition camshafts and Borgo pistons; the gearbox was also rebuilt with new synchros. Offered with detailed restoration invoices and photos, as well as a tool roll, this 1963 Ferrari 250 GT/L Lusso remains one of the most beautiful and desirable Ferraris ever.
find more information here
1965 Ferrari 500 Superfast Series II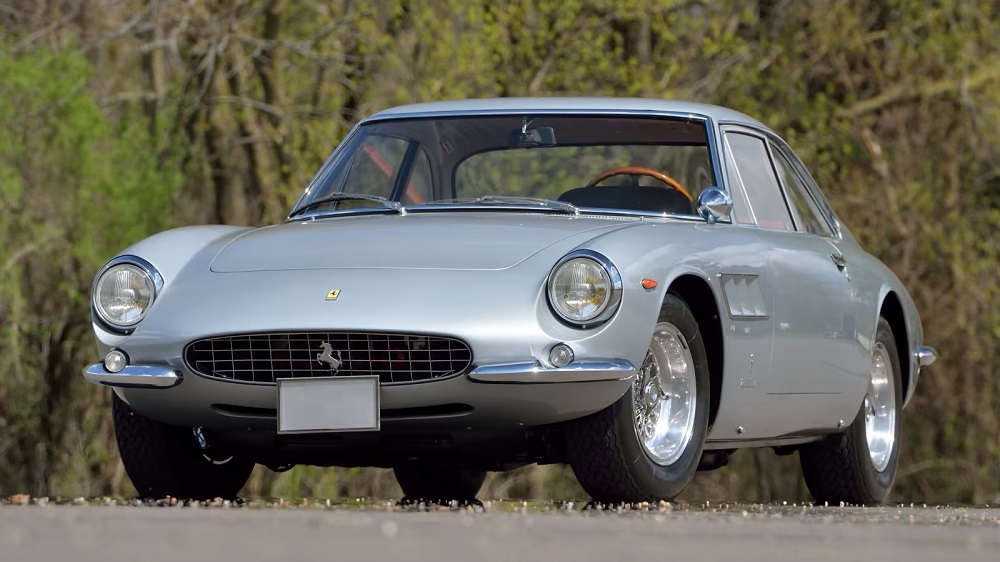 Estimate: $2,000,000 – $2,500,000
This 1965 Ferrari 500 Superfast, S/N 7817, was completed on November 11, 1965, for its original owner, Barbara Woolworth Hutton, just a few days prior to her 53rd birthday and delivered new in Argento Grigio via Luigi Chinetti Motors. Hutton was the heiress to a third of business tycoon Frank Winfield Woolworth's fortune and, as such, one of the wealthiest women in the world at the time, having inherited nearly $1 billion in today's money.
The pioneer of the five-and-dime store, Frank Winfield Woolworth opened his first Woolworth store in February 1879 as Woolworth's Great Five Cent Store. Though his initial attempt in Utica, New York, failed, he tried again, this time in Lancaster, Pennsylvania, in July of that year, finally finding success. Over the years, they led the charge in many tactics used today, such as merchandising, direct purchasing and customer service practices, growing the company into one of the largest retail chains in the country.
The granddaughter of Frank W. Woolworth, Hutton had inherited millions of dollars between her mother's estate and her share of the Woolworth inheritance following the death of her grandmother, Jennie Woolworth, in 1924. Invested by her father, her inheritance had grown to a massive amount during the Roaring Twenties before her father pulled it out prior to the Great Depression. Hutton received the inheritance when she turned 21 in 1933. Hutton was well known for her lavish lifestyle, which truly began in 1930 when she was thrown a lavish debutante ball for her 18th birthday that cost $60,000 at the time and included such guests as the Astor and Rockefeller families, as well as entertainment from stars like Rudy Vallee and Maurice Chevalier.
A socialite and philanthropist, Hutton was ultimately dubbed America's "Poor Little Rich Girl," at first because of her 18th birthday celebration and her lavish spending during the Great Depression, but later because of her troubled and lavish life. While at one time among the richest women in the world, all of that would change between manipulative husbands amongst her seven marriages throughout her life, her extreme generosity that included donating the Winfield House to the U.S. government as a residence for the UK ambassador, her lavish spending, and the exploitation by those she trusted to manage her estate. By the time of her death on May 11, 1979, at the age of 66, Hutton was on the verge of bankruptcy, said to have had as little as $3,500 to her name.
As a wealthy woman, Hutton was no stranger to Ferrari race and sports cars, having custom-ordered several throughout her life. On March 1, 1947, Hutton married her fourth husband, Prince Igor Troubetzkoy, who raced some of the first Ferraris ever built, including Ferrari 166 Sport S/N001S to victory at the April 1948 Targa Florio, and then one month later, on May 16, raced the first Ferrari to ever compete in Grand Prix racing at Monaco. It was during this period that Hutton's impressionable 12-year-old son, Lance Reventlow, got his first taste of speed, developing an early and growing interest in racing while attending Troubetzkoy's races. Reventlow would go on to build his own Scarab sports racers, which ultimately became the most successful B/Modified racers in SCCA competition during their brief careers.
Hutton's Ferrari Superfast sat dormant for a period of time following her death in 1979, with renowned Ferrari authority Michael Sheehan introducing the car to the market in 1981. Subsequent owners include William Kramer of Pennsylvania, Tom Barrett III of Scottsdale, Arizona, and Ed Lunken of Cincinnati, Ohio. Throughout most of the 1990s, the car spent its time in France, before returning to the U.S. late in the decade, appearing in 1998 at a Monterey auction in a red coat of paint. While it didn't sell at that auction, S/N 7817 was acquired by a private collector, who commissioned its stunning concours-quality professional restoration, with Wayne Carini's Continental Auto of Portland, Connecticut, refinishing it in its original Argento Grigio color.
S/N 7817 is one of just 36 500 Superfasts built by Pininfarina and stands apart as the first of the 12 Series II examples built. This Superfast features the 5-speed manual transmission and redesigned front fender air ducts that helped distinguish the Series II cars from their Series I counterparts. Part of a private collection since 1999, it retains the original 4963cc Colombo V-12 engine and has been skillfully refinished with new Rosso (red) leather upholstery and new chrome. Mechanically restored by Sport Auto LTD of Ridgefield, Connecticut, and featuring expert bodywork and paint by Continental Auto of Portland, Connecticut, 7817 won the prestigious Award of Excellence at the 2005 Greenwich Concours d'Elegance. More recently, a new electric fuel pump was installed in 2019, and the carburetors were cleaned and rebuilt in 2021. Presenting in award-winning condition, this fabulous 500 Superfast Series II coupe comes complete with detailed restoration and maintenance receipts, as well as a tool roll.
find more information here
1956 Porsche 356A Speedster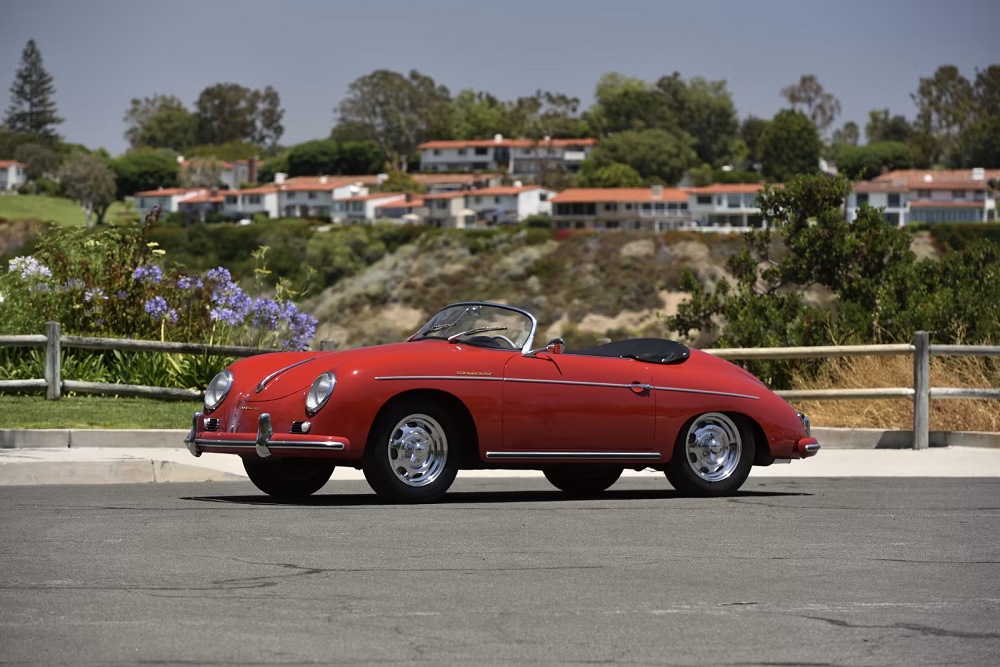 Estimate: $300,000 – $350,000
Based largely on the ultra-rare, Gläser-built 356 America of 1953 and even retaining its Type 540 internal designation, Porsche's Reutter-built Speedster debuted in 1954. In the background, the Speedster owes much of its existence to renowned U.S. importer Max Hoffman, who understood the needs of the buoyant American market and convinced his European partners to build specific models to meet them. Built to a sub-$3,000 price and equipped with only the bare necessities, the Speedster offered its buyers an economical and elemental, but characteristically Porsche, driving experience.
Along with the other 356-based Porsche models, the Speedster was soon offered in improved 356A form and upgraded with a 1.6L engine. Favored by racing enthusiasts for its lighter weight and consequently sharper braking and handling characteristics, the Speedster immediately established a formidable reputation on American race tracks. On the street, the Speedster exuded a youthful, avant-garde image that remains enticing today. Perhaps a July 1955 MotorTrend test summarized the Speedster experience best: "Its size, power, easy shift and steering make it fun to drive …"
According to marque experts, Porsche built 4,145 Speedsters across six model years, including 1,056 for 1956. Part of a private collection for more than 30 years, this 356A from 1956 was originally produced in the color combination of Rot (red) with Leder Schwarz (black leather) upholstery and delivered new in December 1956 to Raffay Porsche of Hamburg, Germany. Interestingly, the Speedster's original owner was West Coast SCCA racer Jack Brumby of Los Angeles, California, who drove a wide array of top European sports cars from 1953 through 1960.
Powered by an air-cooled 1600cc flat-4 engine and 4-speed manual gearbox, the red Speedster's iconic body style by Reutter is enhanced by a very rare and valuable set of Rudge knock-off wheels. Other desirable features include red upholstery piping, a black soft top and matching tonneau cover, a "1950-1955 German Sportscar Champion" Meister Shaften dash badge, VDO instruments including the speedometer, tachometer and oil-temperature gauge, front and rear bumper over-riders, and pre-1957 "beehive" style tail lights. Documents accompanying this iconic classic Porsche include a driver's manual, maintenance records and a copy of the factory Kardex production record.
find more information here
1956 Porsche 356A 1500 GS Carrera Speedster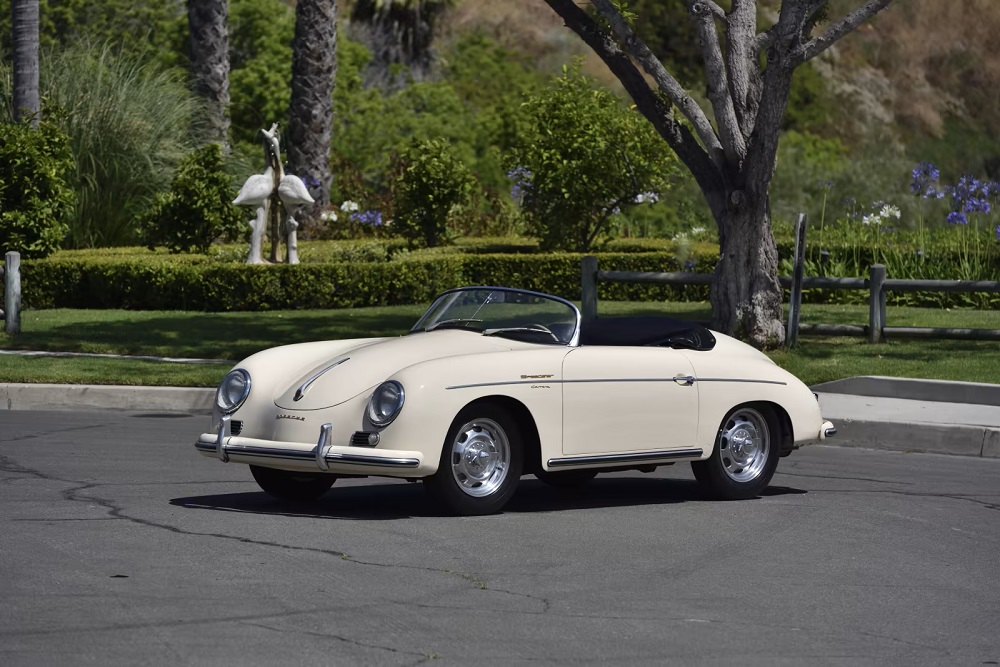 Estimate: $900,000 – $1,200,000
Soon after inception in 1948, Porsche began sweeping across Europe with a succession of racing victories, including back-to-back class wins with its Type 356-based racing cars at the 24 Hours of Le Mans in 1950 and 1951. Development of the 356 was swift and relentless, with the basic design distanced from its relatively humble Volkswagen-based roots into a truly unique automobile, powered by ever-more potent 1500cc and 1600cc engines and garnering strongly rising sales for Porsche during the early 1950s.
Debuted alongside the comprehensively revised Porsche 356A at Frankfurt in the fall of 1955, the new 4-cam Carrera—and especially its Ernst Fuhrmann-engineered powerplant—represented the future of Porsche's competition efforts. Described by Karl Ludvigsen, author of "Porsche: Excellence Was Expected," as "… very much another breed of Porsche," the new Carrera and pushrod 1600 models "… were instrumental in adapting the auto that started with forty horsepower to a power level that was two-and-a-half times higher."
Available as a coupe, cabriolet or elemental and lightweight Speedster, Porsche's 356A Carrera was built with 1500cc and 1600cc engines from 1955 until 1959. Two specifications were offered: the GS for street use, and the racing GS GT beginning in 1957. Further Carreras were produced for racing in 1960 and 1961 on the 356B body style, followed by the Carrera 2 produced from 1962 to the end of 356-series production in 1965. According to the Porsche magazine Excellence, approximately 700 Carreras were built in all, including some 260 on the 356A, making these race-bred Porsche models particularly coveted today.
Bearing Chassis No. 82190 and Engine No. 90641, this 1956 Porsche 356A 1500 GS Carrera features the most sporting and elemental Speedster body, built by Reutter. Delivered new in June 1956 to Max Hoffman Motors, the famed European-car importer in New York City, this 1500 GS Carrera Speedster was originally finished in Weiss (white) with a Schwarz (black) interior. Part of a private collection for more than 30 years, it is presented in Cream paintwork over a black-upholstered cockpit. The legendary 4-cam flat-4 Type 547/1 Carrera powerplant displaces 1498cc and features a roller-bearing crankshaft and dual carburetors. A 4-speed manual gearbox delivers the power to the road via a very rare and valuable set of Rudge knock-off wheels. Accompanying items include a tool roll, owner's manual with Carrera supplement, and a copy of the factory Kardex production record. An exceedingly rare offering, this Porsche exemplifies the company's first model to exceed the 200 km/h mark at full chat.
find more information here
1951 Ferrari 212 Inter 2+2 Berlina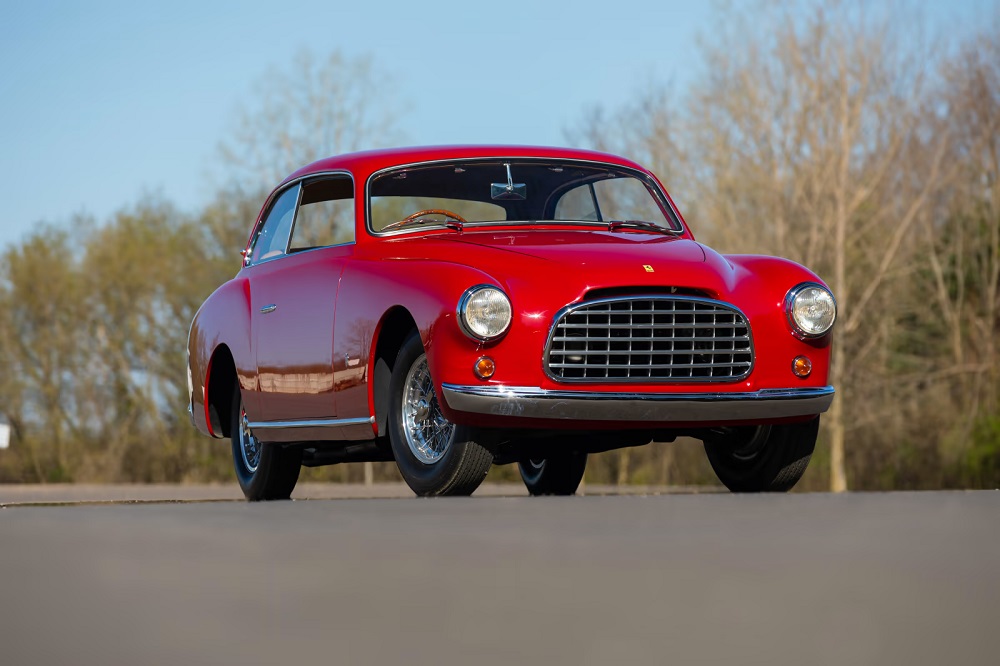 Estimate: $700,000 – $900,000
In late 1948, Ferrari introduced its first road car, the two-seat, 2.0L V-12-powered 166MM, with the numerical designation referring to the cubic centimeters of one cylinder and the "MM" standing for the Mille Miglia, Italy's famed 1,000-mile road race won by Ferrari in May of that same year. Ferrari then followed up with the 166 Inter, a larger, longer-wheelbase 2+2 Berlina (sedan). Using the same basic platform as the 166MM—a strong steel tube chassis, independent front suspension, live rear axle and the Colombo V-12 engine—the grand touring-oriented 166 Inter perfectly accommodated Enzo Ferrari's personal preference for more comfort and room.
In 1950, the designation changed to 195 Inter to reflect an increase in displacement to 2.4 liters, which was again increased in 1951 to 2.6 liters in the 212 Inter. Despite their intended mission as road cars, many Inters were driven to victory in competition, adding to Ferrari's rapidly building prestige and attracting the attention of Italy's burgeoning postwar coachbuilding trade.
No. 23 of 35 Ferraris bodied by the venerable Carrozzeria Ghia, this 1951 Ferrari 212 Inter is one of four with Ghia 2+2 Berlina coachwork and a sister car to the example owned by King Farouk of Egypt. Chassis No. 0185EL and Engine No. 0185EL, the car was delivered new to Robert Braunschweig of La Chaux-de-Fonds, Switzerland, who was the editor of Swiss Magazine Automobil Revue from 1952 to 1980. By 1977, the car was located in Portland, Oregon, where it had a handful of owners before its sale to Fred Peters and Charles Betz of Santa Ana, California.
Since 1994, the car has been part of a private collection, during which time it was mechanically restored by Sport Auto LTD of Ridgefield, Connecticut, who rebuilt the block and heads and installed new camshafts, pistons and intake and exhaust valves. The 5-speed manual gearbox was also rebuilt, utilizing new synchros.
The original Ghia aluminum coachwork remains in excellent condition and was beautifully painted by Continental Auto of Portland, Connecticut. Likewise, the interior features tan leather upholstery by East Coast Auto Trim of New Rochelle, New York, and matching tan carpets, right-hand drive, Jaeger instrumentation and a rare Clayton Type CB heater/defroster unit.
After the restoration was completed, the car was shown at the 1997 Ferrari Club of America National Meet, the Greenwich Concours d'Elegance and the Meadow Brook Concours d'Elegance. It was shown again at the 1998 Louis Vuitton Classic at Rockefeller Center in New York City and the FCA National Meet in New York City in 2004. Offered with restoration and maintenance receipts dating to 1994, this 1951 Ferrari 212 Inter is a rare and fascinating example of Enzo Ferrari's seminal V-12 grand-touring concept, highlighted by the original Ghia coachwork and a concours-quality presentation.
find more information here
1959 BMW 507 Roadster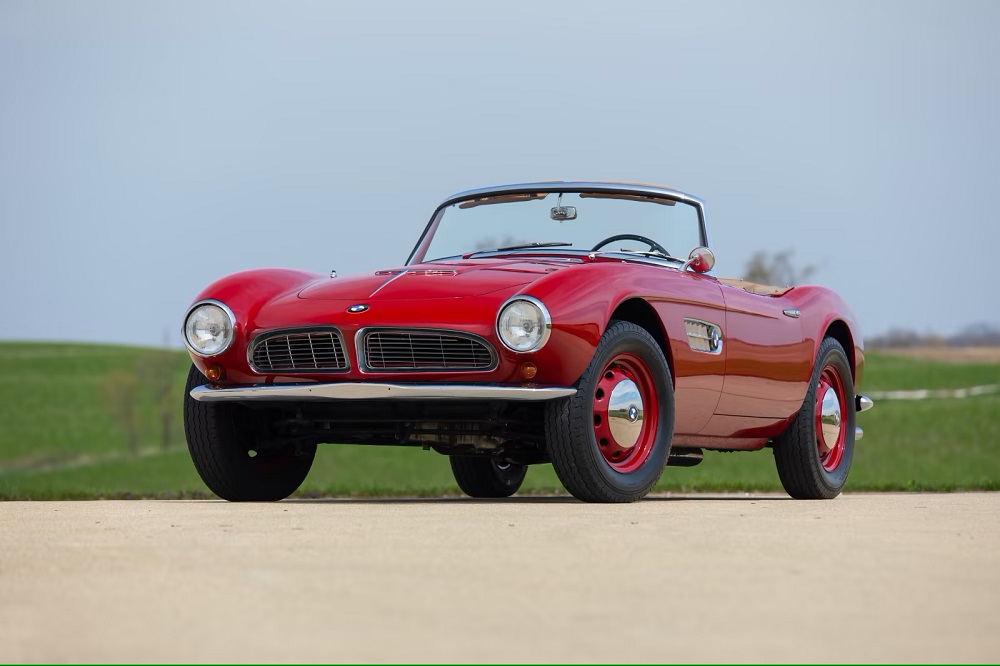 Estimate: $1,900,000 – $2,200,000
There's a reason Elvis Presley had one of his two BMW 507 Roadsters painted red: it didn't show the lipstick marks left by adoring fans. That's the way the story goes at least, but perhaps some of them were simply showing their admiration for a truly spectacular and exotic car that Road & Track described as a "fortuitous combination of all-out racing beastliness and the true grace of postwar Italian design."
Once again, as with other landmark luxury European sports cars including the Mercedes-Benz 300SL Gullwing and Roadster, the driving force behind the BMW 507 was legendary New York importer Max Hoffman, who persuaded BMW there was a market—particularly among America's highest rollers—for an exotic, high-priced, European, open-top sports car. Hoffman recruited New York-based German ex-patriot industrial designer Count Albrecht von Goertz to pen the dramatic aluminum body.
The chassis was a shortened version of that used on the 502 sedan, which also furnished the fabulous burble of the all-aluminum 3168cc OHV V-8 breathing through a pair of Zenith twin-choke carburetors. With the V-8 rated at 150 HP, the 507 was good for 124 MPH. When deliveries started in June 1956, sales didn't materialize as fast as Hoffman had hoped, in large part because although the exotic BMW was undoubtedly beautiful, its initial price of $8,988 was a deal more exotic than Hoffman's $5,000 target, at which he forecast annual sales in the thousands. Nevertheless the 507 got even more exotic, its price rising to $10,500 in 1959. In its short career, which returned sales of just 252, BMW invested considerable development effort, befitting its status as a prestige flagship model.
This 1959 BMW 507 Roadster is No. 242 of those 252 produced. As a late-production Series II model it benefits from the revised cabin that increased space and leg room by moving the fuel tank aft to the trunk floor. Early cars were drum-braked, while front discs later became an option; however, this example features the very rare 4-wheel disc-brake option, developed in conjunction with BMW by none other than British motorcycling world champion and future Formula 1 world champion John Surtees for his own 507. Another extremely rare extra is the hard top, which it's reckoned was supplied to just 11 BMW 507s. Each of the hard tops was individually fabricated to fit a particular car, as the hand-crafted bodies varied from one car to another. The BMW 507 also features a Blaupunkt radio, three-piece luggage set and a tool kit under the hood.
This BMW 507 Roadster was previously owned by well-known BMW collector Goetz Pfafflin, a long-time BMW Car Club of America member and founder of the BMW Vintage and Classic Car Club of America. Its 3168cc OHV V-8, backed here by a ZF 4-speed manual gearbox, was rebuilt along with the suspension and brakes in 1997 by BMW specialist Brummer of Munich, Germany. A professional restoration by Bruce Kelly's Lake Country Classic in Minneapolis, Minnesota, followed in 2001, focusing on the bodywork, paint, upholstery, top and chrome. That same year, Pfafflin completed the 3,500-mile BWN Vintage Marathon of Europe, with Brummer repairing the wiring system prior to the rally, and the BMW was displayed at the 2021 Concours d'Elegance of America.
With 202 known survivors of the 252 built, it goes without saying that any BMW 507 is far rarer than the Mercedes-Benz 300SL Roadster, which totaled 1,858 sales. This example though is rare even within the small and exclusive circle of BMW 507s.
find more information here
1962 Ferrari 250 GTE Series III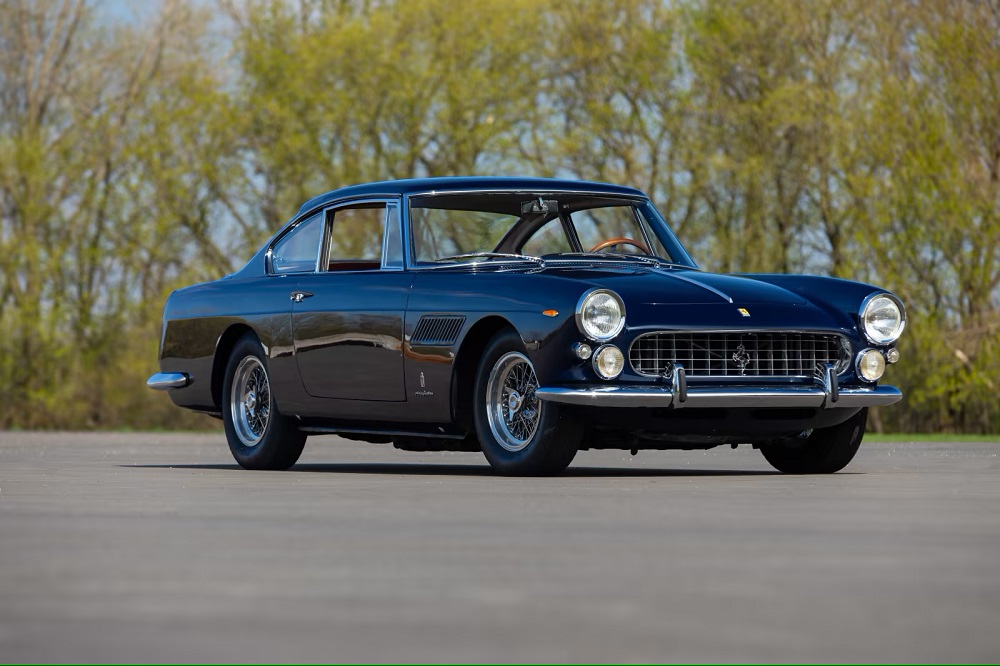 Estimate: $350,000 – $450,000
While coachbuilders Ghia, Touring and Vignale built several 2+2 bodies for Ferrari in the 1950s, they were not series-built production cars and lacked true four-place accommodations. It was not until 1960 that Ferrari produced a proper 2+2 with the room to accommodate four occupants in true comfort: the 250 GTE. Presented at the October, 1960 Paris Auto Show, this true 2+2 was built on the same 102.3-inch wheelbase as the two-passenger 250 models, the engine relocated forward several inches to allow for the necessary interior room. Wind tunnel research, the most extensive testing and development program yet, and the proven 250 platform combined to produce what became Ferrari's best-selling model to that point in the company's history.
Pininfarina designed the GTE's graceful coachwork, which featured a steel body with aluminum doors, hood and trunk lid and remained virtually unchanged through the 250 GTE's production run. Mechanically, the 250 GTE was virtually identical to the contemporary two-seat 250 GTs, with independent coil-spring front suspension, a live rear axle located by leaf springs and twin parallel trailing arms per side, and Bendix-boosted Dunlop 4-wheel disc brakes behind Borrani knock-off wire wheels. The 2953cc all-alloy Colombo V-12 employed three Weber twin-choke downdraft carburetors and Testa Rossa-style heads featuring outside plugs, individual intake ports and coil valve springs. The transmission was a 4-speed manual unit with overdrive.
One of 955 250 GTEs built from 1960 to 1964, this 1962 example, Chassis No. 4201 with Engine No. 4201, is one of approximately 305 Series III cars built from 1962 to 1964. Cosmetically restored and finished in Dark Blue over a Mahogany leather interior, its desirable Series III features include outward-positioned driving lights, one-piece tail lights, improved cylinder heads and revised rear suspension with coil shock absorbers.
Winner of Second in Class at the 1993 Cavallino Classic, this elegant Series III has been part of a private collection since 2000. Sparingly driven 2,000 miles since its restoration, it is offered with service and maintenance receipts since 2000, with work including cleaning and rebuilding the carburetors in 2014 and the installation of an electric fuel pump in 2018. A fine example of Ferrari's first series-built 2+2, this 1962 250 GTE Series III demonstrates the lasting appeal and desirability of this 20th century grand-touring masterpiece.
find more information here
1990 Ferrari F40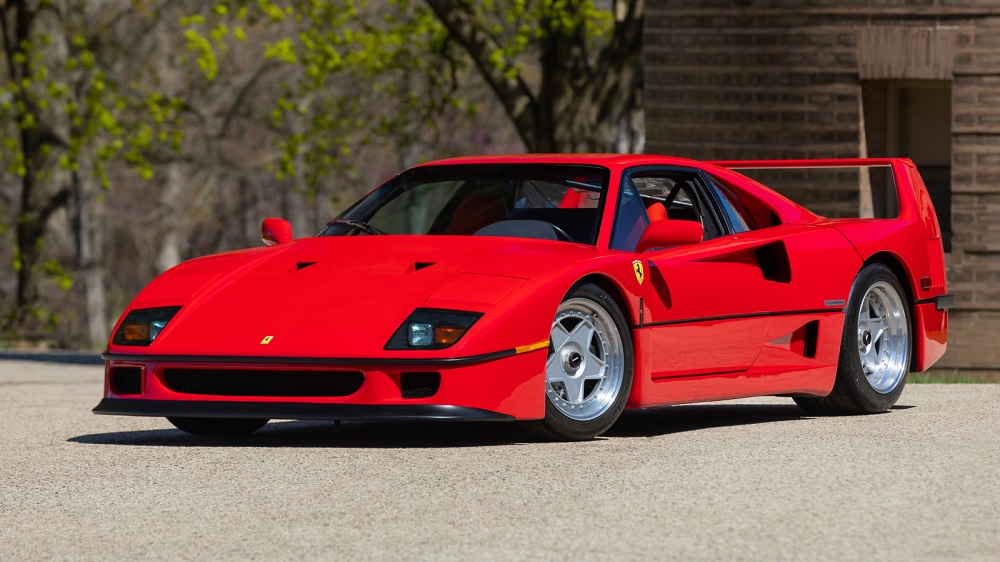 Firmly ranking high on many "best car" lists from introduction, Ferrari's F40 was the inspired byproduct of a program initiated in 1984 to develop an improved 288 GTO for FIA Group B rally competition to counter the threat posed by Porsche's upcoming 959. However, the lethal nature of this escalating automotive arms race ultimately spurred Group B's cancellation in 1986, before the high-tech gladiators from Maranello and Stuttgart could face each other for supremacy.
Undeterred, Ferrari continued work on the five 288 GTO Evoluzione development cars already built and redeveloped them into hyper-performance 200 MPH road cars in celebration of the marque's landmark 40th anniversary. Introduced at Frankfurt in 1987 and named F40, the new Ferrari's body was a design tour de force by Pininfarina's Leonardo Fioravanti. Bodies were produced by longstanding Ferrari coachbuilder Scaglietti, blending aggressively functional lines with incredibly efficient aerodynamics that yielded an ultra-low 0.34 drag coefficient.
Specifications of the F40 remain current, even by today's standards. Its tubular spaceframe chassis mounted fully independent underpinnings including double wishbones, coilover shock absorbers and ventilated disc brakes with 4-piston calipers at each corner. Kevlar, carbon-fiber and aluminum body panels lowered weight, while rigidity was three times better than that of the 288 GTO. Paired with a 5-speed manual rear transaxle, the F40's 2.9L DOHC V-8 engine delivered 478 HP at 7,000 RPM with twin IHI turbochargers, twin water-cooled Behr intercoolers, Weber-Marelli electronic fuel injection and U.S.-mandated catalytic converters. Performance was described in a period Car and Driver test as "… a mix of sheer terror and raw excitement." Published credentials included zero to 62 MPH acceleration in 4.7 seconds and a 199 MPH top speed, capably harnessed with equally impressive handling and braking.
While initial estimates called for about 400 examples, market demand was so overwhelming—even with the car's price tag of some $400,000 U.S. dollars—that 1,315 F40s were built when production ended in 1991. American enthusiasts, however, had to wait until 1990 for the chance to own one, and just 213 F40s were allocated to the U.S. market, including this compelling, Ferrari Classiche-certified example.
Offered with the odometer reading just 3,415 miles, this 1990 Ferrari F40 features a Rosso Corsa exterior finish with a Rosso Ferrari interior. The Ferrari is motivated by a twin-turbocharged 2936cc DOHC V-8 engine capable of pushing 478 HP through the 5-speed manual transmission at 7,000 RPM. The offering of this rare U.S.-specification F40 includes original Schedoni luggage, a tool kit and the all-important Red Book issued by Ferrari Classiche. Extremely rare, this 1990 Ferrari F40 is a supercar icon and historic as the last new Ferrari model commissioned by Ferrari Founder Enzo Ferrari.
find more information here
1967 Ferrari 275 GTB/4
The first of only six originally painted black at the factory, this 1967 Ferrari 275 GTB/4's known ownership history since new and history within the Italian gentleman hillclimb racing scene makes it an enticing option to Ferrari enthusiasts and modern gentleman racers alike. Throughout the history of motorsports, many racers have chosen to take the road alone, opting to forego the sponsorship of manufacturers. These privateer racers and teams, or also known as "gentleman racers" in the world of Italian and Ferrari racing, build and maintain their own vehicles of their choosing, entering races without outside financial support or a paycheck for their efforts and largely competing solely for the pure enjoyment of the sport.
One such gentleman racer was Dr. Luigi Ravizza of Verona, Italy, the original owner of this 1967 Ferrari 275 GTB/4, S/N 09565. Ravizza campaigned the Ferrari in a number of Italian gentleman hillclimb races during his ownership, sometimes using the pseudonym "Meo." Behind the wheel of S/N 09565, Ravizza raced from May through July 1968 at the Castione Baratti-Neviano degli Arduini hillclimb, the Coppa Citta di Volterra hillclimb, the Vittorio Veneto-Cansiglio hillclimb and the Bolzano-Mendola hillclimb, and ultimately claimed First in Class at the XXII Trento-Bondone hillclimb on July 14, 1968. One of the oldest forms of motorsport, with the first recorded event taking place in France in 1897, hillclimb races pit racers against the clock, racing their way through an uphill course (be it hill or mountain) to the top and vying for the fastest completion time.
find more information here
---