The Donington Historic Festival returned with a bang – to the delight of competitors – with an outstanding line up of Motor Racing Legends races. After the disruption of last year, the appetite to return to racing was clearly strong with all grids boasting packed grids throughout the meeting. The traditional Motor Racing Legends grids were joined by three new races now in the MRL stable: the Jaguar Classic Challenge, the Amon Cup for Ford GT40s and the three-hour enduro for Pre '66 GT and Touring Cars in its new permanent guise, The Royal Automobile Club Pall Mall Cup.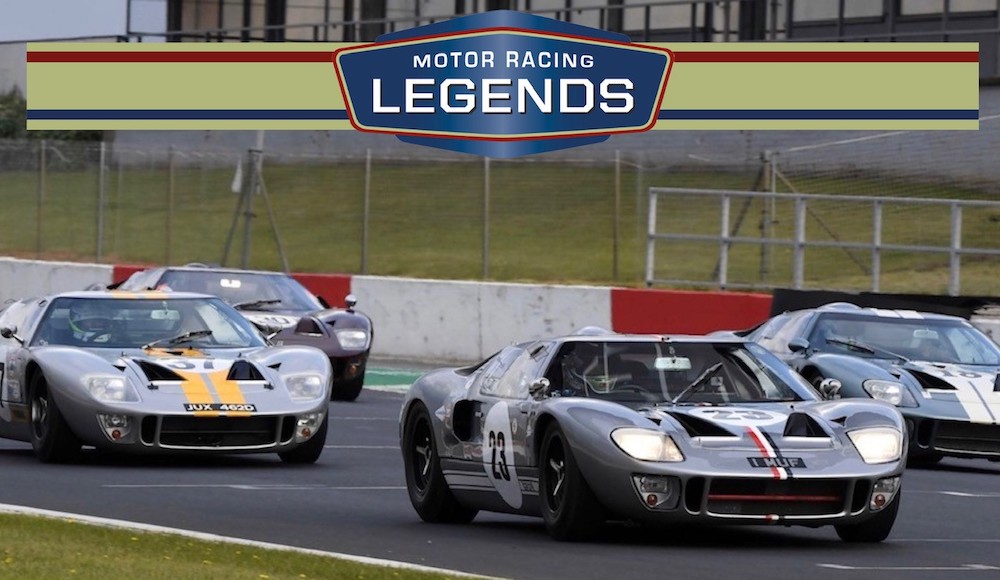 Live streaming of all of the weekend's races via Historic Motorsport TV – thanks to support from DK Engineering, the Royal Automobile Club and Motor Racing Legends – meant that spectators could enjoy the races from home. Competitors and enthusiasts can now catch up on all of the thrilling races at their leisure on the Historic Motorsport TV You Tube channel.

Jaguar ace, Gary Pearson, put in a tremendous performance to win the first race on Saturday's card, the Jaguar Classic Challenge supported by Ad Valorem, from Richard Kent and Chris Ward. "A short safety car period closed things up so I had to really get my head down again. This is such a great event with good grids and a relaxed atmosphere." said Pearson.
The opening laps of the Stirling Moss Trophy race featured a sensational battle as the Tojeiro Jaguar of James Cottingham worked hard to fend off the Lister Knobbly of Chris Ward. Lap after lap they ran nose-to-tail as they battled through the slower traffic – a fantastic spectacle ultimately secured by the Tojero with Oliver Bryant in the frame for the second half and former Le Mans racer, Rob Smith, taking over from Ward.
The Royal Automobile Club Woodcote Trophy was Gregor Fisken and Sam Hancock's for the taking in their spectacular ex-Mille Miglia HWM Jaguar despite the very best efforts of Patrick Blakeney-Edwards and Fred Wakeman in their Cooper Jaguar.  Rudi Freidrichs brought his C-type Jaguar home third, hot on their heels.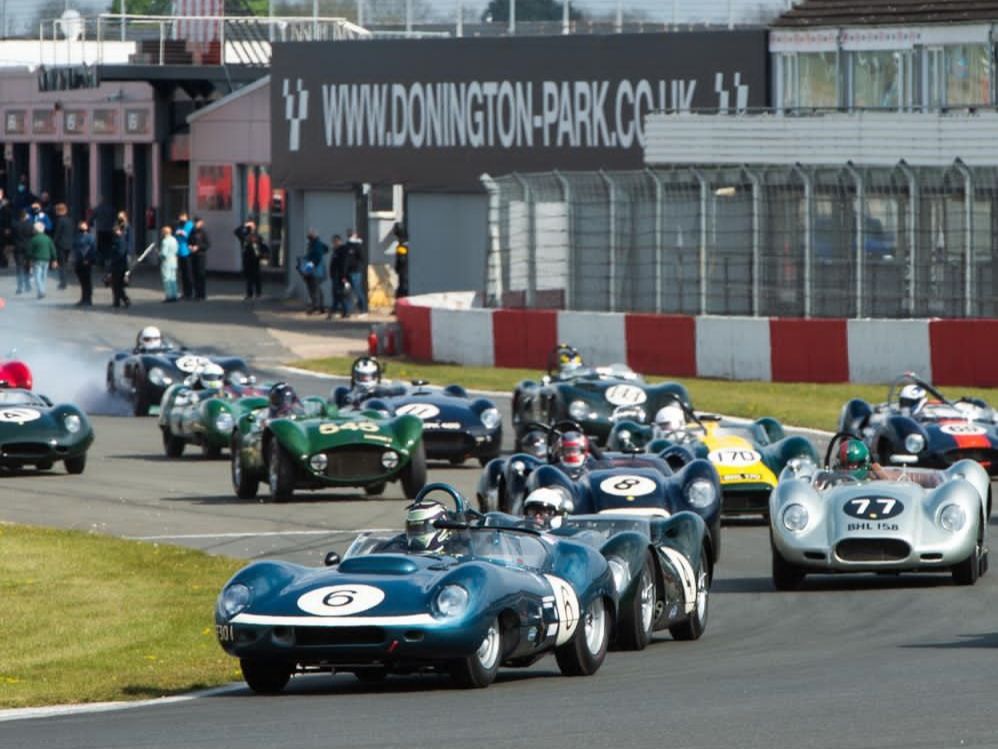 Saturday's racing closed with the inaugural Amon Cup exclusively for Ford GT40s supported by DK Engineering.  From little acorns do mighty oak trees grow; and the 11-car grid of mainly UK-based Ford GT40s created a magnificent spectacle for the 90-minute race into the sunset.  Touring Car ace Gordon Shedden, with Miles Griffiths, eventually ran out convincing winners in Philip Walkers 2019 Spa Six Hours winning car.  Fabulous, clean, competitive racing thrilled viewers and will have whetted the appetites of the continental racers to join the second race in October when, hopefully, travel restrictions will have eased.  We were privileged to be joined at Donington by Alex Amon, son of the great Chris Amon – after whom the race is named – who gave his seal of approval to the first ever running of this exceptional new historic race series.
The 'Mad Jack' for Pre-War Sports Cars kicked off the second day's competition in thrilling style with a huge grid that saw the top five glorious Pre-War cars battling like Formula Fords.  Wheel-to-wheel, side-by-side and nose-to-tail, they made a truly wonderful spectacle around the sweeps of Donington.  The father and son pairing of Justin and Ben Maeers grappled the 6.2-litre aero-engined Parker GN car to victory over Rudi Fridrich's Alvis and the Fred Wakeman/Patrick Blakeney-Edwards Frazer Nash. "We're only here for the oversteer!" beamed Ben.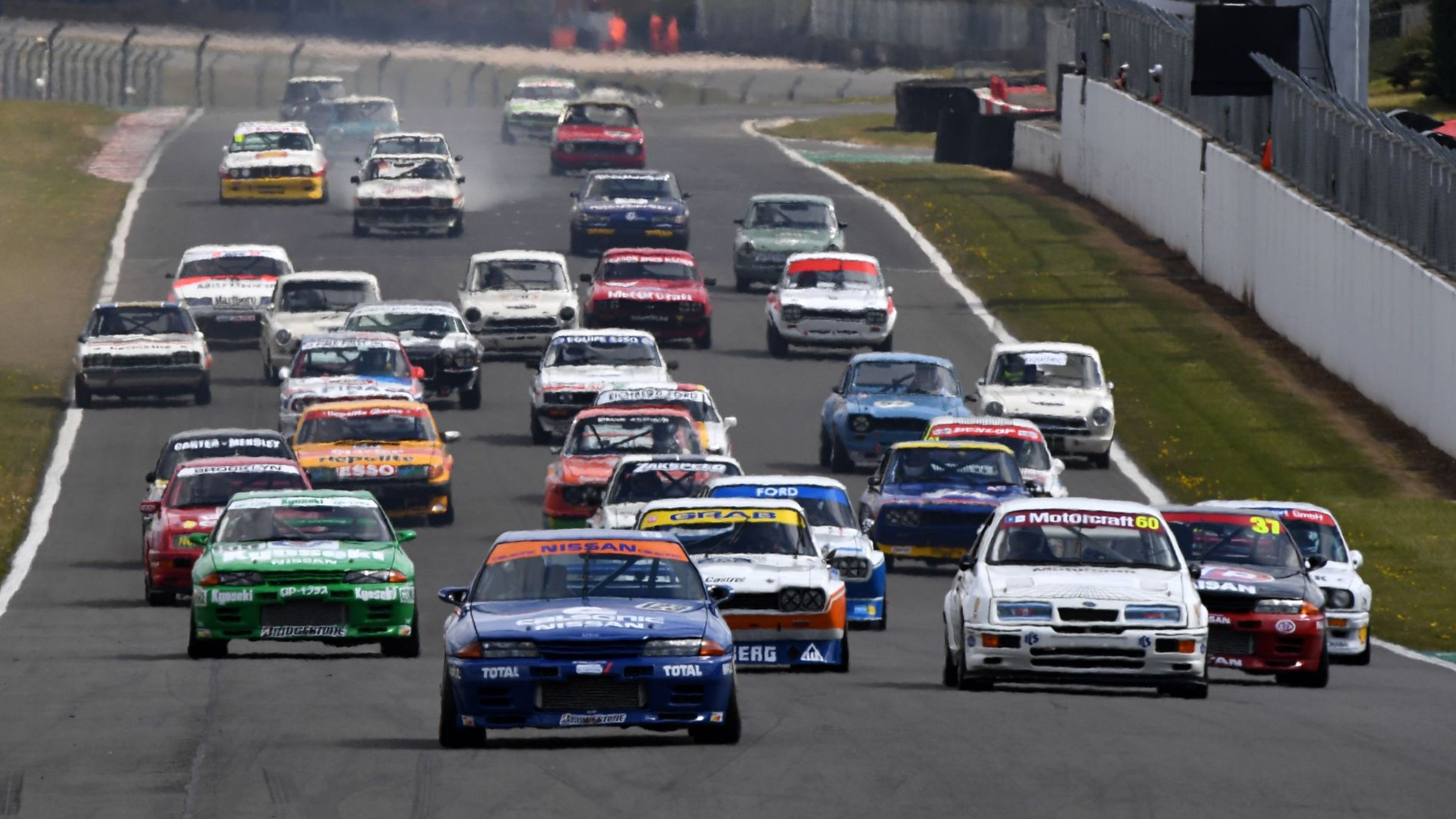 Jonathan Bailey and Andy Middlehurst kept their cool to dominate the Historic Touring Car Challenge debuting their Nismo Nissan Skyline.  Powering ahead in the early stages – after both series sponsors, Ric Wood and Nick Whale dropped out with an electrical glitch whilst sharing Ric's similar Skyline – not even a safety car period affected their dominance.   There were several epic duels behind them with the ex-Chris Hogetts Ford Sierra RS500s of Craig Davies and Steve Soper second ahead of the Ford GA Capri of Adrian Willmott and Mark Farmer. Father and son, John and Jack Young clinched the Tony Dron Trophy spoils with a fine run in their 1973 Chevrolet Camaro. Roy Alderslade and Andrew Jordan topped the U2TC pack after seeing off the challenge of 2003 Le Mans winner Guy Smith and his father Peter in a battle of the Lotus Cortinas.
The Royal Automobile Club Pall Mall Cup three-hour endurance race closed the weekend's racing.  The Pre-'66 GT, Touring Car and '50s Sports Car thriller, re-branded with its new official title, was an action-packed endurance race run at a frenetic pace from the huge 50-car grid. Roger Wills and Tim Harvey ultimately took a resounding win in Roger's ex-Bruce McLaren Lotus 15, expertly guiding the little Lotus to victory against some very potent GT machinery.  An earlier on-track oil spillage caused dramas in the first quarter, and a the battle-scarred Shelby Daytona Cobra Coupe of Andrew Jordan and Roy Alderslade came home a rousing second, owner Alderslade declaring it the 'race drive of his life'. 
The Team prize went to 'Chequered Past' comprising of Richard Kent and Chris Ward's Jaguar E-type, Sam Tordoff and Richard Woolmer's MGB and Doug Muirhead and Jeremy Welch's Austin Healey 3000. The Royal Automobile Club champagne tasted even sweeter after three-hours hard battling on Donington Park's National Circuit. Competitors unanimously enjoyed the atmosphere of this epic endurance race supported by DK Engineering and the 30th – 31st October edition on Silverstone's Grand Prix Circuit is already filling fast.
The Traditional Oak 'Spirit of the Meeting' trophy was awarded to Rudi Friedrichs who pulled out all of the stops to compete in four races, trailering one through the night to get there.
Full race results and image galleries from the weekend are now available on the Motor Racing Legends website.
Report by motorracinglegends.com