Silverstone Historic Grand Prix circuit once again proved to be the perfect venue for the Motor Racing Legends season finale.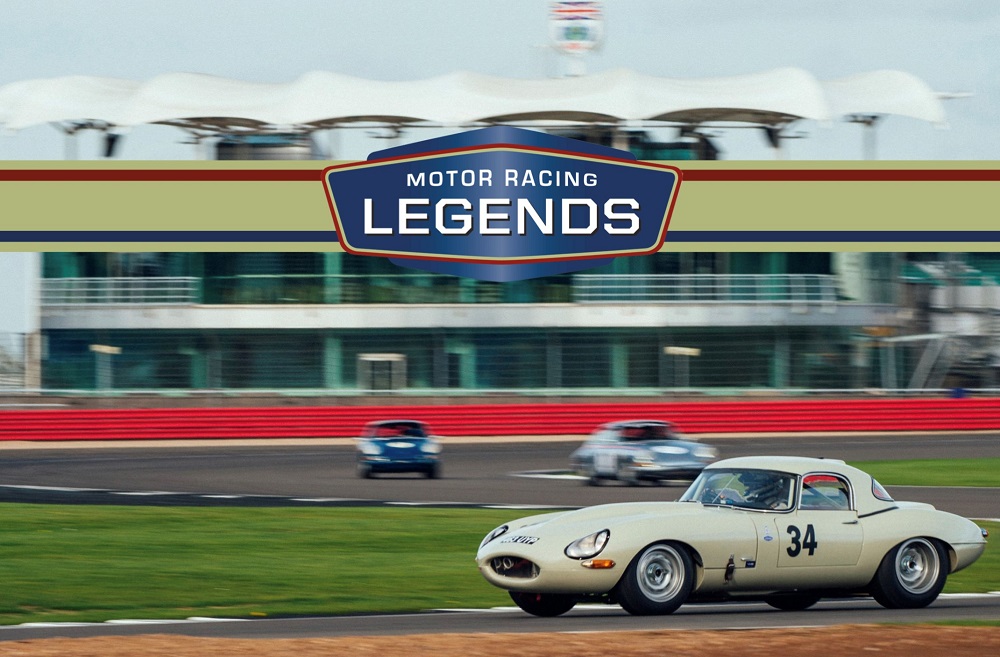 2022 reached its conclusion in memorable fashion with two days of full-on competitive racing all held in largely dry conditions despite autumn storms making for dramatic scenes during both days' morning qualifying sessions. Run from the International Paddock, the benefits of the modern 'Wing' facility saw all competitors housed in garages, with warm indoor hospitality for competitors coupled with excellent balcony spectating for the assembled public who were rewarded with non-stop thrilling battles.
With support races on the programme from the GT Allcomers Challenge and the HRDC the atmosphere was buoyant for one final show-down of the year. The feature race of the weekend was the three-hour Royal Automobile Club Pall Mall Cup in which saw eventual victory for James Thorpe, Phil Keen and Phil Quaife's  Jaguar E-type.
Thorpe's Sacrifice Seals Royal Automobile Club Pall Mall Cup Victory
An opportunistic early pit stop by James Thorpe, taking advantage of a short safety car period, sowed the seeds of a one-lap victory in Saturday's three-hour Royal Automobile Club Pall Mall Trophy race on Silverstone's Historic Grand Prix circuit. The subsequent speed of Phils Quaife and Keen – who clocked fastest lap as he took the chequered flag – and the metronomic reliability of Thorpe's Valley Motor Sport-prepared Jaguar E-type crowned his first season with the car.
Lotus Elan 26R-mounted team mates Rob Fenn/James Barclay/Paul Whight's fourth overall secured the Team Trophy for the 'Wheelie Fast 'squad.  Runners-up in the team standings were MGN, comprising Josh, Steve and Thomas Ward (Ginetta G4R), Marc Gordon/Nick Finburgh (Lotus Elite) and Guy Harman/Harvey Stanley/Ben Colburn (MGB).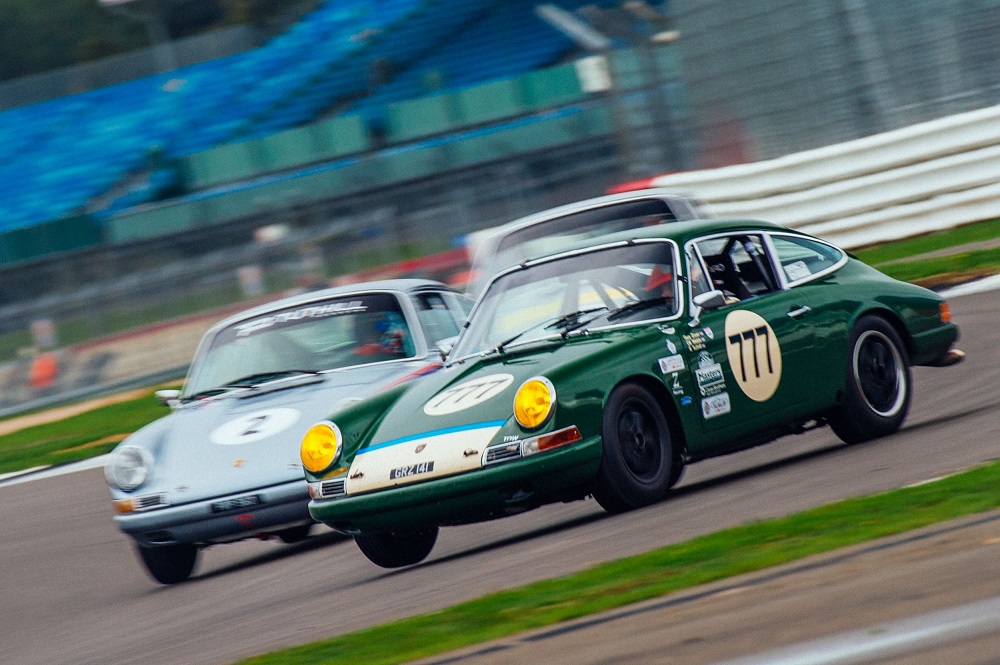 Second on scratch were Mark Farmer/Andy Jordan, a truly remarkable run given that their Lotus Elan was clutchless after the first fifteen minutes.   The final podium spot went to super-impressive enduro debutant Harry Barton/Oliver Reuben's TVR Griffith, who with Stephen Edwards/Matt Neal (Porsche 911) propelled the 'Ferkin Quick' team to third. First of seven Porsche crews home was Oli Webb/Guy Ziser/Richard Tuthill, 1.788s ahead of Christian Coll/Bonamy Grimes.
In an international field featuring visiting competitors from Australia, Canada, France, Germany, Holland, Lebanon and Russia, 10-time Le Mans 24 Hours participant Pierre-Francois Rousselot shared Greg Audi's Shelby Cobra in his second Silverstone appearance.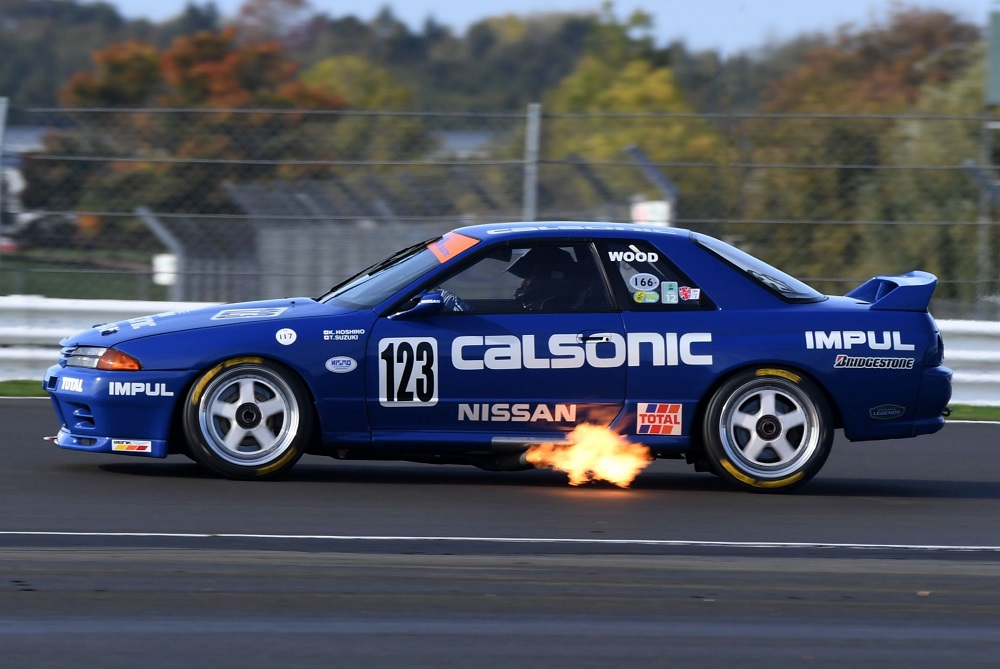 Tyre Strategy Propels Wood's Nissan Skyline to Historic Touring Car Challenge Win
An adventurous choice of medium hard slicks on a damp track, which never fully dried from Friday's deluge during testing and his Nissan Skyline's four-wheel-drive helped Ric Wood to victory in Saturday's Historic Touring Car Challenge's seasonal finale. "For the first three or four laps I thought I'd made a mistake, then they came in," grinned the Stockport engine builder, who hounded down Andy Middlehurst in Jonathan Bailey's original Skyline, on softer compound intermediates, and Darren Fielding who shot his BMW E30 M3 out of the blocks on wets, then changed.
Wood finished 50 seconds clear of Bailey, whose tyres were frazzled by the closing stages, with Fielding a lap adrift. The retirement of Harry and Nick Whale's Ford Escort RS 1600 and Mark Smith/Arran Moulton-Smith's E30 M3 two laps for home promoted Simon Evans/James Littlejohn (Ford Capri RS2600) and Ian and Frank Guest's RS1800 to fourth and fifth. Graham Pattle atoned for partner Mark Burton's languid early spin out of Stowe in their Holden Commodore, charging back to snatch sixth from Tony Dron Trophy winners James Thorpe/Sean McInerney's raucous Chevrolet Camaro on the last lap.
The concurrent all-Lotus Cortina U2TC race, which saw four cars abreast behind Richard Dutton at the rolling start, with Irishman Paddy Shovlin forging compatriot David Dickenson's borrowed car through to second before Abbey, before a shemozzle at Farm, was won by Mike Gardiner/Josh Cook, from Shaun Balfe/Tom Ashton by 4.4 seconds. Michael Cullen and Shovlin chased them in.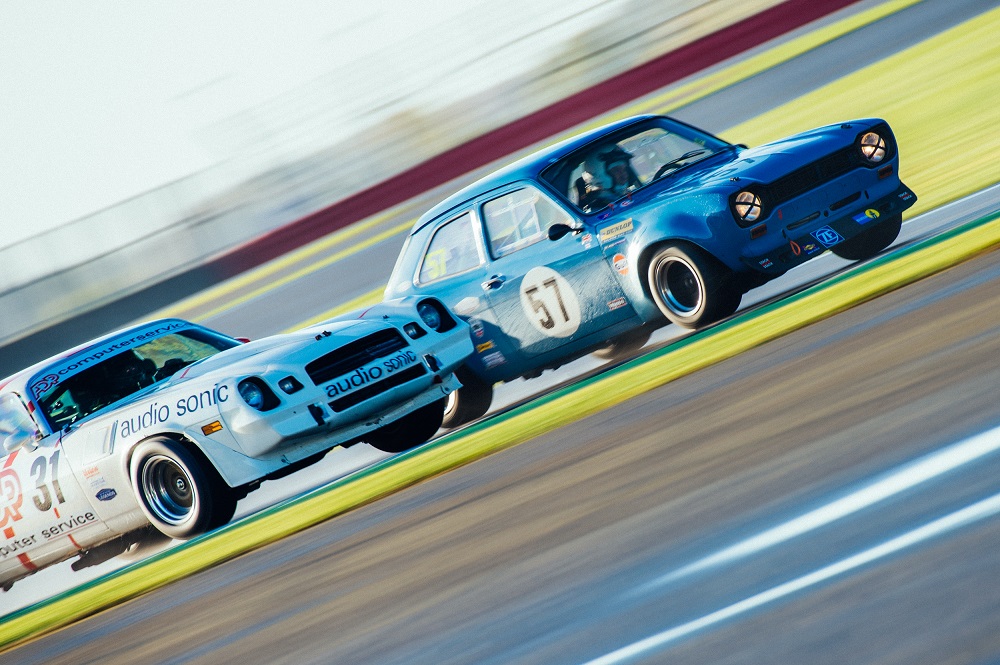 Cole and Richards Land Stirling Moss Trophy and Newall Achieves Woodcote Trophy Win in Allard
When Mark Cole won the 2002 Porsche Carrera Cup GB, Dafyd Richards was his trusted race engineer. Twenty years on, Richards' first year of racing ended on a fantastic high when he took over his 1500cc Lotus-Climax 11 from 'Coley' and stormed to victory in the Stirling Moss Trophy element of the MRL's Pre-1961 sportscar race on Silverstone's Historic GP circuit. Handed a 25 second lead, Richards looked every inch the pro as he extended his advantage to almost a minute over Ben Adams's giant-slaying Lola Mk1 in "an emotional journey" to the chequered flag.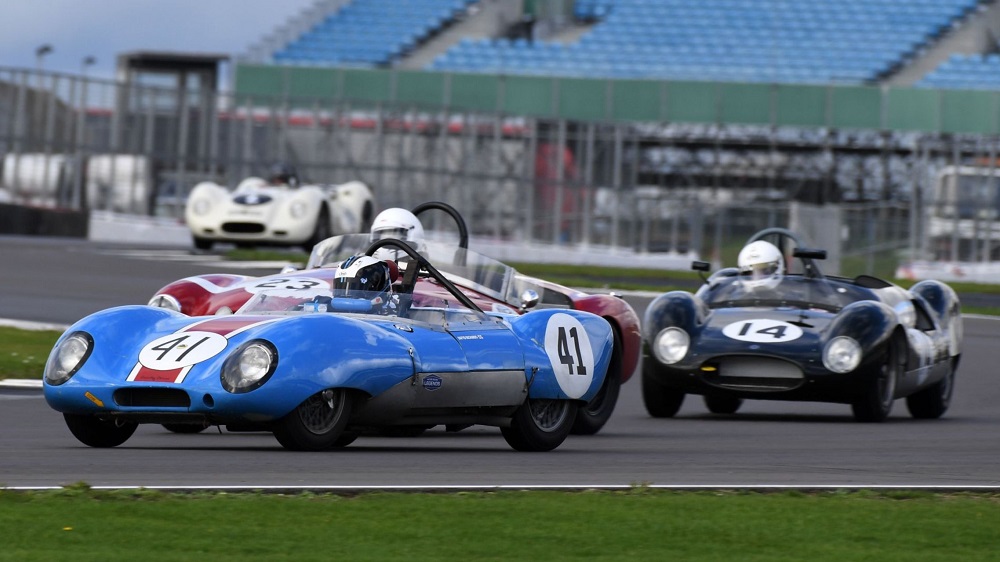 While Cole repelled the bold Stuart Morley in Richard Hudson's bellicose Lister-Corvette from the start, Sunday race's initial phase was coloured by a stonking battle for third between the feisty Richard Postins (Lotus 11), Adams and Andy Newall, wringing everything he could muster from Malte Muller-Wrede's Royal Automobile Club Woodcote Trophy challenging 5.4 Allard J2X Le Mans in a straight line to atone for the V8 monster's shortage of brakes in this company.
Newall's maiden Woodcote Trophy win never looked in doubt, running clear of Ben Eastick/Karl Jones (Jaguar D-type) and Rick Bourne/Malcolm Paul (Lotus-Bristol Mk10). Third overall behind Adams was an unexpected bonus for Newall though. Nigel Greensall, who had qualified starter Tarek Mahmoud's Lister-Jaguar Knobbly on pole, had howled past the red Allard only for his gear lever to snap changing from second to third at Village on the final lap. Smith's tremendous challenge in the quickest of three Cooper T49 Monacos was undone when he missed the pit stop window.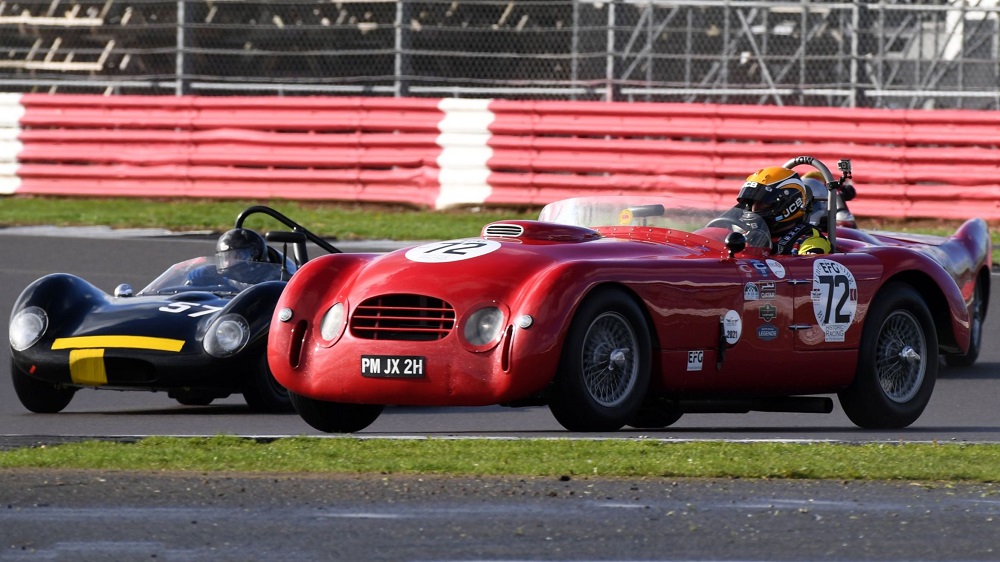 Faultless Wrigley Wins Jaguar Classic Finale
The spectacle of the four leading E-types exiting Silverstone's Club corner together in full-blooded drifts, XK engines harmonising into a 24-cylinder choir, at the end of the Jaguar Classic Challenge's opening lap was something to behold. Take a bow Jonathan Mitchell, Andy Newall, Matt Wrigley and Danny Winstanley, who jockeyed for supremacy.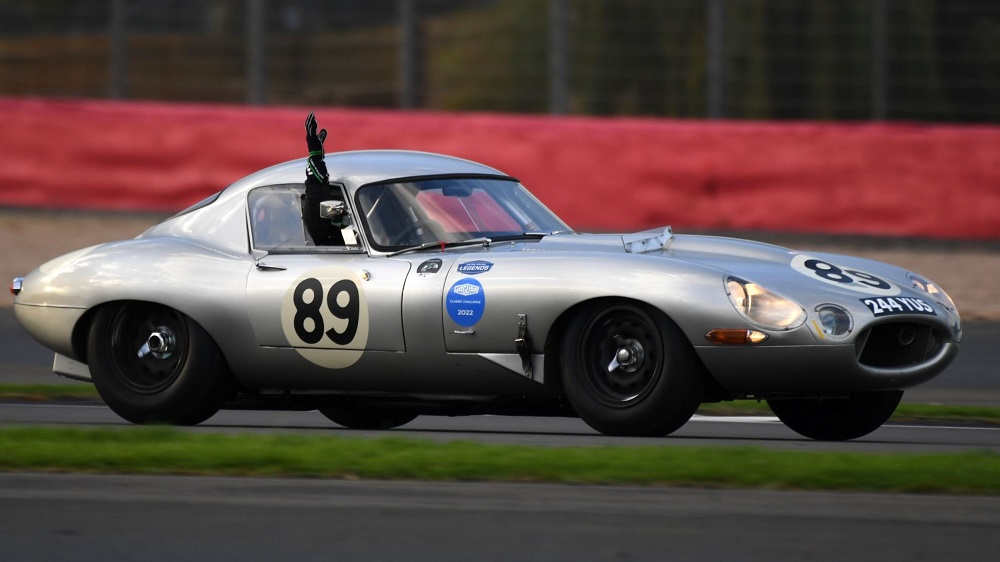 As it panned out, Mitchell fell back on full-dry suspension settings before a top-end misfire set in and a broken anti-roll bar slowed Newall, leaving Wrigley and Winstanley to slug it out for victory. Stuck behind another car at the stops, Winstanley gunned his muscular Fixed Head Coupe away, but a drive through for exceeding the 60kph pit speed limit defined the battle. "He gained no advantage," said Wrigley, who thus repeated his Thruxton gold in the family Low-Drag Coupe.
A strong start by Oli Webb relayed Guy Ziser towards early category honours, and fourth overall, but Phil Keen closed to within 16.182s in finishing Grahame Bryant's similar Fixed Head Coupe. Keen's best lap was a mere 0.017s slower than Webb's, set nine tours earlier. Matt Bailey of Jaguar Land Rover Classic presented the podium trophies.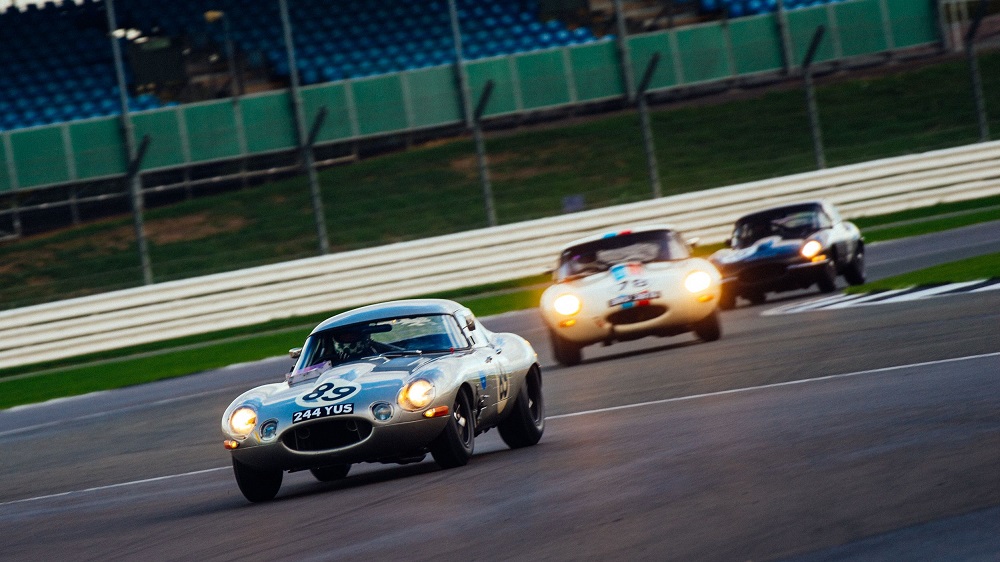 The Traditional Oak and Timber Trophy, presented for the past eleven years, was awarded to the marshalling team on-post at Maggotts corner for their heroic clear-up of an oil spill during the last fifteen minutes of the Royal Automobile Club Pall Mall Cup.  The scenario of the race finishing under a safety car was avoided after the team's swift actions in record time allowed two clear laps of racing and a clean run to the chequer flag.
If you are interested in more news click here.
---