For nearly thirty years, the McLaren F1 has remained the fastest ever naturally aspirated car and has earned its status as an automotive legend. Born of a company steeped in motorsport pedigree yet one which had never built a production road car, the F1 was designed to be the greatest road-going automobile ever built, regardless of cost.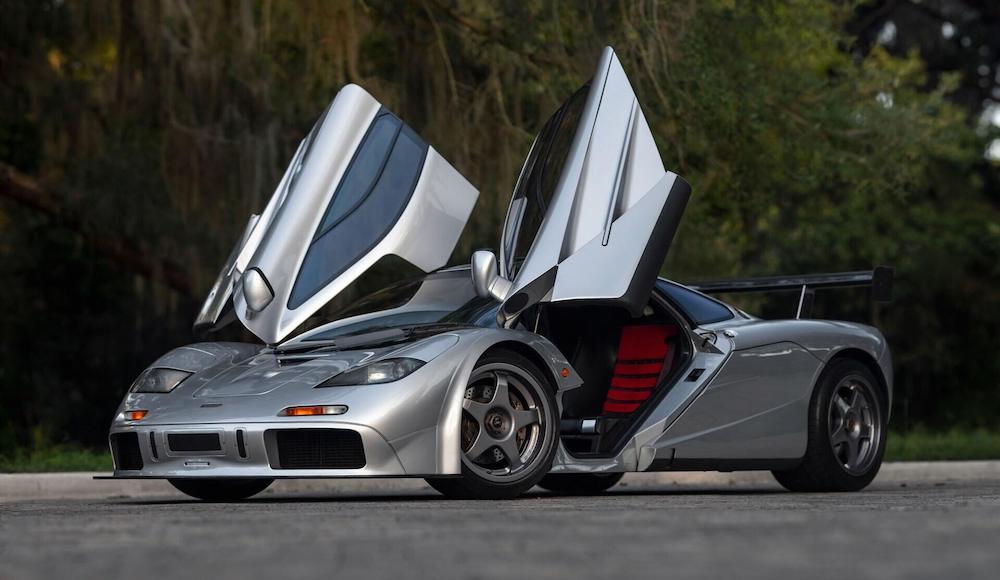 Through relentless attention to detail and revolutionary design processes, McLaren created a technological tour de force and the F1 truly took the industry by storm. Not only would it achieve all of the lofty goals set by its manufacturers, McLaren went one step further and somewhat reluctantly took the car racing, only for it to win the 24 Hours of Le Mans outright in 1995, the car's first outing at the fabled event. This was a truly astonishing accomplishment when considering that the F1 was never designed with racing in mind. It would have been entirely possible to drive the McLaren F1 from the UK to Le Mans, race, win the race overall, and then drive the car home. In modern motorsport, such a feat will never be possible again.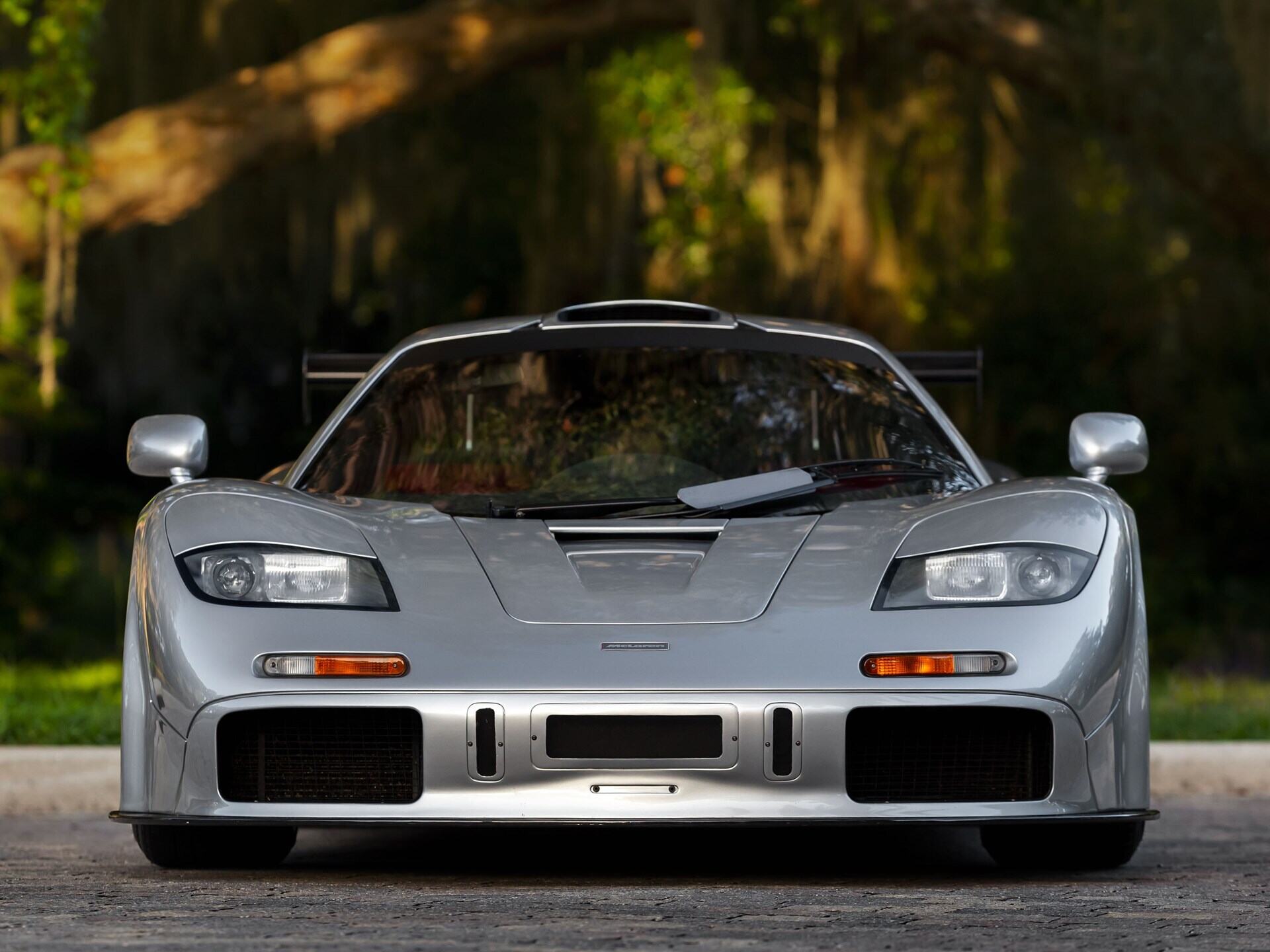 Many argue that McLaren's F1 is the greatest car of the 20th century, a bold claim but a justifiable one considering this car's impact on the industry and its success in motorsport. With changing demographics in the collector car industry, the McLaren F1 is arguably on a path toward the vaunted heights of other iconic cars such as Ferrari's 250 GTO and Alfa's 8C 2900 in terms of desirability and value. When considered together, these three cars are a trifecta with each representing, within its own generation, the very best of design and performance. The 8C 2900 and 250 GTO have sat at the very pinnacle of collecting for decades, and the McLaren F1 can be considered worthy of inclusion within this exclusive club, making them the 'Big Three', with ownership of all three signifying their respective owner as one of the world's top car collectors.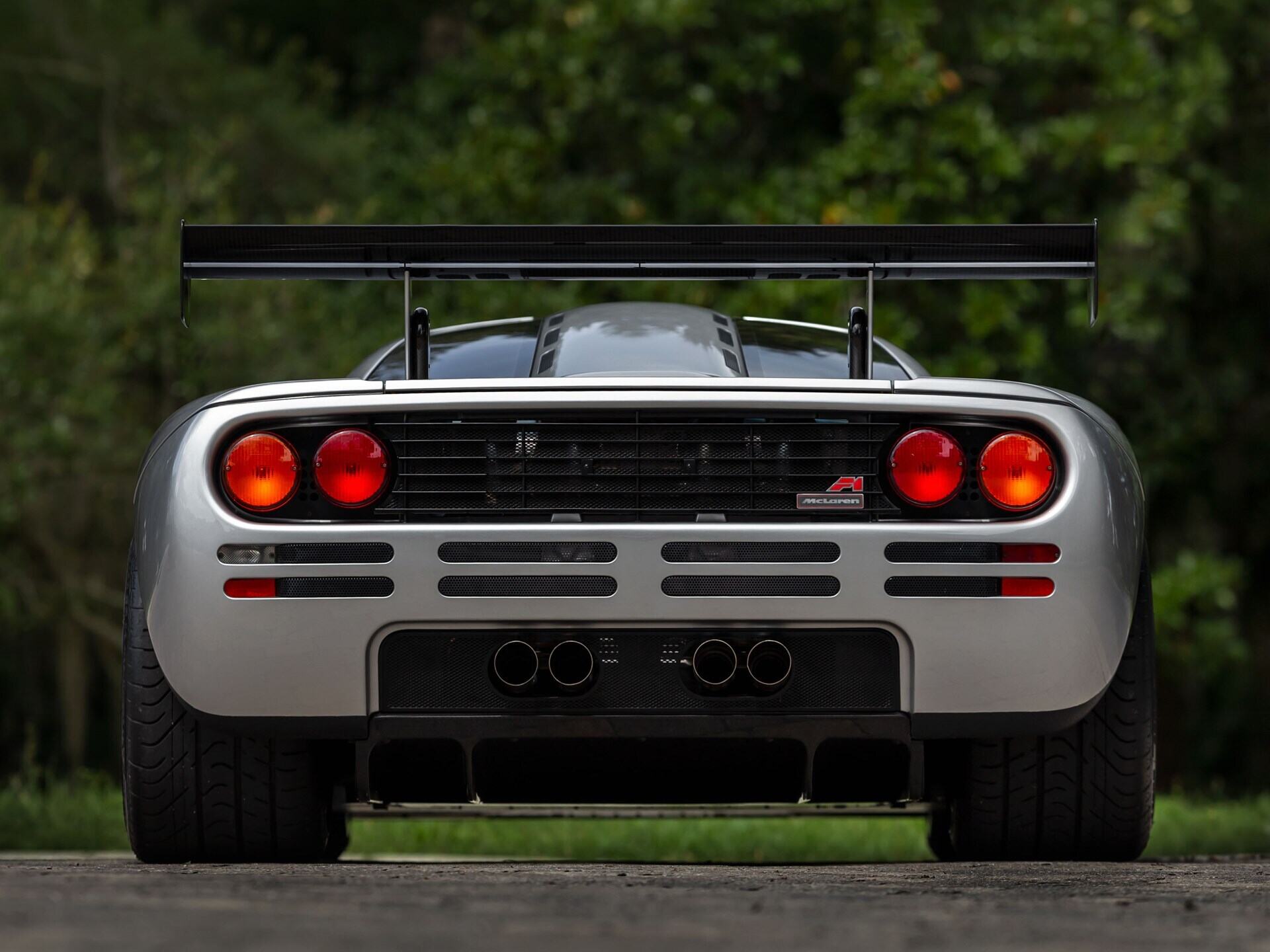 As the automotive industry marches towards electrification, the F1 will be seen as a watershed moment in the history of the performance automobile, and an automobile that many designers and engineers have looked to for inspiration ever since its introduction. Elon Musk once tweeted: when my 1st company got bought, I had to decide between buying a house in Palo Alto or a McLaren F1 (best car ever imo). Was no contest. I bought F1 & a small condo that was much cheaper than the car. New Tesla Roadster will exceed all gas sports cars in every way…". Even though the new Tesla Roadster has yet to enter production, it's clear that his F1 would have had a profound affect on Musk, and therefore Tesla.
At the time, the McLaren F1's technical innovations were nothing short of mesmerizing, and most remain as mainstays in the supercars and hypercars produced today. The McLaren F1 was the first car built with active aerodynamics, gold to reflect heat in the engine bay, and a modem system so the car could communicate with technicians back at the factory to diagnose any problems remotely.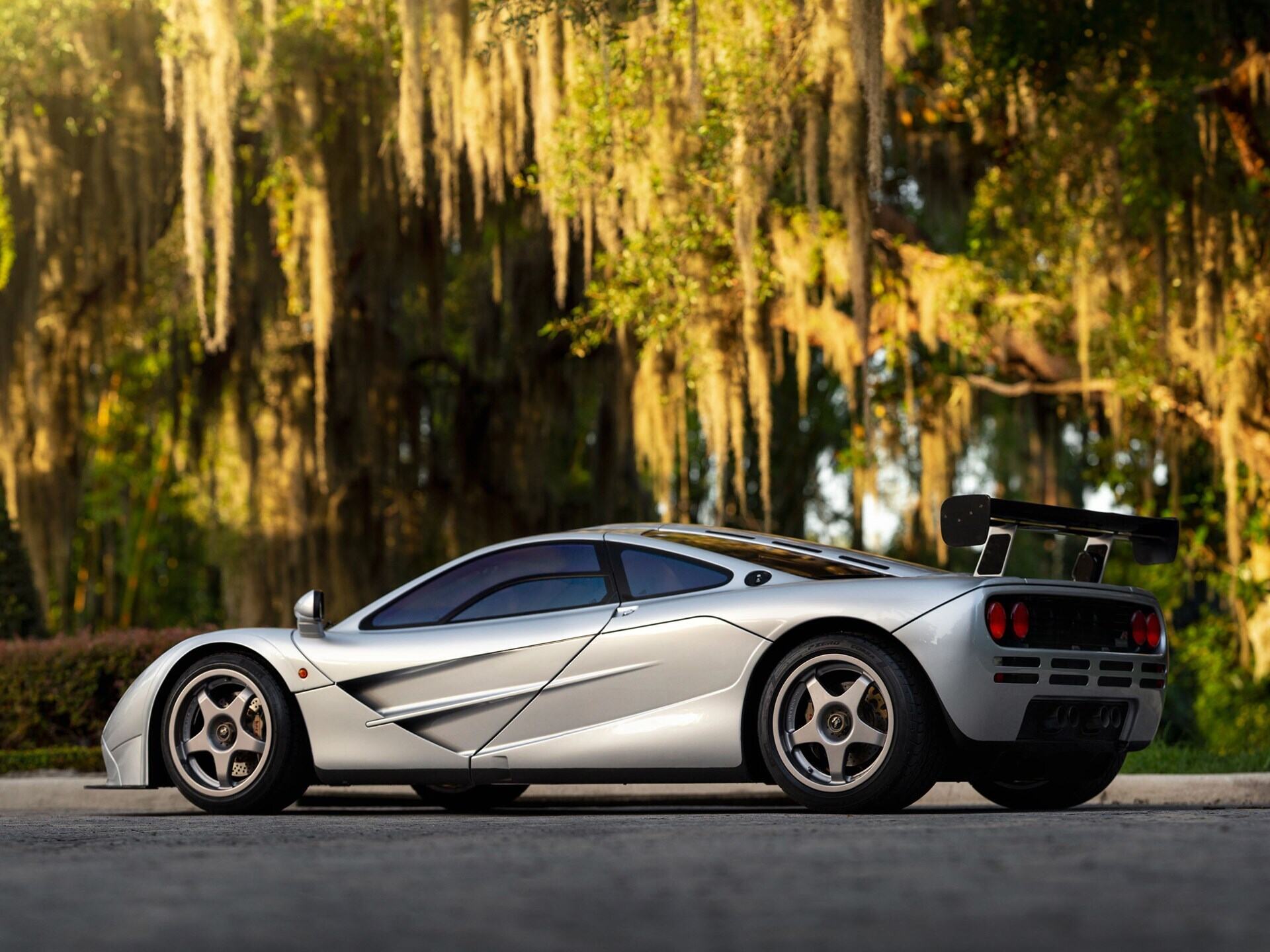 No detail was considered unimportant, from the hand-drawn and inscribed owner's manuals bespoke for each car, the six-disc CD player custom-designed by Kenwood to be the smallest and lightest unit of its kind, and featherlight Falcom tool kit, every aspect of the car was carefully considered. At a list price of £634,500 upon its unveiling (over $1,000,000), this was the most expensive new car ever built. Delve into the details and in the opinion of all those who were lucky enough to purchase an F1 new, the cost was justified.
Midway through the McLaren F1's production and once some customer cars had started to accumulate mileage, it was discovered that the car had a slight Achilles heel in the form of its headlights. During night-time driving, output of the stock headlights was noticeably poor, not something that one wants to contend with at 240 mph. Looking to rectify this, the factory quickly came up with a solution for which the car presented here, chassis number 059, would be the testbed: the existing headlight internals were replaced with those from the BMW Z1 Roadster and the headlight housings themselves were made slightly shorter.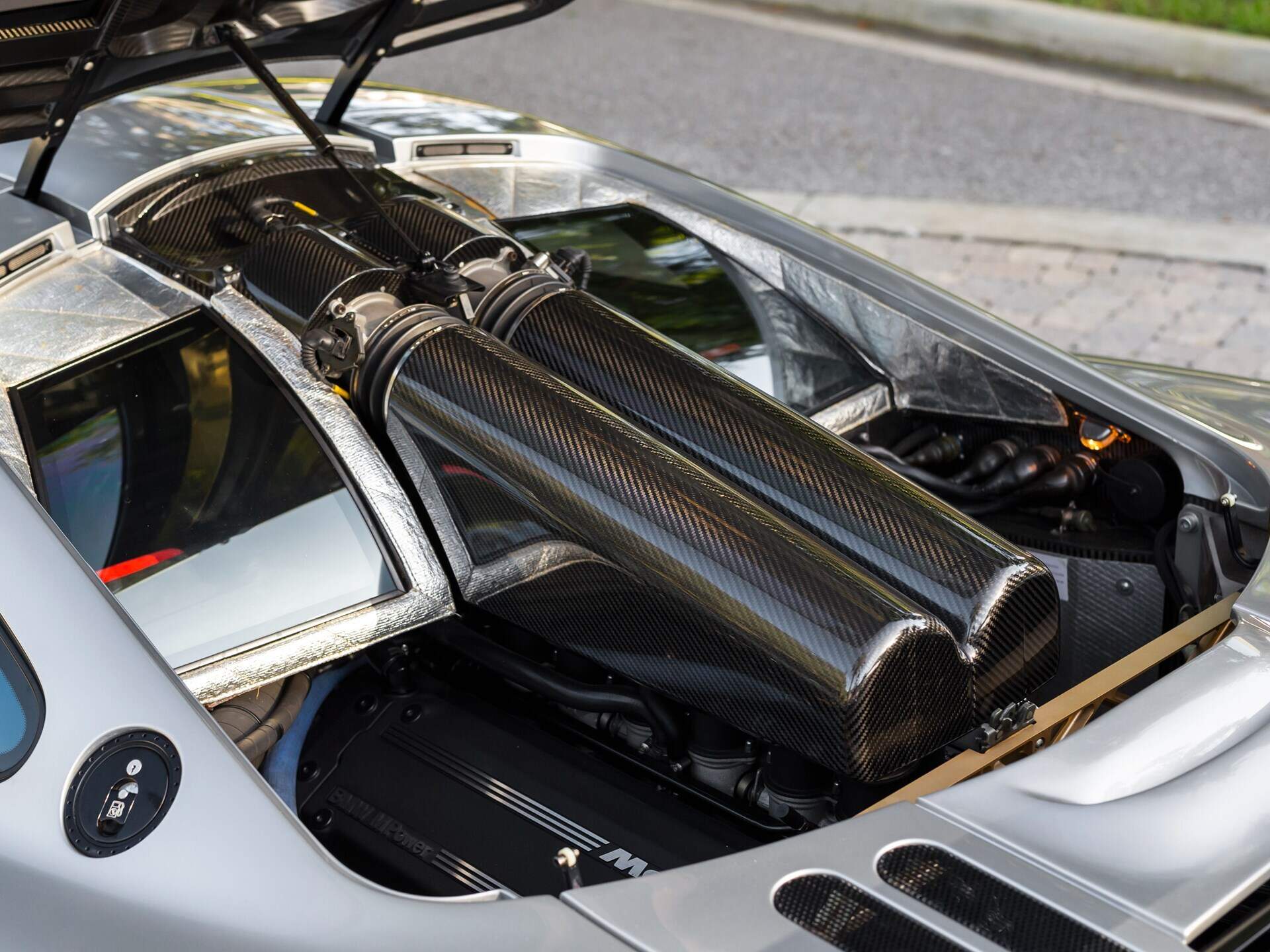 Chassis number 059 is the only F1 to leave the factory with a unique headlight setup, making it a true one-off within the 64 road cars constructed and instantly recognizable to those in the know. McLaren would later improve headlight output in existing F1s by swapping the position of the low and high beam lamps, as well as replacing the low beam lamp with a different projector, all of which could be done within the original headlight housing, cementing this car's status as unique amongst its peers.
Students of motorsport history will be keenly aware of the auspicious nature of this car's chassis number, 059, as it shares that number with the race number of the F1 that took overall victory at the 1995 24 Hours of Le Mans, further affirming the F1's significance in automotive history. With this car having been completed and delivered in April 1998 as the 97th McLaren F1 built (making it amongst the very last), this fact would not have been lost on its first owner, who was no stranger to McLaren and the F1.
That first owner was John Studholme of Boston, Lincolnshire in the UK. Studholme founded Dynamic Cassette International which manufactured typewriter cassettes and would later transition to producing printer inkjet cartridges. This was not Mr. Studholme's first F1, as he traded chassis number 017 into McLaren upon his purchase of this car, nor would this be his last F1 as he also owned the F1 GTR 14R. Opting to finish his new F1 in Magnesium Silver over a black Alcantara and leather interior, chassis number 059 was first registered in the UK in Studholme's name in May of 1998 and the car was immediately pressed into use with him. Service records on file show that seven months after delivery, the F1 was serviced by McLaren Special Operations and fitted with the High Downforce Kit as well as 18-inch wheels, which it still sports today.
At the time 059's first service was carried out, it had already been driven some 4,676 miles. Its service records make for fascinating reading as McLaren went to excruciating detail to ensure that the F1 would always perform at its very best in any circumstances. Nothing was overlooked in servicing, a regimen which included pre- and post-service testing on closed circuits, and even what CDs were present in the bespoke Kenwood six-disc CD changer were noted upon arrival at MSO (Queen, Elton John, and Fleetwood Mac were clearly favorites of Studholme). The car was serviced regularly during his ownership, with invoices on file for each service from 1998 to 2012, verifying the car's present mileage of less than 16,400 miles as authentic. Importantly, these records show that while the car was used by Studholme as McLaren would have intended, the car was never abused and always returned to the factory to be properly looked after.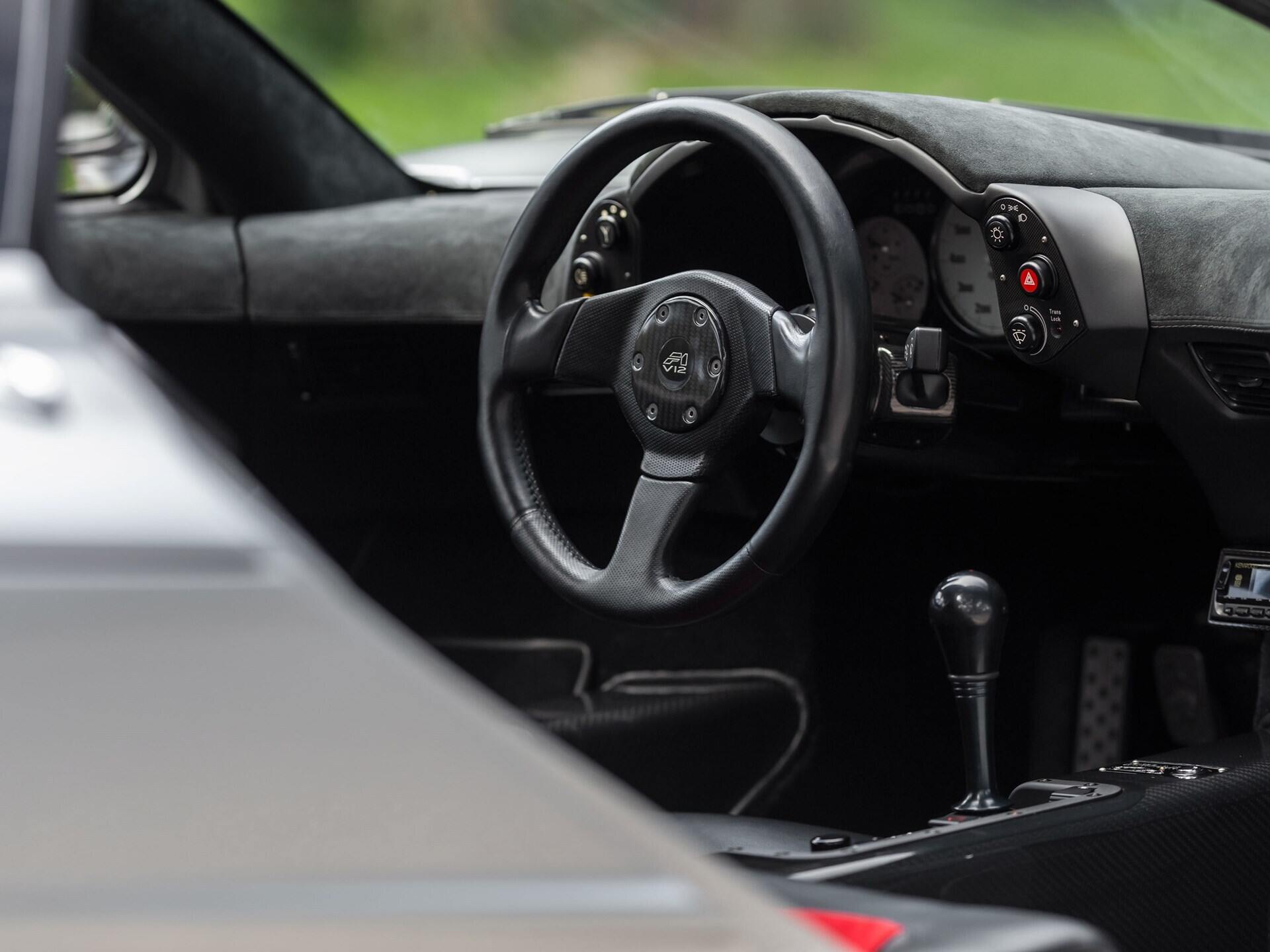 The F1 was acquired by its second and current owner in late 2012 and was exported to the US under the show or display exemption to reside within his world-class collection, where it would spend some time sitting alongside yet another McLaren F1. In this time, it has accrued less than 300 miles on its odometer and remained largely in climate-controlled storage, the additional mileage a result of occasional exercise within storage. Of note, it is advised that 059 will require recommissioning and we welcome interested parties to contact us directly for further information on its overall status.
These cars remain eminently usable as they are well-supported by McLaren Special Operations and owners are encouraged to use and enjoy their cars through use on tours, concours events, and general road use. It's often easy to forget that unlike other supercars of its era, the F1 has a relatively small footprint and plenty of storage space in its panniers, making extended trips and day-to-day use a pleasure, a welcome bonus to the car's otherworldly performance.
In comparing the F1 to its contemporary rivals, Motor Sport magazine said that the F1 is "a car created using the best brains and greatest technological resources…great because of the undoubted extravagance of its design but because of its sheer sense…it is not simply the fastest mid-engined supercar ever built, but the most practical." What more could one want from an automobile?
Today, of the 106 F1s built, multiple F1s reside alongside one (or more) of their peers in large collections, making the true number of current F1 owners far fewer than 100, as illustrated in this example's ownership history. Acquiring this F1 would allow one to join that exclusive club of owners and drivers, achieving something that millions of enthusiasts can only dream of but few, perhaps only a few hundred people, have ever achieved.
Having not been seen publicly for the last decade in its current ownership, this represents a remarkable opportunity to acquire a unique and significant F1.