The Maserati 250 F is one of the most successful Grand Prix cars of the 1950's. Almost all of the famous drivers of this time took place behind the steering wheel of this fabulous race car. Only a few names should be mentioned here: Juan Manuel Fangio, Sir Stirling Moss, Mike Hawthorn, Peter Collins, Piero Taruffi, Gigi Villoresi, Phil Hill, Jean Behra, Roy Salvadori, jo Bonnier, Jack Brabham, Luigi Musso, Caroll Shelby and many more.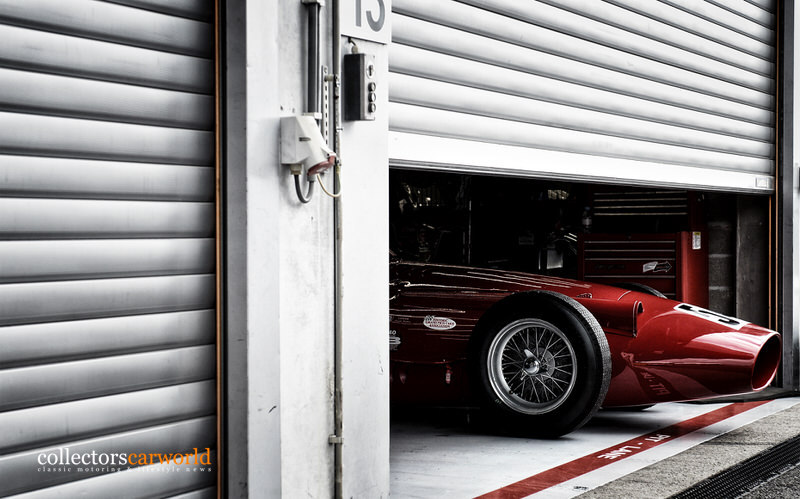 Juan Manuel Fangio had one of his greatest races in a 250 F in 1957 at the Nürburgring. After a pitstop he had a huge gap by nearly a lap to Peter Collins and Mike Hawthorn in their Ferrari's. By driving as fast as possible or even faster, setting one lap record after another, he could close the gap and finally passes the two Ferrari's to taking the lead and finally took the win.It was his last victory in Formula One and he was able to score his fifth World Championship in Formula One.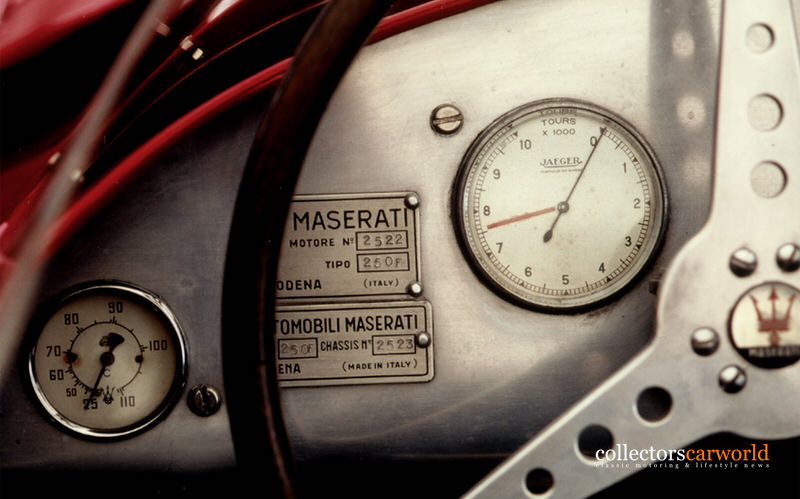 Only a few of the 28 built Maserati 250 F were raced by Juan Manuel Fangio. In fact he only took the victory with three different cars in two seasons, 1954 and 1957. In 1954 he won with chassis 2505 the Grand Prix of Argentina and Belgium and in 1957 – his World Championship year with Maserati – he mostly drove no. 2529. With this car, a lightweight version, he took his tremendous win at the German GP in 1957.
After two years with Formula 2 regulation for the World Championship there was a return to the "right" Formula One cars. The engine size was reduced to 2,5 litres, so almost all teams had to build new cars or modify their F2 cars to the new regulations.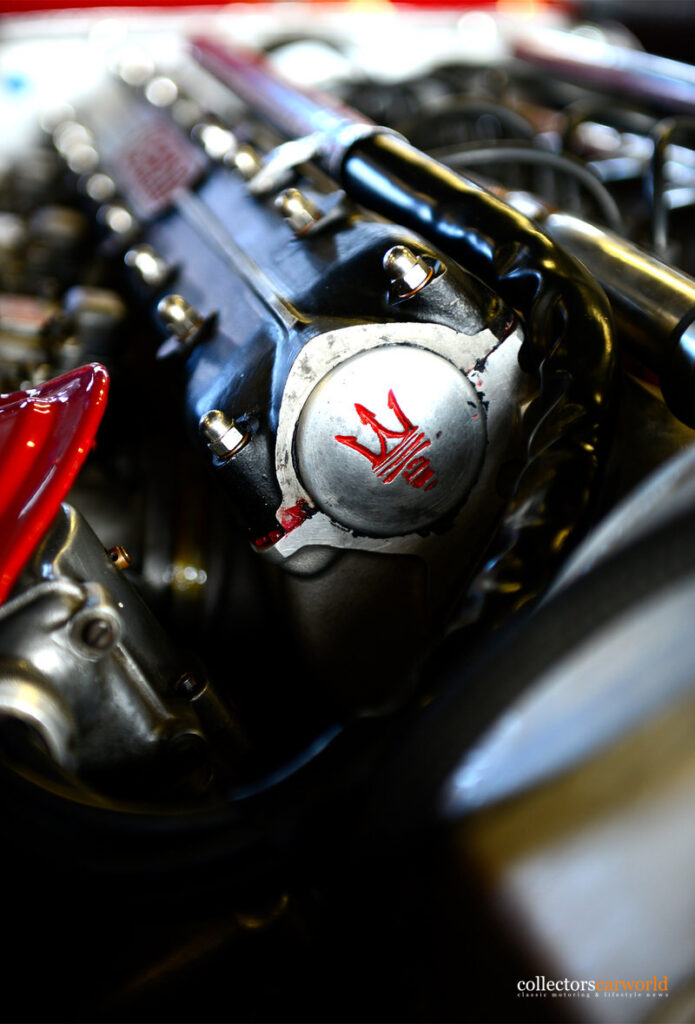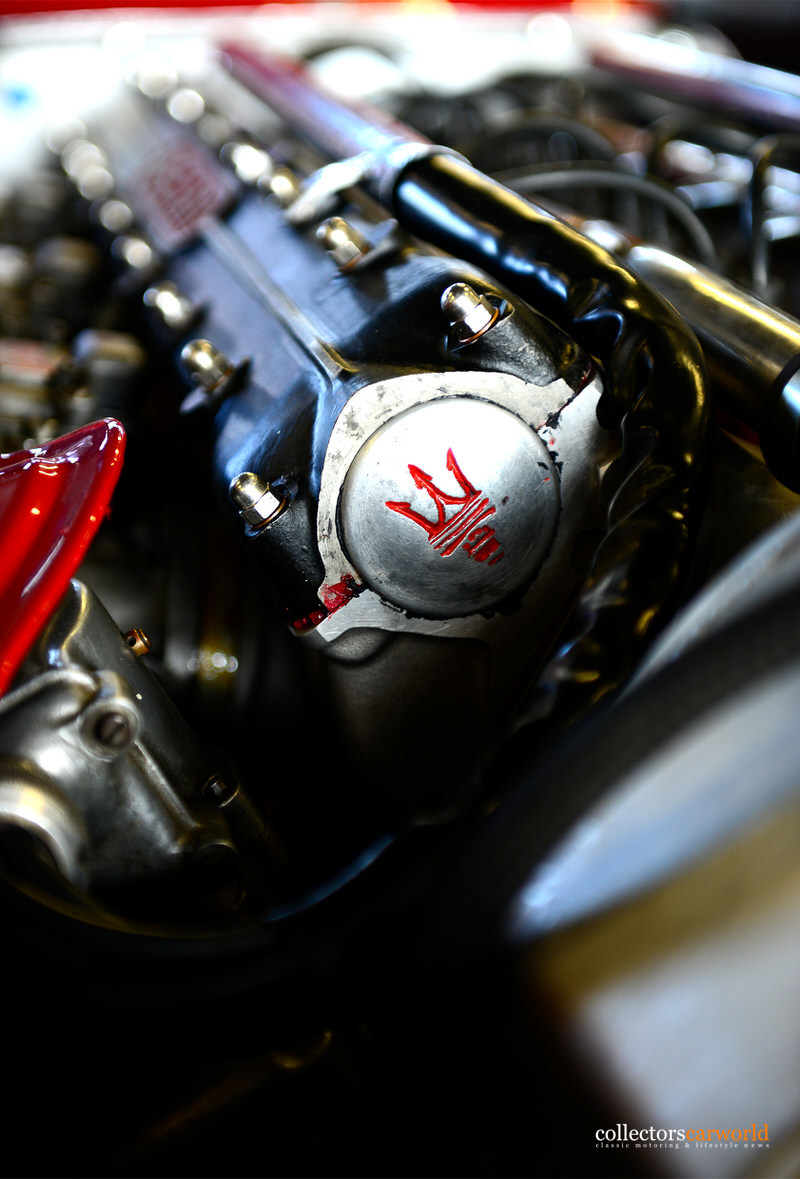 This was the birth of the Maserati 250 F. This car was so effective for such a long time, that it became a real icon of the 50's Grand Prix cars. I truly love the Maserati 250 F, and everytime I see one of them at an historic meeting, I am really happy.
The pictures I choose for this report are a bit older, but this reflects that the 250 is an all time classic. Since a few years it seems to be not permitted to drive them without a rollbar behind the driver für safety reasons. From the aspect of safety of course it is fine, but from the view of a connaisseur it's a disaster. The perfect shape of this beauty is ruined, so I am happy to have so many "old" photographs in my archive. Hope you enjoy it.
Maserati 250 F: TECHNICAL SPECIFICATION
MODEL Tipo 250 F
TYPE FORMULA Formula One
YEAR OF PRODUCTION 1954 – 1958
ENGINE Type 2, 6 cylinders
CUBIC CAPACITY 2494 cc
FUEL FEED Indirect injection
CARBURETOR 3 x Weber 42 DCO3
POWER OUTPUT 240/270hp at 7200 rpm
TRANSMISSION Multiple disc clutch, 4-speed + reverse gearbox
CHASSIS Single Seater with tubed frame
SUSPENSION Front Independent, unequal wishbones, Rear De-Dion Axle, leaf springs
BRAKES Front and Rear with drum brakes
TYRES Front 5.25-16, Rear 5.50-16 or 7.00-16
FRONT ANDE REAR TRACK 1300mm / 1250 mm
WHEELBASE 2280 mm
DRY WEIGHT 630 / 670 kg