You are looking for FINEART to decorate your home? Now available: The Porsche Calendar 2022 and an exquisite selection of FineArt Prints of some of the finest cars.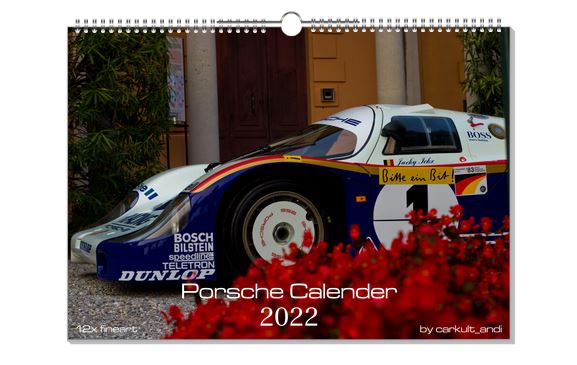 First, let's take a look at the 2022 Porsche Calendar, which you can get in A3 and A2 Format. In it you'll find a big variety of some of my favorite Porsche pictures I took in the last two years. Compared to other car themed calendars the Color of the background is adjusted to the object in the picture.
This gives it its own look and marks the different types of seasons and months throughout the year. This must-have for Porsche enthusiasts is printed in Austria on the highest quality standards and with the claim to be as beautiful as possible, while showing the big variety of the beautiful shapes that Porsches have.
The perfect companion for your 2022!
Furthermore, you can also find my FineArt Prints on carkult-andi.com. Printed on the high quality Hahnemühle FineArt Baryta paper, you can choose between different sizes.
The selection of motives, sorted in Colorful, Black & White and Analogue, shows a spectrum that has something in store for everyone's taste.
For those of you who are looking for something even more special the offered prints in the analogue sector should be highlighted. These pictures are captured on a 35 mm film and bring together classic cars with the classic process of taking pictures. The grain in these pieces of art for sure isn't to everyone's taste but for those who are looking for the pinnacle of fine photography well worth considering.
Contact (mail): andreas@griesbeck.org
Website: www.carkult-andi.com