For the first time in history of jacket making, after decades of inadequate replica offerings, they are proud to present, at last, a perfect reproduction of the legendary Durable One Star jacket, made in their special black teacore Liberty horsehide, exactly as worn by Marlon Brando's character Johnny Strabler in the famous 1953 film "The Wild One".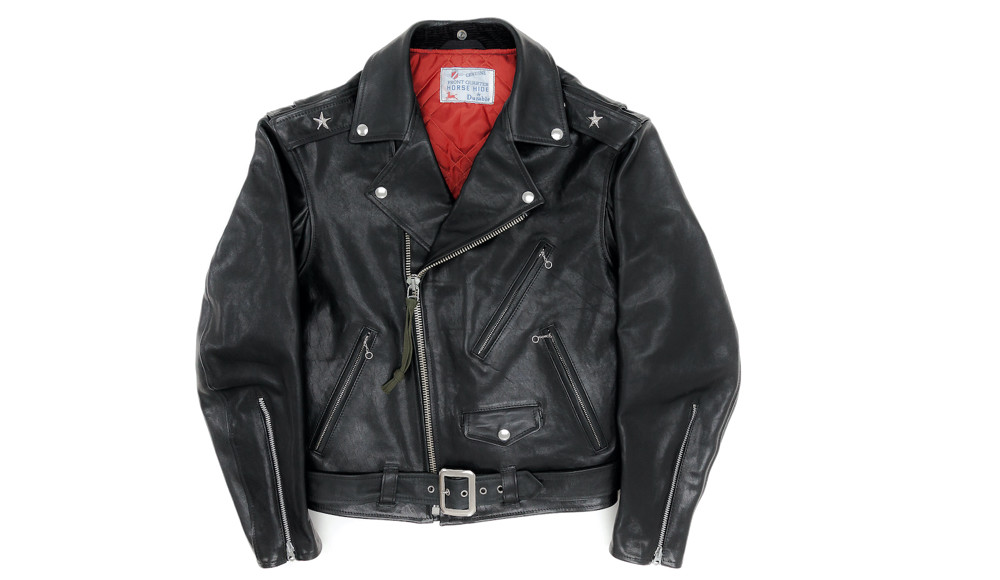 The jacket features:
Asymmetrical center front pattern with heavy duty gauge 10 Talon zipper.
Snap down lapels with original 1950s NOS "DOT" stainless steel snaps.
Shoulder epaulets with the signature Durable one star insignia.
Bi-swing back panels and two piece underarm gussets.
Sleeves with original 1950s NOS Talon Zipper adjustable cuffs.
Attached half belt with original 1950s NOS North & Judd  "Anchor" buckle.
Three outside O-ring zippered pockets.
Small sized snap down flap pocket for your "windproof" lighter, lined with parachute cloth.
Original custom made "quadruple diamond" design quilted lining, and hem with black corduroy.
Sleeves lined with black color heavy cotton drill.
Bill Kelso re-created this jacket based on authentic patterns taken from an original Durable jacket that was briefly in our possession. This is a short, "V" shaped and real slim fit jacket with broad shoulders and considerable tapering towards the waist, not at all forgiving for a beer belly. Meant only for athletic type bodies it will fit exactly like you see it in Phil Stern's shot of Brando and of course the rest of the movie.
Strictly limited edition.
Click here for further information
Report by billkelsomfg.com
---