Once again, the name that gives life to the motorcycles is no coincidence. Known in Greek mythology as the sorceress of the island of Eea, Circe turned anyone who dared to offend her into an animal by using her sorcery. This power and control made her one of the most respected goddesses of her time.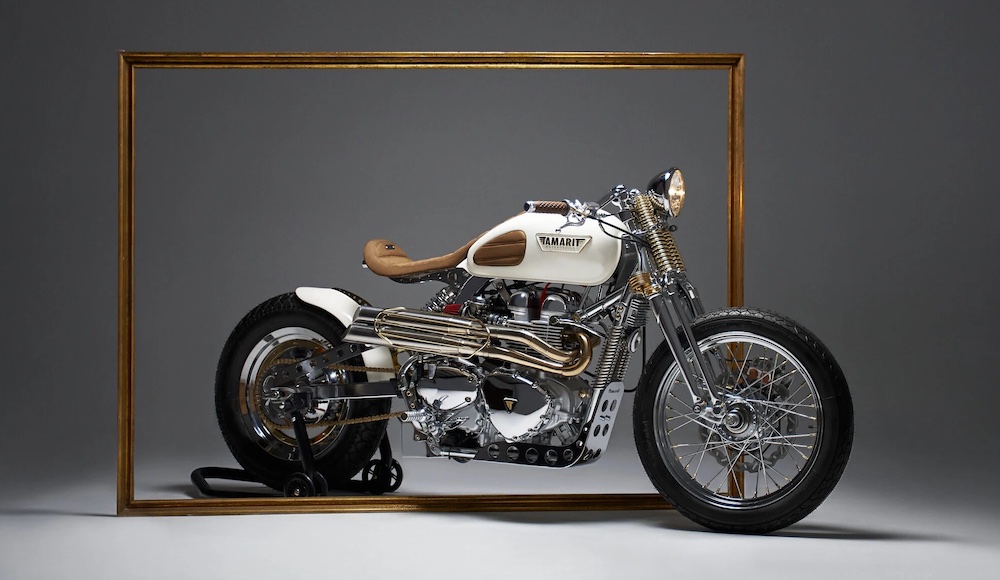 Classic, beautiful and daring are some of the adjectives this unique piece shares with the goddess Circe. Inspired by the paintings of the Baroque era, this bike embodies the magic of a goddess you will not be able to take your eyes off of.
The value of detail
The passion for what's unique and the taste for elegance, were the premises used to build a motorcycle that will once again revolutionize the landscape of classic motorcycles worldwide. A work worthy of admiring for hours in order to appreciate each of its details, for which the Tamarit team has spent many hours and dedication.
Moving lines
Pure light and movement. The color scheme combined with the shiny chrome and brass, was inspired by the works of the Baroque era. As if fresh from a canvas. In addition, its figure and elements overlap creating a sense of movement that does not end in one piece, but continues into the next. An example is the seat, which is embedded and continues into the tank.
Between the heavenly and the earthly
Works like Circe start with an idea and become a reality through a 100% handcrafted process, with outcomes that often surpass what the creator had imagined. High precision in the methodology resulting in unique motorcycles, virtually unrepeatable and for which the borders of the divine become a reality.
As a work of art inspired by the 17th century, Circe combines the technique of chrome plating with brass machining, which gives it that jewel-like state that shines with its own light.
Click here for further information
more information: tamaritmotorcycles.com
---