Historic race car owners trust Canepa´s motorsport team to deliver the expertise to restore and run their vehicles at the highest level. See here the cars of Canepa who just arrived in their inventory.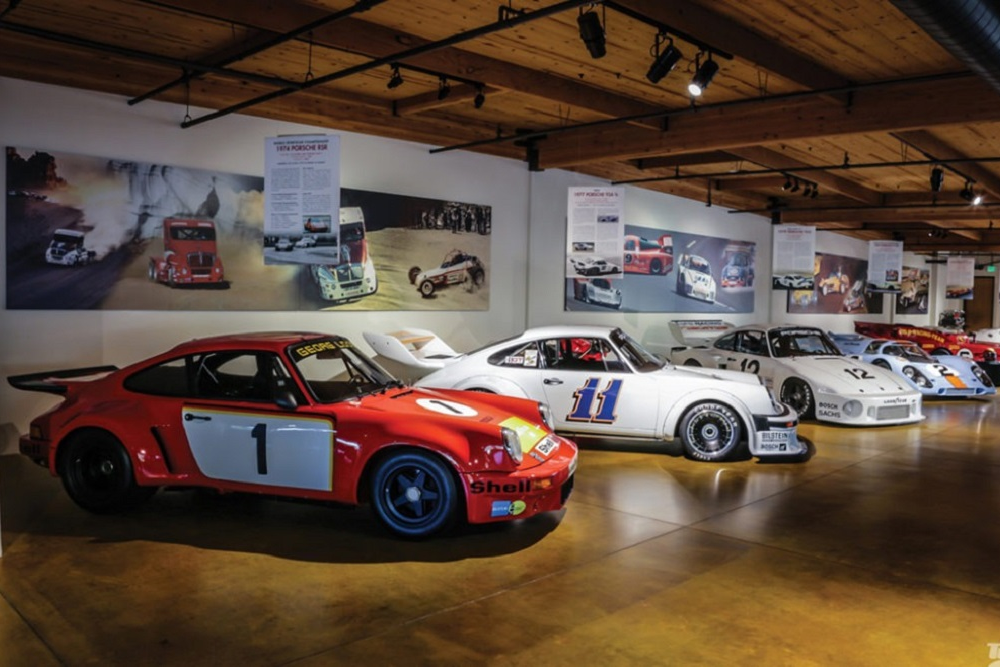 2020 Ford GT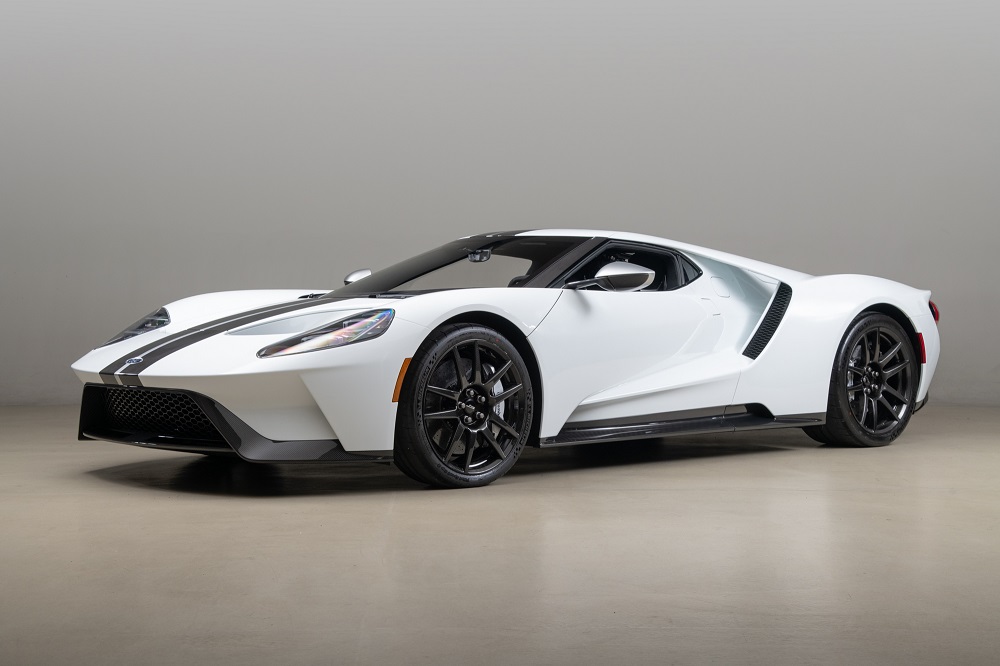 2004 IndyCar champion – 2013 Indianapolis 500 winner – Ford GTLM 24 Hours of Le Mans team driver
New Condition – 14 Miles
Extremely Rare Carbon package with exposed carbon fiber stripes and silver accents
Includes all specialty items delivered from new
Tony Kanaan is one of an elite group of Indy 500 winners and series champions. Racing for various teams in his IndyCar career since starting in 2002, Kanaan started racing in the Formula Europa Boxer for the 1994 Season, and the Italian Formula Three. Tony Kanaan's accomplishments include 1st place at the 2013 Indianapolis 500 and 2004 IndyCar Series Championship, 2015 24 Hours of Daytona with Chip Ganassi Racing, and also participated with the same team at the 24 Hours of Le Mans in 2017.
Tony ordered this special Ford GT with a specific theme in mind. He chose the extremely rare "carbon edition" in Frozen White. This unique option exposes the carbon fiber body underneath in the form of two body stripes and a silver accent, showing the material that makes up a majority of the car, in addition to the lightweight carbon fiber wheels, a lightweight Alcantara steering wheel and the seats and dashboard were swathed in Alcantara. He took delivery of his car in 2020 and kept his car perfectly protected throughout his ownership. Tony had the car completely wrapped in XPEL in all exterior surfaces. The Ford GT remains in new condition, as evidenced by the low 14 miles on the odometer.
---
1954 Bentley R-type Continental Fastback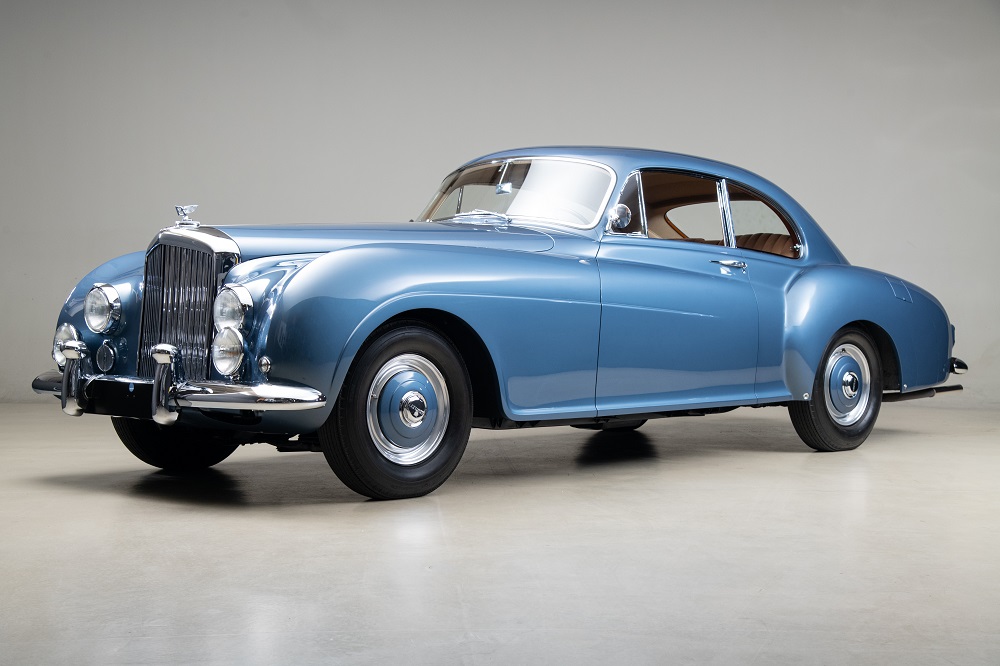 1 of only 208 R-Type Continentals ever built
1 of 23 left hand drive examples with a 4-speed manual transmission
1 of 13 equipped with the 4.5L 6-cylinder engine
The most sought out variant of the R-Type Continental
Complete ground-up restoration performed by P. & A. Wood Company
Bentley is known far and wide as one of the longest-running automotive manufacturers still in existence. During those 100 years of automobiles, many legends have been born and racing drivers created by the historic marque, but some are more legendary than others.
In the early era of Bentley, they achieved multiple wins at the 24 Hour of Le Mans, beating powerhouse teams such as Mercedes. In the 1930s the company was in serious financial difficulties. Rolls-Royce acquired them and helped continue the legacy of Bentley. After WW2, the Rolls Royce plant was moved to Crewe, where everything was developed for both Rolls-Royce and Bentley. The R-Type was designed by Evernden and Blatchley using aerodynamics and lightweight construction to create a vehicle capable of running for long periods at high speed across Europe. The final design is considered to be one of the most elegant in the automotive world.
Suspension was modified to be sportier, the engine was modified to higher compression, the gearbox was equipped with special ratios, a long rear axle ratio was introduced in combination with a revolution counter instrument, and coachwork was in aluminum, stipulation it should weigh only around 350 kg. The R-type Continental soon became the favorite car for the wealthy, wanting luxury and sporty performance combined. Only 208 R-type Mulliner Fastbacks were made.
This particular R-type Continental H.J. Mulliner Fastback BC44LC is one of only 23 Left Hand Drive examples with 4-speed central shift gearbox, and one of only 13 cars made in the 4.5 litre C-Series. This, combined with optional lightweight bucket seat option, is the variant most sought-after. The R-Type was delivered new to Major Eric Loder in France in 1954. When the car was shipped to America around 1960 for a subsequent owner, it was then sent back to Europe to P. & A. WOOD who from 1989 until 1997 carried out a very comprehensive body-off concours quality restoration in its original color.
---
1966 Porsche 912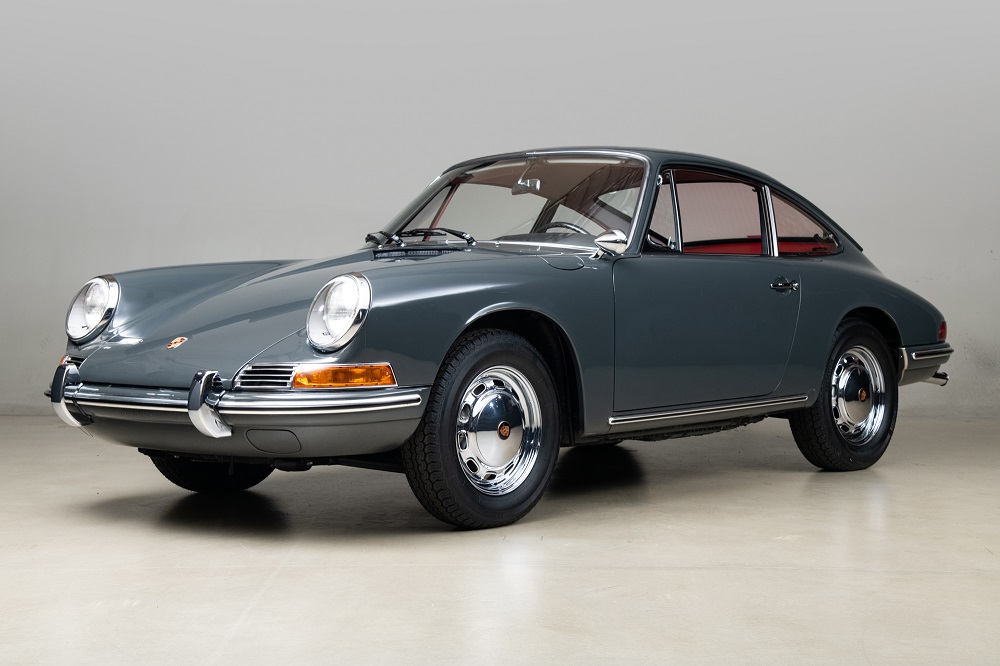 Most likely the best "All Original" 912 in the world!
One owner – 15,423 original miles
100% original paint, interior, chrome, etc.
Matching numbers engine and transmission
Original delivery documents from Porsche
Comprehensive mechanical preservation, presentation by Canepa
"A car is only original once" is the mantra for many collectors, valuing the way the car was originally delivered from the factory. This is no different for Porsche as having the opportunity to find a true original car is becoming increasingly rare in the day and age of so many restorations of collectible automobiles. "Finding a car that is over half a century old, yet completely original in concours condition, is like finding a needle in haystack," said Bruce Canepa. However, Canepa has found that in this absolutely stunning and original slate grey 15,000 miles 1966 Porsche 912.
John Reynolds worked as an electrical contractor in the late 50s. He worked in different trades such as aircraft, and auto mechanic. At the time Mr. Reynolds had purchased a Porsche 356A that he used as a daily driver. Due to his job, the 356 was not the optimal car to take him and his belongings to job sites. In December 30th 1965, Mr. Reynolds brought his 356 to his local dealership, Gardner Motors out of Fresno California.
In the dealership showroom, the 912 was beautifully displayed, and without hesitation Mr. Reynolds noticed the improvements over his 356, different styling and more interior space. The grey over red was the perfect combination, and Mr. Reynolds sat down with the salesman and traded his 356 plus $5394.47 to complete the deal on a new 912. Mr. Reynolds added seatbelts as an accessory to ensure the safety of himself and his wife. During the following years of ownership, Mr. Reynolds drove his 912 regularly. The service of the vehicle was done according to the original service book at the Gardner Motor Inc dealership, where the dealer stamped the original service book and signed off on the 912.
Through the years, Mr. Reynolds would drive the 912 less as his family was growing. The 912 became his weekend car, where he drove it along the California highways in his hometown of Reedley, CA. Since Mr. Reynolds was an aircraft and car mechanic, he fastidiously kept up the maintenance and service on his 912.
If you are interested in more news click here.
---