Historic race car owners trust Canepa´s motorsport team to deliver the expertise to restore and run their vehicles at the highest level. See here the cars who just arrived in their inventory.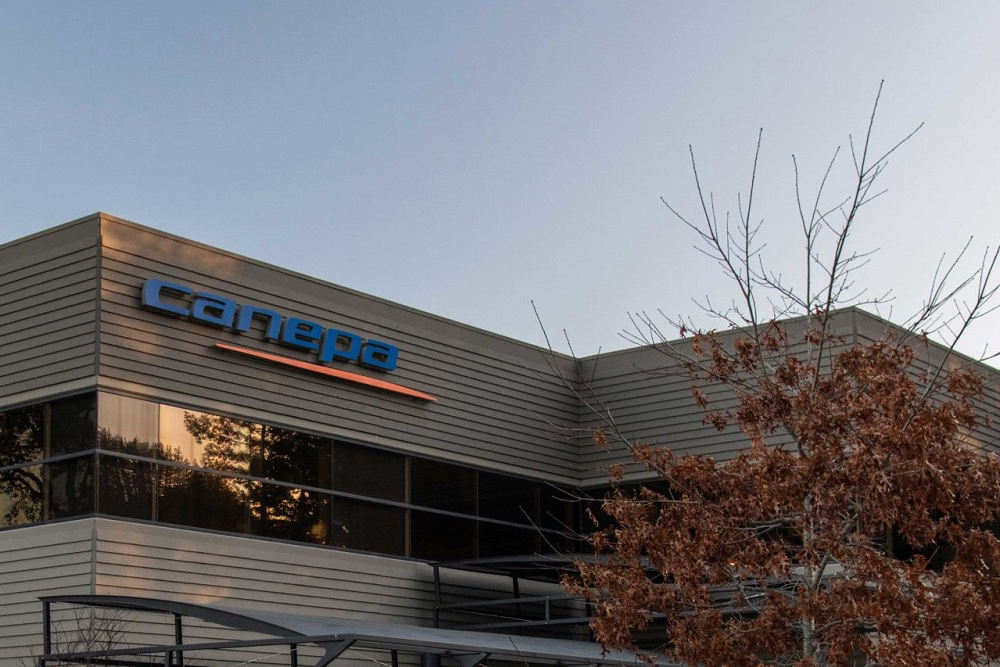 ---
1993 Jaguar XJ220
Only 281 models produced by Jaguar from 1992 to 1994
All original cosmetic finish and drivetrain
Limited ownership since new
Includes service records, owners handbook, tool kit, first aid kit, parts and service manuals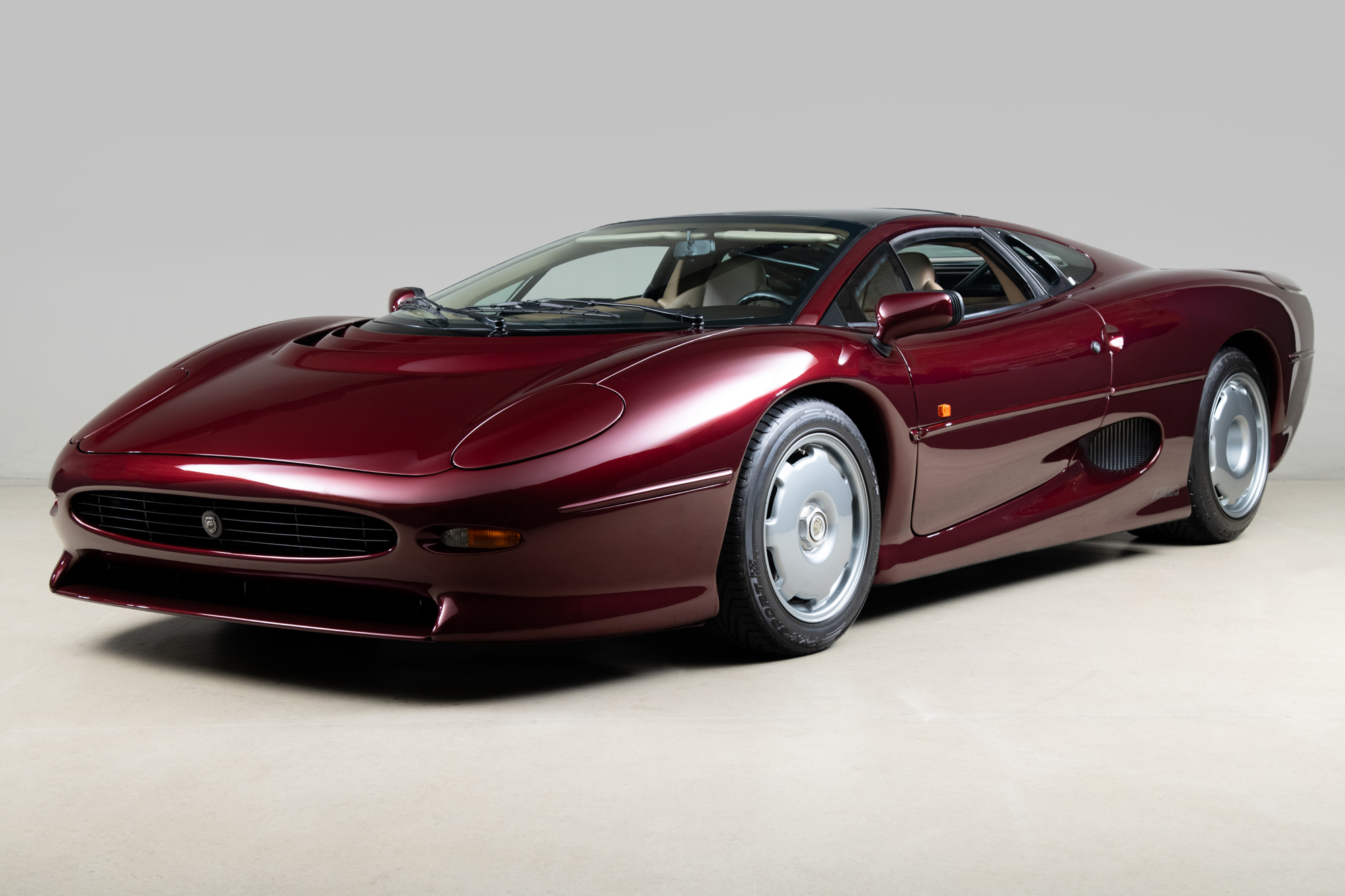 During the 1980's and early 90's, car manufacturers were exploring new concepts, pushing the technology of their cars into a new era, with the goal of producing the fastest and most powerful car they could create. The era of the supercar was born, and Jaguar wanted to lead the way, just as it had done with its C-Type three decades earlier. In the 1980's, Jaguar's chief engineer, Jim Randle, as part of an informal group called "The Saturday Club", began work on a concept car, code-named XJ220, which if put into production, could compete in a potential new Group B racing category competing against the likes of Ferrari's F40 and the Porsche 959.
While seemingly the obvious choice, the Jaguar 6.2-litre V12 had been judged too difficult to get past emissions regulations, so in its place was chosen a Tom Walkinshaw developed 3.5 litre V6 as used in the Group C XJR-10/11 racers, fitted with twin Garrett T3 turbochargers, generating 542 horsepower and 476 lb·ft of torque. The engine was the first V6 in Jaguar's history, being a 6-cylinder derivation from the Cosworth DFV Formula 1 engine, originally designed by David Wood for the Austin Metro 6R4 rally car. It was also the first Jaguar engine to use forced induction. In spite of the smaller displacement, it produced more power than the V12, and offered improved handling by being set lower and more centrally in the car.
Constructed on January 28th 1993, this XJ220 is number 237 of a limited run of 281 handmade cars. It was delivered to Geneva Switzerland on April 1st 1993, and on June 22, 1993, Gilbert Llorens, a South American expatriate, became the XJ220's first owner. Unfortunately, Llorens passed away before he could officially register the car, and his estate sold the Jaguar by title only to Ted Schroeder in Switzerland in 1999. Shortly after the purchase Schroeder began investigating the process to bring the car into the US. He contacted Jaguar North America for advice, who in turn contacted Sun International Racing in Manhattan Beach, California.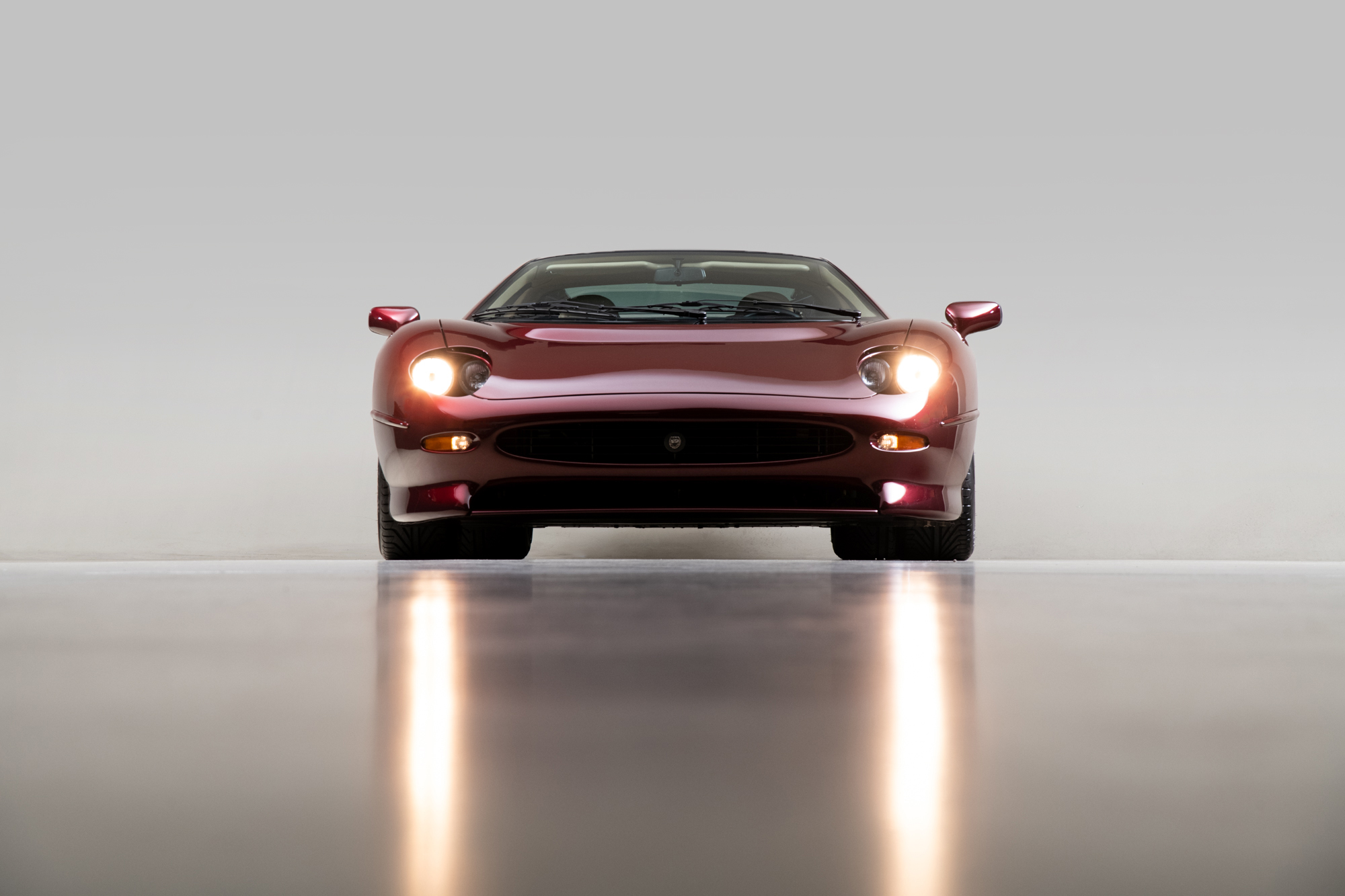 Sun International was known for importing exotic European street cars into the US, such as the Ford Escort RS Cosworth, Renault R5 Turbo and Lotus' series one Elise. After thoroughly investigating the importation of such a rare car, the XJ220 was granted a "show and display" exemption by the U.S. Department of Transportation on June 11th 2001. With the all clear, the Jaguar was shipped from Garage Roland Affolter in Porrentruy, Switzerland, and arrived in Los Angeles on June 28th 2001. It was then held in a private collection for the next fourteen years. Chassis #237 has never been registered in any country, and has only 2,682 km (1,667miles) on the odometer. Sold by Canepa in 2015, only 242 km (150 miles) were added to the car, having now returned to our facility in search of a lucky new custodian.
Upon arriving at Canepa, the XJ220 went under the "Canepa Difference" process. It was put through our rigorous detailing regimen, with the entire car cleaned from top to bottom, ensuring no surface was left untouched. Finally, a show-level foam pad polish was carried out on the exterior paint, producing a lustrous shine and mirror finish. Found to be in excellent mechanical shape due to prior extensive mechanical preparation by ourselves, the Jaguar was signed off with a clean bill of health.
The XJ220 was the first road car to exploit under-body airflow and venturi technology to generate a downforce of around 3000 lb for high-speed stability. It utilized a Group C suspension configuration, leading to handling described by Autocar as "the finest handling supercar we have ever driven. Such is its damping that supercars we previously considered superlatively well-controlled over difficult roads now seem flawed and spongy after the Jaguar." This expertly cared-for XJ220 would make a superb complement to any collection of Jaguars, or modern supercars. It is sure to find acclaim at club meetings and regional concours d'elegance, while continuing to leave supercar aficionados breathless.
---
1998 Porsche 911 Carrera S
Last production year of the 993
Certificate of Authenticity – Matching numbers engine and transmission
Full Aerokit optioned from the factory
Remained in California for 18+ years
Driven less than 1,000 miles a year
Equipped with Porsche-specific BBS Sport Classic II wheels
Includes books, tools, jack and spare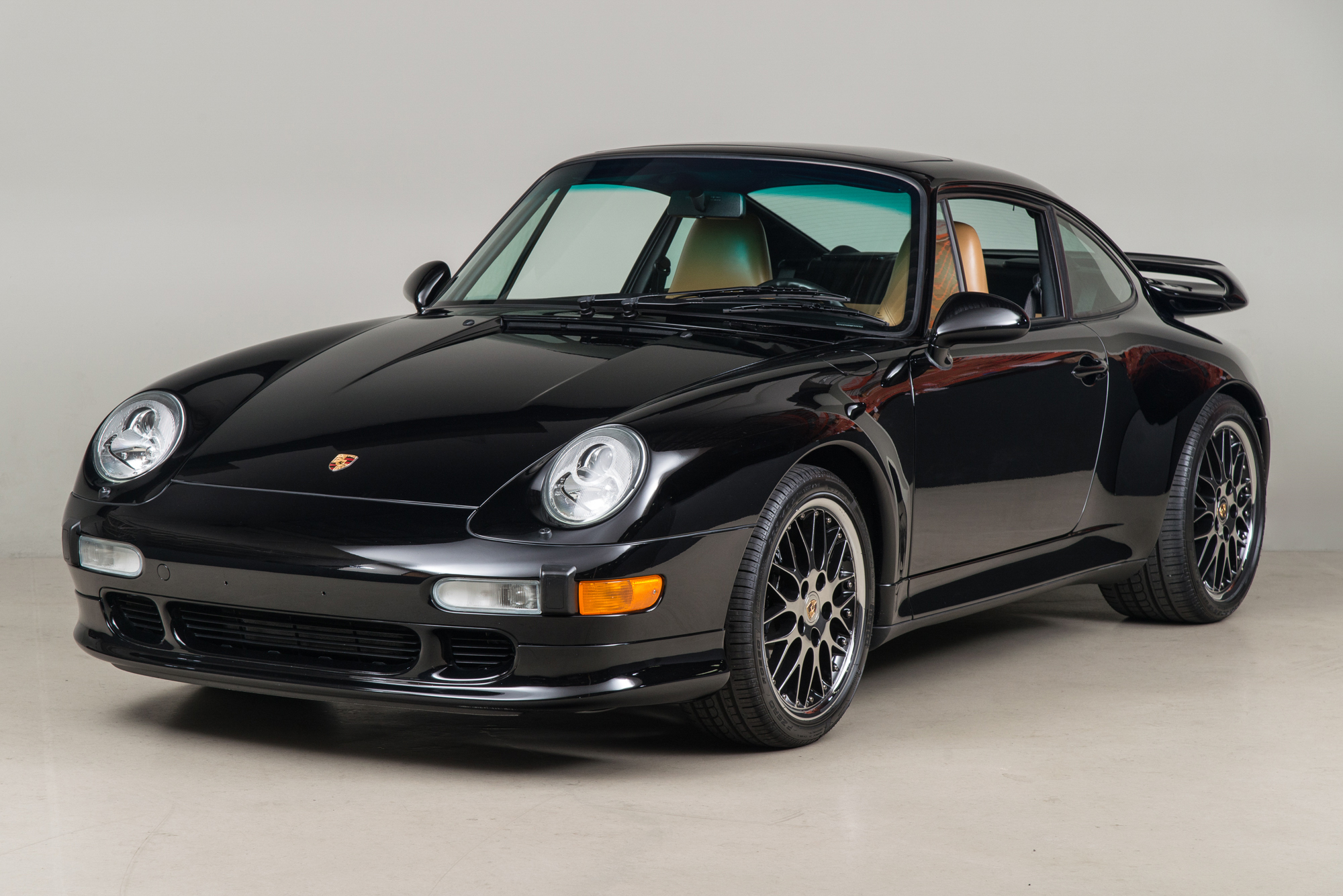 In 1998, the Porsche 993 would see its production run come to an end and the last iteration of the air-cooled 911 before the introduction of the new 996. This special C2S was one of those last production cars, one of 993 C2S' made for the U.S. market in 1998. Known for their exceptional driving characteristics, the S benefited from the Turbo's wider track in the rear but without the bulk of the all-wheel drive system. Paired with a manual 6-speed transmission, the purist C2S' are a delight to drive, and reward their drivers every time the 3.6 liter flat six engine is revved out.
First sold in California on January 28th of 1998, the car came with multiple added options including touring suspension, engine sound package, Comfort leather seats, full aero kit as well as stainless steel door entry guards and AM/FM Radio with CD Player with anti-theft coding. The first owner would keep the car for almost 6 years and add a little less than 2,900 miles per year. The second owner of the C2S purchased the car on October 5th, 2005 and would keep the car for close to 4 years, adding less than 1,200 miles during that time.
The C2S would then be sold to its next owner on April 14th, 2009. During his almost 7-year ownership, he would only add just 1,500 miles to the odometer and have $7,300 worth of maintenance performed at Porsche of San Diego on October 31st of 2015. On March 17th, 2016, the C2S was purchased by its next caretaker, who would add less than 200 miles during his ownership.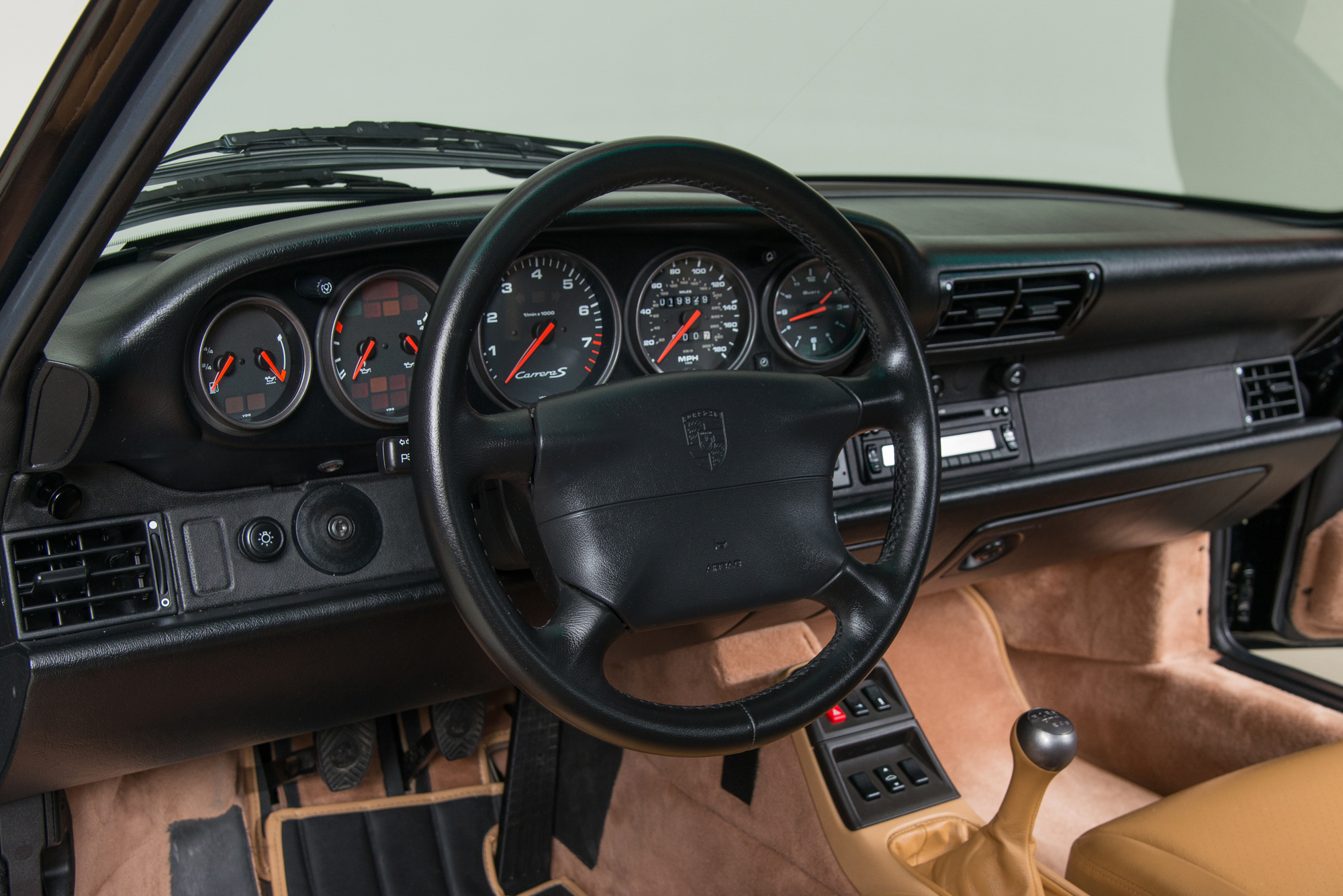 When the C2S first arrived at Canepa in 2018, it was thoroughly inspected and looked over. It received a comprehensive mechanical inspection, and was appropriately serviced. The C2S was then put through our rigorous detailing process, with the total invoice coming to $11,620. The 911 was then delivered to its new owner, who has since added 65 miles during his ownership.
Most recently repurchased by ourselves, the 911 C2S was placed into Canepa's system and received the "Canepa Difference" process to prepare it for sale. This includes a full mechanical inspection, service and show-quality detail. Found to be still in excellent mechanical shape and driving wonderfully, the car was signed off with a clean bill of health. Now is your opportunity to own one of the last production air-cooled 911s, and arguably one of the best driving 993 iterations ever made.
---
1996 Porsche 993 Turbo
One owner from 1996 to 2020
1 of 1 Dark Gray Metallic "paint to sample"
Original window sticker – Includes owner's manual, books, tools, compressor, and spare
408hp/398lb/ft torque twin-turbo 3.6-liter flat six engine, 6-speed manual transmission
Includes service records
The final and most advanced generation of the iconic air-cooled 911 Turbo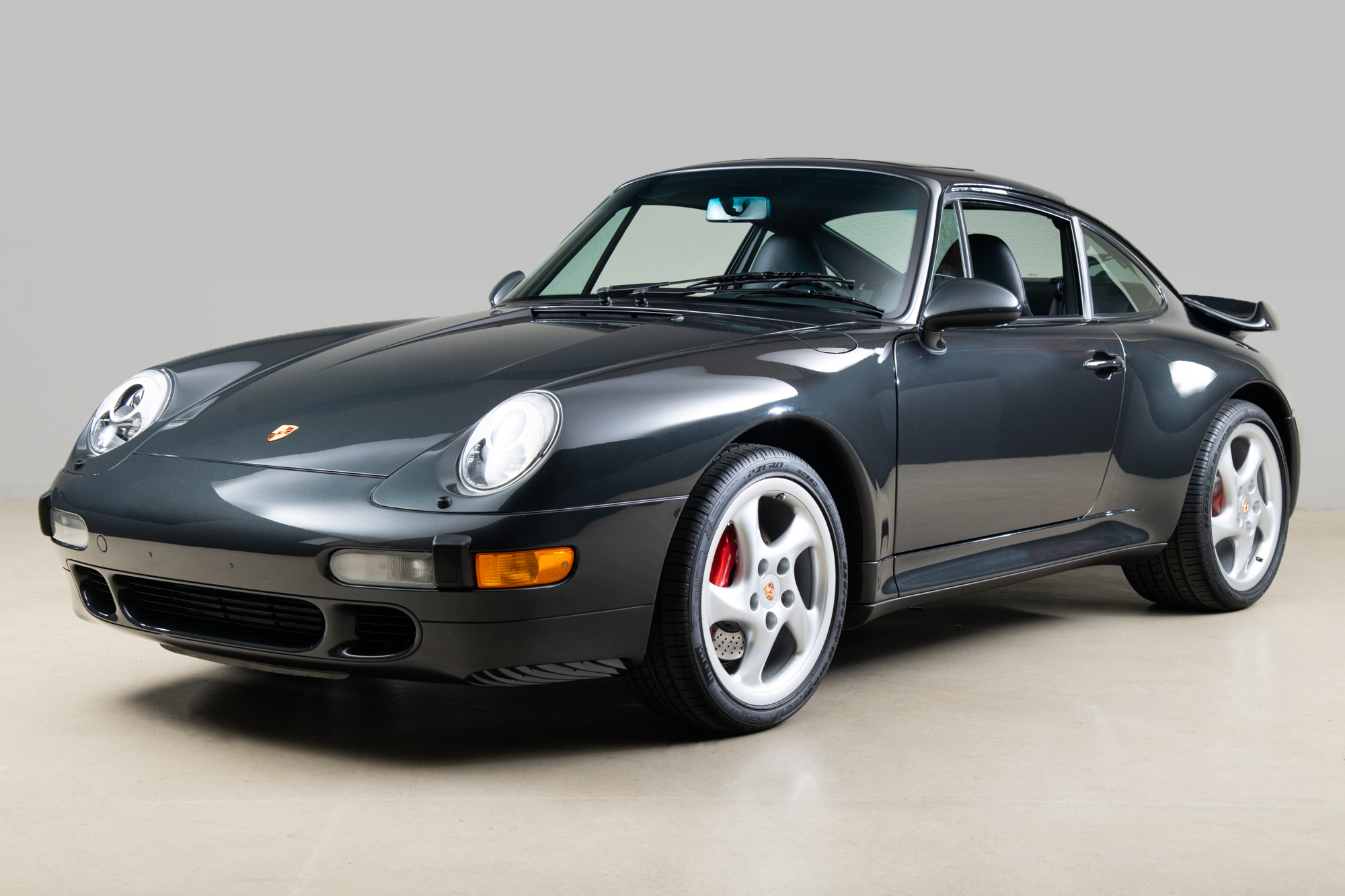 The 993 Turbo, introduced in mid-1995 as a 1996, continued to hold the torch of the most powerful 911 variant while continuing to improve the breed as a whole. Among the new features on the 993 Turbo was an electronically controlled viscous coupling all-wheel drive system—something Porsche had not offered on a turbocharged model since the 959 and a system that greatly improved the performance of the Turbo. Under the engine lid—now topped with a sculpted spoiler tail with downturned edges—resided the 3.6 liter flat six fed by twin KKK K16 turbos, each featuring integrated wastegates and two air-to-air intercoolers.
Combined with bigger brakes, fatter tires, a wide body and stance, specially designed 'Technologie-Rad' cast alloy wheels with hollow spokes, the 993 Turbo was one of the fastest cars on the planet. With all four wheels tearing into the pavement, 0-60mph came in a face melting 3.7 seconds, 100mph ticked by in 5.7 seconds, and the forward progression continued until the speedometer had crossed 180mph. Beyond just going fast in a straight line though, the car could pull up to 1.00g on the skid pad and haul to a stop from 60mph in just 111 feet. In reviewing the 993 Turbo in June of 1995, Motor Trend magazine proclaimed, "To beat this Stuttgart screamer into submission requires a force no less wieldy than the million-dollar 627-horsepower V-12 McLaren F1."
This 993 Turbo was first purchased on May 15, 1996 by its first and longtime owner of the car. The owner picked up his Dark Gray Metallic "paint to sample" over black leather interior Turbo from Porsche, in San Diego, California. The original MSRP of this all-wheel drive twin-turbocharged 911 was $112,592.00, but Willard would pay a total of $131,541.00 out the door. Optioned with Dark Gray Metallic "paint to sample", racing style sport seats with head restraint with Porsche crest, an AM/FM radio with CD player, cruise control, sunroof, metal door sill with insignia, leather frame for console switches, leather gear box tunnel, and wheel caps with the Porsche Crest.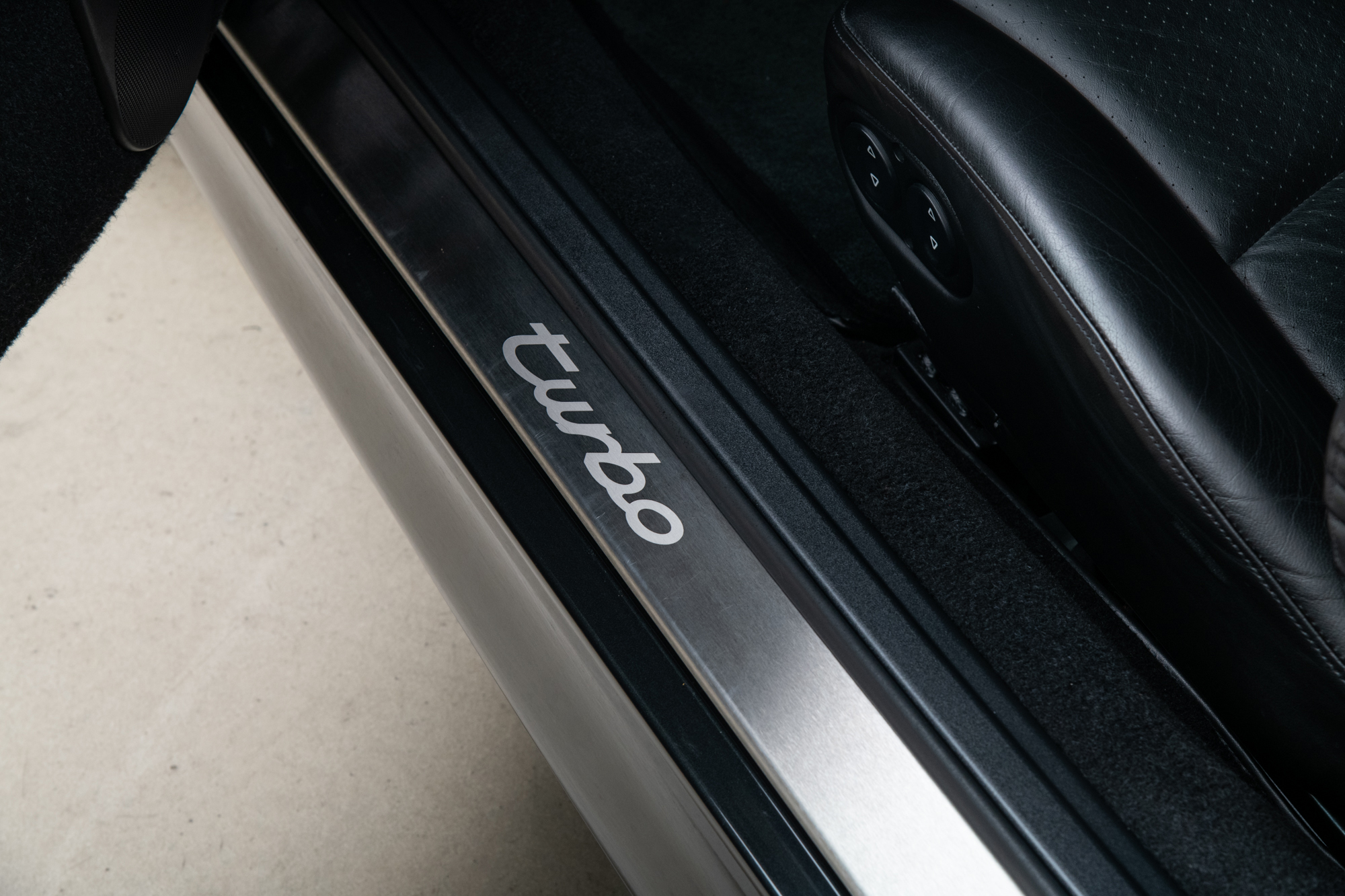 During the last 24 years, the owner took great care of the 993, with regular oil changes, as well as inspections done to make sure the car was in pristine condition. Based on the condition inside and out, it takes no stretch of the imagination that the car was stored for most of its life and impeccably maintained and cared for.
Canepa recently acquired the 993 Turbo and upon arrival confirmed that it was a fantastic original example of a 993 Turbo. Starting the "Canepa Difference" process, the car was given a comprehensive mechanical inspection and appropriately serviced. The Dark Gray Metallic Turbo was also given a complete concours-level detailing which consisted of a cleaning of the chassis, interior detailing and a foam-pad polishing of the factory-original Dark Gray metallic paintwork.
"You can call it concours, show quality, or perfect preservation, this 993 Turbo checks every one of these boxes. It looks like a 1,500 mile car, no matter where you inspect it." – Bruce Canepa.
With its original window sticker, manuals, tools, spare, and service records, this is a pristine example of an era-defining 911 that provided supercar performance with the civility of a luxury car.
---
1973 Porsche 911 2.7 RS Touring
1 of 84 produced in Signal Yellow
Numbers matching engine and transmission
Porsche Certificate of Authenticity
Documented restoration by Jim Newton's Automobile Associates
Highly optioned Carrera RS
2nd Series
Includes maintenance and restoration records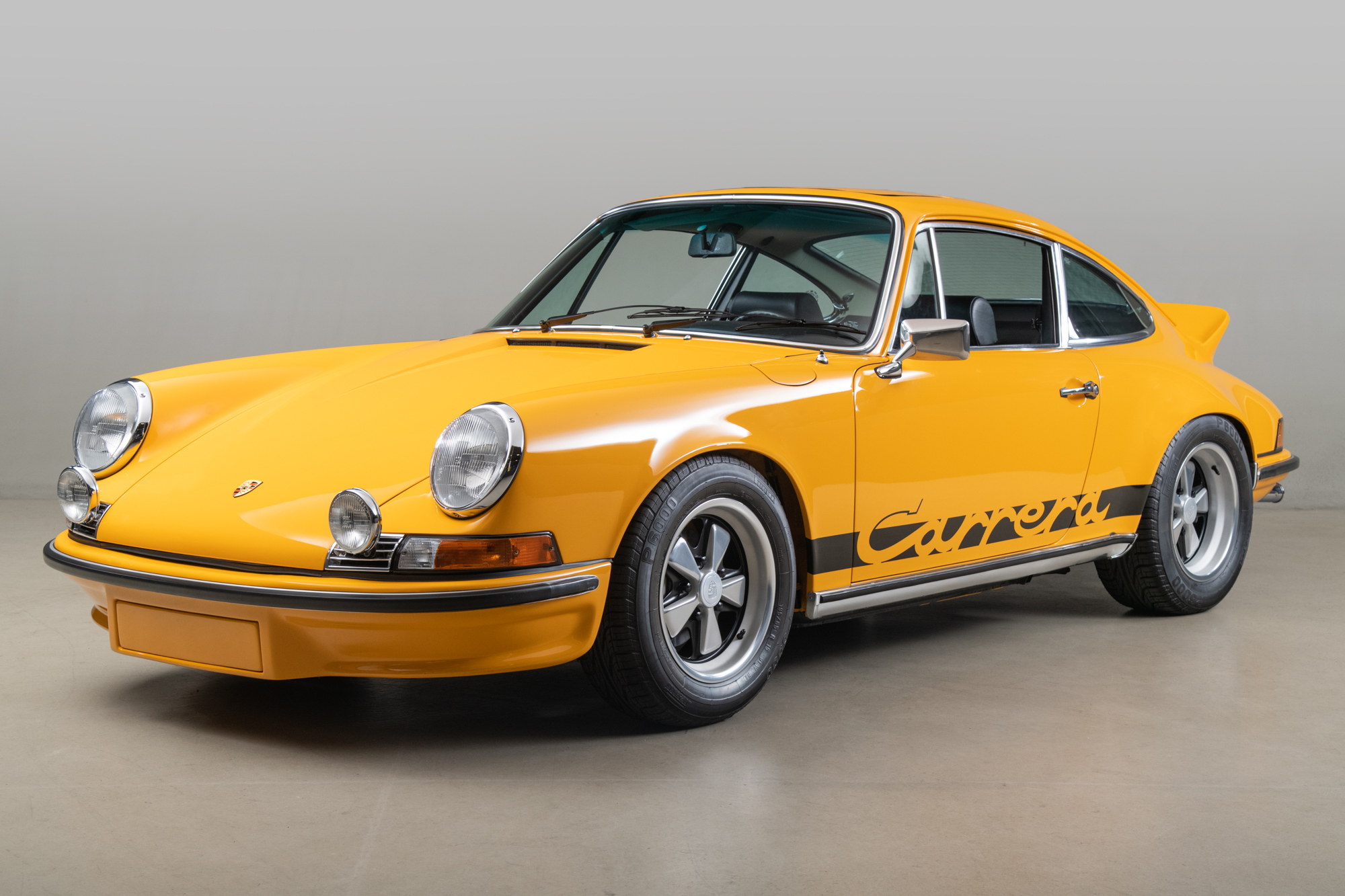 The Carrera RS is one of the most revered cars in the Porsche pantheon, and is regarded as one of the finest sports cars of the 1970s. Revealed at the 1972 Paris Auto Show, it was a factory special built to meet the homologation rules of FIA Group 4 racing. The RS (Rennsport, meaning motorsport or circuit racing) was almost invincible at Le Mans, Daytona and the Targa Florio, often winning outright against pure racing prototypes. It's not often you would see the same car on the podium one day, and passing you on the open road the next. The RS is conclusive proof that one of Porsche's greatest skills was building a car that was immensely competitive at the track, and equally useable as a street car.
Compared with a standard 911S, the Carrera 2.7 RS had a larger engine (2687 cc) developing 207hp (210PS, 154 kW) with MFI, revised and stiffened suspension, a "ducktail" rear spoiler, larger brakes, wider rear wheels and rear wings. In RS Touring form it weighed 1075 kg (2370 lb), in Sport Lightweight form it was about 100 kg (220 lb) lighter, the saving coming from the thin-gauge steel used for parts of the body shell and also the use of thinner glass. In total, 1580 were made, comfortably exceeding the 500 that had to be made to qualify for the vital FIA Group 4 class.
Carrera production started with chassis number 9113600011 (produced in 04/1972) till 9113601590 (produced in 07/1973). There were only 1580 original Carrera Rs divided in roughly three production batches of 500 each. Of those 17 were homologation specials, 200 were Sports versions with M 471 code, 1308 were touring version with M 472 code, and 55 were racing specials coded M 491.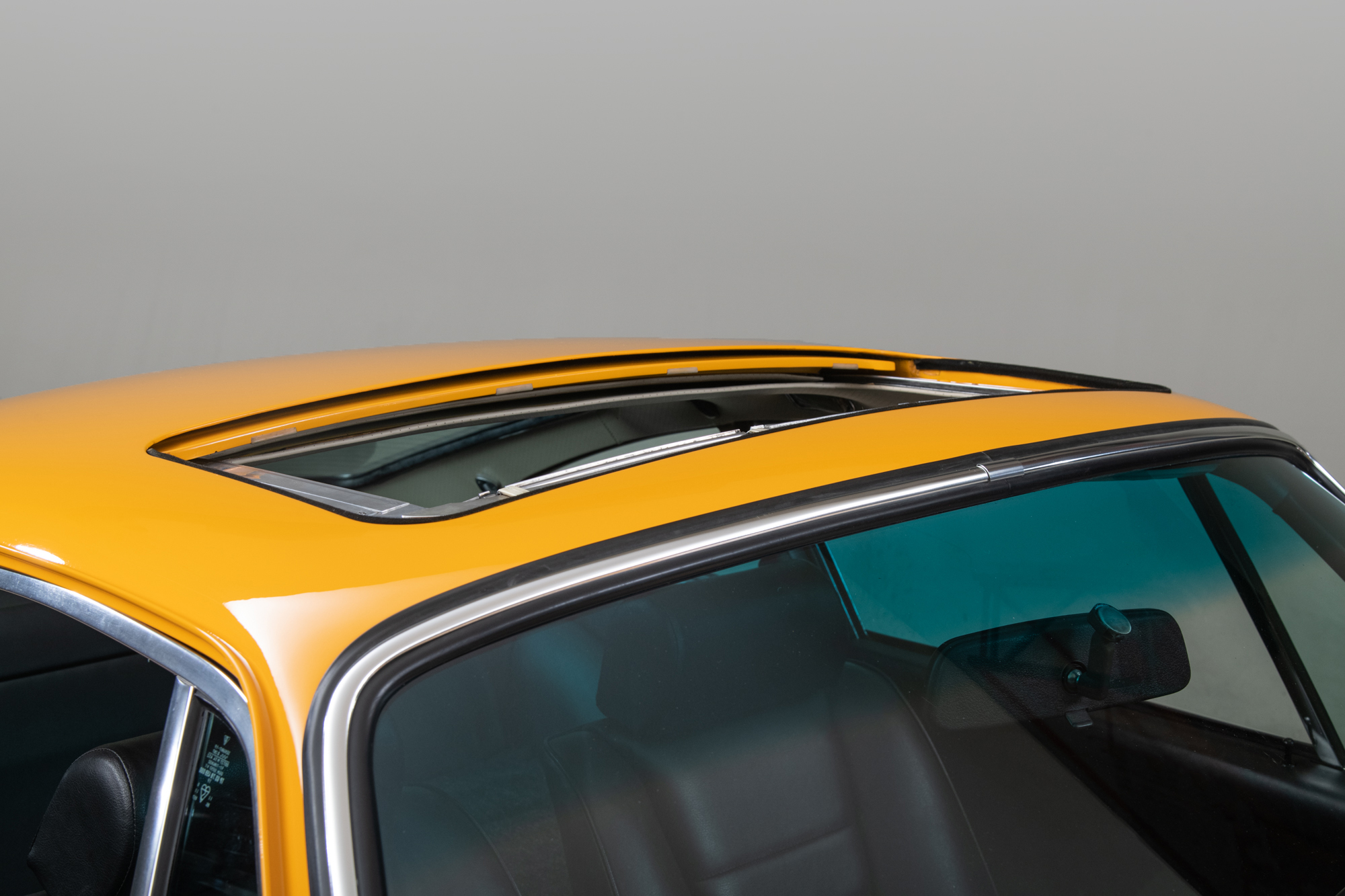 0856 was registered by its first owner in April of 1973 in Germany. The second German owner purchased the car in 1978. He took it in part exchange for a Carrera 3.0 and stored the car until 1985 in a dry garage. At that time the car had only 58,640km (36,437 miles.) It was taken out of storage and completely mechanically and cosmetically restored. In August of 1988 it was appraised in Germany as being in as-new condition.
Sometime between that appraisal and August of 1989 the RS would come to the United States. The next owner of record is James Ladwig of Melrose, Illinois, with maintenance records dating from August 1989 to September 1993. The RS would move into the care of Jeffery Proval, of Chicago, Illinois in October of 1993. Proval would own 0856 for the next 18 years, and, as evidence by a slew of maintenance records, took excellent care of the RS.
In 2011 the RS was acquired by Mark Lunenburg of Farmington, CT and was immediately put in for a complete concours restoration. The two-year process was completed by Jim Newton's Automobile Associates of Connecticut. The extensive receipts show that every element of the car, both mechanical and cosmetic, was immaculately and correctly restored. Returned to its factory-original Signal Yellow paint the car presents exactly as it did in April of 1973.
All this exceptional work was rewarded with a "Best in Class" win and a "Grand Award" at the 2016 Concours d'Elegance of Texas. For the next 4 years, the car was preserved in a private collection, where it only accumulated a total of 60km before arriving to Canepa.
Since arriving at Canepa the Carrera RS was immediately placed into the "Canepa Difference" process, first going through service and reconditioning. Once completed, Canepa's in-house detailing department delivered one of Canepa's signature concours-level details. The underside was cleaned to a show quality standard. The exterior was hand washed, carefully polished and waxed. The interior, engine and trunk were treated to an equal level of cleaning, ensuring nothing was left untouched.
Beautifully restored, unquestionably correct and extremely well-maintained, this striking example personifies the pure and legendary first expression of Porsche's Rennsport 911 models.
---
Report by canepa.com
---