The Schloss Dyck Classic Days Festival, venue for new Bonhams Sale | Bonhams motoring department is expanding its European calendar for 2020 with a brand-new auction for Germany.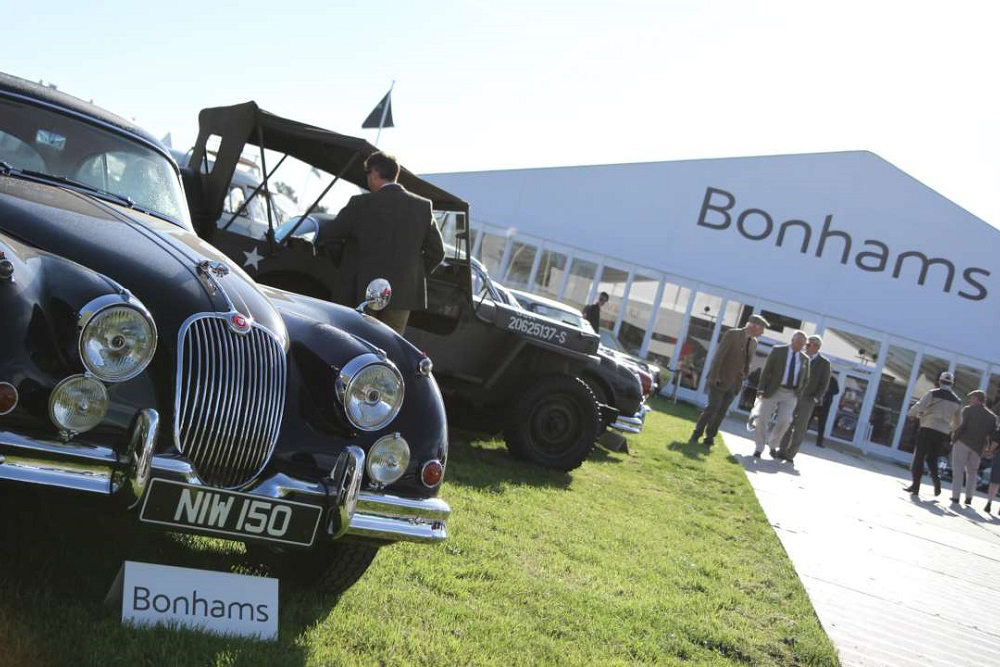 The Schloss Dyck Sale will take place on Saturday 1 August, in conjunction with the prestigious 'Classic Days' festival, one of the country's longest-established and most desirable motoring events, considered the 'German Goodwood', held over the weekend of 31 July – 2 August.
The auction will provide a highlight of this popular festival, which this year marks its fifteenth edition, lining up with other attractions including the 'Masterpieces' Concours d'Elegance and the 'Racing Legends' on-track demonstrations. There will be a sale preview day on Friday 31 July, with the auction scheduled for the Saturday afternoon.
Offering the traditional Bonhams array of fine collectors' motor cars, The Schloss Dyck Sale is being organised by the Bonhams European Motoring Team. Benefitting from a strong contingent of German-speaking staff and consultants, including European Director Philip Kantor and specialist Gregor Wenner, the team is further supported by a network of regional specialists and Bonhams offices in Cologne, Hamburg, Munich and Stuttgart.
Bonhams has previously conducted auction sales in Germany, most notably hosting sales at both Mercedes-Benz in Stuttgart and BMW in Munich. Consignments to this new auction are now being invited.
James Knight, Bonhams Motoring Group Chairman, said: "We are delighted to announce this new sale at Schloss Dyck. We have enjoyed attending the event over the years and are now proud to partner with them. We conduct regular and successful sales in Belgium, France, Monaco and Switzerland and can now add Germany. Our European calendar is going from strength to strength and got off to a flying start earlier this month, with the best-ever result achieved at the Grand Palais sale in Paris."
Also lining up with the German sale will be a repeat of last year's ground-breaking and successful Bonmont Sale in Switzerland on 14 June. This will once again be staged against the picturesque backdrop of the historic 12th century abbey at the exclusive Bonmont Country Club in Cheserex, overlooking Lake Geneva.
The 2019 edition, held in September, offered more than 70 classic and collectors' motor cars with a centrepiece 'Supercar Collection' – including an ultra-rare Lamborghini Veneno, which was sold for a remarkable CHF 8,280,000, a world record auction price for the marque. Comprising 25 supercars, hypercars and other luxury motor cars, the sale of the collection raised more than CHF 23,400,000 for charity.
However, the next Bonhams auction taking place on the continent will be the Monaco Sale on 8 May – aptly staged at the Fairmont Hotel, formerly Loewe's, while the principality hosts the biennial Monaco Historic Grand Prix. The most recent edition featured the record-breaking ex-Ayrton Senna 1993 McLaren-Cosworth Ford MP4/8A Formula racing Single-Seater, in which he won his sixth and final Monaco Grand Prix, which achieved just shy of €4.2 million.
The Zoute Sale on 9 October, held in conjunction with the Zoute Grand Prix, with its stunning location on the popular resort's beachfront, will round off Bonhams Motoring's mainland European schedule for 2020.
Contact: eurocars@bonhams.com for more information.
The Bonhams Motoring continental European calendar:
8 May The Monaco Sale, The Fairmont Hotel, Monaco
(entries accepted until early April)
14 June The Bonmont Sale, Bonmont Golf & Country Club, Switzerland
1 August The Schloss Dyck Sale, Schloss Dyck, Germany
9 October The Zoute Sale, Zoute, Belgium
Report by bonhams.com
---