United in the pursuit of performance, precision and peerless luxury, Bentley Motors and Bomber Ski have partnered to create the ultimate skis for speed, control and elegance.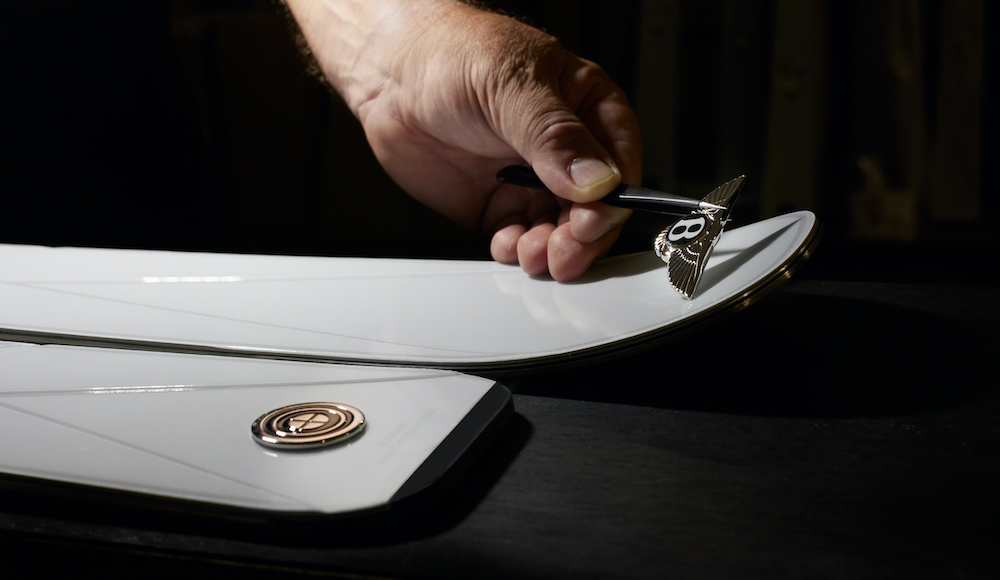 New for the 2022/23 winter season, the Bomber for Bentley ICE Edition is presented in a white and grey highly polished finish with six silver-plated 3D diamond emblems made of brass-polished nickel for a dynamic aesthetic. The diamond emblems are both performance-enhancing and a nod to the embroidered motifs found on Bentley's latest leather upholstery. Each pair of skis is the result of approximately 32 hours of skilled craftsmen work and the textural finish is a rare find in the ski market.
The ICE Edition, limited to just 200 pairs, uses Bomber's full wood core sandwich construction for optimum flexibility, with additional materials such as Titanal and fibreglass. The skis feature compound and ABS sidewalls which, beyond finesse, reinforce structural support, enhance agility and offer a new level of comfort. They are designed to suit skiers of all levels of experience and will adapt to all terrains from ice to groomed pistes to powder.
With the 2022/23 collection, customers will be able to add accessories with the Bomber for Bentley ski poles recalling the heritage of Bentley gear levers from the past, built with state-of-the-art materials that will bring out the best in their user. Made from ultra-lightweight carbon and aluminium, the grips are finished with soft eco-leather for supreme comfort.
Also new this season is the Bomber for Bentley lightweight helmet. Made of ultra-lightweight materials and soft, durable eco-leather, the carbon fiber helmet is designed for style and speed, as well as safety. Crafted by hand, it discreetly features the famous Bentley badge on both sides. The helmet shell is made of strong, lightweight Kevlar sandwiched between two layers of carbon-fibre for high-resistance. The core is made with expanded polystyrene for enhanced shock absorption and has excelled in impact tests. It comes with an integrated but removable photochromic visor and offers innovative hygenic materials and Solid Fragrance Release system by Oikos Fragrances.
The Bomber for Bentley collection includes two more editions in sleek black, which were first unveiled in 2019; the Black Diamond in glossy finish, limited to 200 pairs, and the Centenary Edition, limited to 100 pairs, which feature 24-karat gold-plated diamond-shaped emblems to celebrate 100 years since W.O. Bentley founded the marque and raised the bar for luxury performance.
The current and new collection, which sees the addition of poles and a helmet, have been conceived by Bentley's Lifestyle Design Manager Chris Cooke, in collaboration with Bomber's Italian-based engineers and artisans.
Chris Cooke, Bentley Lifestyle Design Manager: "Bomber is proving to be the perfect partner for Bentley in this action-packed space, combining luxury and performance while adding some allure to skiers on the slopes. The skis and accessories we've designed together have been inspired by the visual language of Bentley models but everything we design has a purpose beyond decoration; the 3D geometry on the surface of the skis not only creates a dramatic aesthetic but is part of the skis structure, concentrated in areas where support and response are needed most by the skier."
Marco Dallapiccola, Director of International Operations for Bomber: "On Bomber skis, one can feel the passion of the craftsmen that create them, an experience that no machine-made ski can reproduce. We are thrilled about this partnership with Bentley which brings our products to uncompromising ski enthusiasts around the world."
Click here for further information
more information: bentleymedia.com
---