An early American supercar, a 1913 Mercer Type 35K Runabout, leads an important private collection of Brass and Classic Era automobiles at Bonhams Amelia Island Auction on May 20.
1913 Mercer Type 35K Runabout
One of the most revered motor cars of its day, the Type 35 Runabout was the luxury version of the legendary Type 35 Raceabout, one of the first race cars for the road which competed in early motorsport meetings as the Indy 500 and at Daytona.
The Runabout shared the same 108 inch-wheelbase chassis as its sibling as well as its revered 'T-head' 4-cylinder engine and the 1913 version also had the external 4-speed gearbox. However, it offered some comfort in the form of side doors, full windshield, a top and slightly raised steering column.
Although circa 400 Runabouts were produced, many were rebodied in the more rakish Raceabout style. This particular example is the only surviving Runabout with its original bodywork and externally shifted four-speed transmission. It has an estimate of US$1,000,000 – 1,500,000.
The vendors, the late Clem and his surviving wife Mary Lange, purchased the Mercer from Bonhams at the 2004 Brookline Auction, placing it as the capstone of their impressive private collection, of which 13 motor cars will be offered in the Amelia Island sale.
Eric Minoff, Senior Specialist for Bonhams Motoring, said: "We are honored to be entrusted with this exceptional motor car once again and delighted to be offering it as part of this seminal collection which celebrates the early age of motoring."
1934 Bugatti Type 57 Cabriolet
Another highlight of the collection is a 1934 Bugatti Type 57 Cabriolet. The first all-new Bugatti of the era designed by Jean, son of the founder Ettore, the 57 was beloved of the international glitterati. This particular example is the only one to have had its bespoke coachwork designed by Carrosserie Franay, Paris-based coachbuilders, for its first owner, the German film star Hella Hartwich. Subject of a fairly recent $650,000 restoration, the Bugatti is now offered with an estimate of US$800,000 – $1,000,000.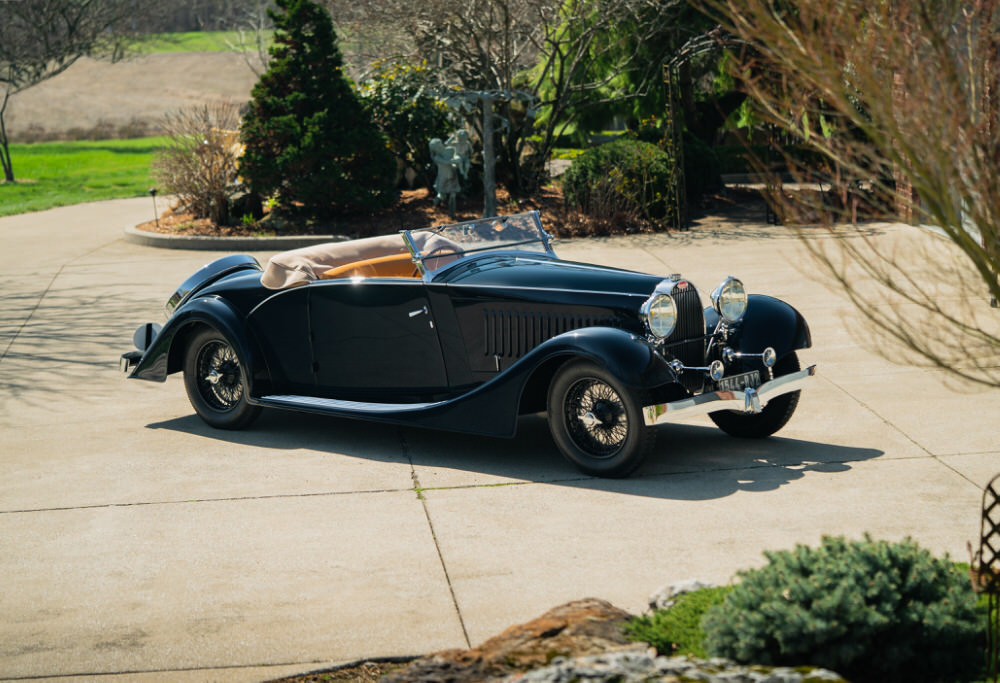 A further eleven motor cars are offered from the formative collection of Clem and Mary Lange, enthusiasts from Indiana. Fittingly, for these proud 'Hoosiers' the collection offers a strong representation of Indiana-built machinery, including Classic Era automobiles from such names as American, Auburn, Duesenberg and Stutz and Indianapolis 500-style race cars built by Knox, Inter-State and National.
1933 Duesenberg Model J
Leading the pack is a 1933 Duesenberg Model J 'Sweep Panel' Dual Cowl Phaeton. 'Category 1' Certified by the Auburn-Cord-Duesenberg Club this well-known example was fitted in the 1960s with a desirable original LaGrand Dual Cowl Phaeton Body and is offered with an estimate of US$1,000,000 – 1,250,000. 
Further highlights
1935 Godsal Sports Tourer, the sole eponymous prototype produced by engineer Charles Godsal, which won a Best in Class award at the Amelia Island Concours d'Elegance, estimate US$750,000 – 950,000. 
2006 Ford GT Heritage Edition, estimate on request. One of only 343 limited examples of the supercar finished with the Heritage livery of blue and orange, recalling the famed Gulf Oil sponsored John Wyer Automotive Engineering cars which won the 24 hours of Le Mans in both 1968 and 1969.
Report by bonhams.com
---