A 1200-litre fuel bowser within the Crewe production site may appear unremarkable – but its contents have enabled vehicles from the Bentley Heritage Collection and press fleet to reduce their CO2 impact by an estimated 85 per cent, compared with ordinary gasoline.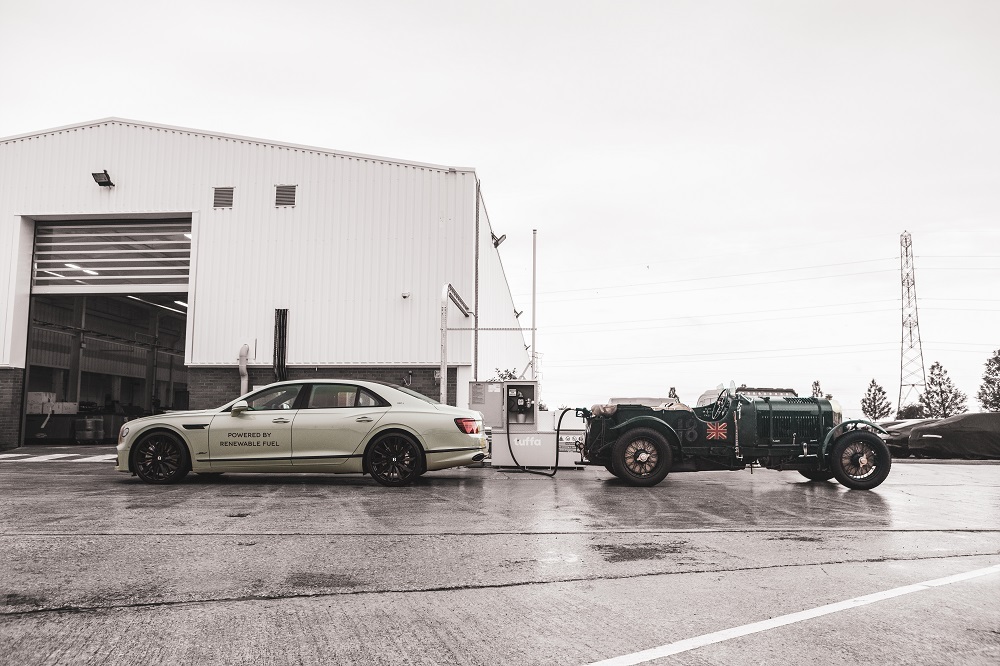 Bentley ran its six strong fleet at Goodwood using the fuel and successfully completed all 32 hill-climbs. The 750PS, W12-engined Batur fuelled with the second gen biofuel completed a 55.0 second run putting it in the top-three production cars of the weekend. Bentley's newest flagship – the Bentayga EWB, also completed the hill climb in just 1 minute 21 seconds – impressive enough, but made even more surprising by the fact it was towing 2.5 tonnes of straw. Enough straw, that when converted to biofuel, would power the Bentayga for 1100 miles or provide fuel for all of the Bentleys for the weekend at Goodwood.
The second-generation biofuel now installed at Crewe conforms to the global EN228 standard for gasoline, meaning that it's a straightforward replacement for normal pump fuel. No engine modifications are necessary, even for the oldest surviving Bentley, the 1920 EXP2. Any Bentley ever built will run as powerfully and smoothly on the 2nd-generation biofuel as it does on normal pump gasoline, while dramatically reducing its carbon footprint.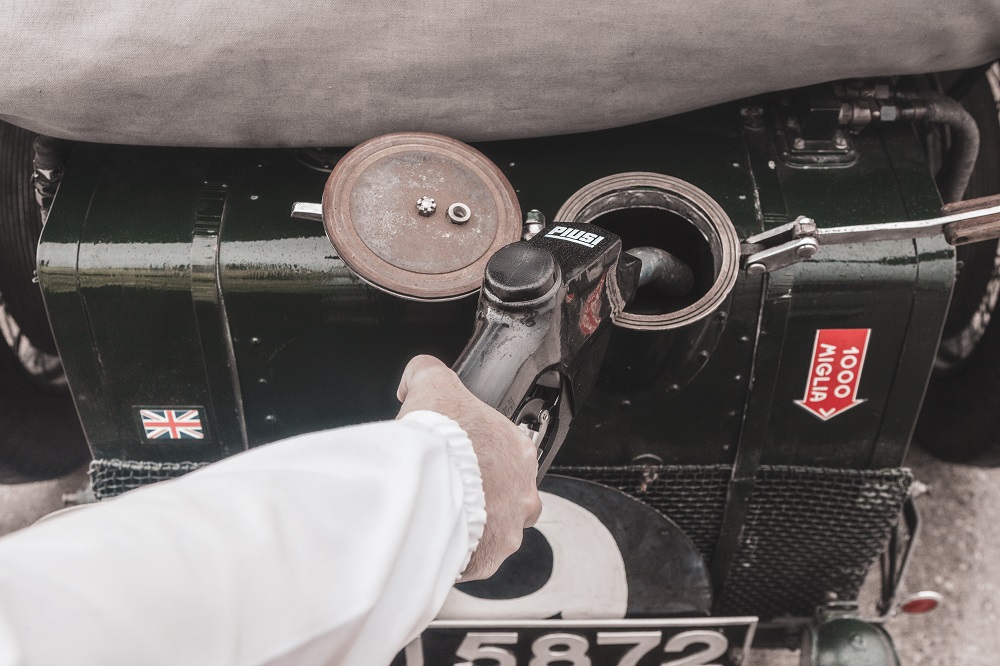 100 per cent Renewable Second-Generation Biofuel
Unlike first-generation biofuels, which are made from food crops grown on arable land, second-generation biofuels use waste products, including agriculture and forestry waste and food industry by-products. During the production process waste biomass is broken down using fermentation, leading to the creation of ethanol. Dehydration of the ethanol converts it to ethylene, which can then be transformed into gasoline through the process of oligomerisation – chaining short hydrocarbon molecules together to produce longer, more energy-dense ones. The fuel produced is 100 per cent renewable and delivers an estimated 85 per cent reduction in CO2 impact compared with conventional gasoline. By using waste materials that would otherwise be disposed of, second-generation biofuel avoids the 'food versus fuel' dilemma associated with first-generation biofuels.
Beyond100
Bentley's Beyond100 strategy will see the company line up switch to exclusively plug-in hybrid or battery electric vehicles by 2026, and full electric vehicles only by 2030; key milestones in its journey to become an end-to-end carbon neutral organisation as it embarks on its second century. Yet the company is also committed to supporting all current and past vehicles. An estimated 84 per cent of all Bentleys ever built are still running today, their longevity an outstanding example of sustainability. For these models, second-generation biofuel represents one route to a more sustainable future.
The Heritage Collection at Crewe
Every vehicle in the Bentley Heritage Collection is kept on the Crewe site, representing an unbroken chain of Bentley production models across its 104-year history. Key models from the Cricklewood era (1919-31), the Derby era (1931-39) and Crewe production (1946-on) are all kept in perfect working order and road-legal condition. Now they too are playing their part in Bentley's Beyond100 journey.
Crewe: a 'climate positive' factory
The installation of a 1200-litre biofuel bowser at Crewe for the Heritage and press fleet will further reduce the site's environmental impact. In 2018, Crewe became the first luxury automotive factory in the UK to be certified carbon neutral by the Carbon Trust, certification that has since been renewed twice. Innovations over the past two decades include a water recycling system in the paint shop, local tree planting, the installation of 30,000 on-site solar panels, and a switch to renewable-only electricity sources. By November this is due to have increased by a further 20 per cent. Ongoing targets for further reductions include the factory's energy consumption, CO2 emissions, wastewater, use of solvents in the paint process and the achievement of plastic neutral status. The company aims to make Crewe a 'climate positive factory' by 2030, actively reducing levels of carbon in the atmosphere.
---