When it comes to rare, interesting or downright weird cars, the February Paris auctions, held around the Rétromobile classic car show, never disappoint classic car enthusiasts. Known for consigning mouth-watering sports and racing cars, the headliner this year is the first Ferrari 250 LM who has being seen at auction in nearly eight years. But as always, that Paris auctions have brought together plenty of oddballs that, especially to an American enthusiast. Funky French, obscure German, eccentric Italian, it's all there. Hagerty picked out nine of the weird cars crossing the block in Paris this year that caught peoples eye.
1938 Adler 2.5 L Type 10 Cabriolet by Karmann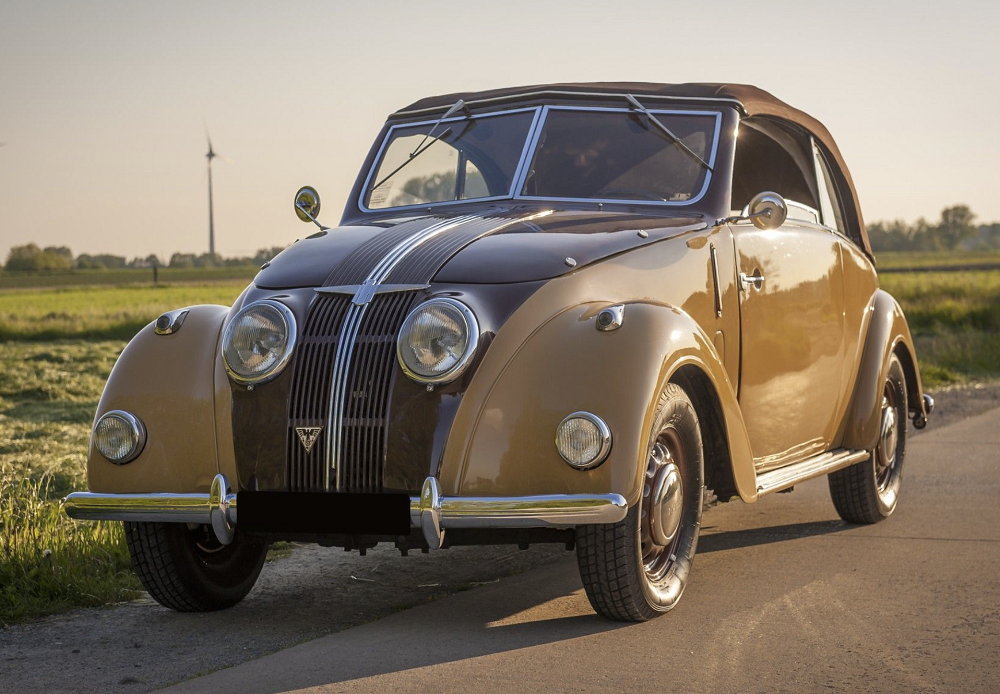 Adler (German for "eagle") built cars from the early 1900s until World War II. Many of them were unconventional—front-wheel drive Adlers puttered along German roads in the '30s long before the layout became common, and the 2.5 L was a relatively speedy, Autobahn-ready cruiser thanks to its six-cylinder engine, four-speed gearbox, and futuristic streamlined shape. It looks like a shrunken down Chrysler Airflow with a dash of Volkswagen thrown in.
The 2.5 L was the talk of the 1937 Berlin Motor Show, but Adler only sold about 5000 units, and according to Artcurial this is one of only nine survivors in this Karmann Cabriolet body style.
1951 Alfa Romeo AR51 Matta 4×4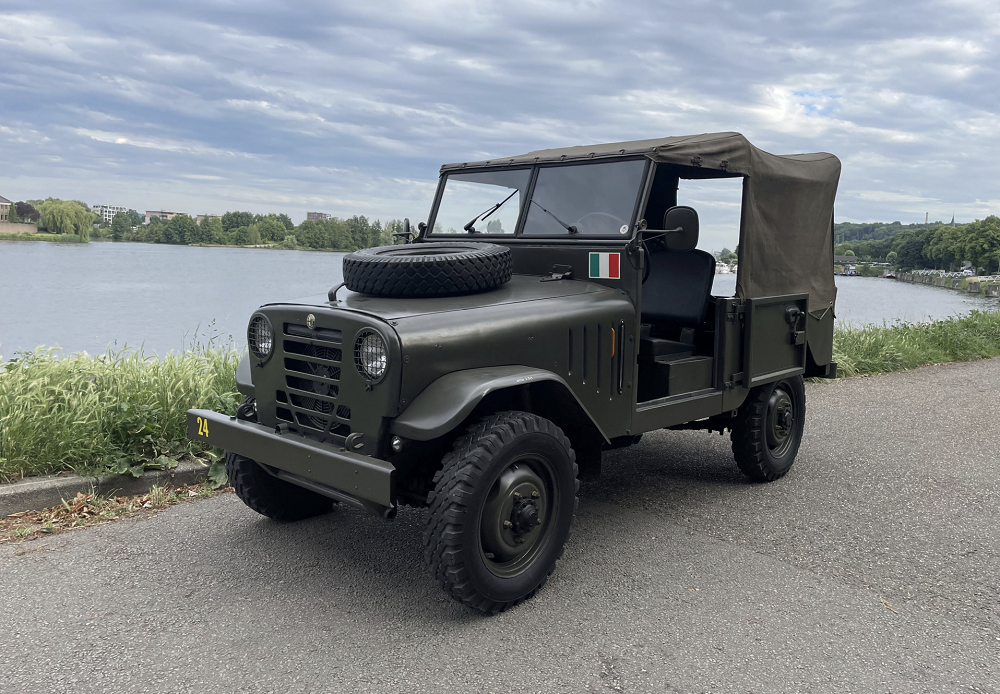 Take a military Jeep, swap in the twin-cam four from the Alfa Romeo 1900, then add some old clichés about Italian soul and passion, and you've pretty much got Alfa's AR51 "Matta," which is Italian for "crazy."
In the early 1950s, the Italian Ministry of Defense sought a suitable rival to America's Jeep and Britain's Land Rover. Like any good car company, Alfa Romeo was enticed by the idea of a lucrative government contract, and the AR51 (AR stands for Autovettura da Ricognizione, or "Reconnaissance Car") was its bid. It was capable but expensive, thanks in large part to the dual-overhead cam engine that sported an alloy head, hemispherical combustion chambers, and dry sump lubrication. All exotic stuff, especially compared to the Jeep's iron flathead and the Rover's pushrod engines. After Alfa Romeo built around 2000 military-spec AR51s and about 150 civilian AR-52s, the Italian soldiery switched to the cheaper Fiat Campagnola.
The engine was too pricy for the army but, believe it or not, made the Matta surprisingly capable on a race course. A Matta even won its class at the grueling Mille Miglia in 1952. This example reportedly stayed in military use until the 1970s but has been with one private owner since. Nifty runabout for your vineyard or villa…
1970 Ferves Ranger 4×4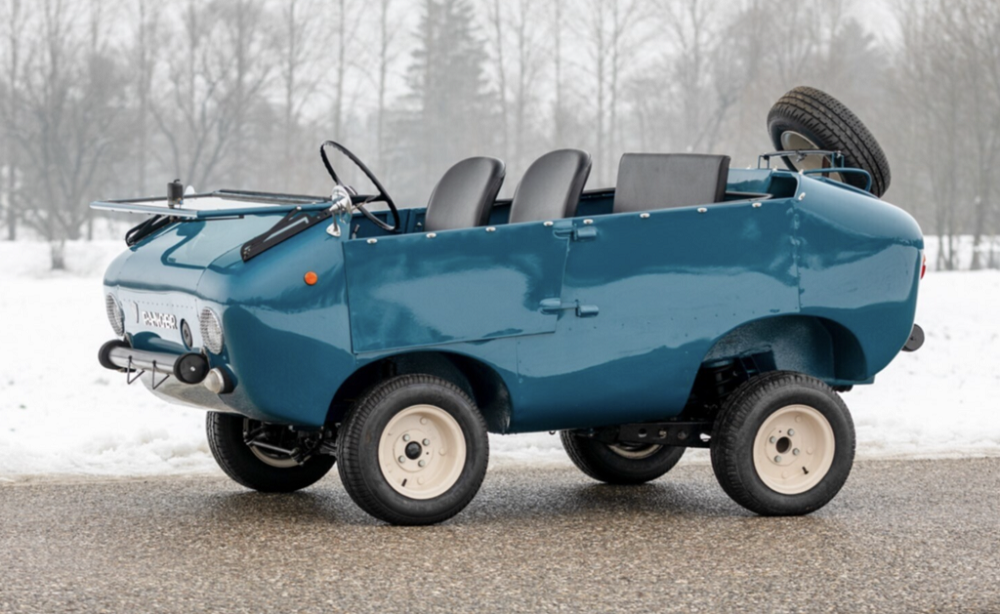 …But this Ferves Ranger is even niftier. Unveiled at the 1966 Turin Motor Show, the cute but capable Ranger is a mix of Fiat 500 and 600 parts underneath a utilitarian body. Notice how it has almost no overhangs—great for tackling steep terrain and looking adorable while doing it. Both two-wheel drive and four-wheel drive were available, but due to its diminutive size, even the two-wheel drive models were unlikely to get bogged down.
According to RM Sotheby's, fewer than 50 Ferves Rangers are left. Rarity sells, and so does cute factor. A little yellow Ranger charmed $196,000 out of one buyer in Monterey four years ago, but other ones have sold in the mid-five figure range. This blue one has a €40,000 – €60,000 ($43,500 – $65,000) estimate.
1997 De Tomaso Guarà Spyder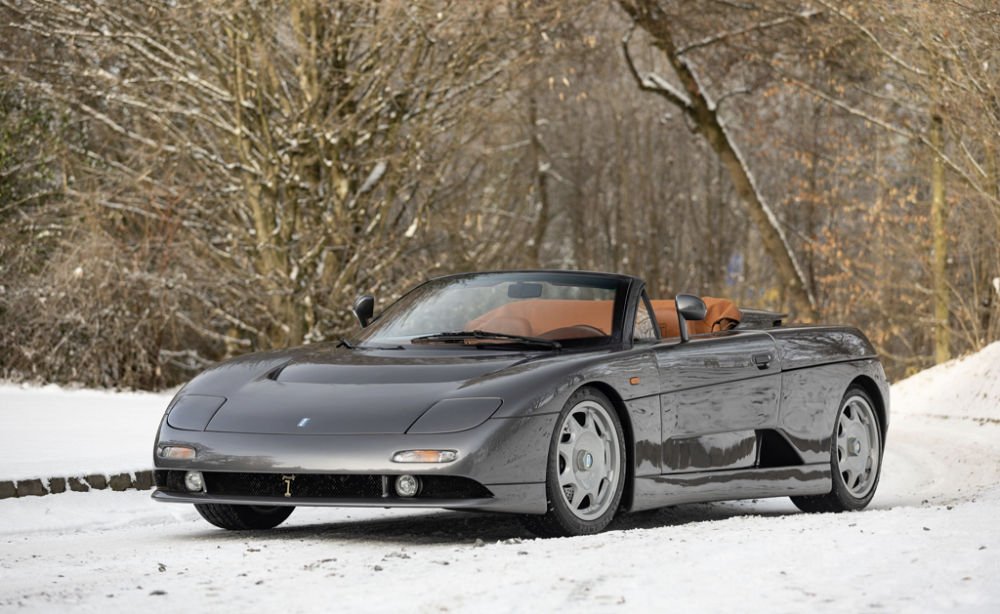 For many American enthusiasts, DeTomaso history ends after the Ford-powered Pantera departed Lincoln-Mercury showrooms in 1975, but the Modenese carmaker remained busy long after that. They kept building the Pantera until 1992, took over Maserati in 1976 and ran it until 1993, and even owned Moto Guzzi from 1973-93. DeTomaso went into liquidation in the 2000s, but was revived in 2014 and is still around today.
The Guarà was the last of the marque designed under company founder Alejandro de Tomaso. Originally intended to be a Maserati, it was released as a DeTomaso after Fiat bought Maserati. Nearly half as wide as it is long, it was available as either a coupe or a Spyder, and with either a BMW V-8 from the contemporary 8-Series or, later, a supercharged 4.6-liter Ford V-8. Neither engine gave the wedgy supercar enough performance to live up to its wild looks or justify its high price, and only about 50 were produced.
Any Guarà is unusual enough, but this one has the added distinction of being shown at the 2000 Turin Motor Show. It was also commissioned by its first and only owner, an industrial designer, with an interior that he himself sketched out (including a truly wacky steering wheel), a few subtle changes to the bodywork, and Tubi exhaust. This unique example has an estimate of  €200,000-€300,000 ($217,000 – $326,000), and would be the most expensive of the handful of Guaràs we've seen at auction if it transacts in that range.
1939 Rosengart LR539 Supertraction Cabriolet
Lucien Rosengart, who is credited with inventing foosball and was married to a Titanic survivor, debuted his LR539 at the 1938 Paris Motor Show. "The most beautiful French car" was its slogan. A debatable claim, especially since it shared floorspace with Bugatti and Talbot-Lago, but the LR539 is a looker, and "Supertraction" is a fun name, isn't it?
Rosengart embraced front-wheel drive in the 1930s, borrowing mechanicals from Adler and Citroën for his cars, and the Supertraction was his company's last significant model before Germany invaded France. The automaker survived for a few years after the war, but closed for good in 1955. This Supertraction has been off the road since the 1980s but appears mostly complete. If the two-tone brown and white isn't your style, there's a blue one at the same sale.
1933 Röhr "Tatzelwurm"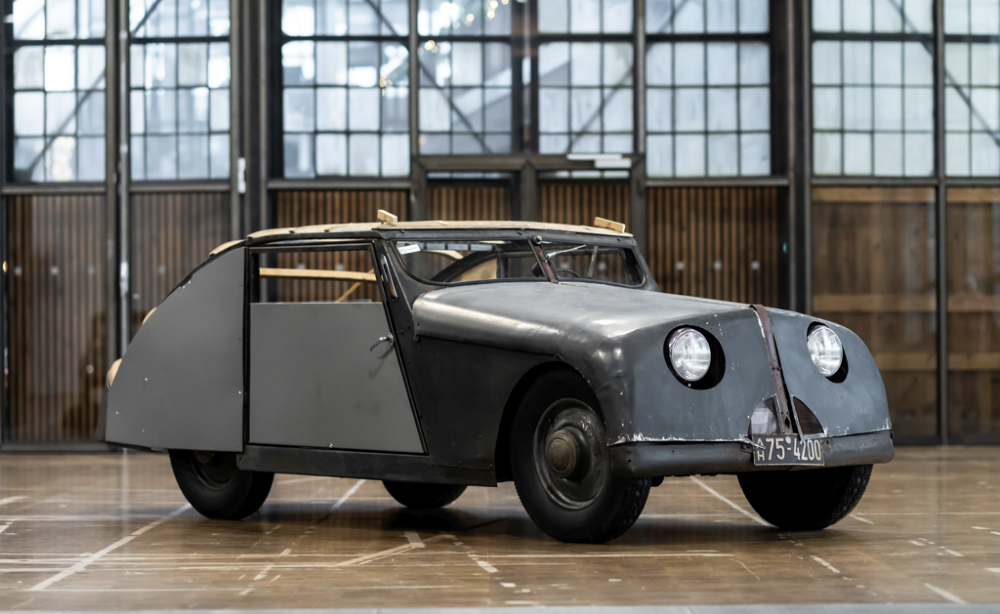 This one is a true oddity. Underneath it's a Röhr Junior, which itself is a Czech Tatra with an air-cooled 1.5-liter four built under contract at the short-lived (1926-31) Röhr car company in Germany. A mechanical engineering student student named Karl-Wilhelm Ostwald was employed for a short time at Röhr, and when his contract was up, he snagged this chassis that had been left in a corner at the factory.
Working on a budget, he formed an experimental aerodynamic body around the Röhr by laying sheetmetal over a wooden floor and sides. Its nickname of "Tatzelwurm" comes from a German mythological creature with the body of a serpent and the head of a cat, although this funky car sure looks like neither. Regardless of what it looks like, though, it was usable. Ostwald's family drove his little experiment regularly for 40 years before it joined a car collection. It has an estimate of €50,000 – €80,000 ($54,000 – $87,000).
1934 Citroën Kégresse P17E Military Half-track
At the behest of Russia's Tsar Nicholas II, French-born Adolphe Kégresse invented a track-drive system in the early 1900s. After the 1917 Revolution, he returned to France where he met Andre Citroën and struck up a deal. Starting in the 1920s and into the Second World War, Citroën-Kégresse half-tracks were popular for off-road, farming and military use, while other nations developed and built their own versions. Many were even repurposed by the Wehrmacht.
These autochenilles ("car caterpillars") also gained popularity thanks to good-old-fashioned publicity stunts. One towed a 3.5-ton mobile home up a steep sand dune, and a group of five (charmingly named Golden Scarab, Silver Crescent, Flying Turtle, Sacred Cow, and Crawling Caterpillar) crossed the Sahara desert in 1922-23, completing a 3000-mile route from Algeria to Timbuktu in just 21 days.
This Citroën-Kégresse has little known history, but it is a military-spec model from 1934, and will need recommissioning before hitting the road (or sand, snow, or mud) again. It has an estimate of €20,000 – €30,000 ($22,000 – $33,000).
1977 Mercedes-Benz 508D Camping-Car by Notin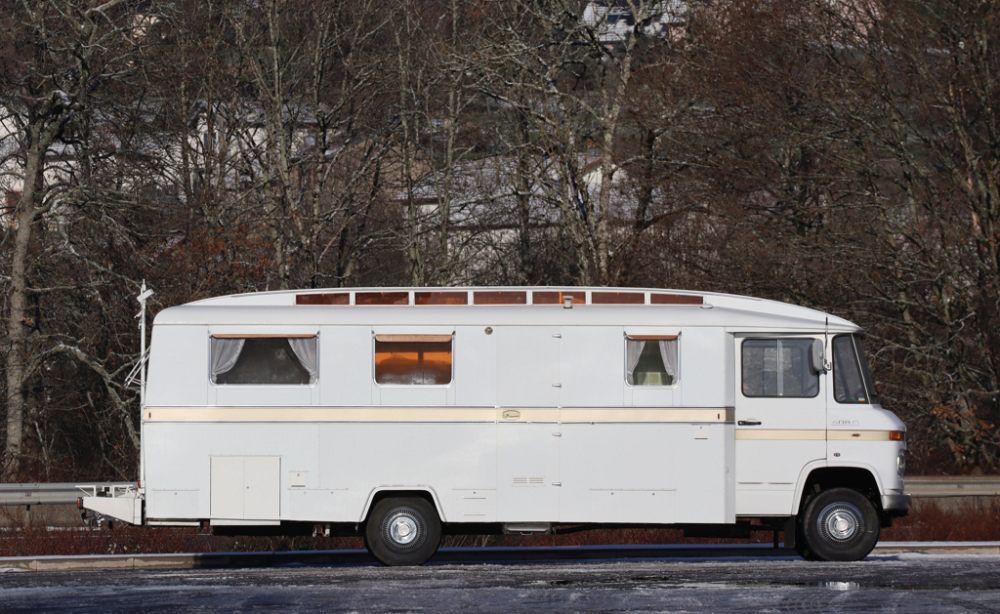 It's never too late to do the whole #vanlife thing, and with an estimate of €10,000 – €20,000 ($11,000 – $22,000), there aren't many cheaper ways to do it than this 508D. French company Notin is unknown in the United States, but it has been around for 102 years and specializes in high-end campers and motorhomes, often outfitted with custom features. We love this one for a host of reasons—check out its wood shutters and orange-tinted skylights. The interior screams '70s, from the upholstery to the little tube TV.
Based on a Mercedes 508D, already a popular motorhome platform in Europe, it was with the same French family from 1977 until 2018, but only racked up 55,592 km (34,543 miles) worth of road trips in that time.
1947 Volkhart V2 Sagitta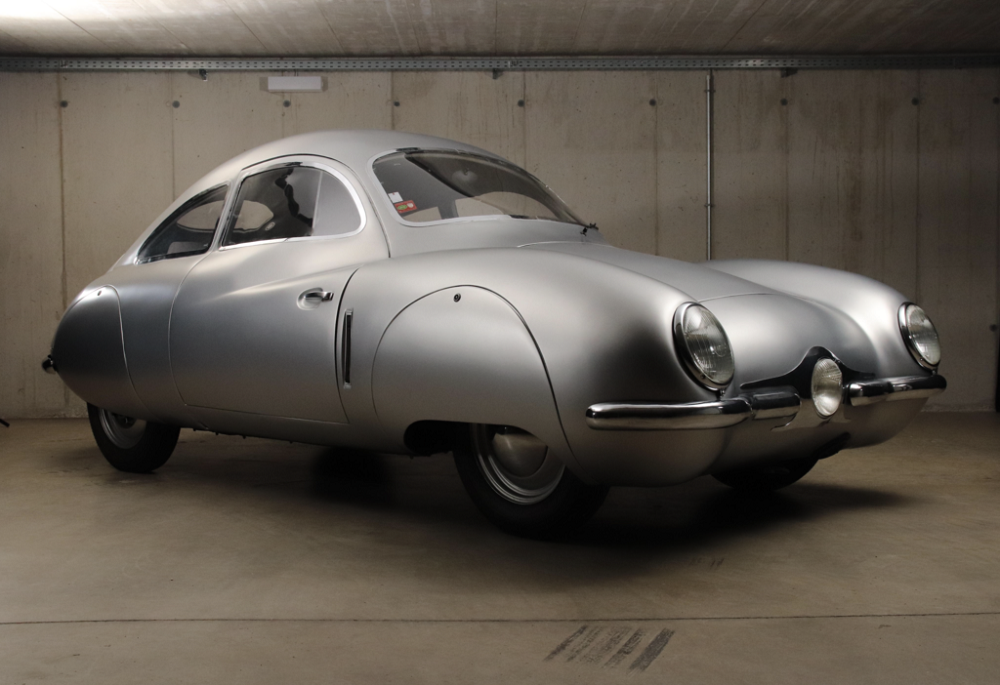 Volkswagen-based like a Porsche, but arguably prettier and definitely rarer, this one-of-a-kind Volkhart V2 traces its roots back to the '30s. Engineer Kurt Volkhart planned for a small, cheap sports car that made up for any lack of power with superb aerodynamics. His prior effort, the rear-engine, Ford-powered V1 only had 32 horsepower, but was slippery enough that it could get to over 85 mph.
The war interrupted his progress, but Volkhart started up again in 1947 with Volkswagen underpinnings and an aluminum body in a car called the V2. Among the car's interesting features was an "anti-skid" mechanism mounted behind the engine as a primitive version of stability control. Volkswagen refused to provide any more chassis, though, so the project remained a one-off and was used as a daily driver, and even (briefly, thank goodness) as a chicken coop. It has reportedly been rebuilt and repainted a few times, and in 2013 VW put it in their wind tunnel to find that the V2 had a drag coefficient of 0.216, which is a very good figure even on today's cars.
Report by Andrew Newton
If you are interested in more news click here.
---