Canepa is offering this wonderful Rolls Royce Corniche for sale. 1 owner, Roy Horn of the legendary Siegfried & Roy entertainment duo. The Rolls Royce has 9,349 original low miles. 1 of 219 examples produced between 1993 – 1996. 6.8-liter Rolls Royce V8 engine.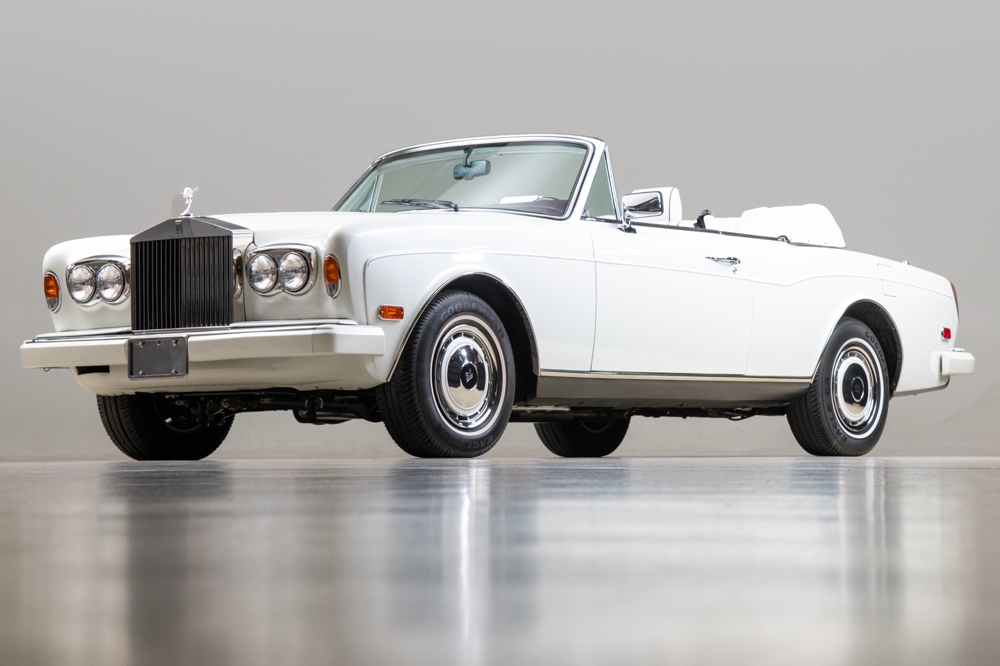 A name synonymous with quality, opulent appointments, and the definitive automotive symbol of luxury, Rolls Royce motorcars have been the de facto luxury brand for more than a century. Built with the finest materials, providing driver and passengers alike with the utmost comfort, Rolls Royce built their brand on being the best and making those inside their cars feel like VIPs. Since the company was first founded in 1904, owning one of these luxurious automobiles was a metaphor for being able to enjoy the finer things in life, and this 1996 Rolls Royce Corniche IV is no exception.
The Rolls Royce Corniche IV was originally presented at the North American International Auto Show in Detroit in January, 1992. The convertible Rolls Royce featured improvements over its prior generation, including a glass rear window, and an improved top mechanism that no longer requiring manual latching. For the new generation, the Rolls Royce Corniche IV also featured adaptive suspension, CFC air conditioning, and driver and passenger airbags. Hand built at the Rolls Royce factory in Crewe, England, this particular Rolls Royce Corniche was finished in December of 1993, and shipped to its first and only owner in the U.S., Roy Horn of the legendary Siegfried and Roy entertainment group.
Known world-wide for their live entertainment shows featuring magical illusions and interaction with tigers, the duo made their fame in Las Vegas, presenting shows to sold out crowds. For his 50th birthday, Roy Horn received this Rolls Royce Corniche IV as a gift. The White on White Rolls Royce was featured in multiple promotional events for the duo, with one of its most famous appearances being at the Las Vegas Walk of Stars in 2006, where Mr. Horn was being honored for both his 62nd birthday and the contribution that Siegfried and Roy had made to the entertainment industry.
Throughout Mr. Horn's ownership, the Corniche was serviced and maintained regularly, showcasing the incredible preservation class condition in which it presents today. Upon arriving at Canepa the Rolls Royce was subjected to a comprehensive inspection within their Service department and found to be in outstanding condition throughout, as would be expected with only 9,349 original-owner miles recorded. To be sold with a pre-delivery Service, full concours-show-level "Canepa Difference" detail, and owner's manuals.
Click here for further information
---
collectorscarworld is partnering with the most renowned classic car specialists and dealerships in the world. We always offer selected rare and sought-after collectors cars and supercars for sale and every day a special car is featured for one of our partners. The passion for classic cars is diverse, sometimes it concerns the beauty of forms that can be admired at a concours, sometimes it is the smell of rubber , old leather and gasoline at a racing event or trip in the sunset.
Or its a classic car you have great memories with or which your parents owned a longtime ago. Classic cars and supercars are an expression of the lifestyle that someone shares with other petrolheads, and which is immortal, enduring and always a lot of fun. If you are looking for a special car or need support in the evaluation and history of cars, please contact us at info@collectorscarworld.com
---