Only 281 models produced by Jaguar from 1992 to 1994! All original cosmetic finish and drivetrain! Limited ownership since new!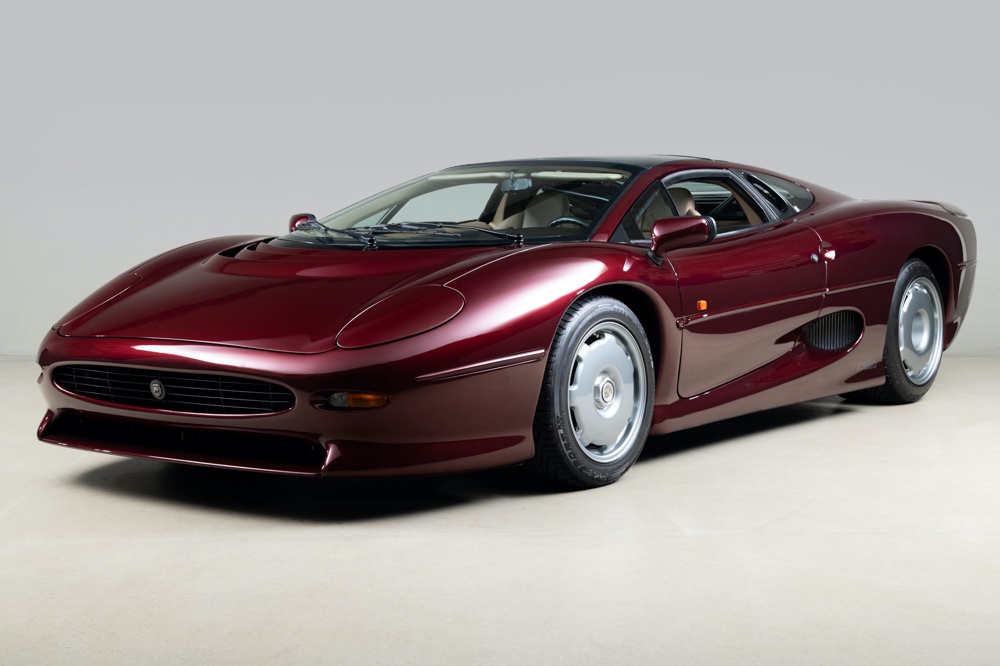 During the 1980's and early 90's, car manufacturers were exploring new concepts, pushing the technology of their cars into a new era, with the goal of producing the fastest and most powerful car they could create. The era of the supercar was born, and Jaguar wanted to lead the way, just as it had done with its C-Type three decades earlier. In the 1980's, Jaguar's chief engineer, Jim Randle, as part of an informal group called "The Saturday Club", began work on a concept car, code-named XJ220, which if put into production, could compete in a potential new Group B racing category competing against the likes of Ferrari's F40 and the Porsche 959.
While seemingly the obvious choice, the Jaguar 6.2-litre V12 had been judged too difficult to get past emissions regulations, so in its place was chosen a Tom Walkinshaw developed 3.5 litre V6 as used in the Group C XJR-10/11 racers, fitted with twin Garrett T3 turbochargers, generating 542 horsepower and 476 lb·ft of torque. The engine was the first V6 in Jaguar's history, being a 6-cylinder derivation from the Cosworth DFV Formula 1 engine, originally designed by David Wood for the Austin Metro 6R4 rally car. It was also the first Jaguar engine to use forced induction. In spite of the smaller displacement, it produced more power than the V12, and offered improved handling by being set lower and more centrally in the car.
Constructed on January 28th 1993, this XJ220 is number 237 of a limited run of 281 handmade cars. It was delivered to Geneva Switzerland on April 1st 1993, and on June 22, 1993, Gilbert Llorens, a South American expatriate, became the XJ220's first owner. Unfortunately, Llorens passed away before he could officially register the car, and his estate sold the Jaguar by title only to Ted Schroeder in Switzerland in 1999. Shortly after the purchase Schroeder began investigating the process to bring the car into the US. He contacted Jaguar North America for advice, who in turn contacted Sun International Racing in Manhattan Beach, California.
Sun International was known for importing exotic European street cars into the US, such as the Ford Escort RS Cosworth, Renault R5 Turbo and Lotus' series one Elise. After thoroughly investigating the importation of such a rare car, the XJ220 was granted a "show and display" exemption by the U.S. Department of Transportation on June 11th 2001. With the all clear, the Jaguar was shipped from Garage Roland Affolter in Porrentruy, Switzerland, and arrived in Los Angeles on June 28th 2001. It was then held in a private collection for the next fourteen years. Chassis #237 has never been registered in any country, and has only 2,682 km (1,667miles) on the odometer. Sold by Canepa in 2015, only 242 km (150 miles) were added to the car, having now returned to their facility in search of a lucky new custodian.
Upon arriving at Canepa, the XJ220 went under the "Canepa Difference" process. It was put through our rigorous detailing regimen, with the entire car cleaned from top to bottom, ensuring no surface was left untouched. Finally, a show-level foam pad polish was carried out on the exterior paint, producing a lustrous shine and mirror finish. Found to be in excellent mechanical shape due to prior extensive mechanical preparation by themselves, the Jaguar was signed off with a clean bill of health.
The XJ220 was the first road car to exploit under-body airflow and venturi technology to generate a downforce of around 3000 lb for high-speed stability. It utilized a Group C suspension configuration, leading to handling described by Autocar as "the finest handling supercar we have ever driven. Such is its damping that supercars we previously considered superlatively well-controlled over difficult roads now seem flawed and spongy after the Jaguar." This expertly cared-for XJ220 would make a superb complement to any collection of Jaguars, or modern supercars. It is sure to find acclaim at club meetings and regional concours d'elegance, while continuing to leave supercar aficionados breathless.
Click here for further information
---
Report by canepa.com
---