Outstanding Ferrari 512 BBi in very good condition! Matching numbers and original colour combination! In total, only 1009 units of the 512 BBi were built between 1981 and 1984!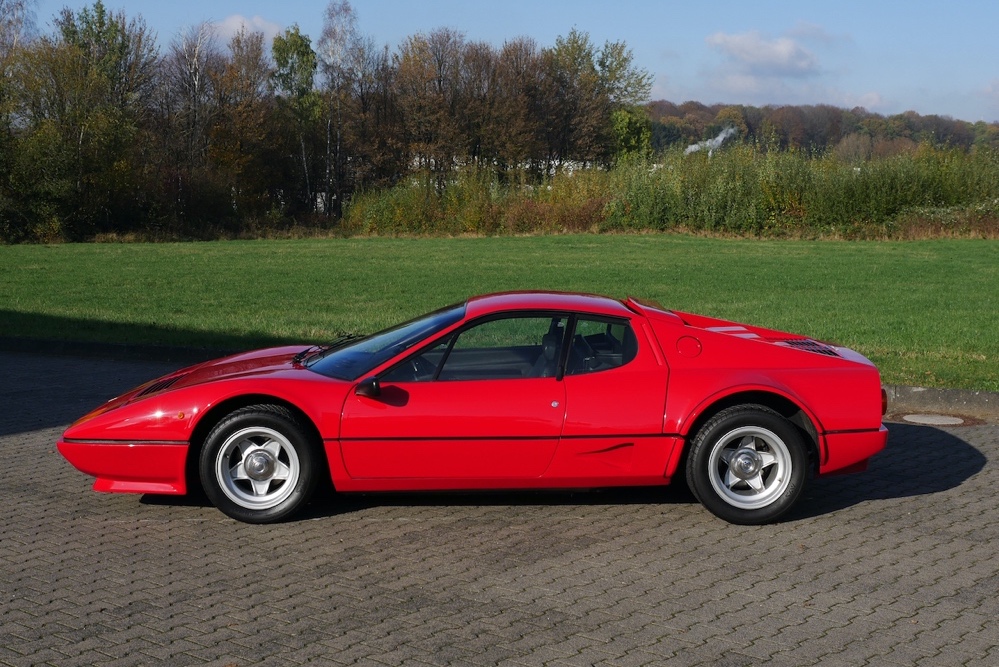 This 1984 Ferrari 512 BBi was newly registered in Germany and is in a very good condition.
The Ferrari 512 BB was introduced in 1976 as the successor of the 365 GT/4 BB. The designation "Ferrari 512" referred to the 5.0 liter engine and the 12 cylinders, similar to the Ferrari 512S racing car. Due to the stricter emission standards in the USA, the carburetors still used in the 512 BB were replaced by a mechanical intake manifold injection in 1981, making the 512 BB the 512 BBi. The "i" stood for iniezione, Italian for injection. This reduced the maximum power by 15kw, but the fuel consumption and exhaust emission values were improved and the starting behaviour was improved as well.
The bodywork of the BBi was also modernized. The front bonnet now had ventilation grilles in the same color as the car, wider tyres were installed and there were new rear fog lights and parking lights, as well as a smaller grille.
Only 1009 units of the 512 BBi were built between 1981 and 1984 in total. The 512 BBi was then replaced by the Testarossa.
The car offered by us was sold new by the main Ferrari dealer Auto Becker in Düsseldorf, Germany and was first registered on February 22nd, 1984. The current owner bought the car 16 years ago from another German Ferrari fan, who said he bought the car directly from Auto Becker. The original owner's manual and servicebook are not with the car but the car comes with an original brochure of the car, as well as a repro instruction manual and a repro spare parts list. Furthermore, the original Ferrari tool roll, the original Ferrari jack and the original wheel wrench for the central locks come with the car.
The car was originally delivered in the beautiful colour combination of black over black. About 20 years ago the car was repainted in red by a workshop specialized in Ferrari in Northern Germany. In the same work step the interior was also re-upholstered. Both the paintwork and the interior are still in a very good condition and overall the car is in a very well good condition.
The Ferrari Classiche production info is on file. Chassis, engine and gearbox are matching numbers.
The car is equipped with a rare Campagnolo wheelset in 9×15 with and huge 11×15 rims with 345/35 tires on the rear axle, similar to those on the 512 BB LM race car. To accommodate the enormous tires, rear fender extensions are installed. These can be removed if the standard wheels will be installed again. A second set of original 512 BBi wheels is also included.
Click here for further information 
---
Report by bastianvoigt.de
---