Canepa is offering this amazing Porsche 911 RS for sale. Early 1st Series Carrera RS. Rare M471 "Lightweight" specification. Matching numbers engine and transmission per Porsche Certificate of Authenticity. Documented in the definitive Carrera RS book by Dr. George Konradsheim.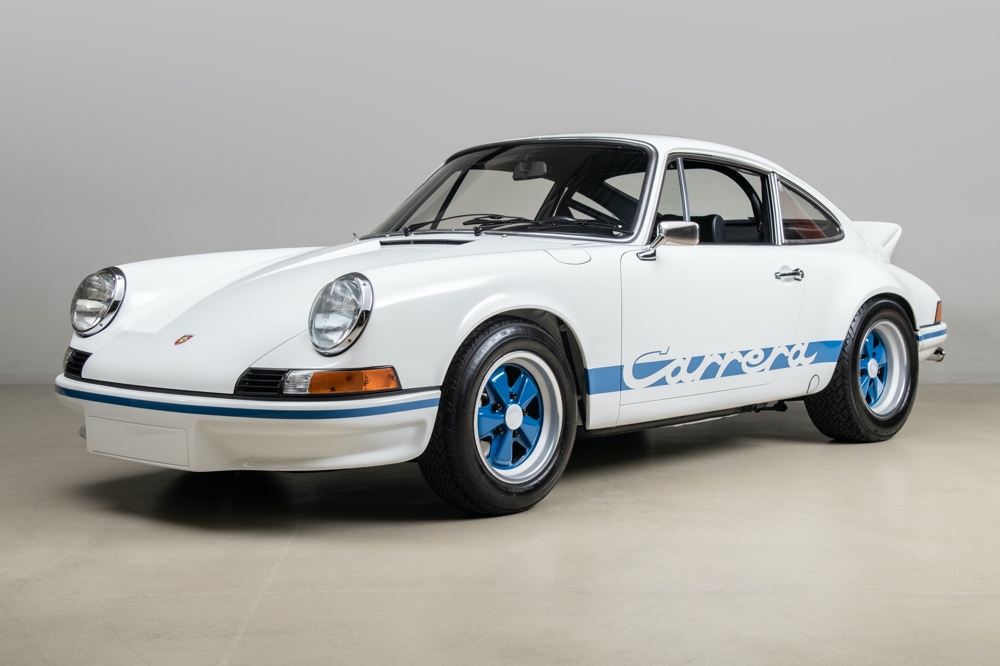 The Carrera RS is one of the most revered cars in the Porsche lineage, and is regarded as one of the finest sports cars of the 1970's. Revealed at the 1972 Paris Auto Show, it was a factory special built to meet the homologation rules of FIA Group 4 racing. The RS ("Rennsport") was almost invincible at Le Mans, Daytona and the Targa Florio, often winning outright against pure racing prototypes. It's not often you would see the same car on the podium one day, and passing you on the open road the next. The 911 RS is conclusive proof that one of Porsche's greatest skills was building a car that was immensely competitive at the track, and yet equally competent as a street car.
Porsche had only intended to produce 500 Carrera RS examples, set on making just enough to homologate the RS in order to go racing. These "1st series" cars are highly coveted, sporting thinner sheet metal from the factory and were focused on being lightweight, offering a "purer" experience. However, the automotive publics appetite for the Carrera RS platform meant that Porsche ultimately made 2 more rounds of cars, producing a further 1,080 examples. These later versions (often referred to as series 2, or series 3 cars) had thicker sheet metal, and were generally heavier than their 1st series siblings.
This 911 Carrera RS, #0284, was optioned in Grand Prix White with Blue script and wheels, and additionally specified as an M471 Lightweight model intended for racing. Delivered new to Switzerland, this Carrera RS Lightweight would remain with its original long-term owner until being purchased by a renowned U.S. specialist, who imported it to the U.S.
Over the next few years the car was traded a couple of times, including ownership by the celebrated automotive commercial photographer, Michael Furman. The RS Lightweight then landed in the collection of Dick Moran, who decided to restore chassis #0284 to its factory original, as-delivered condition, and entrusted the task to one of the world's foremost experts, Nate Cantwell.
In conversation with Cantwell, he was able to recall both the restoration, and condition of the Carrera RS when he first received it. #0284 was so memorable to Cantwell due to the fact that it had, remarkably for a street legal race car, remained untouched, and still retained its factory installed engine and gearbox. During the restoration, the car was completely stripped to the bare metal, revealing intact factory welds and factory original thin "lightweight" sheet metal. It was also discovered that the RS retained all of its original M471 Lightweight accessories, including the sport seats, door panels, and other minimalistic features. Cantwell proceeded to expertly restore #0284 from the ground up, ensuring that every component was factory correct, and to original RS Lightweight configuration.
The first series of 911 Carrera RS cars spanned only 500 examples, and having such a well-maintained and expertly restored example come through doors of Canepa is always a welcome sight, and inspecting a car such as this is always a special occasion. With chassis #0284 Canepa present the opportunity to own a celebrated piece of Porsche's homologation history, one that you can drive and enjoy on the street, and is the perfect example of duality that Porsche has built its reputation upon.
Click here for further information
---
collectorscarworld is partnering with the most renowned classic car specialists and dealerships in the world. We always offer selected rare and sought-after collectors cars and supercars for sale and every day a special car is featured for one of our partners. The passion for classic cars is diverse, sometimes it concerns the beauty of forms that can be admired at a concours, sometimes it is the smell of rubber , old leather and gasoline at a racing event or trip in the sunset.
Or its a classic car you have great memories with or which your parents owned a longtime ago. Classic cars and supercars are an expression of the lifestyle that someone shares with other petrolheads, and which is immortal, enduring and always a lot of fun. If you are looking for a special car or need support in the evaluation and history of cars, please contact us at info@collectorscarworld.com
---