Adrian Johnson is offering this Aston Martin DBS Vantage for sale. Well documented history. Desirable and rare Vantage manual transmission model. Really good original example. Properly sorted by Adrian Johnson – drives really well.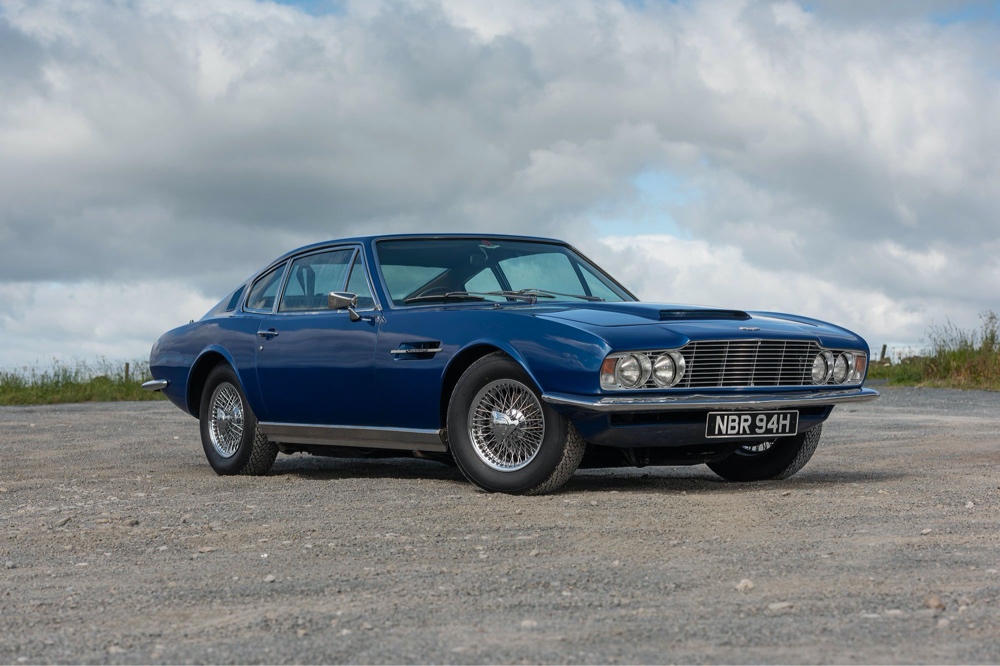 Adrian Johnson's comment on this car:
"We know this car well and it comes from a really good home. No expense has been spared on maintenance during the current owner's tenure and with the desirable Vantage spec with Webers and a manual box, it drives superbly and I would rate the car as an 8.5 or 9 out of 10. That is to say – it is not a show queen that you would only want to take on a trailer to a concours event, but it is in great condition and deserves to be driven – but could be detailed further if those type of events are your thing. The car is priced right and this stands comparison with any similar example that might be for sale. To restore another car from scratch would be double the asking price – so with it's lovely originality and beautiful condition – it makes a lot of sense!"
This Aston Martin DBS six cylinder is chassis number BS/5439/R which left the Newport Pagnell works, to be registered NBR 94H on 27th August 1969. The Aston Martin build log shows the factory extras as Vantage Engine (engine number 400/4201/SVC), Power Steering, Radiomobile Radio and Fiamm Horns. It was painted 'Pacific Blue' (I.C.I ref M037-4024) with upholstery in Connolly hide 'Natural* (VM 846) and carpets in 'Fawn' (7498 Woburn Sand).
The first owner was David Munro Esq. of Sunderland, Durham who kept it for just under a year.
The second owner was Martins (Dundyvan) Ltd of Coatbridge who acquired the Aston Martin on the 3rd July 1970 and records show the car was returned to the Aston Martin works for a full service on 14th February 1971 with a recorded mileage of 27,202.
The third owner Mr J R C Chinnery acquired the car in 1987 and immediately began a sympathetic restoration of the vehicle including replacement of the inner steel sills and a full bare metal respray in the original Pacific Blue colour.
The fourth owner was John Lawson of Edinburgh who purchased the car on the 4th June 2005. In 2006 he delivered the car to marque specialists Aston Workshop of Durham who carried out a major engine rebuild to unleaded specification including servicing the fuel system and carburettors. Front and rear suspension were also fully rebuilt. Invoices are available for this work and the believed true recorded mileage at that time was 51,839.
From that point the car became part of a private collection and was put into dry storage.
The fifth owner was lan Wade of Huddersfield on the 26th September 2013 whilst remaining in the same dry storage situation.
In September 2020 the Aston Martin, having covered only two miles since 2006, was purchased by its sixth owner Robert Chelsom, an Aston Martin enthusiast who delivered the car to long-standing Aston specialist engineers Adrian Johnson of Otley, formerly Post Vintage Restorations. They were instructed to carry out a full re-commissioning service with all and any mechanical work necessary to bring the car up to perfect driving condition.
The work included the removal and re-building of the cylinder head, the fitting of new rear discs, the overhaul of front suspension with the addition of a new handling kit, rear suspension overhaul, steering re-build, plus a full electrical overhaul and 10,000 mile service. 5 new correct tyres were fitted.
Since that time, the car has been kept in heated storage and regularly driven.
The car has maintained a wonderful air of originality with a lovely patina on the original interior. The iconic Pacific Blue paintwork is perfect and with as new chrome wire wheels and all mechanical work completed, this Aston Martin is a pleasure to drive.
Click here for further information 
---
collectorscarworld is partnering with the most renowned classic car specialists and dealer-ships in the world. We always offer selected rare and sought-after collectors cars and supercars for sale and every day a special car is featured for one of our partners. The passion for classic cars is diverse, sometimes it concerns the beauty of forms that can be admired at a concours, sometimes it is the smell of rubber , old leather and gasoline at a racing event or trip in the sunset.
Or its a classic car you have great memories with or which your parents owned a longtime ago. Classic cars and supercars are an expression of the lifestyle that someone shares with other petrolheads, and which is immortal, enduring and always a lot of fun. If you are looking for a special car or need support in the evaluation and history of cars, please contact us at info@collectorscarworld.com
---