It could be argued that the three most covetable characteristics of Ferrari ownership are beauty, exclusivity and the possibility of open air motoring, the 'wind through your hair' sensation, that never wanes in its appeal. A 330GTS ticks all of those boxes handsomely, by definition an open topped automobile, they date from those halcyon days of the late 1960s, when beauty just pipped aerodynamics in terms of sale ability and only 100 were ever built ensuring their exclusivity.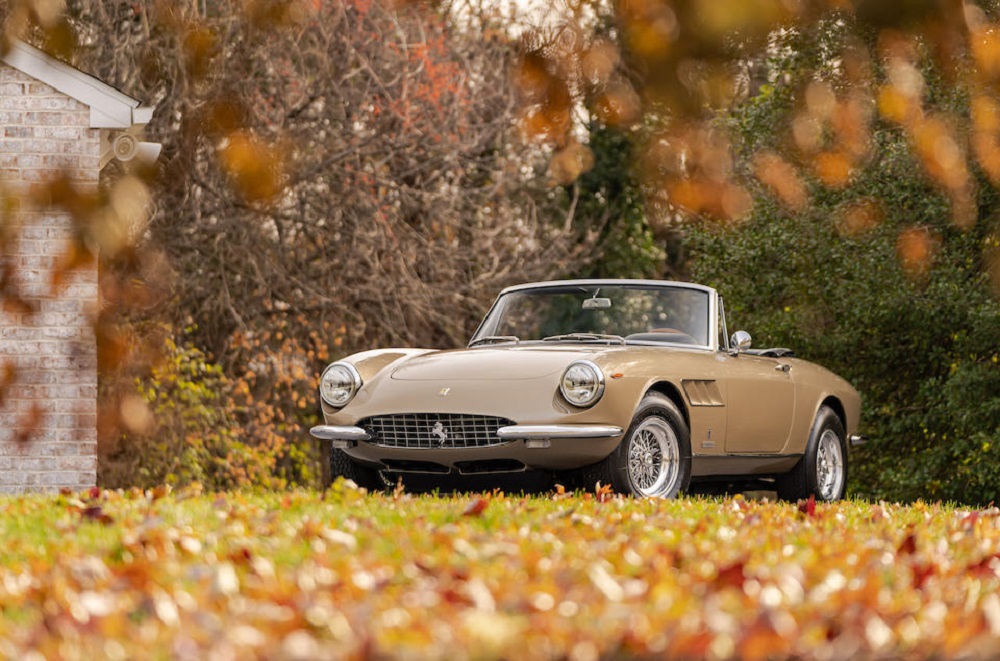 1967 Ferrari 330 GTS
Coachwork by Pininfarina
Chassis no. 9791
Engine no. 9791
3,967cc SOHC Tipo 209/66 V12 Engine
Three Weber 40 DFI/2 Carburetors
300bhp at 6,600rpm
5-Speed Manual Transaxle
4-Wheel Ventilated Girling Disc Brakes
4-Wheel Independent Suspension
*Delivered new to the United States
*Ferrari Classiche Certified
*Cavallino Classic Platinum Award Winner
*28th of only 100 330 GTS built
---
The convertible version of the GTC, the GTS was introduced at the Paris Salon in 1966. Beneath the 330's hood was the 4.0-liter, 300bhp version of Ferrari's familiar, two-cam, 60-degree V12, as used in the 330GT 2+2. The short – 2,400mm wheelbase – chassis followed Ferrari's established practice of tying together sturdy oval-section main tubes in a steel spaceframe, while the suspension was independent all round by wishbones and coil springs. First introduced on a road-going Ferrari in 1964 (on the 275GTB) the rear suspension incorporated the five-speed, all-synchromesh gearbox in the form of a transaxle. Unlike the 275GTS, the 330GTS (and 330GTC) employed the superior torque-tube transmission introduced on the 275GTB towards the end of 1965.
Testing a 330GTS in 1968, Road & Track magazine found that the fully sorted, all independent, transaxle chassis gave, "a soft, level ride, wonderful adhesion and excellent behavior. Out on the road, once the driver has the feel of things, he feels he could do almost anything with this car."
Luxuriously equipped in the best Gran Turismo manner, the 330GTS interior boasted leather seats and electric windows as standard, radio, air conditioning and Borrani wire wheels being the options. With a top speed in excess of 150mph, excellent ride comfort and sure-footed handling, Ferrari could justifiably claim the 330GTS to be the world's finest convertible two-seater. Only 100 330GTS models were produced by the factory between 1966 and 1968, alongside 600 of the 330GTC Berlinetta.
THE MOTORCAR OFFERED
Sleek, stunning and powerful, this topless Italian model was assembled in early 1967, the 28th of the eventually 100 330 GTSs to be built. Originally finished in Grigio Fumo over PelleBleu hides, s/n 9791 was ordered by Luigi Chinetti Motors of Greenwich, Connecticut and built for the American market. Arriving stateside in April of 1967, its original owner was not recorded.
By 1975, the Ferrari had made it to the Midwest where it was owned by Guilbert Dybvad of Racine, Wisconsin. Continuing westward, in 1979 s/n 9791 was owned by noted Ferrari collector Michael Buxbaum of Los Angeles, California. Buxbaum's ownership would begin a nearly quarter century of SoCal living. Listed for sale in October of 1980 in Ferrari Market Letter, the car was described at the time as being exceedingly original with only 20,000 miles on the ticker. In 1988 the Ferrari was listed in the Ferrari Club of America's roster as being in the collection of the Andrew Cohen of Bel Air, California. Andy, the founder of Beverly Hills Motoring Accessories, a beloved fixture of the Los Angeles car scene and creator of the well-regarded monthly Malibu Vintage Car Gathering at Trancas Country Market who passed away just last year, would own 9791 for over a dozen years. Registered with a set of California Blue plates that, appropriately red "1967 V12" (no doubt with deepest regrets to California's many other Ferrari 275GTB/330GTC and Lamborghini Miura owners), Cohen would go on to show the car at 26th annual Ferrari Club of America National Meeting and Concours at Stouffer's Pine Island Resort in Lake Lanier Island near Atlanta, Georgia in June of 1989 and again at the Rosso Rodeo Concours on tony Rodeo Drive in Beverly Hills in June of 1995—no doubt in addition to many other local events.
In September of 2001, Andy sold his 330 GTS, still in unrestored and original condition with 45,000 miles, to fellow Californian Reed Harmon of Palos Verdes. Shortly after acquiring the car, Mr. Harmon enlisted Norbert Hofer of Grand Touring Classics in Long Beach, California to commence a three-year restoration of the car during which time the car was repainted metallic silver. Completed in time for Monterey in 2004, it would be the sole event to which Harmon would take the car before selling it to Bill Lawarre of Santa Barbara at the end of 2004. Keeping the car through March of 2008, it would briefly enter the garage of Roger Hoffman during which time it was sent to noted Ferrari guru Patrick Otis for mechanical work. Acquired by Rhode Island collector Stephen Frary just ahead of Monterey in 2008, Frary showed the car in Monterey for the second time in four years.
Acquired by the current owner, a dedicated Ferrari enthusiast, just ahead of Thanksgiving in 2008, 9791 went back to a garage on East Coast for the first time since the Ford administration. In January 2012, the 330 was presented at the 21st Palm Beach Cavallino Classic where it won the Gold Award. While Gold is good, Platinum is better—so over the course of the year 9791 was stripped bare, repainted Oro Chiaro, and the issues that kept it from top honors were rectified. It was during this time that the Ferrari Classiche Certification was received with the ever-desirable Red Book arriving in October of 2012.
Returning to the Breakers for the 22nd Cavallino Classic in 2013, victory was achieved when the Ferrari brought home the Platinum Award. Fresh from its big victory in Florida, 9791 was displayed at the 29th Annual Reading Ferrari Concours d'Elegance in May of '13 where it was awarded the Francesco Baracca Award (Ferrari of Exceptional Merit).
Sparingly shown and driven in the dozen years of present ownership, only 50,952 miles are indicated on the odometer—a figure that is understood to be from new. Offered with its owner's handbook, tool roll, Ferrari Red Rook, Massini report, and various records, this Platinum Award winning droptop is ready to thrill and delight its next lucky owner. A perfect chariot for any number of exciting events, such as the Going to the Sun Rally, the Copperstate 1000, the Mountain Mille, and more, it is equally at home ripping up local back roads on a Saturday or on a show field on Sunday. And, as an added benefit, I hear that the aural, visual, and tactile pleasure that comes from driving an open Ferrari does wonders for one's positive disposition!
---
Report by bonhams.com
---