Canepa is offering this beautiful Porsche 356A Super for sale. Original matching engine and gearbox. Original Ivory color exterior and red leather interior.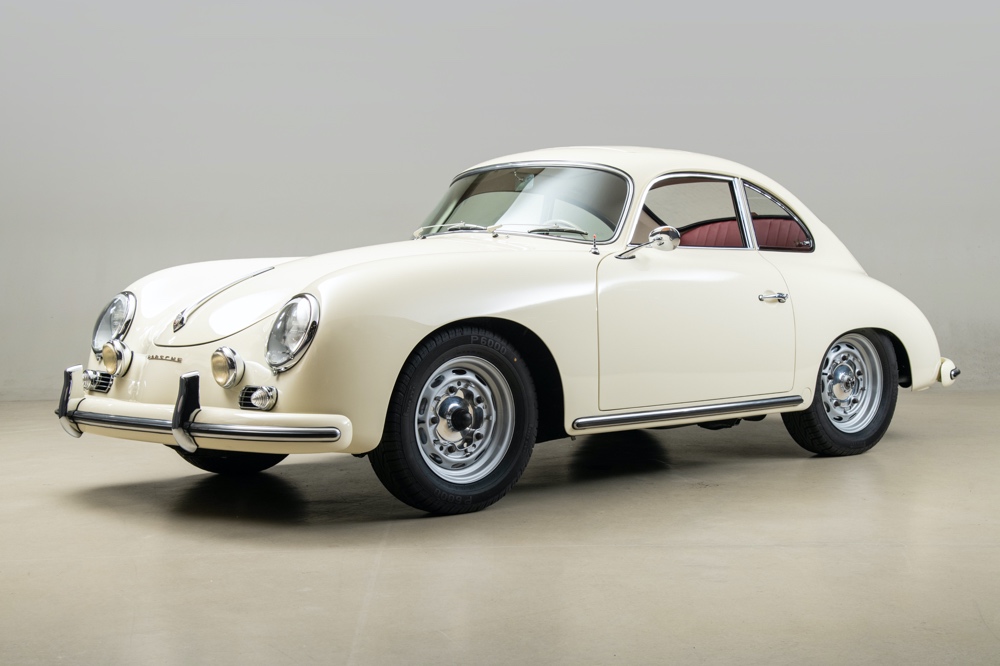 Built on October 9th, 1957, the 356A Super shared the same birthday as the original owner. This 356A is true to its original delivered specifications in 1958 with its exterior ivory color, red leather interior, oatmeal rubber mats, and other than a small dent on the left rear corner pre restoration, all the body panels are original. Included with driving lamps, sunroof, Koni shocks with a slightly lowered stance on 5.5-inch-wide wheels with new Pirelli P6000 195/65 15 tires, this Super is set out to be all its own on the road.
In 2000 it was fully restored by Jim Shuh of Washington for the widow of the original owner. All the original parts were reconditioned or restored and not replaced, making this truly an original car. Jim would assist in the selling of the nearly completed restored 356A to Dirk Layer. Dirk would have a few more interior details taken care of before sending the car to Alex Finigan of Paul Russell and Co. of Sussex Massachusetts. With final details taken care by Paul Russell and Co., bringing this 356A super to concours level condition.
In late 2000, Bruce Canepa would acquire the car from Alex Finigan of Paul Russell and Co., enjoying it as his personal car for the next 5 years. Canepa continued to service the car to this day. In 2011 the car received a full vehicle inspection and tune up to all major systems bringing the 356A back to perfect mechanical running order. Only seeing 800 miles since 2006 and stored in Los Gatos, California, this car is in pristine condition from the day it was restored.
Upon returning to Canepa, the 356A was subjected to a comprehensive inspection within their Service department and found to be in outstanding condition throughout. To be sold with a pre-delivery Service, full concours-show-level "Canepa Difference" Detail, Owner's Manual, and Service Records. More coveted today, than possibly when it was introduced in 1958, this 356A Super presents an opportunity to acquire a highly prized model of Porsche's sporting icon.
Launched in 1949, the Porsche 356 was the first true Porsche created by Ferdinand 'Ferry' Porsche. Well established by 1955, the 356A was introduced with small but significant changes over the 'Pre-A' or what Porsche factory called a T1 model "Technical Program 1". The T2 model was released in '57 and changes to the outside of the 356 were minimal, but a larger 1600cc engine was introduced along with revised suspension and wider tires. Exhaust now routed through the rear bumper over-riders and the carburation was changed to Zeniths from the previous Solexes.
Click here for further information 
---
collectorscarworld is partnering with the most renowned classic car specialists and dealerships in the world. We always offer selected rare and sought-after collectors cars and supercars for sale and every day a special car is featured for one of our partners. The passion for classic cars is diverse, sometimes it concerns the beauty of forms that can be admired at a concours, sometimes it is the smell of rubber , old leather and gasoline at a racing event or trip in the sunset.
Or its a classic car you have great memories with or which your parents owned a longtime ago. Classic cars and supercars are an expression of the lifestyle that someone shares with other petrolheads, and which is immortal, enduring and always a lot of fun. If you are looking for a special car or need support in the evaluation and history of cars, please contact us at info@collectorscarworld.com
---