Stunning and rare Ferrari 250 GT Series I Pinin Farina cabriolet! The only one out of 40 produced to have left the factory in "Cafe' Racer" specification!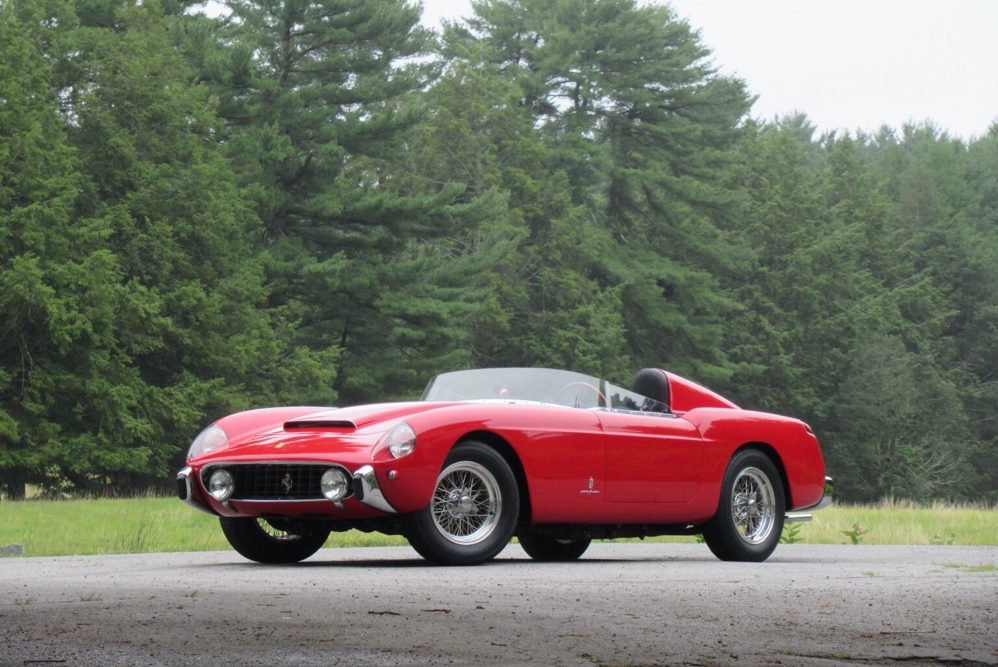 The only Series I cabriolet as Café Racer from new.
This breathtaking Ferrari 250 GT Series I Pinin Farina Cabriolet "Café Racer" is the only one of the 40 produced to have left the factory in "Cafe' Racer" specification. With historical assistance and period photographs provided by noted Swiss Ferrari historian Marcel Massini, Copley Motorcars learn that the Series I entered the Carrozzeria Pinin Farina plant in Torino in March of 1957 to be fitted with its stunning coachwork. Once returned from Pinin Farina to the Ferrari factory for completion, the Series I was delivered new to Jacques Swaters' Garage Francorchamps in Brussels, Belgium.
As just the second of the 40, the Series I left the Ferrari factory with Serial Number 0663 GT, and was outfitted with covered headlights, bumperettes, removable driver head restraint, competition windshield, passenger seat tonneau, and outside fuel filler. And as a Cafe' Racer, aptly painted in Rosso Corsa.
Garage Francorchamps would go on to deliver the Series I to its first owner, a Mr. Leon Dernier, also of Belgium. Two years hence, the Series I would return to Garage Francorchamps and be fitted with the more traditional full windshield and convertible top.
At this time, the Serial Number was changed to 0999 GT, as the Series I is known today, and Copley Motorcars assumes this change meant to coincide with the change of aesthetic. For the following 20 some years, 0999 GT would stay in Europe and the UK until coming to the States in the 1980s.
At some point while in the EU/UK, the original 0663 GT engine would become separated from the Café Racer. Copley Motorcars does indeed know where the original engine is but the current owner not a seller. 0999 GT now fitted with a proper Colombo inside plug V12 engine with Numero Interno 096D. And of course this Café Racer sits on a 2600mm chassis, and is equipped with a 5 speed manual gearbox, disc brakes and, Borrani wire wheels with knock-off hubs.
Having been sold in January 1988 at Tom Barrett's Scottsdale auction, 0999 GT would soon thereafter be purchased by Bill Morrison, who would restore the Series I with Wayne Obry's Motion Products.
Now restored, Mr. Morrison would show the Cafe' Racer in August of 1994 at both the Ferrari Club of America International meeting and, in a special Ferrari class at the Pebble Beach Concours d'Elegance. Shortly following these two "Pebble Beach Car Week" showings, Mr. Morrison would sell 0999 GT into the important racing sportscar collection where Copley Motorcars offers you this stunning one-off, worldwide event eligible, Café Racer from today.
Click here for further information 
---
---