Pendine is offering this Morgan Plus 4 Lawrence Tune Supersports for sale.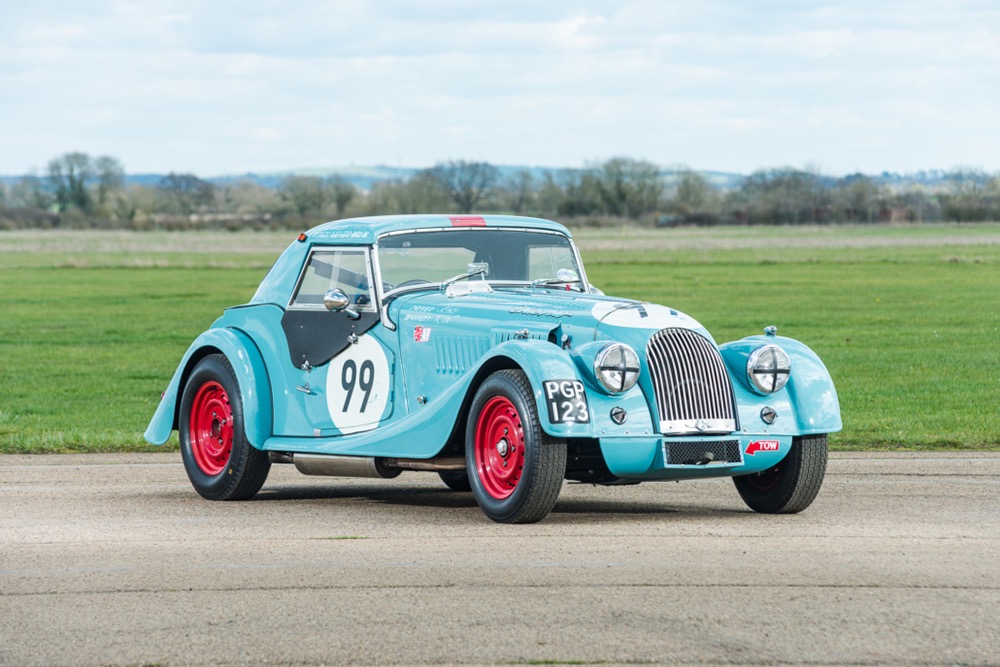 1954/61 Morgan Plus 4 Lawrence Tune Supersports
Chris Lawrence and his Lawrence Tune team had begun privately developing the Morgan Plus 4 for racing in the late 1950s. By 1961, Lawrence was running the factory Works team of racers in the UK and Europe, regularly humbling significant opposition. At the time, the Morgan Motor Company didn't have the resources to officially run a Works team so instead gave Chris Lawrence the support and encouragement they could to race at national and international levels, often as Works entries.
The Lawrence Tune prepared Morgan's eventually turned into the prototype for the factory built Morgan Plus 4 Super Sports, offered by the Morgan factory as a result of the Lawrence Tune successes. They made 101 of these cars and indeed Chris Lawrence's own car, TOK 258, was updated by the factory to Super Sports specification (a car that later won the 2 Litre class at Le Mans in 1962).
Lawrence Tune Morgan's, both before and after Le Mans in '62, had become the 2 Litre cars to beat in International GT Racing. TOK 258, alongside the Morgan's of Pip Arnold and Peter Marten won at Spa, Clermont Ferand, Monza, Nürburgring and, at one time in 1963, TOK held every lap record in England for 1600 – 2600cc, except Croft.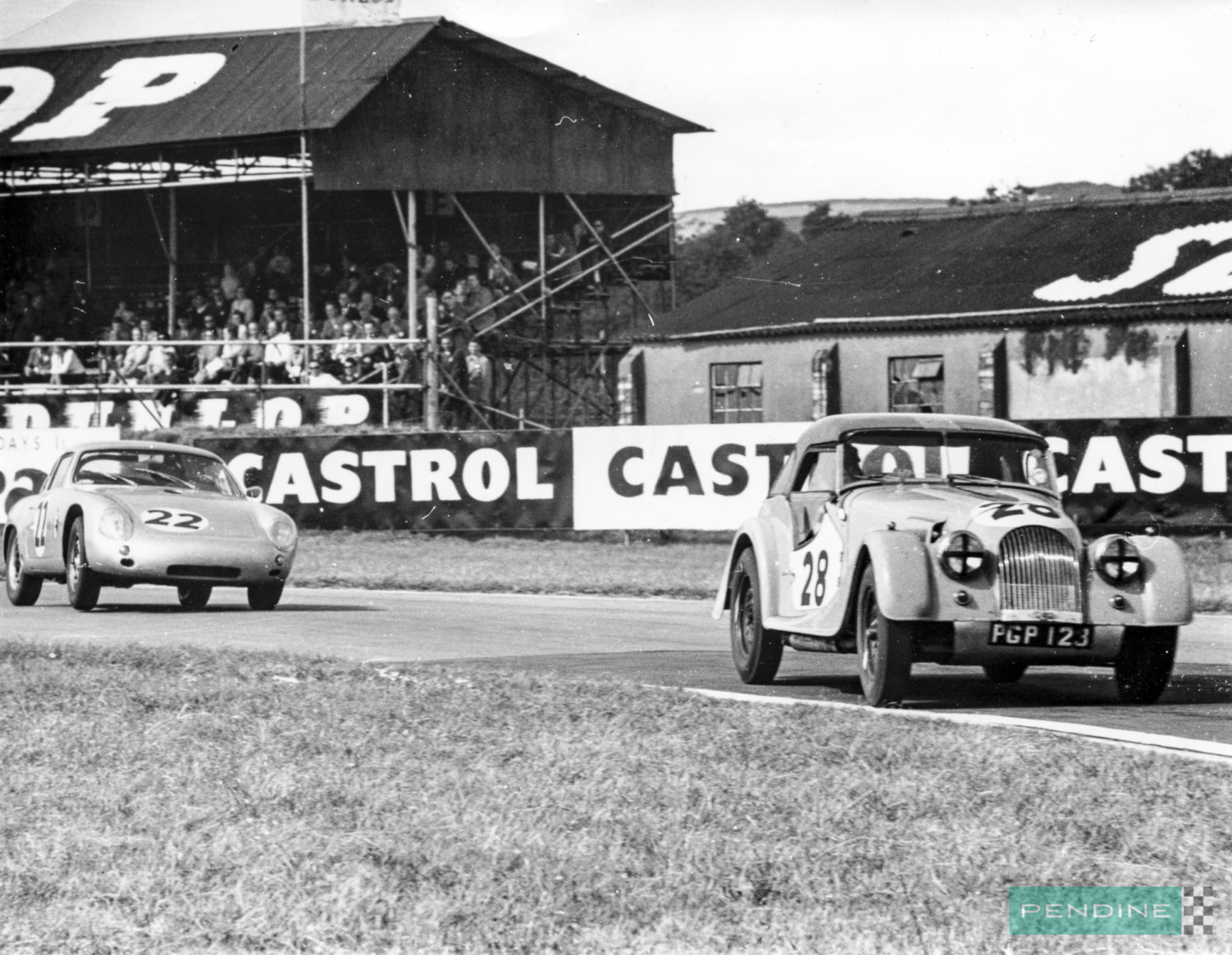 Originally built in 1954, PGP 123 – affectionally known as 'Choc Ices' – was acquired by Peter Marten in 1960 following a discussion at a Brands Hatch meeting with Richard Shepherd-Baron, Chris Lawrence's co-driver. Marten was introduced to Chris who was already preparing TOK 258 and XRX 1 for the 1961 season.
Chris suggested that 'Choc Ices' was bought to the workshop and prepared to the same Lawrence Tune specification. 'Choc Ices' was the only highline bodied car prepared by Lawrence Tune and for the 1961 season, PGP 123 became one of the three Works supported Morgan's that competed internationally, including rounds of the World Sports Car series in 1961.
During the 1961 season 'Choc Ices' took part in a staggering 25 races with an impressive record of 11 awards, 2 firsts, 2 seconds, 3 thirds and 3 fourths. This rewarded 'Choc Ices' and Peter Marten with a 4th in the PECO Championship for GT Cars and 5th in the Freddie Dixon Championship for Morgan Motor Car Company.
The 1961 season included two international events; the first was the Grand Prix De Spa where Choc Ices finished 6th (and where it earnt the 'Choc Ices' nickname after a joke told by the Lawrence Tune mechanic). The second was the Nürburgring 1000km where it was practiced extensively by all the team drivers but, due to a failed stub axle, it didn't start the race. 'Choc Ices' and Peter Marten competed in four other international events, this time on UK soil, including the 1961 RAC TT at Goodwood.
In June that year 'Choc Ices' was damaged by a spinning Cooper Jaguar and so Chris Lawrence took the car back to the Morgan factory where it was repaired, repainted Avion Blue and updated to full aluminium factory Super Sport specification but retaining its highline body style, one of just two Highline Supersport cars. In a letter on file, Peter Marten remarks that Chris Lawrence seemed upset when the three cars were weighed during the scrutineering for the TT at Goodwood and Choc Ices was the lightest!
Following the 1961 season, Choc Ices was sold to W H (Bill) Jones, the registration changing from PGP 123 to 550 DXN. Bill Jones repainted 'Choc Ices' Green and raced it extensively throughout 1962, competing in 13 races, predominantly at Goodwood, until an incident with Ray Meredith in September damaged the nearside front of the car. It was taken back to the factory to be repaired, remaining there for two years until his mechanic, Ken Foley, convinced him to collect it. It was out again for the 1967 season where he would share the car with Bill Jones until its sale in the early 1970s.
'Choc Ices' was acquired by Morgan aficionado and racer John Macdonald via Gerry Marshall. Still very much in the same specification as when owned by Peter Marten, John gave the car a new lease of life on track by fitting wire wheels and a modern roll cage. Other than that, 'Choc Ices' remained relatively unmodified. John McDonald regularly raced with great success throughout the 1970s and into the 1990s, until selling 'Choc Ices' to Jan Bulinski in 1995. During Bulinski's ownership the original registration was reunited with the car, and Bulinski even shared driving duties with Chris Lawrence at the Silverstone Historic festival.
In 2010, 'Choc Ices' was purchased by Simon Gurney having never been restored he undertook a sympathetic rebuilt of the car to modern historic racing standards. Despite this the car still remains highly original to this day, there are even signs of the factory Avion Blue inside the bonnet and door shuts on the body. Over the next decade he continued to develop 'Choc Ices' and add to its illustrious racing career by extensively racing the car throughout Europe including 3 Goodwood Revivals, 2 Goodwood Members Meetings and 3 Le Mans Classics.
In 2021 Pendine found a new home for Choc ices and the current owner set to further upgrading the car and returning it back to correct 1961 specification as it was prepared by the factory for the Goodwood TT. The original Avion Blue found on the car was colour matched and the exterior was carefully stripped and repainted with a stripe on the roof, a nod to its original widened hardtop that had a strip of unpainted fibreglass in the centre. The wire wheels were removed and new hubs fitted to enable custom made FIA approved alloy wheels. The brakes were rebuilt and interior gauges upgraded.
It has been continuously maintained and prepared by RW Racing Services since its purchase and has enjoyed multiple class wins along with competing in the Goodwood Revival and Le Mans Classic in 2022.
Accompanying the most impressive history files for any car Pendine has been seen with over 10 bursting folders of detailed history along with lots of other historic paraphernalia, including incredible items such as the original 1960s timing sheets from Goodwood TT, Spa etc, drivers passes, programmes, posters, articles, even postcards home from the Nürburgring and countless photographs documenting most of 'Choc Ices' races from 1961 until 1970 through to the modern day.
There is even the original pit sign from the Goodwood RAC TT of 1961 – far cooler on your garage wall then those pinched from the pits of the contemporary Goodwood Revival! Choc Ices has also been the subject of numerous articles most recently by Goodwood Road & Racing and Octane Magazine.
A highly eligible car, 'Choc Ices' has raced extensively in contemporary historic racing and being highly eligible and a proven veteran for all the finest historic events such as Le Mans Classic no less then four times as well multiple Goodwood Revivals and Members Meetings.
Choc Ices is presented with a recently rebuilt engine in date belts and extinguisher ready for a new gentleman driver to continue its illustrious career.
Click here for further information
---
collectorscarworld is partnering with the most renowned classic car specialists and dealer-ships in the world. We always offer selected rare and sought-after collectors cars and supercars for sale and every day a special car is featured for one of our partners. The passion for classic cars is diverse, sometimes it concerns the beauty of forms that can be admired at a concours, sometimes it is the smell of rubber , old leather and gasoline at a racing event or trip in the sunset.
Or its a classic car you have great memories with or which your parents owned a longtime ago. Classic cars and supercars are an expression of the lifestyle that someone shares with other petrolheads, and which is immortal, enduring and always a lot of fun. If you are looking for a special car or need support in the evaluation and history of cars, please contact us at info@collectorscarworld.com
---