Girardo & Co. is offering this Siata Daina Gran Sport Type B Barchetta for sale. Eligible for the fiercely popular Mille Miglia Storica, which it completed in 2018 and 2019. A matching-numbers example delivered new to the USA. Accompanied by its FIVA passport and a spare period-correct corsa engine.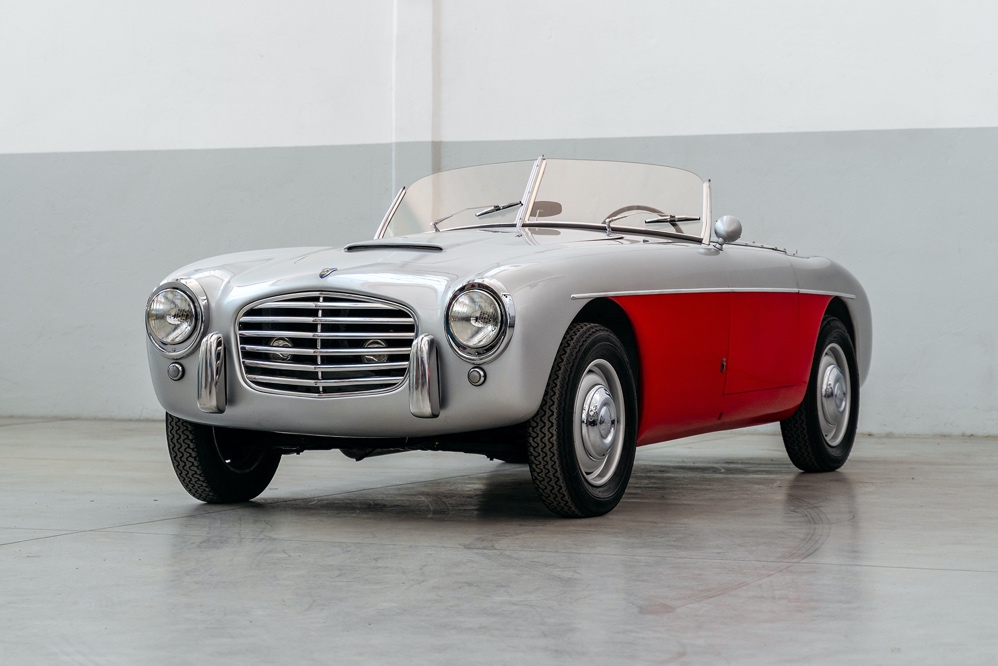 What is it?
This dainty little car is a Siata Daina Gran Sport Type B Barchetta. Rare and exotic, these ultra-rare barchettas were based on enhanced Fiat 1400 underpinnings and clothed in a selection of elegant closed-coupé and open aluminium bodies, predominantly hand-beaten by Stabilimenti Farina. These lightweight, agile and technologically straight-forward sportscars from Turin proved extremely popular among the gentleman racers of the post-War period, especially in the United States.
Could you tell us about this particular Siata's early history?
Chassis number SL0245B was delivered in 1952 new to New York via Fergus Motors, dressed in a beautifully minimal aluminium body handcrafted by Stabilimenti Farina. The first recorded owner was one Bernard Ryan, a resident of New Jersey who retained the Siata for over 25 years.
Stanley Weiss, a fellow New Yorker, was the next custodian. Weiss commissioned a major restoration in 1984, costing close to 40,000 US dollars. It was at this point the car was refinished in the elegant silver and red colour combination in which it presents today. Weiss sadly died in 1999, and SL0245B was sold by Christie's at its flagship Pebble Beach sale.
What happened next?
A Pennsylvania resident by the name of Willem Van Huystee acquired this Siata in 2002 and, clearly wishing to take advantage of its incredible eligibility, proceeded to exhibit it at a raft of prestigious events.
During his five-year ownership, SL0245B appeared at the Meadowbrook Concours d'Elegance (from which it headed home with two trophies), the Radnor Hunt Concours d'Elegance, the Pittsburgh Vintage Grand Prix and even the New York Auto Show.
The car's next California-based owner was similarly enthusiastic about getting out and sharing it with the world – he acquired the Siata its FIVA passport and contested the California Mile and the Copperstate 1000, among other events. After its duties on the road, the Daina Gran Sport was treated to a full body preparation and repaint. All the aforementioned maintenance and restoration work is well documented in the beautiful accompanying Schedoni leather-bound history file, which Girardo & Co. researched and compiled when they offered the car for sale back in 2017.
In what condition is the car today?
Well, the current Italian owner acquired chassis SL0245B from Girardo & Co. in 2017, with a view to using and enjoying the car. As such, he spent in excess of 23,000 euros with a marque specialist in Italy comprehensively servicing and preparing the Siata for long-distance road driving.
He also acquired a spare period-correct 1900 corsa engine, so as to preserve the originality of the precious original unit, the number for which matches the chassis. The fruits of said labour were well and truly enjoyed on both the 2018 and 2019 editions of the world-famous Mille Miglia Storica. As evidenced in the photos, the car presents in exceptional condition, both outside and in.
So to confirm, I can enter the Mille Miglia with this car?
Affirmative. And what better car in which to enjoy the most beautiful race in the world? Choosing a perfect car for the Mille is a tricky choice, but the Siata nails the brief. Rarity is, of course, of paramount importance. You don't really want to be the last in a long line of Jaguar XK120s, for example. But then so is comfort. The driving days on the rally are long and often begin at the crack of dawn. This Daina Gran Sport strikes the perfect balance. What's more, it's open-topped, which means you can properly make the most of the balmy spring Italian sunshine.
Sell it to me in a sentence…
As graceful as Sophia Loren and as rare as hens' teeth, this fully matching-numbers Siata Daina Gran Sport Type B Barchetta is a post-War sports for the most discerning of collectors looking for a worthy and alternative jewel with which to stand out on the world-famous Mille Miglia.
Click here for further information 
---
collectorscarworld is partnering with the most renowned classic car specialists and dealerships in the world. We always offer selected rare and sought-after collectors cars and supercars for sale and every day a special car is featured for one of our partners. The passion for classic cars is diverse, sometimes it concerns the beauty of forms that can be admired at a concours, sometimes it is the smell of rubber , old leather and gasoline at a racing event or trip in the sunset.
Or its a classic car you have great memories with or which your parents owned a longtime ago. Classic cars and supercars are an expression of the lifestyle that someone shares with other petrolheads, and which is immortal, enduring and always a lot of fun. If you are looking for a special car or need support in the evaluation and history of cars, please contact us at info@collectorscarworld.com
---