With a total of more than $107.8 million in overall sales achieved May 14-22, Dana Mecum's 34th Original Spring Classic became the second Mecum Indy auction in 2021 to achieve more than $100 million in overall sales—a first within the collector car auction industry—and it will now go down in the books as another in a long line of record-setting events for the world's largest collector car auction company.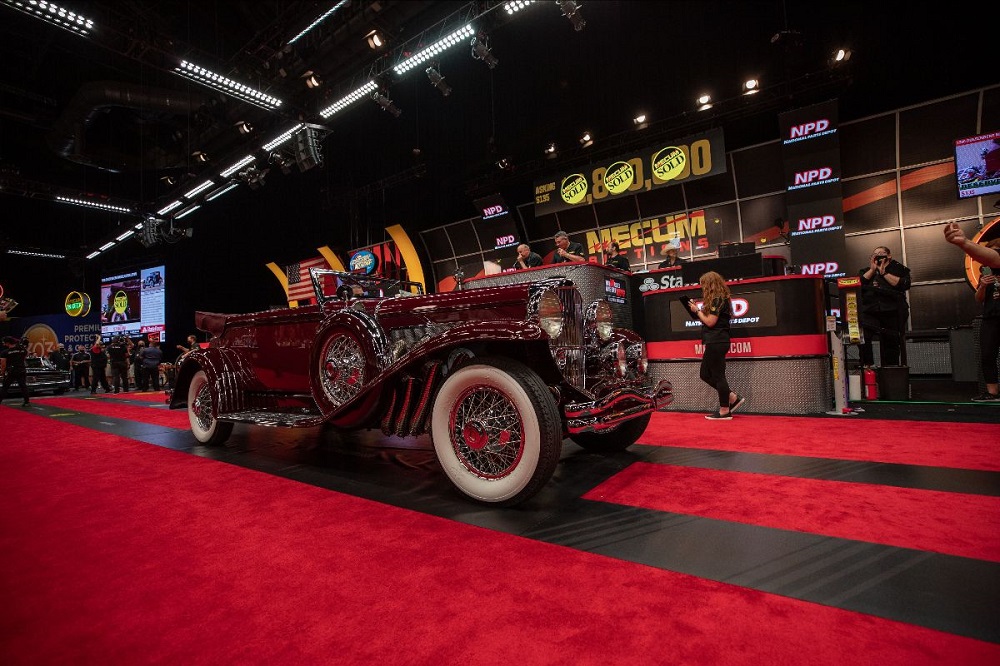 2,057 cars offered, 1,715 hammered sold for an impressive sell-through rate of 83%
Of the 2,057 cars offered throughout the nine auction days, 1,715 hammered sold for an impressive sell-through rate of 83%, and top sales at the auction were highlighted by a handful of history-making headliners.
Top six highest sellers sailing past the million-dollar mark
Led by an illustrious top 10, individual sales results were strong throughout the Indy auction with the top six highest sellers sailing past the million-dollar mark and the No. 1 seller ultimately bringing $2.97 million. The exceptionally elegant 1930 Duesenberg Model SJ Rollston Convertible Victoria (Lot S135) that claimed the top seller spot was originally built in Indianapolis, making its sale at the auction an especially memorable and truly historic homecoming occasion.
There was a tie for the auction's second seat in top sales with two top-shelf cars each demanding $1.87 million. The first was Parnelli Jones' 1969 Ford Bronco "Big Oly" (Lot F131) that sold on Friday, May 21, staking its claim as the world's most valuable truck, and the other was the modern technological masterpiece 2020 Ford GT MkII (Lot S209.1) boasting just 15 miles and wearing one-off Ken Miles livery that sold on Saturday, May 22.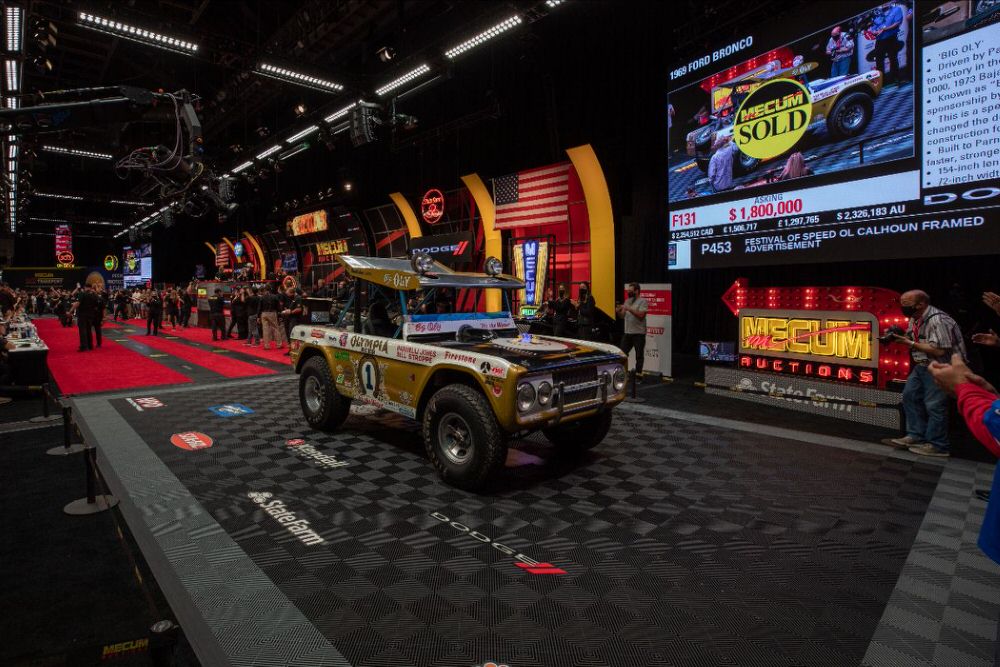 "While this certainly isn't the first time Mecum has broken the $100 million mark with a singular auction event, it is the first time we've done it with our flagship auction in Indianapolis and the first time any collector car auction company has done it twice in one year, which makes it an accomplishment that we are especially proud of," noted Consignment Director Frank Mecum. "We look forward to continuing this momentum for the remainder of the year and well into the future."
Private collections were a success
Private collections were plentiful in Indy, with more than a dozen of them achieving overall sales in excess of seven figures and some of the largest and highest quality assemblages reaching well into the multimillions. The headlining Personal Collection of Parnelli Jones, who was on-site at the Indy auction, brought a total of $3.15 million, and the six top-shelf Select Red/Red Survivor Corvettes from the Dr. Mark Davis Collection achieved a total of $1.05 million. The expansive Charlie Thomas Estate Collection saw 145 of its cars hammer sold for a total of $6.67 million, and the 26-car, no-reserve collection offered by Marshall Goldman achieved a similar $6.59 million. Gene Hetland's celebrated Deuceheaven Collection reached $2.68 million, and John Lucey's nine fine rides brought a total of $1.35 million.
In addition to car sales, more than 2,709 Road Art items were offered at the auction as well, with a total of 2,628 hammering sold throughout the duration of the event. Top sales from the Road Art realm included a Miles Ahead Carroll Shelby Statue (Lot Q171) that sold for $41,300, a Ford Double-Sided Porcelain Neon Sign (Lot Q318) that brought $35,400 and the Big Oly Race-Worn Helmet and Goggles (Lot P613) that sold for $25,960, to name just a few.
One especially unique offering available in Indianapolis this year was Mecum Bidder Badge No. 2 (Lot F154.2), which was offered as part of an estate collection with all proceeds to benefit Mecum Auctions' charity of choice, Curing Kids Cancer. The badge itself brought a total of $236,000 to benefit the honorable CKC mission, while the remaining three cars in the high-quality estate offering achieved an aggregate $662,200.
1930 Duesenberg Model SJ Rollston Convertible Victoria (Lot S135) at $2,970,000
1969 Ford Bronco 'Big Oly' (Lot F131) at $1,870,000
2020 Ford GT MkII (Lot S209.1) at $1,870,000
2014 McLaren P1 (Lot S170) at $1,347,500
2019 Ford GT Lightweight (Lot S133) at $1,100,000
2019 Ford GT (Lot F148) at $1,045,000
2019 McLaren Senna (Lot S171) at $946,000
1957 Mercedes-Benz 300SL Roadster (Lot S162) at $907,500
2011 Ferrari 599 SA Aperta (Lot S167) at $880,000
2006 Ford GT Heritage Edition (Lot F126) at $572,000
For access to complete auction results, sign up for a free MyMecum account at Mecum.com. The next live event on the Mecum calendar is the auction house's debut in Tulsa, Oklahoma, this June 11-12, which is set to feature 600 classic and collector cars on offer led by the vehicles of the Elkin Brothers Collection.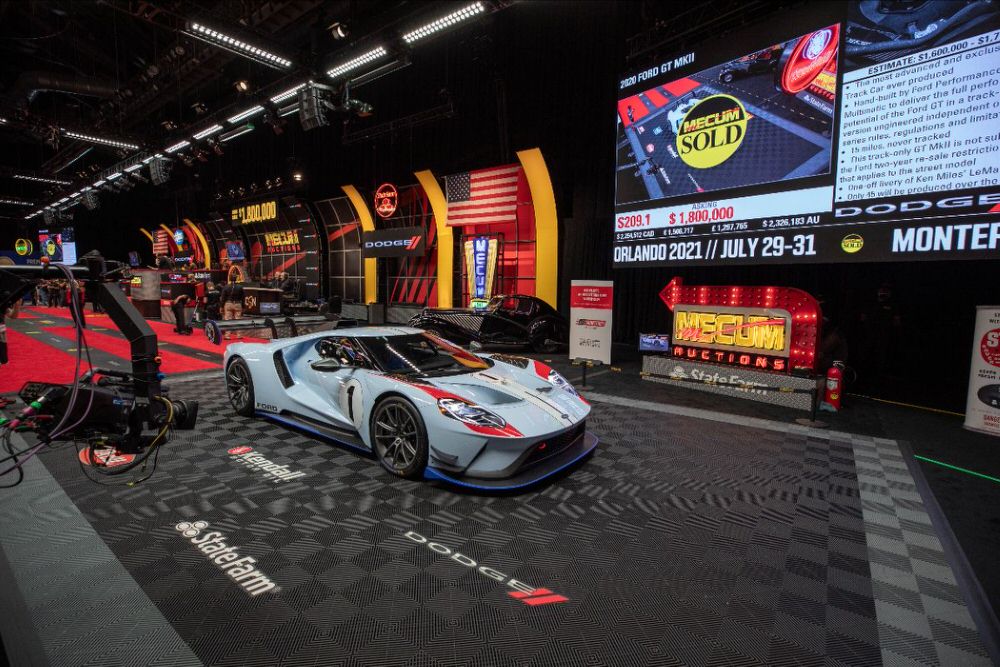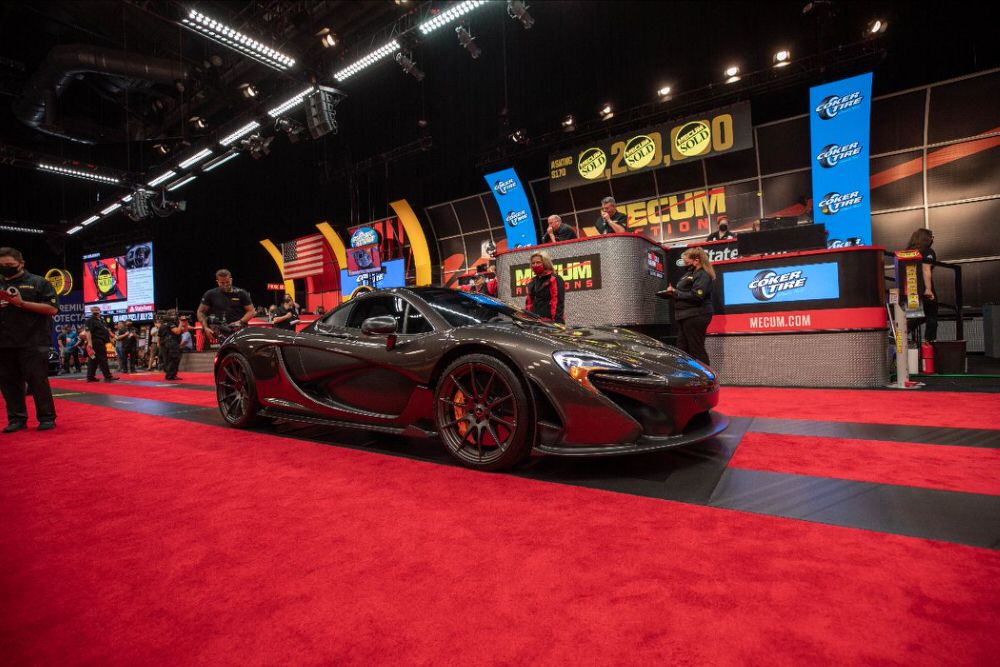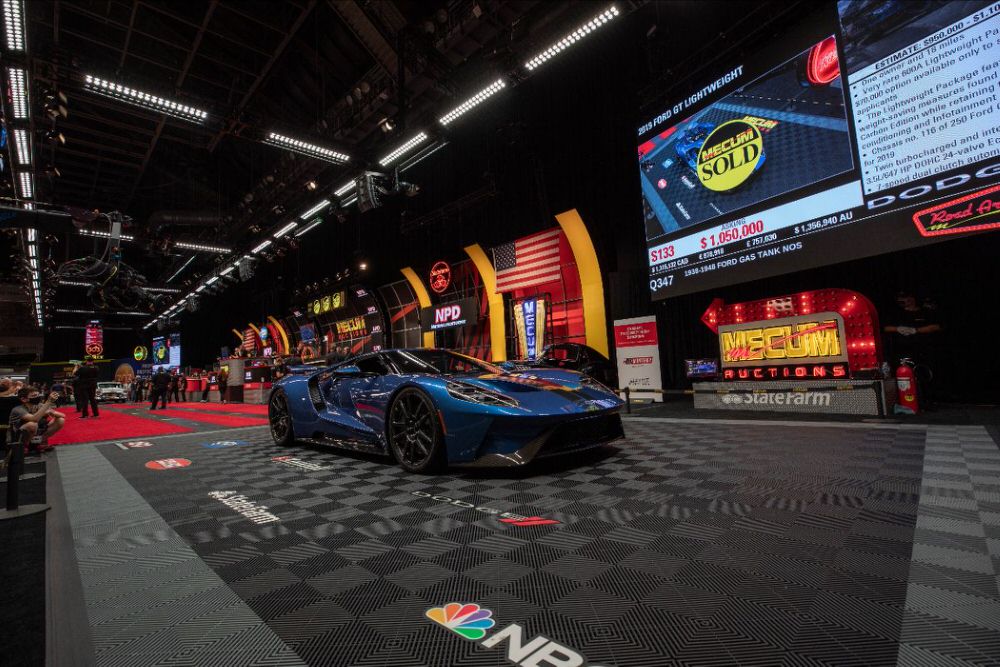 More Information: mecum.com
---