Paris: Lulled by the water and the purr of the 180 degrees angle V12, I try to focus on what could be the best angles to capture. Click here for Part 1.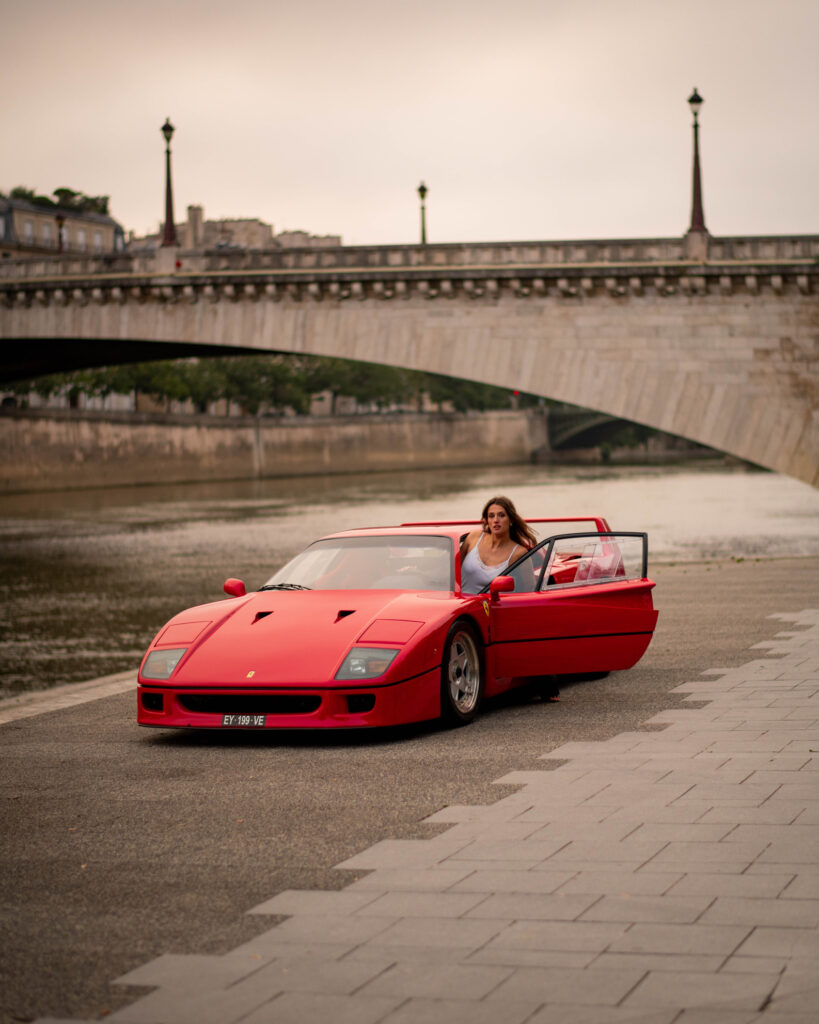 Still, I take a moment to breathe rearrange my thoughts.
I am shooting an F40 on an empty Saturday morning in central Paris!
How many of us can say that?
Armelle, then, takes on a list of different poses, with my favorite: behind the wheel, wearing the Ferrari intercom, taken through the lexan window!
I ask the owner of the F40 if I can strap myself into the driver's seat.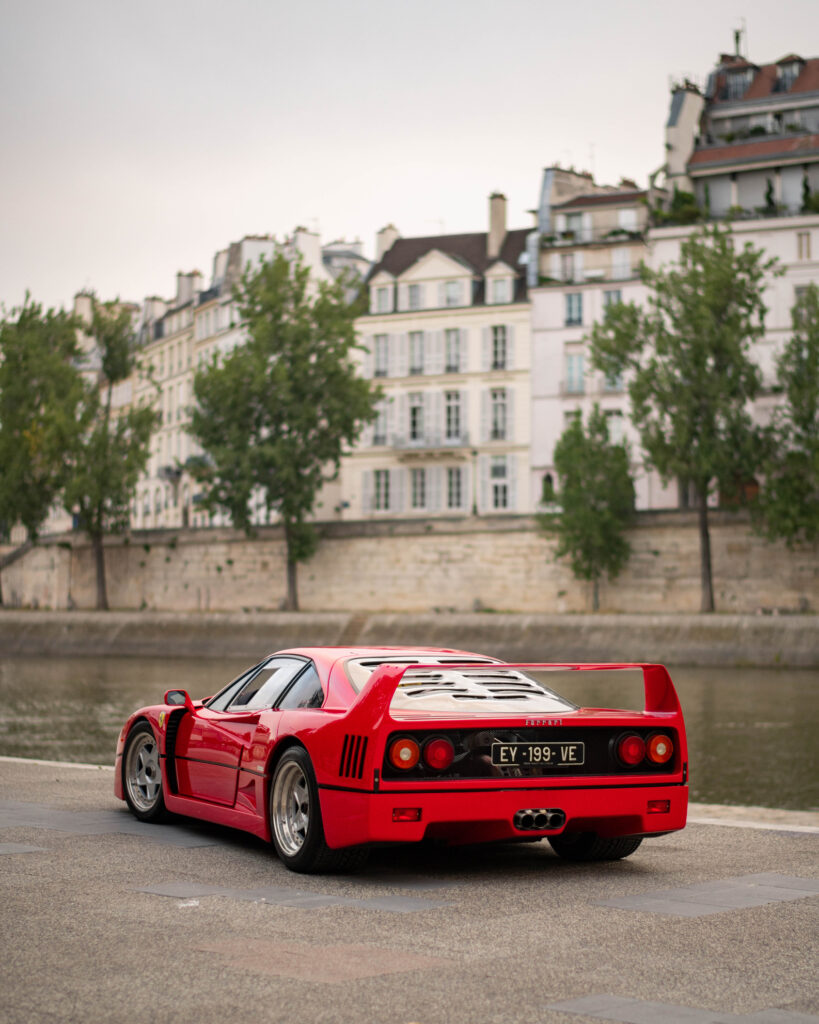 After a positive answer, it's with the biggest smile that I begin the procedure of getting in.
First, open the door, which is so light that for a second, I thought I would break in half just by operating the hinges.
Second, lower myself into a seat so low I thought I was falling under the ground.
Third, buckle up the 4-point harness.
Fourth, imagine driving it and enjoy the moment!
Then, the owner comes to the window:
"Come on… Start it!"
"Really?!" I ask with a mix of excitement and deep fear of breaking something.
"Yes, turn the key and press the rubber nob under it."
"Okay…" I answer with a shaking voice.
I proceed to methodically do exactly what he told me to do.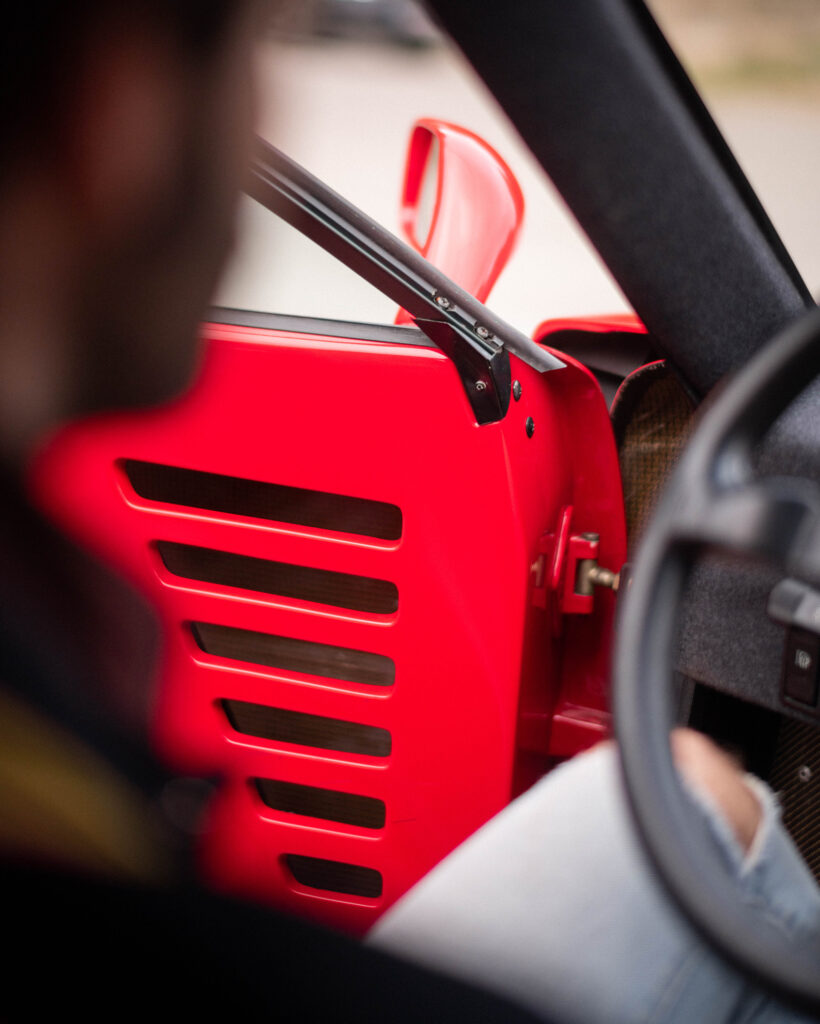 With extreme concentration, I gently rotate the plastic appendix 180 degrees and put my index on the start button. Worried to have missed a step, I look up to for confirmation.
By a simple smile, he makes me understand that my procedure has been done right.
Now assured, I step on the clutch and cover the gas pedal, in case these 2.9 litres of engine need filling up.
With a decisive press on the nob, the engine comes alive!
Completely out of words, Armelle decides to do the talking for me:
"Can Paul drive it a few meters?"
I give her a "WTF are you doing" look and switch to the owner, embarrassed.
Hesitant, he responds: "Well… Yes. Go ahead like 20 meters; and be careful!"
He closes the door and I explode:
"WHAAAT?! Ok it is definitely the best morning ever!"
I engage first on the dog leg gated shifter with the necessary force needed to get it into gear and veeery slowly let off the clutch pedal.
I am so scared to stall it that it takes me a good 10 to 15 seconds just to do a centimeter.
Once the left pedal completely up, I brush the right one and immediately regret it… in this situation, any loud noise can scare me, AND THERE IS A LOT OF LOUD NOISES!
40 meters later, I stop, unstrap myself and gets out of the beast.
"I'll wait for you to take me in a ride as a passenger. I am so tired and excited that I would be able to drive it into the Seine River!" I said, groggy by all that's happening.
Paul Syren