Gooding & Company, the acclaimed auction house celebrated for selling the world's most significant and valuable collector cars, is honored to present The Phil Hill Automobilia Collection, a series of online only sales dedicated to one of the world's most recognized and accomplished racing drivers, Phil Hill. The first of three dedicated automobilia auctions begins November 30, 2020, with additional offerings from the Hill estate running from February 8-19, 2021 and March 15-26, 2021.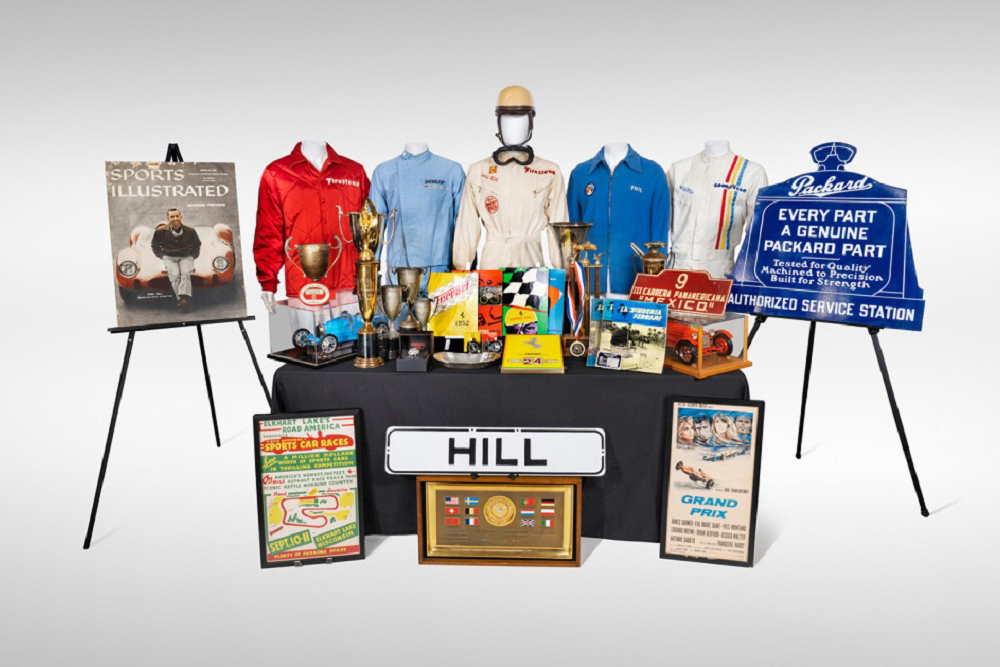 Each sale encompasses Hill's various automotive and personal interests; from his time with the Scuderia Ferrari racing team to his passion of restoring and collecting rare and unique pieces of motoring history. Gooding & Company will house all automobilia included in the online auction within one accessible location, providing the unique ability to offer on-site inspections for interested bidders and to engage with the available lots.
"While Phil Hill needs no introduction among car enthusiasts, his automotive passions beyond racing are perhaps less known," states Gooding & Company President and Founder, David Gooding. "After a long and successful racing career, with his crowning achievement being America's first World Champion driver, he then focused on his famed restoration business. Both a collector and a world-class restorer, Phil's passion for cars and collectibles was extraordinary. It is our honor to present these cherished possessions from The Phil Hill Automobilia Collection."
"My father was prone to keeping things he treasured, liked, or found useful. From his unbelievable racing career with years of success at Ferrari to his post-racing life as a professional classic car restorer at his company Hill & Vaughn, he amassed a unique collection which reflects a golden era in motor sports and automobiles, while also including items from his diverse hobbies and love for music," says Phil Hill's son, Derek Hill. "Opening up my father's archive to part with so many of his coveted treasures is a momentously sentimental event. Even though I grew up around all these things which were simply a part of our family home or stored away in a garage or two, it leaves me very excited to finally bring so much of this to light and to see it move on to folks who will absolutely cherish these long held objects."
The first sale from the Hill collection features items from a variety of marques such as Ferrari, Packard, Pierce-Arrow, Bentley, Rolls-Royce, Alfa Romeo, Aston Martin, and Jaguar, and many more. Rare automotive literature includes sales brochures, posters, prints, signs, scale models, artwork, and photographs. Also on offer are selections from Hill's personal library and archives comprising uncommon motoring books and magazines, car club publications, and event programs. This is surely one of the most comprehensive collections of automotive works to come to auction in years, all hailing from the personal compendium of America's first World Champion.
---
Report by goodingco.com
---