First Production Derby Bentley Graces Bonhams Amelia Island Auction.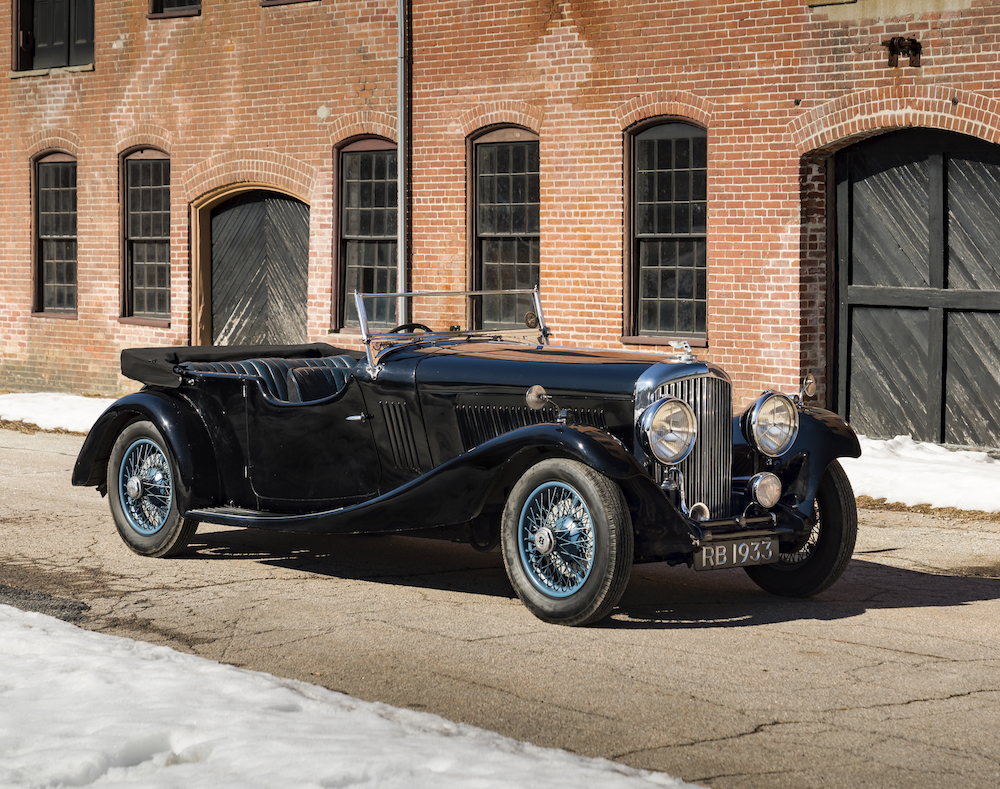 FIRST ROLLS-ROYCE PRODUCED MODEL OFFERED AFTER 60 YEARS IN ONE FAMILY OWNERSHIP
 LAUDED BY W.O. BENTLEY AND WOOLF BARNATO
"…The new 3½ litre Bentley is the most amazing proposition which it has ever fallen to my lot to handle. Although in the past I have owned several Bentley cars, all of which have afforded utmost satisfaction, never has such a Bentley been turned out previously to compare with the new product" – Sir Malcolm Campbell, The Field
---
The Amelia Island Auction
3 Mär 2022
Fernandina Beach Golf Club
---
Woolf Barnato at the wheel of the first Derby Bentley, 1933 3½ Liter Sports Tourer, estimate on request. Credit: Getty images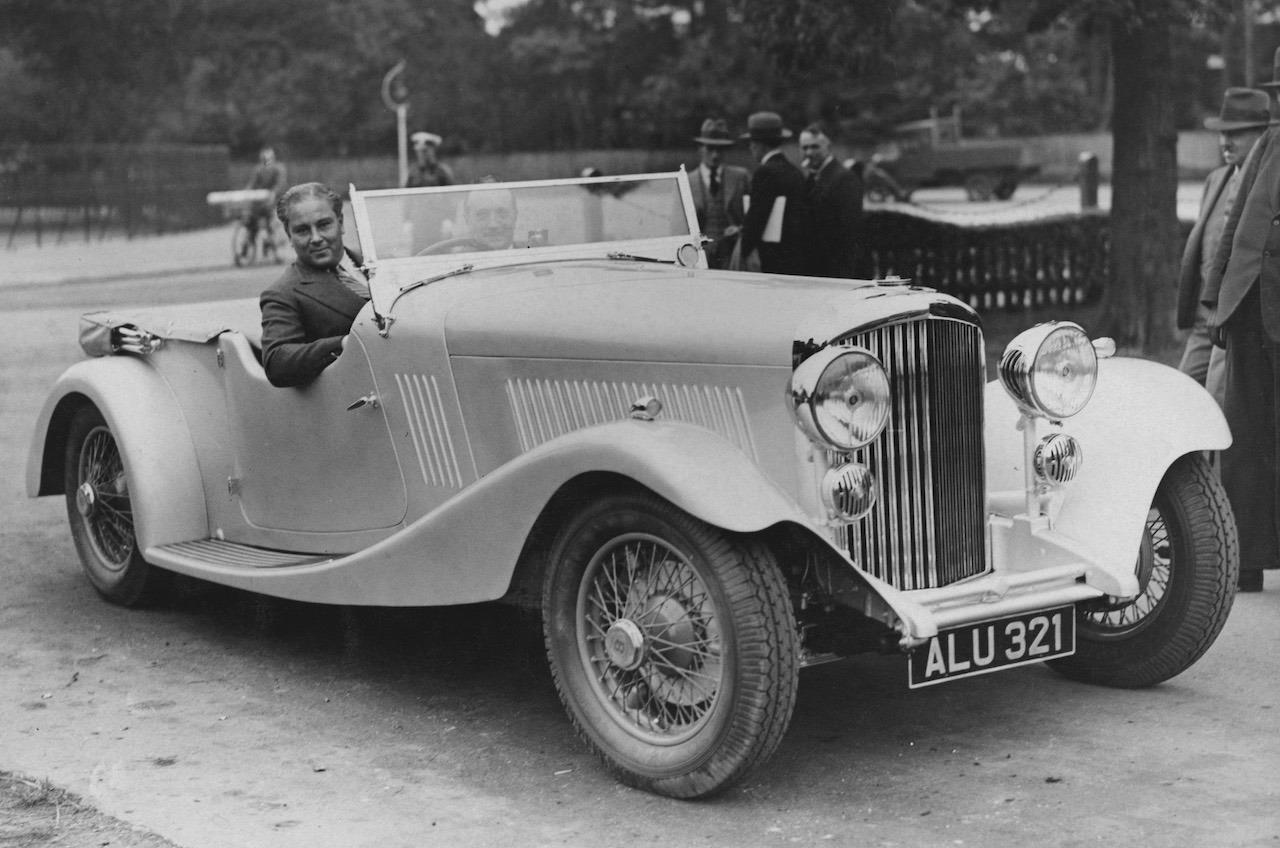 The very first Rolls-Royce-built Derby Bentley…
…used extensively as a promotional model and driven in period and lauded by some of the greatest racing drivers including Sir Malcolm Campbell and Woolf Barnato, is to be offered from 60 years' family ownership at Bonhams Amelia Island Auction in Florida next month (March 3).
The so-called Silent Sports Car was the first to be produced following the acquisition of Bentley by Rolls-Royce, a move credited with saving its rival brand. Four years in the making, the all-new model was built at the new Bentley owner's Derby factory, engineered and designed under the influence of Sir Henry Royce, with the Rolls-Royce hallmarks of power, performance, silence and refinement.
The Derby was extensively tested by W.O. Bentley, who had originally founded the eponymous company, leading him to pronounce that "Taking all things into consideration, I would rather own this Bentley car than any car produced under that name." Praised extensively for its style and grace, its smooth and silent running, it was popular with the Inter-War elite.
Having been given the first chassis number B1AE, this historic 1933 3½-liter Sports Tourer was retained by the newly acquired Bentley Motors for company trials and road tests, resplendent in rakish aluminum Vanden Plas open tourer coachwork, and wearing the distinctive registration 'ALU 321'.
Among those who took the wheel – at Brooklands, no less – were the original Bentley Boy Joel Woolf Barnato, himself the former Bentley financier and owner, fellow Le Mans 24-hour winner Earl Howe, who declared his road test "one of the most wonderful treats that I have had for a very long time", as well as Campbell, the first driver to reach 300mph in his famous 'Blue Bird' land speed record car.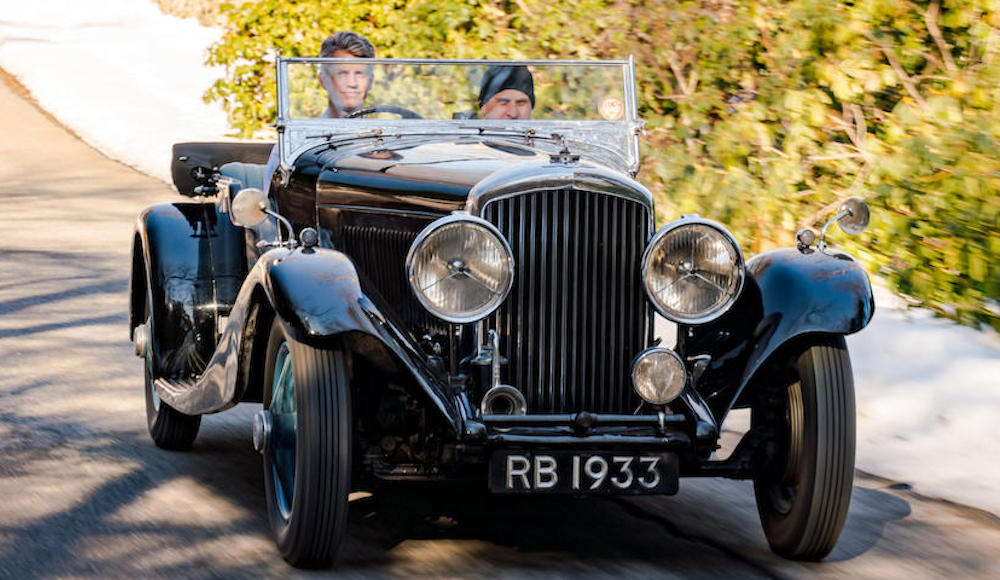 It would be a feature car for advertisements and company brochures and was road tested by leading magazines such as Motor Sport, whose correspondent declared it 'a masterpiece of sports car construction'.
The Derby offered was originally finished in striking silver livery with contrasting sky-blue leather interior. However, the paintwork was considered 'too flashy' by its second owner, Gordan Thomas, who repainted the car black, as it remains today.
The Bentley was then sold in 1953 to British author Eric Williams, a former RAF pilot and prisoner of war who wrote the noted escape story The Wooden Horse, as well as the semi-autobiographical Complete and Free in which the Bentley is directly mentioned in the opening lines and has a brief appearance.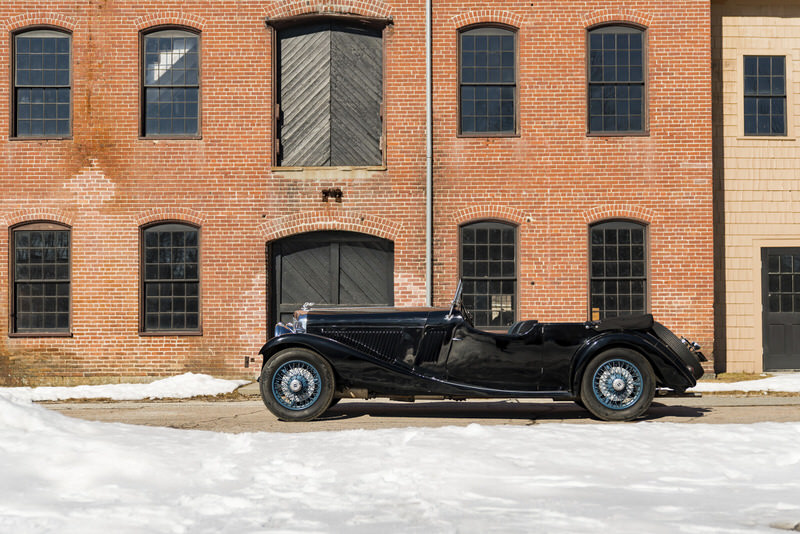 Williams offered the car for sale, in advance of an around the world trip in a Land Rover, but there were no takers for some time – prompting a letter to The Times opining "is there no one in Britain rich enough, romantic enough, and robust enough to buy the first Rolls-Bentley. Must this superb open tourer go to America?"
The Bentley was sold to its briefest custodian Guy Lawrence in 1959, being re-registered from 'ALU321' to the Essex number 'RB 1933'. Lawrence put the car up for sale at London Mayfair dealers Charles Follett, in 1962.
The present owner's father happened to notice it in Follett's showrooms while touring in the UK and, recognizing its importance, rose to the challenge to become its fourth custodian, at which point it did leave England for the United States. It has remained in the family since 1962 and has remained as original as when it was produced, apart from the early change in its color.
Rupert Banner, Bonhams Group Motoring Director, said: "B1AE – The First Production Derby Bentley is the pivotal link between the first and second chapters of the history of Bentley Motors, and is remarkably well-preserved, never having been restored. Unseen for a quarter of a century, it is a unique and incredibly important part of Bentley's rich sporting history. This is surely a once in a generation opportunity for any Bentley connoisseur and collector."