The new 50-piece limited-edition RM 21-02 Tourbillon Aerodyne in white Quartz TPT®, Carbon TPT® and titanium is the latest interpretation of an iconic calibre. A second iteration of the manual-winding tourbillon Calibre RM21-02, continues to redefine the boundaries of creativity through its harmonious fusion of precision, lightness and resilience.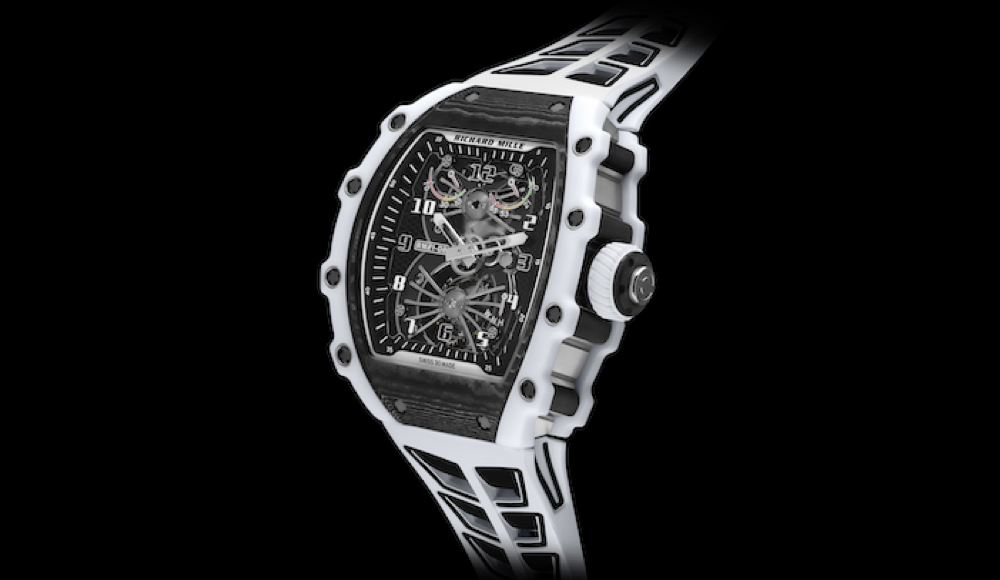 Richard Mille has always capitalised on engineering materials from fields far afield from watchmaking, with the aeronautics industry exerting an especially strong influence. This never-ending source of inspiration is what brought a material with multiple properties to the brand's Research and Development offices: Carbon TPT®️. Used in aeronautics, but also greatly in the automotive industry (from plane fuselages to Formula 1 machines), Carbon TPT® is at the heart of the RM 21-02 Tourbillon Aerodyne baseplate. It is combined with a honeycombed structure produced of black-PVD treated HAYNES®️ 214®️, applied in the demanding environment of specialized gas turbine parts, such as honeycomb seals, combustor splash plates and other static oxidation-limited parts. The alloy's honeycombed geometrical pattern was originally the subject of research by NASA for applications on supersonic aircraft wings. Both materials definitely embody the concepts of air and speed.
Within this aerodynamic structure, the winding barrel and tourbillon are thoughtfully positioned centrally. They gracefully balance on lightweight titanium bridges with four arms on either side. Surrounding these components are torque and power-reserve indicators, providing insights into the quantity and quality of energy stored within the barrel. An added layer of control is also granted by the function selector.
The RM 21-02 case exhibits remarkable architectural intricacy, seamlessly associating Quartz TPT® and Carbon TPT® with a titanium caseband. This meticulous combination of materials yields a case that is not only visually captivating but also exceptionally robust, delivering unmatched resilience in the face of everyday use and its demands. This construction renders the RM 21-02 as one of the most sophisticated case constructions ever manufactured by Richard Mille.
Richard Mille, renowned for the brand's unwavering dedication to innovation and the use of cutting-edge materials in watches has challenged itself once more to reimagine the unique specific aesthetic of the RM 21-02 Tourbillon Aerodyne.
Click here for further information
more information: richardmille.com
---