The superlative quality of a Richard Mille watch is in equal measure the architecture and materials it is made of. Naturally, it would be impossible to design watches capable of resisting extreme conditions without using constituents that were themselves created to handle punishing demands.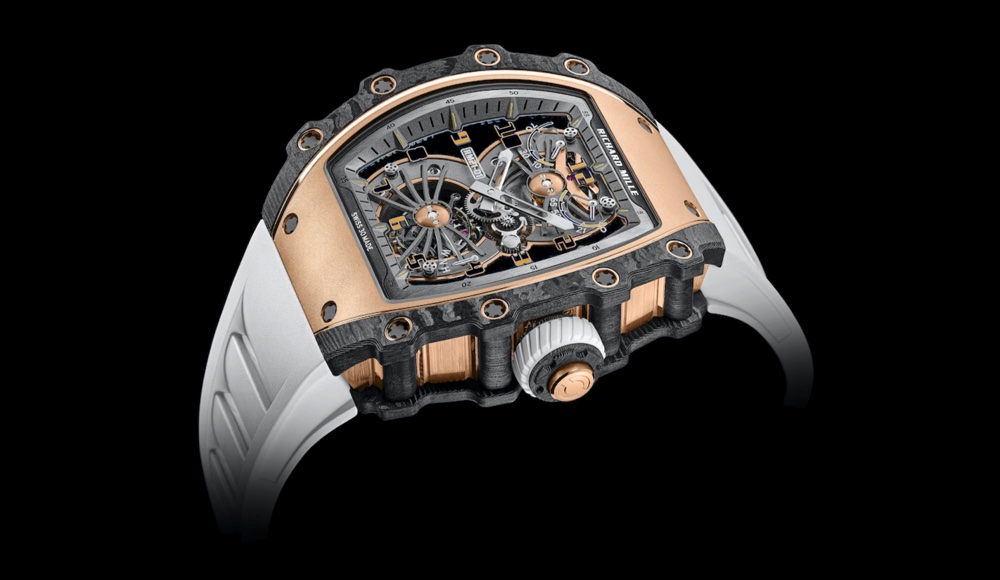 In capitalising on engineering materials—particularly from the fields of aeronautics and Formula 1—and testing their potential applications in a watch movement or its housing, Richard Mille brings into being watches whose precision, lightness and reliability are intimately bound to the materials employed.
The RM 21-01 Tourbillon Aerodyne is entirely true to this lineage and draws on the influence of aeronautics.
With the RM 21-01, Richard Mille presents a new case design. The complex structure of the case in 5N red gold is reinforced with an exoskeleton in Carbon TPT®, used for the bezel and pillars. This extremely light and durable composite is made by stacking hundreds of layers of carbon fibres thanks to an automated process that rotates 45° between each layer, then heated to 120° in an autoclave before being machined to the nearest micron.
Just like armour, these reinforcements perfectly protect the case, and are firmly held in place by 20 spline screws. The striking appearance of Carbon TPT® layers perfectly complements the gleam of gold and the royal blue honeycombed motif of the baseplate.
Carbon TPT® is found at the heart of the baseplate, this time combined with an orthorhombic honeycomb structure embodying the concept of air itself and made of HAYNES® 214® with a blue PVD treatment, a first for the brand. This nickel-chromium-aluminium-iron alloy is primarily intended for use in thermal environments exceeding 955°.
Optimal resistance to high-temperature oxidation makes this material—which can nonetheless be moulded and assembled by conventional methods—an especially suitable choice for combustion chambers. Consequently, the RM 21-01's baseplate offers unsurpassed stiffness, an extre-mely low thermal expansion coefficient and exceptional torque resistance, all essential prerequisites for a Richard Mille watch.
From the thoroughly meticulous hand finishing of the movement that includes bevelling, polishing, burnishing and chamfering of the components, to the use of innovative and technical materials and the incorporation of a tourbillon to counter the effects of Earth's gravity, the RM 21-01 Tourbillon Aerodyne, issued in a limited edition of 50 watches, explores new horizons.
Click here for further information
Report by richardmille.com
---