Jenson Button, who won the 2009 World Championship, retired from Formula 1 in 2017 – but that doesn't mean that speed no longer plays a role in his life. On the contrary.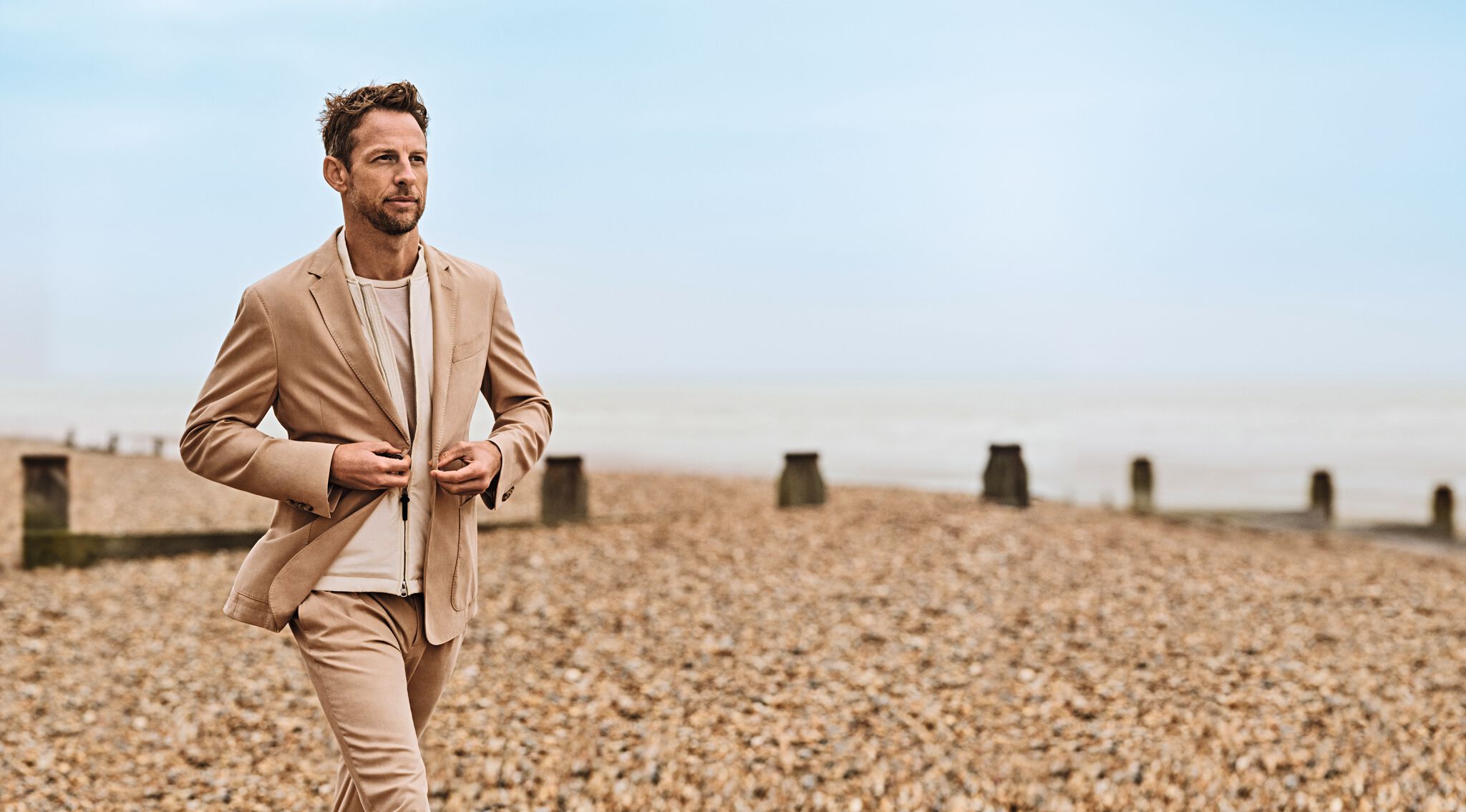 Mr. Button, you're a busy man. What projects are you currently working on?
I don't think I ever thought my life would be this hectic after Formula 1. But I am busier now than I was when I was racing. I'm a commentator for Formula 1 on TV, brand ambassador for the Williams team, face of the Hackett fashion brand. And I have my own car brand, a coach building company called Radford. We create bespoke cars made to the customer's choice on top of a volume-production chassis. I've also started my own whiskey brand called Coachbuilt. So, yeah, I have been relatively busy. And then, trying to fit that all in around my private life as well as having a wife and two very small children . . .
Are you catching up on things you didn't have time for before?
Before, Formula 1 was my life. Though, of course, you don't ever have to feel sorry for a Formula 1 driver because it is still one of the best jobs in the world – but it just consumes you. You kind of forget about the outside world when you're racing, everything is focused on you being 100% focused. You have a manager, you have a PR person, you have a personal assistant, everything in the background is taken care of: Your bills are paid, your flights are booked, your physio decides when you eat. So you basically leave Formula 1 at the same age that you arrived, because you never really grow up. When I left, there was this realization, "Okay, so this is how you pay bills." I know, it sounds silly . . .
When you were in Formula 1, your goal was to win the World Championship. What drives you on today?
I like new challenges in life. There definitely have been a few that I have taken on that have been tough, but really exciting. And I feel that the people I am working with, at Radford and at Coachbuilt, that these are people who are like-minded. They're in it because they're passionate about it. I need to be working with people like that.
That doesn't sound like you miss motorsports too much.
Well, I am still racing, you know? I retired from Formula 1 because I'm a racing driver, not just a Formula 1 driver. And I felt that I wanted to do other things, to race in other series. I raced in Japan for a couple of years, did some GT racing, which went really well, I won the title there. I also raced at Le Mans, which didn't go so well, but it was more of a learning year. And I just signed a deal to race in Nitro Rallycross, a ten-race series around the world in 1,000-hp electric cars. Four-wheel drive. It's all about jumps and racing on dirt. The complete opposite of Formula 1.
How do you see Formula 1 at the moment?
I thought last year was one of the best years we have had in the sport. You know, I think we all thought it was going to be kind of a gap year before the new regulations came in, but it was a great year. The racing is closer. Overtaking still isn't easy without DRS, but you see the cars running closer. And if one guy makes a mistake, it's easier for the guy behind to pass. I think the cars look nicer this year. And I really like that we are seeing the personalities of the drivers now, that we are seeing more out-of-car footage of the drivers. That was different when I was in F1. We were young kids racing for these big teams, big sponsors, and we had to be very strict with how we acted in sight of the cameras. Things are a lot more relaxed these days. And it's nice to have two teams fighting at the front for the win. And hopefully, at some point this year, we will have three up there with Mercedes being a bit more competitive. Formula 1 is growing, especially here in America. But above all the racing itself needs to be good – and it is.
What do you think of the growth? Some people have criticized the busy calendar.
I love the sport, but I wouldn't want to be racing in Formula 1 anymore today. Because twenty-two races, twenty-three races a year is just madness. It is really, really tough. And it's not just the physical aspect. It is the mental aspect of getting your head in the right place before every race. That just takes its toll on you. And, to tell you the truth, it was too much for me.
So what was it like for you when you retired?
The first couple of years after Formula 1 were kind of difficult. Racing in Japan was fun, and I had a wonderful girlfriend who became my wife, but I never really had a direction of where my life was going to go. So when I started Radford, I thought, "I can really sink my teeth into this and develop something that I have been involved with and am passionate about."
What else do you at Radford Motors? Are you a test driver?
I actually do all of the testing with the car. I develop the car – based on the Lotus Evora, by the way – knowing that the customers are going to drive it and hoping that they will love it.
Jenson Button won the World Championship in 2009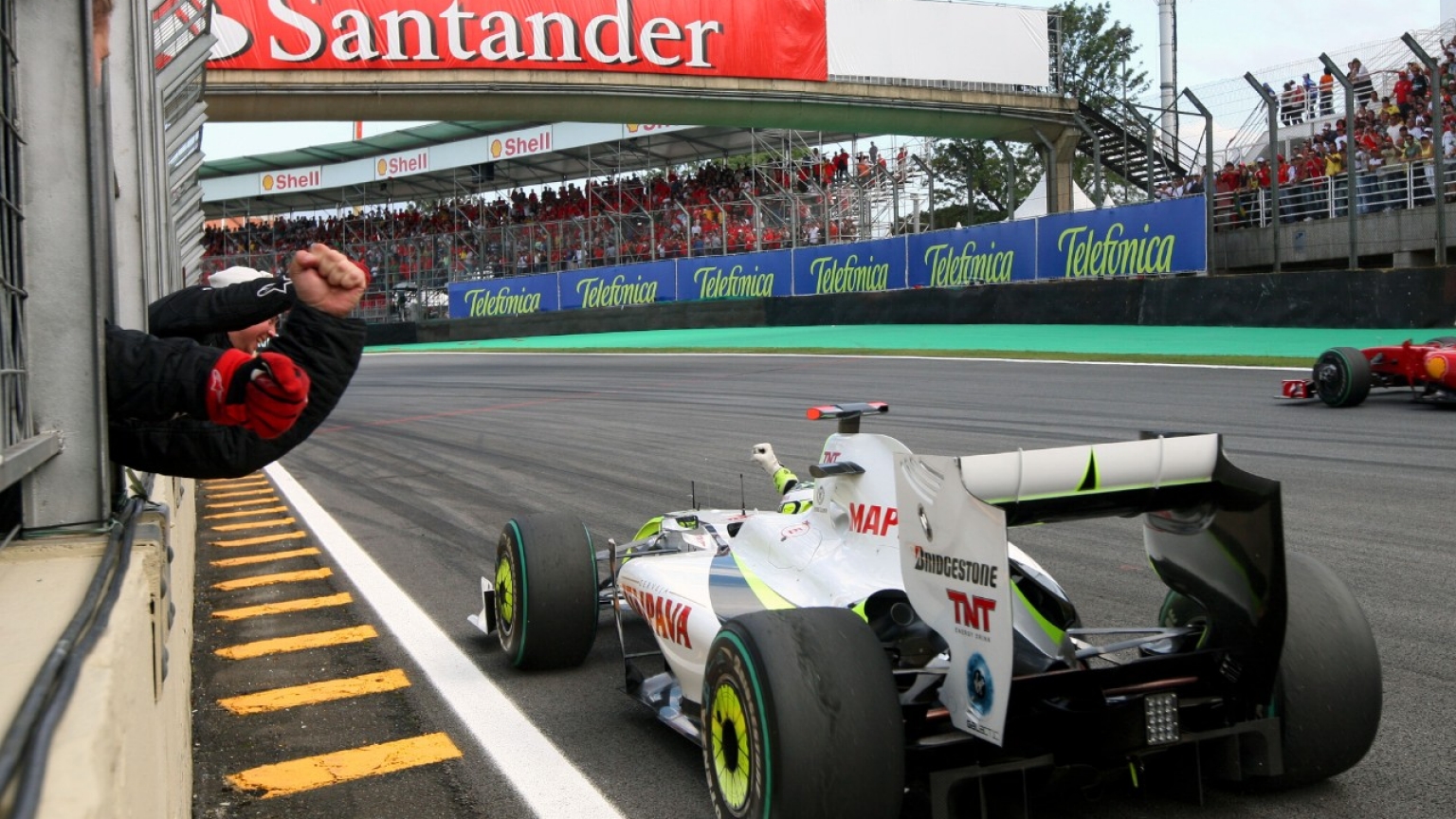 With your connections to the automobile manufacturers, you could just have designed your own special model with one of them. Why did you decide to go your own way with Radford?
Because I want the cars to be something special and unique. Sure, you could go to a supercar manufacturer and have them build something that is a different color for you if you spend crazy amounts of money. But we're not just about that. If you want to change the side scoops on the car, you can. If you want to change the front of the car, the lights, if you want to change the rear wing, you can do what you want. That is what coachbuilding is all about.
How does that work exactly?
It's just a matter of cost and time. The same goes for the interior. If you want to have a single-seat car, you can. If you want to have a V8 engine put in it, no problem. That's why I think coachbuilding is so exciting, and I think that's why it worked so well back in the forties to sixties. You would go to Rolls-Royce or Bentley and they would give you a chassis and an engine and send you on to a coachbuilder like Mulliner, Radford or Cooper who would develop a personalized car for you.
What does luxury mean to you?
That's difficult. Luxury is very broad. But I think that, for me, a lot of luxury is about individuality and being able to have something that others do not.
Let's talk about fashion. How do Hackett and Jenson Button fit together?
You know, I'm British. And I would like to think of myself as a British gentleman, but I don't know. [laughs] But I love dressing up, I love wearing a nice suit, and I like to look smart. I think a nice suit gives a guy confidence. And an ill-fitting suit, on the other hand, can really hurt your confidence.
You can probably tell us all about classic British style . . .
It's all about the fine details. The cuff links, the shoes. The shoes are really key to make an outfit look good.
But you probably don't always wear a suit and tie.
No, but I travel a lot. And when I fly, I need comfortable clothes. So I wear tracksuits and what have you – from the Hackett collection, of course. They are unbelievably comfortable. I also have to constantly change my clothes. I don't know if you have kids, but when you have kids you have to change your clothes hourly because of the stuff that ends up on you like chocolate or milk or dirt. I don't know why, but kids just want to eat the garden and it ends up covering me as well. So, I am forever changing.
Text by Marko Knab
Photo by Hackett
ramp #58
As a high-impact multimedia brand that takes an all-encompassing, end-to-end approach to publishing, ramp is an absolutely authentic expression of quality, integrity and excellence. Its trailblazing luxury magazines, recognized with numerous awards over the past 15 years, have been celebrated for their cool and unconventional, not to mention inspiring and pioneering style, since day one.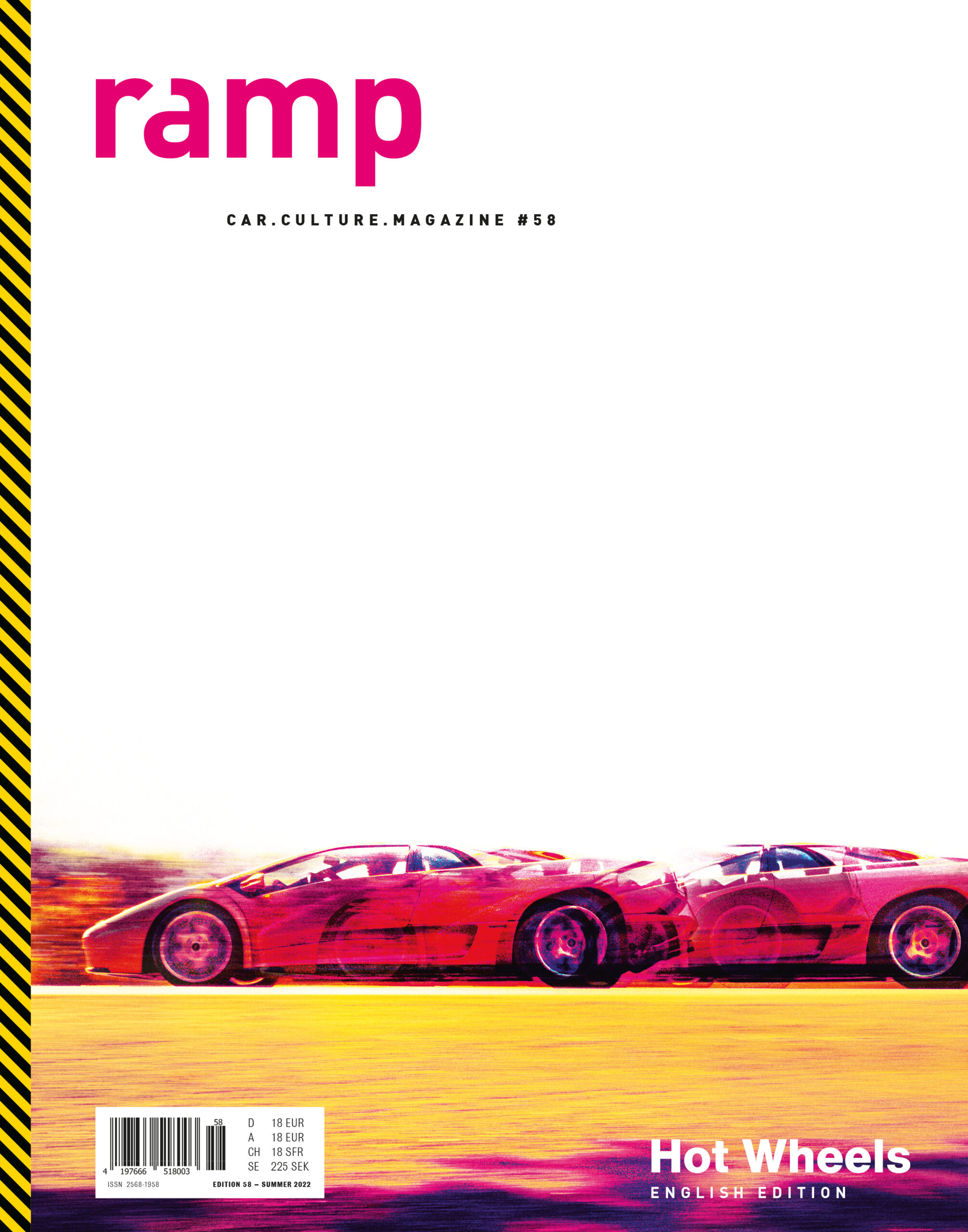 ramp, the lavish and beautifully designed coffee table magazine, celebrates the enthusiasm for cars and driving in a passionately subjective, personalized fashion.
Immediate, authentic, intense. Fresh perspectives, avant-garde imagery, with a fine feeling for nuances and the right dramaturgical mix. Always new, always stimulating. Automotive passion infused with a lust for life. The automobile in new, exciting and intense contexts, precisely tailored to the relevant target group, presented in relation to music and fashion, culture and lifestyle, design and art, science and philosophy.