Rare Steam Road Locomotive Offered at New Bond Street – A rare 1930s 'showman's road locomotive' from the final days of steam will be top of the bill at Bonhams Golden Age of Motoring Sale '1886 to 1939' on 30 October which will showcase the finest and rarest veteran, vintage and post-vintage vehicles.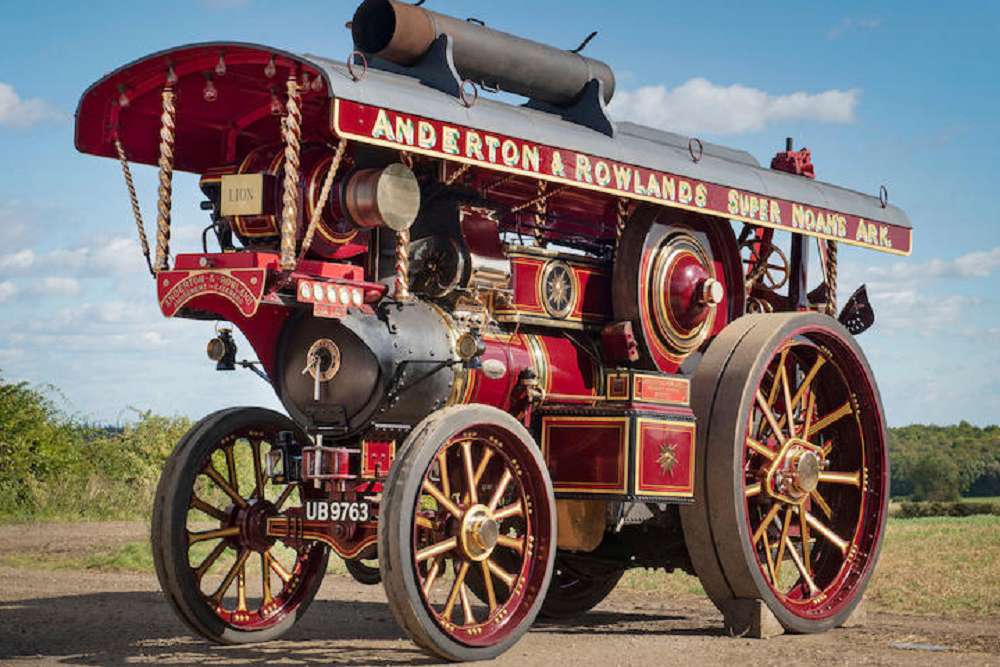 The 1932 Fowler 'B6' Super Lion, known as 'The Lion', estimate £800,000 – 1,200,000, was one of just four showmans road locomotives built by agricultural engineers Fowler for the West Country Showman Troupe Alderton and Rowland. The Lion powered the popular fairground ride of the period, the 'Super Noah's Ark'.
With advice from Sidney Harrison of Burrell, the foremost manufacturer of these machines, Fowler's quartet were among the most sophisticated showman's road locomotives ever constructed, incorporating many of the popular Burrell designs.
The ornately painted locomotive has been restored in recent times and today is in regular use, with frequent appearances at steam rallies where it continues to thrill the crowds as it did in the 1930s and will no doubt cause a stir when it arrives at the Bonhams saleroom in New Bond Street.
Tim Schofield, Head of Department, Bonhams Motor Cars UK, said: "This is the first time we have offered one of these magnificent machines and we are delighted to have been entrusted with this very special vehicle. We are looking forward to the Lion putting on quite a show."
Other more familiar names from the period will be represented at the Golden Age of Motoring Sale, from Bentley and Bugatti to Lagonda, Panhard-Levassor and Vauxhall.
---
Further highlights include: 
1929 Bugatti Type 40 Grand Sport Open Tourer, estimate £270,000 – 330,000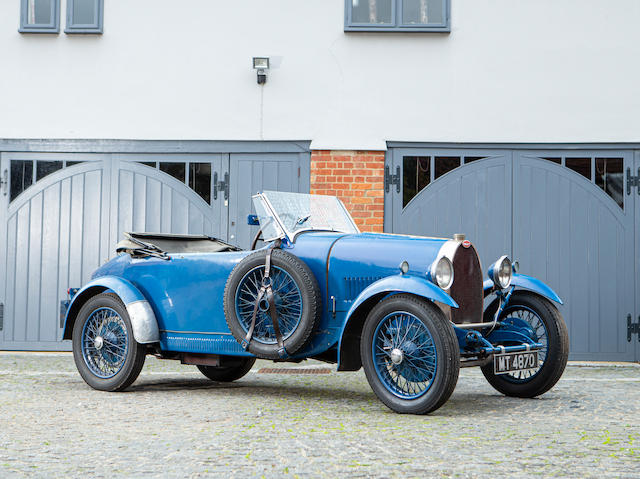 Produced in the heyday of Bugatti's Grand Prix success, the Type 40 was a smaller and more affordable version of the Grand Bugatti, but still offering exceptional handling, braking and performance with a top speed of 75mph. Fewer than 200 of the 830 Grand Sports produced are known to have survived including this remarkably original example which is offered by the family of Anthony Clark, and has been in its current ownership since 1957.
---
1924 Vauxhall 30-98 OE Velox Tourer, estimate £250,000 – 300,000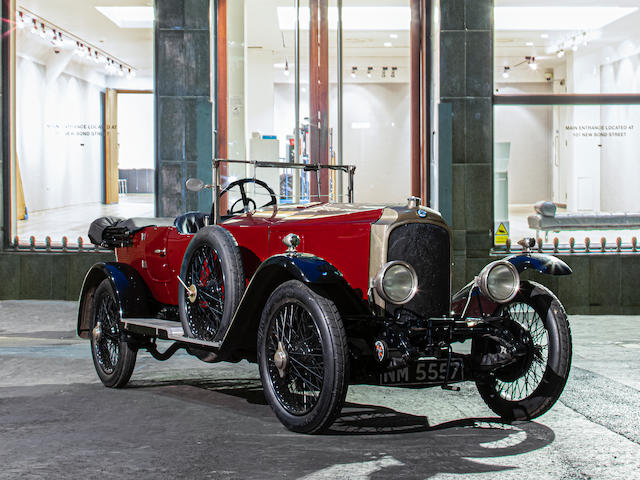 Considered the finest British sporting Vintage car, the 30-98 was more than a match for its rival Bentleys, with the first model setting a new record at the Shelsley Walsh Hill Climb and the later OE versions, powered by a 110bhpp 4.2-litre engines, enjoying success at the Brooklands motor circuit. This original bodied example, with full matching numbers, has been owned by its vendor since 1968.
---
1903 Thornycroft 20hp 4-cyclinder Double Phaeton, estimate £340,000 – 360,000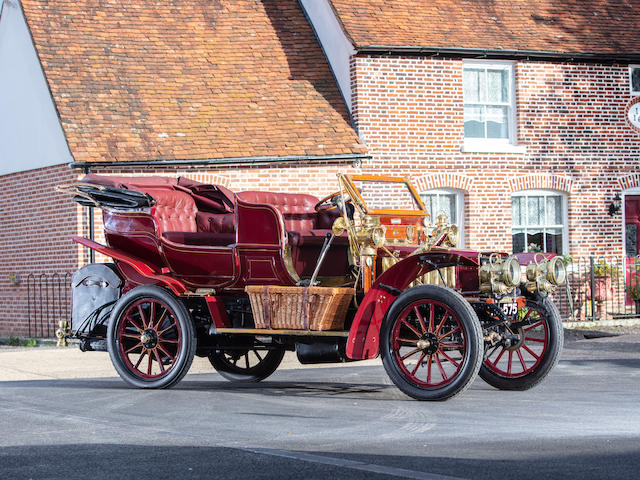 A rare survivor from the British manufacturer, owned until 1957 by one of its founders, Tom Thornycroft. This elegant Edwardian motor car has inspired the love and loyalty of its four custodians from new, with the second owner buying it back from the third, and the current vendors having possessed it for more than 30 years. Offered in concours condition, having undergone a 'nut and bolt restoration' in its current ownership, the Thornycroft has successfully completed all the London to Brighton Veteran Car Runs it has entered – on many occasions carrying six people.
---
1901 Panhard-Levassor Type A2 7HP Twin-Cylinder Rear-Entrance Tonneau, estimate £225,000-275,000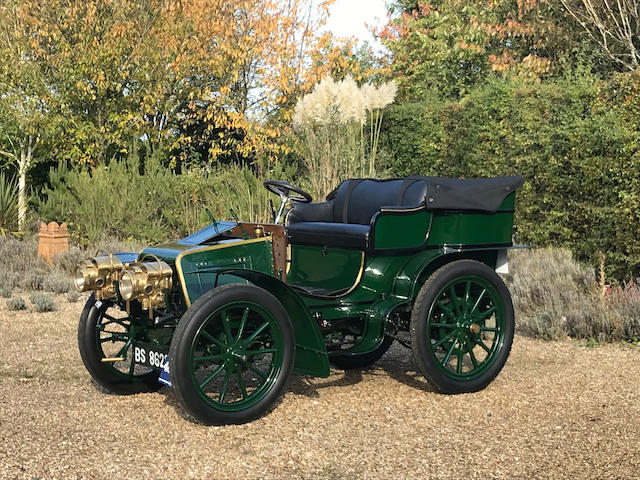 One of a mere handful of survivors of these transitional 7hp Daimler-Phoenix-engined Panhards which were delivered in 1901, the best known of which is 'Le Papillon Bleu' so notably sold by Bonhams a year ago in New Bond Street.
This is a rare example of the first 'modern motor car' which had a front-mounted engine, a three-speed manual transmission albeit with chain drive, piano style pedals and a steering-wheel in place of a tiller, known as the 'système Panhard', in concept, they would be universally copied the world over.
Having spent its earlier life in France, this motor car formed part of the renowned Schlumpf Collection, belonging to the textile magnate brothers in Mulhouse, who then exchanged it with Mercedes-Benz as part of a deal to acquire a 'Silberpfeil' Silver Arrow Grand Prix Single Seater in 1965. The Daimler-engined Panhard remained in the marque's Mercedes-Benz Museum Collection until 2010.
The Panhard has undergone extensive restoration by noted specialists, has been dated by the Veteran Car Club of Great Britain, thereby verifying its age, and has the benefit of an early start time entry in the London to Brighton Veteran Car Run.
---
The Bonhams Golden Age of Motoring Sale Arrangements 
Viewing
All lots will be available to view in person, by appointment only, at Bonhams New Bond Street on Thursday 29 (all day) and Friday 30 October from 9am.
The Sale
The sale will be a traditional live auction on Friday 30 October, automobilia starting at 2pm, motor cars at 5pm, with an auctioneer at the rostrum and a limited number of bidders in the Bonhams New Bond Street saleroom (respecting social distancing and all COVID guidelines).
The sale will be live streamed to a worldwide audience of bidders, via the Bonhams and Goodwood websites, with bids taken from around the world via telephone, online and by absentee bids, supplemented by online bidding aggregators.
---
Report by bonhams.com
---