The Ferrari 246 GT Dino, lovely called "the little Ferrari's". This car was my first visual contact to the Ferrari world. There was TV Show in the !970's called "Die Zwei" (The Persuaders) with Roger Moore and Tony Curtis in the leading roles.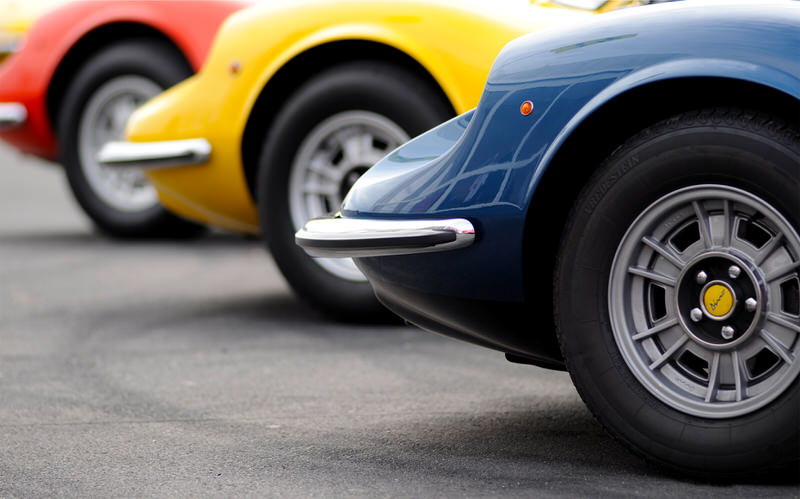 Roger Moore was Lord Brett Sinclair, a very British Gentleman driving of course Aston Martin. Tony Curtis was Danny Wilde, an American Businessman, cool, wild and he drove a red Ferrari 246 GT Dino. They were a little bored about their life as a playboy, so they start to "work" for a judge on crimes that are not enlightened and couldn't be closed.
Danny Wilde drove his Ferrari fast and hard, and I love it watching them.
Of course in the beginning of production the little Ferrari's, Enzo Ferrari don't want that they called Ferrari because they only have a small engine with only 6 cylinders instead of the normal 12 cylinder. So he named that type of car after his son Alfredo who was called Dino who died to early.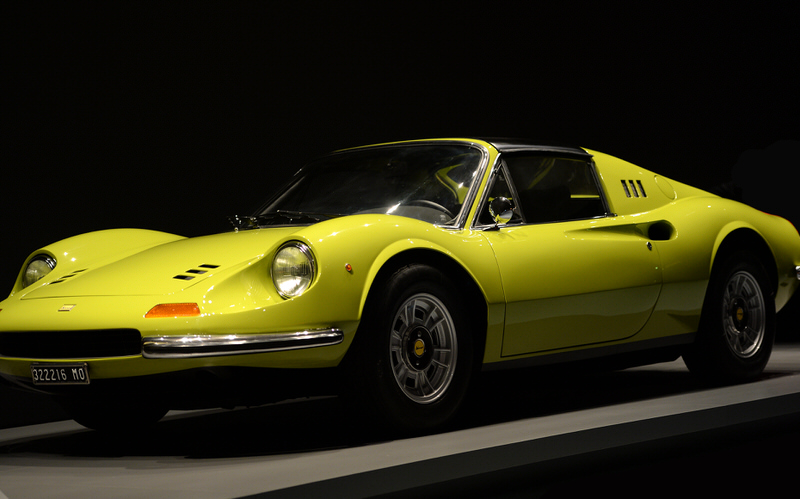 The design of the bodywork did Pininfarina. It is well shaped and it has almost a female figure when you take a look from above. The engine was V6 with 65 degree angle.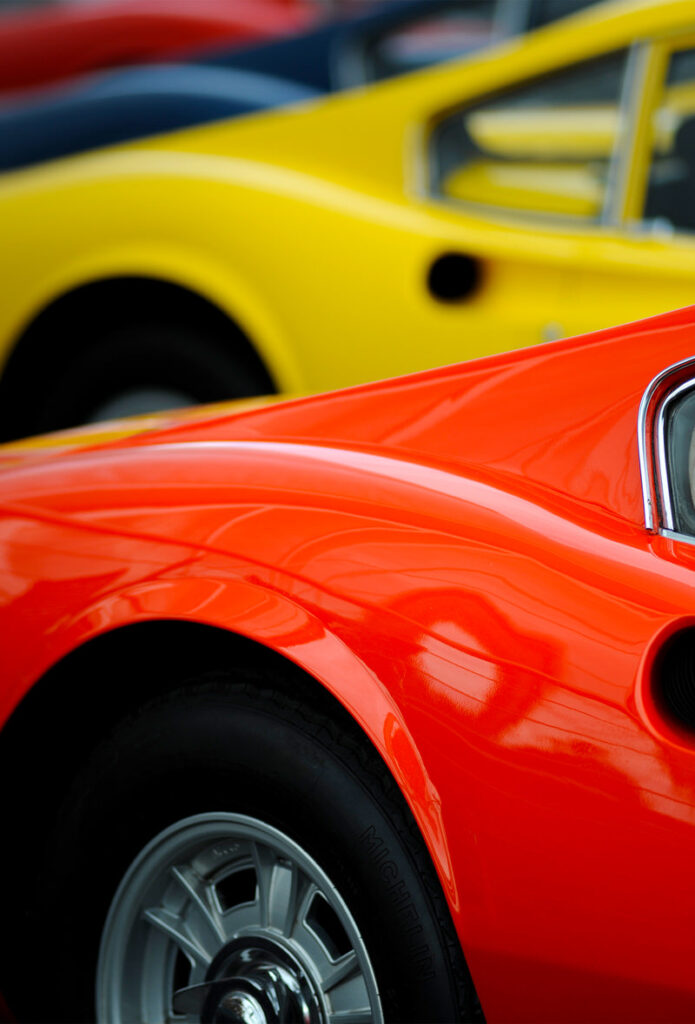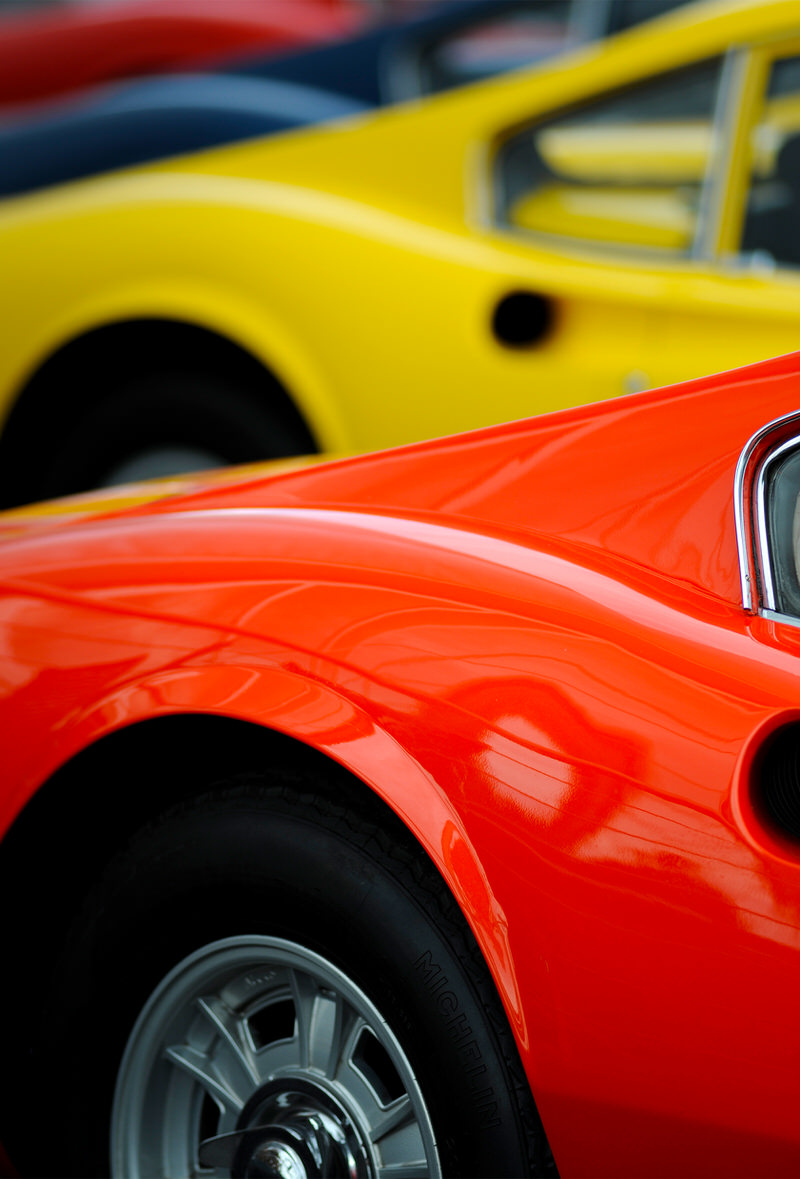 The whole production of the Dino 206/246 GT/GTS was about more than 4000 build cars between 1968 and 1974. It was the first time that Ferrari build so many cars of one type. The bodywork was build at Scaglietti. The car has a tubed frame. Every car was a little different to each other because everything was handcrafted, in special the bodywork.
I will ever have a special "relationship" to this little Ferrari. And when I was at a Ferrari Historic Meeting the Dino's were getting my first view. Because the always look great and of course the color range was tremendous. Red and yellow of course, but also blue, dark blue, black, green, white and also gold.
The story of the Dino's is so complex that I will give you the advice to look into one or two of so many books are written about the Little Ferrari's. For me it is just always a pleasure to take pictures of them.
Ferrari 246 GT/GTS Dino and some of his colors
Bianco Polo Park                      20-W-152              White
Giallo Dino                                20-Y-348                Offwhite
Giallo Fly                                   20-Y-191                Early yellow
Verde Germoglio                       20- G-465              Lightgreen
Azzurro Dino                             20-A-349                Midblue
Rosso Dino                               20-R-350                Orange
Rosso Chiaro Ferrari                 20-R-190               Ferrari red
Azzurro metallizzato                 106-A-32                Midblue metallic
Argento Auteil metallizzato       106-E-1                  Silver
Nero                                          106-B-43               Black                           
Photo-Credit: ralphluekerphoto.com