Twin Spark Finance is a specialist collector car financing provider. They provide bespoke financing solutions to High Net Worth collectors and offer loans with tenors of up to two years and amounts from £100,000.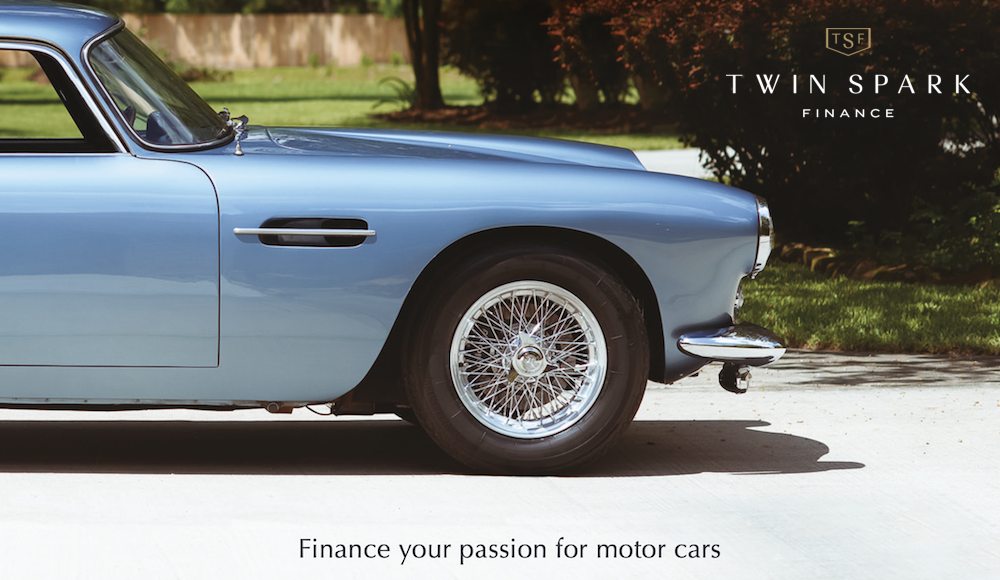 They operate in close partnership with RM Sotheby's, the pre-eminent global auction and private sales company for collectible automobiles. This gives them unrivalled access to world-beating resources, expertise and market insight in the world of collector cars.
What makes them different?

Situations change and so do their clients' needs. They have designed a flexible financing offering, allowing clients to repay earlier than originally planned without incurring substantial early repayment charges typically associated with longer term fixed-rate financings.
They are direct lenders and can make decisions quickly. They believe in meeting their clients face to face to get to know them and understand their needs. Their goal is to tailor the most appropriate financing solution for you. Their lending solutions allow you to capitalise on opportunities when they present themselves, whether you are buying, selling or seeking to release equity from your car collection.
Their deep collective experience in the worlds of finance and collector cars, combined with their own automotive passion, make them a natural partner for your collector car financing solutions.
Financing solutions
Twin Spark Finance offers two types of financing solutions, or a combination of both, to help clients reach their goals.
Flexi Finance
• Flexible financing with an initial term of six months, which can be extended by six more months at the client's choice.
• Clients can choose to repay without penalties on any chosen monthly interest payment date before the scheduled maturity should they wish.
• Interest-only loans, with monthly interest payments based on GBP one-month LIBOR* plus an agreed interest margin.
Term Finance
• For clients seeking financing for a fixed term, ranging from one to two years.
• Loans can be on an interest-only basis or amortising, according to client needs.
• Monthly interest payments based on GBP one-month LIBOR* plus an agreed interest margin.
• Early loan repayment or unscheduled amortisations are allowed, subject to a fee which decreases during the second year of the loan.
Twin Spark Finance can help you do more than just buy cars
Acquisition Financing
Twin Spark Finance can help you do more than just buy cars
Acquisition Financing allows clients to fund the purchase, using the acquired vehicle as security, regardless of whether the purchase is through:
• A collector car dealership
• An auction
• A private individual
Disposal Financing
Twin Spark Finance offers Disposal Financing, allowing clients to obtain cash advances ahead of the planned sale of their cars, whether through a collector car dealer on a sale-or-return basis or via RM Sotheby's.
• Sale proceeds will be used towards repaying the financing.
Equity Release
Twin Spark Finance can offer Equity Release solutions, allowing collectors to use their collection to fund the purchase of additional cars or non-car-related projects entirely.
• Business investment
• Estate planning
• Property investment
Hybrid Financing
Twin Spark Finance can combine any of the above financing solutions into a single transaction, providing you with a tailored solution.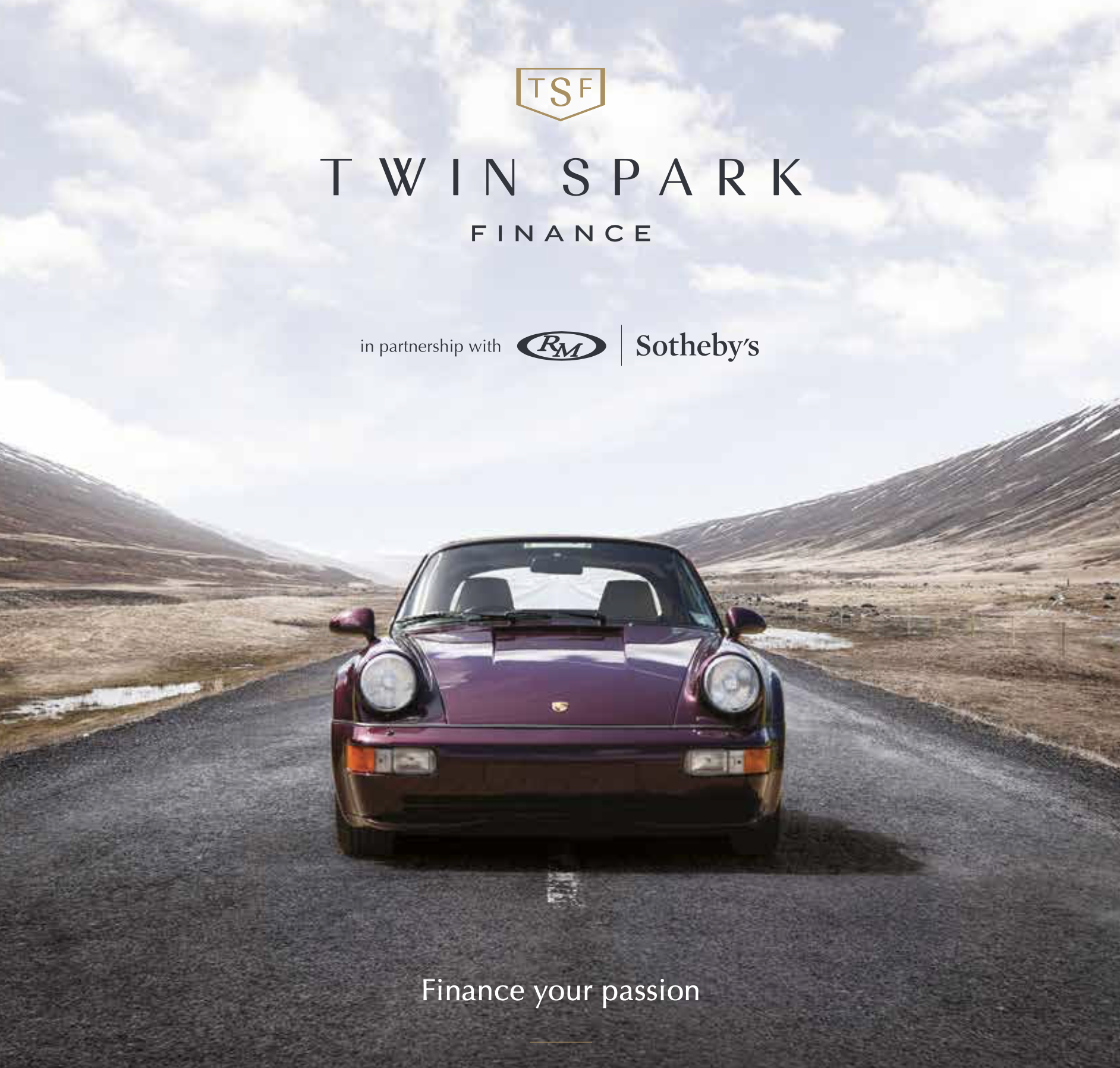 Illustrative financing scenarios
When could Twin Spark Finance provide a solution?
• A collector is looking to acquire a car for £1.25 million from a dealer. He is looking for financing of £600,000 for two years.
• A car collector who has built his collection without any debt is being offered a car that is a "must add" to his collection. However, he currently does not have the required funds. He plans on selling cars from his collection to raise the required amount, but does not have time to do so without risking losing the opportunity and he wants to avoid a "fire-sale".
• A collector dies and his estate faces a significant death duty payment. The family wishes to sell some cars to settle the liability. However, they will not receive the proceeds before the IHT payment is due. They do not want a fire-sale of their late father's cherished cars.
• A successful entrepreneur and car collector is looking to acquire another company and has a £2 million shortfall to fund the acquisition. His car collection is worth £10 million.
• A collector has consigned his car to the RM Sotheby's auction at Villa d'Este in May 2019. The reserve price for the car is £1 million. He is looking for a cash advance of £500,000 ahead of this sale.
• A collector is buying a classic car from a dealer, wishing to offer the dealer one of his cars as part exchange. The dealer is not willing to buy the latter car, but is offering to take the mandate of selling the car on a sale-or-return basis. The collector is looking for a cash advance, secured by both cars.
Overview of Key Aspects and Fees
• Their financing solutions include the following fees: arrangement fee, extension fee (Flexi Finance), early repayment fee (Term Finance) and option to purchase fee.
• They will pass on to you direct costs incurred by them in relation to the loan, such as valuation fees, where applicable.
• A minimum interest period of three months applies in case of earlier repayment.
• They only lend to certified High Net Worth individuals or corporate entities, with a UK residence and bank account.
• Twin Spark Finance has the option to revalue the collateral cars on the first anniversary of the loan being advanced. In case of a significant drop in the collateral value during the two year loan term, TSF may request that the client repays part of the loan amount or provides additional collateral.
• All of the financing solutions are documented as a hire purchase agreement, under which title of the car(s) passes to Twin Spark Finance Ltd or one of its subsidiaries until the financing has been fully repaid and after the client has exercised his option
To see how Twin Spark Finance can work with you, visit twinsparkfinance.com
more information by twinsparkfinance.com
---