Spring brings a fresh new look for the Continental GT and GTC Azure – the members of the Continental family centred on wellbeing, comfort and luxury, diametrically opposed to the performance-focused S and Speed models.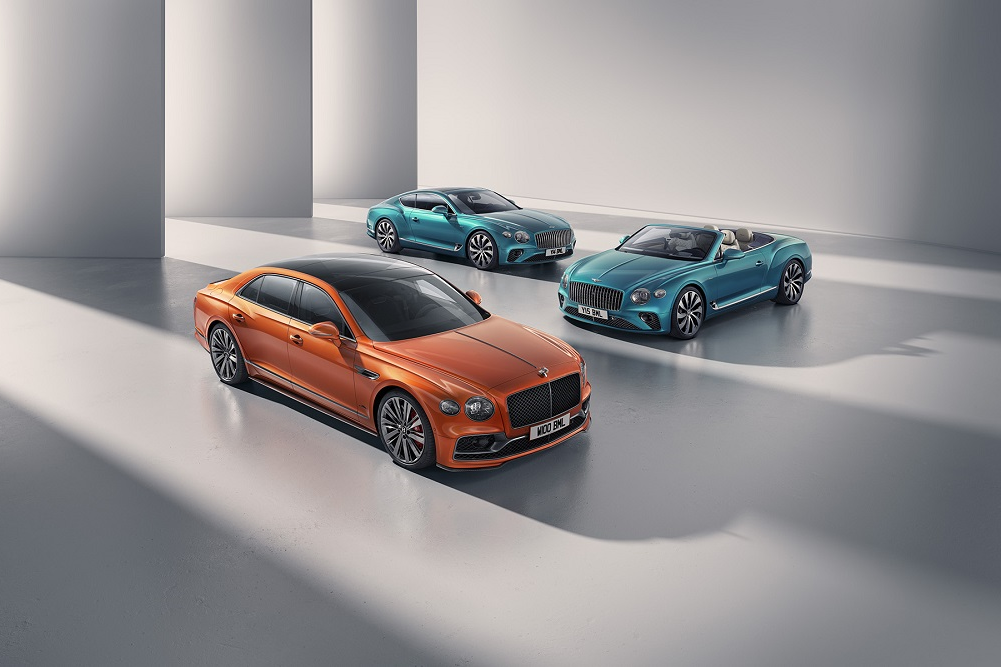 New exterior styling updates for Continental GT and GTC Azure, and upgrades to Flying Spur S and Speed
Azure introduces 22" ten-spoke black painted and bright machined wheel design as a first for Continental range
New Granite-coloured exterior brightware available on all Speed models, including Continental GT and GTC and Flying Spur
Performance-focused Flying Spurs receive new matrix grille and diamond-in-diamond stitch pattern to interior cabin
Lofted quilting becomes standard across Azure range, focused on comfort and wellbeing behind the wheel
New deep pile overmats use 100 per cent Wilton weave carpet
Standard carpets now 100 per cent recycled Nylon, delivering the same level of comfort but without using virgin material
Customers can now choose dark tint diamond brushed aluminium to fascias and waistrails with introduction of new technical finish
Striking new exterior colour introduced – Topaz Blue
---
Taking inspiration from the pinnacle Bentayga EWB Azure, both Grand Tourers now receive a 'Vertical Vane Grille' design that remains elegant while being visually striking. The unique grille consists of bright chrome vertical vanes sitting in front of a black mesh grille. The 22" ten-spoke black painted and bright machined Azure wheel from the Flying Spur becomes standard, creating further harmony with other models in the Azure range.
The iconic two-door grand tourers also benefit from a new lofted quilting pattern emphasising the focus of wellness and technology, synonymous of the Azure range.
As standard for Azure models, new deep pile overmats are more luxurious than ever. Using 100 per cent pure wool, the deep pile Wilton carpets have an exceptionally luxuriant, velvety feel. A specially-selected wool variety is used due to its cleanliness and purity in colour which is tested to ensure quality standards are met before use. Colour is applied via the method of hank dyeing, which allows better control of the quality of the dye and ensures improved colour matching as required. During the manufacturing process no bleach is used and therefore the end result is a beautiful quality finished carpet from pure wool. The deep pile overmats are also available in models as an option where not standard.
The standard cabin carpets across all models have also been made more sustainable. The new cabin carpet is now 100 per cent recycled Nylon delivering the same level of comfort and feel of previous carpet which previously utilised 100 per cent virgin Nylon material.
There is new optional content for the Speed range, with the exterior brightware now available in a contemporary Granite grey bolstering the optional blackline specification to provide a more performance inspired aesthetic. The Flying Spur Speed and S also drop the straight vane grille in favour of a matrix grille pattern so synonymous with Bentley and originally inspired by the racing models of the 1920s.
Newly introduced across all ranges for Continental GT and Flying Spur as an option is a stunning dark tint diamond brushed aluminium technical finish for fascias and waistrails, first seen in the Bentayga. Evoking the Bentley matrix grille design, this exquisite finish is produced via an intricate process of brushing the aluminium precisely, from multiple directions, to achieve a contemporary three-dimensional effect.
A striking new optional exterior colour – Topaz Blue – provides an intense blend of blue and green, portraying cool and calm attributes that create a sparkling turquoise jewel laden surface appearance and is available across all models.
The latest Bentley product portfolio is now more harmonious than ever offering clear pathways to wellness and luxury through the Azure range, and performance and engaging driving with Speed and S models.
If you are interested in more news click here.
---