Created in partnership with the legendary Studio F. A. Porsche, this Airstream concept features a range of carefully considered innovations and improvements to enhance the RV ownership experience.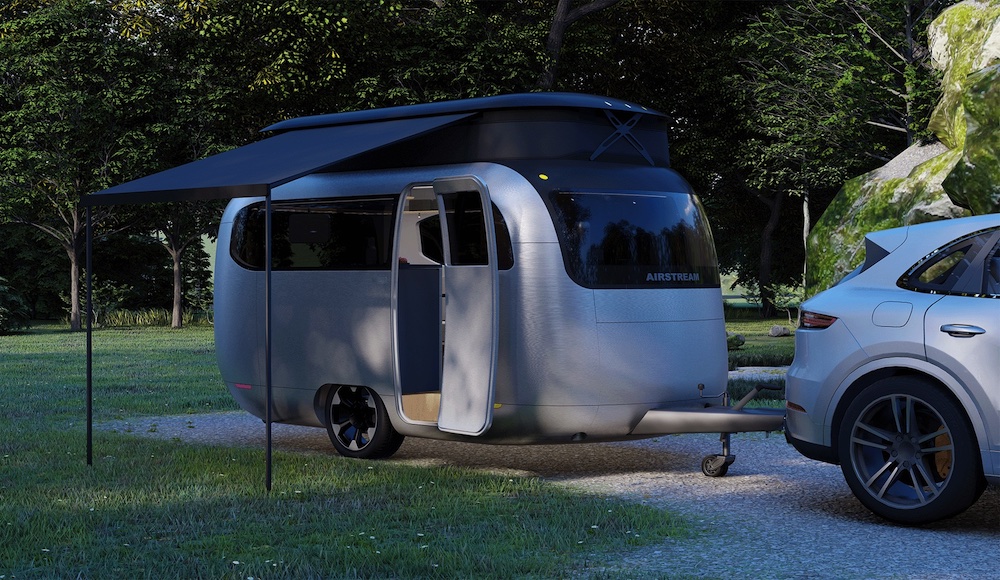 At Home: Ease of Storage
The concept is the first "garageable" Airstream design in the company's 90-year history. An automatic suspension in the chassis allows the trailer's body to lower, enabling storage in most home garages. This capability makes ownership much easier for a broader range of customers, including those faced with community regulations or a lack of convenient, secure off-site storage.
On the Road: Improved Aerodynamics, Lighter Weight
The concept design features advances in aerodynamics, including a new rear shape that sheds air while in motion and a flush underside without drag-creating projections. The concept's automatic suspension (a first for Airstream) allows the trailer's chassis height to be adjusted to reduce aerodynamic drag.  The use of carbon fiber in some components reduces the concept's weight, making it ideal for smaller internal combustion engine (ICE) tow vehicles and electric vehicles (EVs).
At the Campsite: Bringing the Outdoors Inside
An innovative interior design maximizes space and uses windows and skylights to create a spacious interior feel that connects owners with the outside. Inside and outside are further melded by the redesigned rear hatch, which features a hinge-up hatch and a drop-down tailgate. Awnings can be attached to the hatch to create a shady place to relax and plan the next adventure.
Click here for further information
more information: airstream.com
---