This 500 Mondial is a Series I car originally bodied by Scaglietti. It is believed to have been sold new Guido Petracchi of Italy in September of 1954 who brought the car to Eritrea, Ethiopia where it was registered ER 22289.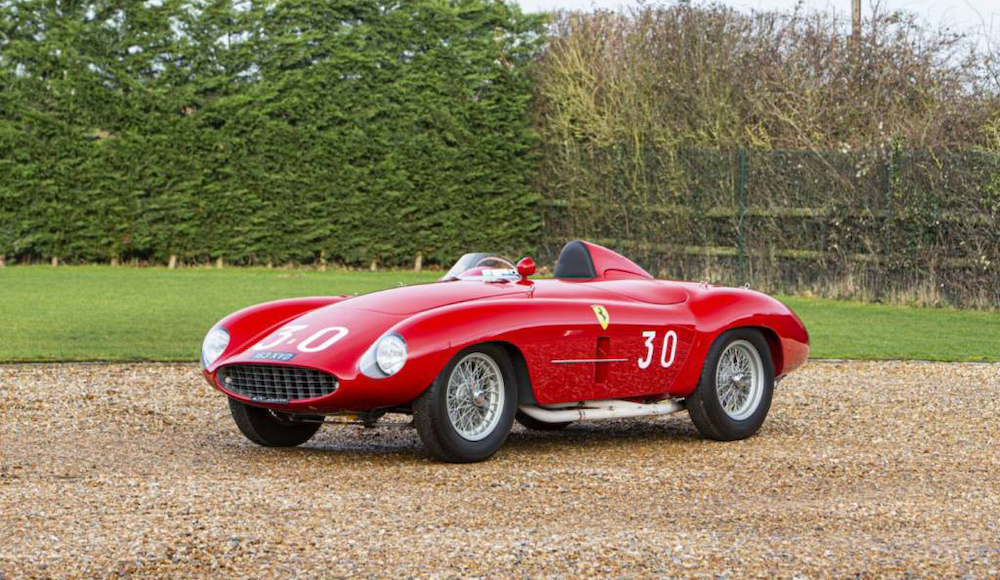 Its first competitive outing was in 1955 at the Ethiopian Grand Prix where Petracchi finished 1st Overall. It was later displayed in the Italian pavilion at the Silver Jubilee Fair of Addis Ababa. It raced one more time in 1959, driven by Gaetano Barone in Asmara, Ethiopia, before it entered long-term storage.
In 1970, it was acquired by Colin Crabbe. In 1972, it was sold to John Robinson of Cumbria, England. Mr. Robinson drove the Ferrari at Oulton Park and the Prescott Speed Hill Climb. In 1982, it was given a restoration which included the replacement of the aluminum body panels. By 1989, it had been purchased by Arnold and Werner Meier of Switzerland, who drove the Ferrari in the 1989 and 1990 editions of the Mille Miglia retrospective before selling the Mondial in June 1990 to Alfred Lienhard. Mr. Lienhard continued the car's appearance at the Mille Miglia, in 1991 and 1992. It was then sold through Symbolic Motor Car Co. to Paul Osborn's Cars International Associated in London.
In 1997, the car was purchased by Jon Shirley. In 1998 it was shown at the Pebble Beach Concours d'Elegance, then used extensively in vintage racing in the United States. In 2007, 0468 MD would make its way to the Ferrari Classiche facilities in Maranello for certification and restoration. Small changes were made to the shape of the nose of the car to satisfy Ferrari's stringent standards of "as delivered" specifications, and the Ferrari was re-trimmed and repainted.This incredible 500 Mondial  is a total matching number example as confirmed by its Ferrari 'Red Book' Classiche certification and comes complete with a spare 3-litre 750 Monza specification engine plus an extremely well documented history file.
Click here for further information!
Report by talacrest.com
---