Jordan Bespoke is proud to present the first addition to the 'Heritage Motorsport Collection' the Lotus Type 25 Heritage Holdall. This stylish holdall was designed by Jordan in close connection with Clive Chapman, Managing Director of Classic Team Lotus, and son of Colin Chapman, and is the latest creation in a 13-year official partnership between the two brands.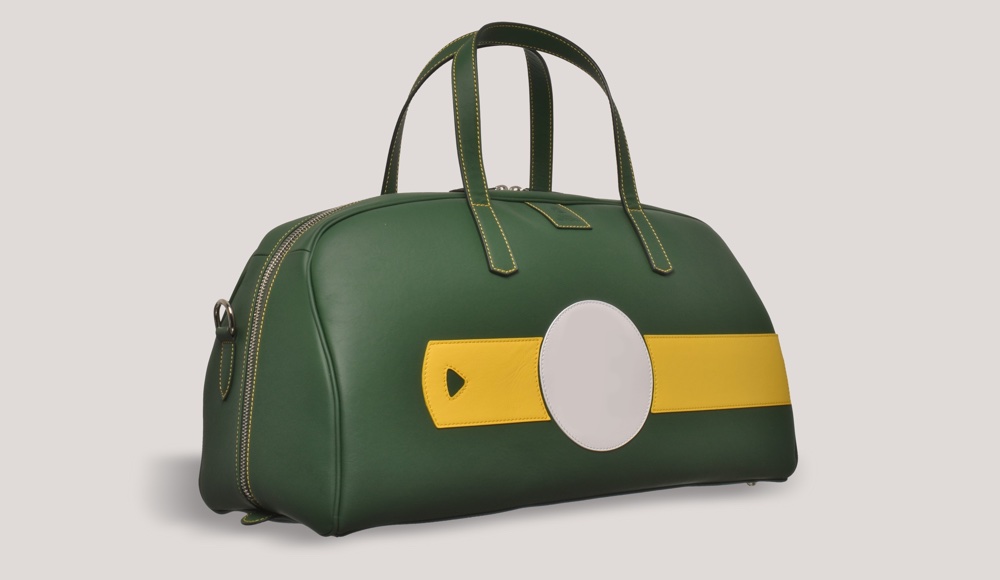 This latest Jordan Bespoke bag takes inspiration from Colin Chapman's Lotus Type 25 racing car, designed by Chapman for the 1962 Formula One season and famously raced by motorsports legend Jim Clark. The result is a holdall which celebrates this famous racing car, captures the spirit of the 60s, honours the memory of Jim Clark and applauds the engineering prowess of Colin Chapman.
Specially selected Scottish Bridge of Weir leather perfectly matches the iconic Team Lotus colour scheme of British Racing Green and yellow, the flawless nature of the hides reflecting the quality buyers have come to expect from Jordan Bespoke.
A plain white roundel echoes the livery of the Classic Team Lotus transporter which has become a recognisable emblem for Team Lotus. The number 8 remembers when motor racing icon Jim Clark crossed the line at Monza 1963. His Lotus Type 25 displayed the number 8, making history as he secured the drivers' title with 3 championship races remaining.
As with all Simon Jordan creations, client-led bespoke options are available. In recognition of the time when car numbers changed from race to race, customers can choose to have their holdall customised with a number of their choice. An owner may choose a significant number to them, such as a birthday, or perhaps to depict the number displayed on their own racing car.
A subtle design feature of the Team Lotus Type 25 Holdall is the monogram embossed on the zip pulls, luggage tag and matching key ring. The ACBC monogram was created by Anthony Colin Bruce Chapman who chose to incorporate his personal monogram within the original Lotus logo.
A trademark element of every Simon Jordan design is a vivid, extravagant interior lining that adds character and personality to every piece of luggage. The red Italian flock material used for the Lotus Type 25 holdall represents the original colour of the driver's seat & steering wheel fitted to the Lotus Type 25, contrasting perfectly with the exterior styling.
Jim Clark, one of the greatest drivers in motorsport history, is synonymous with the Lotus Type 25. Clark achieved 33 pole positions and won 25 races from his 72 Grand Prix starts in championship races. He was the master and I, the pupil Sir Jackie Stewart OBE said of Clark. Five times Formula One champion Juan Manuel Fangio once said Jimmy Clark was the greatest racing driver ever, and Ayrton Senna admitted He was my boyhood hero. He was the best of the best.
Simon Jordan Founder of Jordan Bespoke, said "Working with Classic Team Lotus and the Chapman family to create this Lotus Type 25 bag was a genuine honour and privilege. Together we have created a luxurious holdall which respects the contribution Colin Chapman made to motorsport with the Type 25, and the unrivalled talent of its driver, Jim Clark. Despite its obvious motorsport connections, the holdall offers a stylish bespoke piece of luggage to anyone who has an eye for detail and a passion for quality and design."
Clive Chapman, Managing Director of Classic Team Lotus, said "Classic Team Lotus tries its best to celebrate the history of Team Lotus. I am privileged to work together with an outstanding team of mechanics to preserve the famous cars that established the Lotus legend. Classic Team Lotus is delighted to have joined forces with Jordan Bespoke to realise this practical and desirable holdall in the highest quality which captures the Team Lotus identity in such striking style. I am confident it will prove to be an emblem of Team Lotus history which will appeal to proud Lotus enthusiasts worldwide."
Click here for further information
more information: jordanbespoke.com
---