After trending downward for two months, the Hagerty Market Rating has reversed its slump and is now at an all time high. While most metrics increased only slightly over the last month, eased inflationary forces allowed that small growth in the car market to have more substantial influence on the Market Rating as a whole.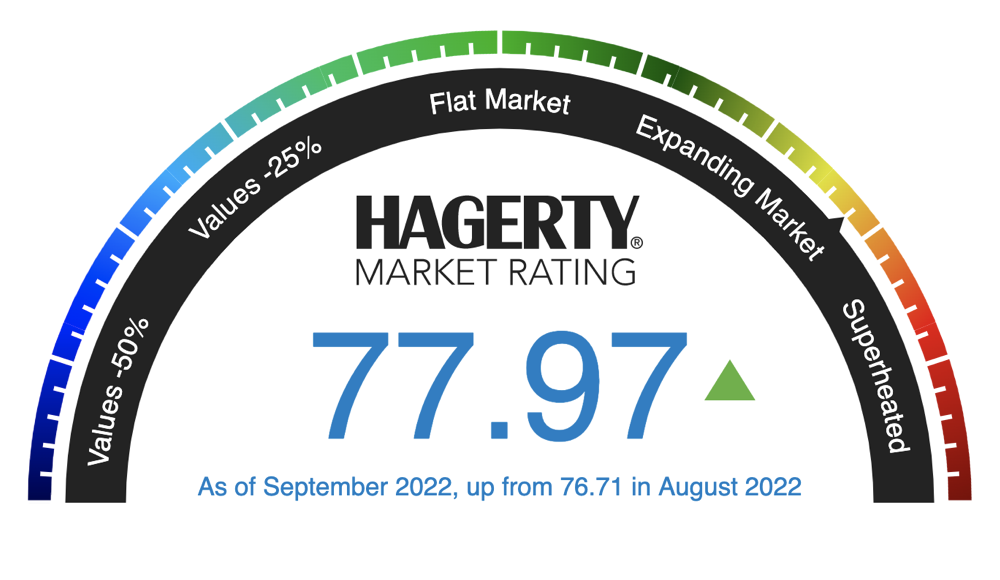 The September Hagerty Market Rating
Median sales prices at auction saw the largest increase of any metric, due primarily to high prices at the record-setting Monterey auctions in August. Most notably, a 1955 Ferrari 410 Sport Spider once campaigned by Carroll Shelby sold for $22M, and pre-LaFerrari halo cars including examples of the 288 GTO, F40, F50, and Enzo all exceeded their prior ceilings. Total sales for the three-day event featuring five auction companies neared $473 million, besting the previous record of $394M in 2015. While that year's sales surpass $490M when adjusted for inflation, the Monterey '22 auctions put an exclamation point on what has already been an unprecedented year for the classic car market.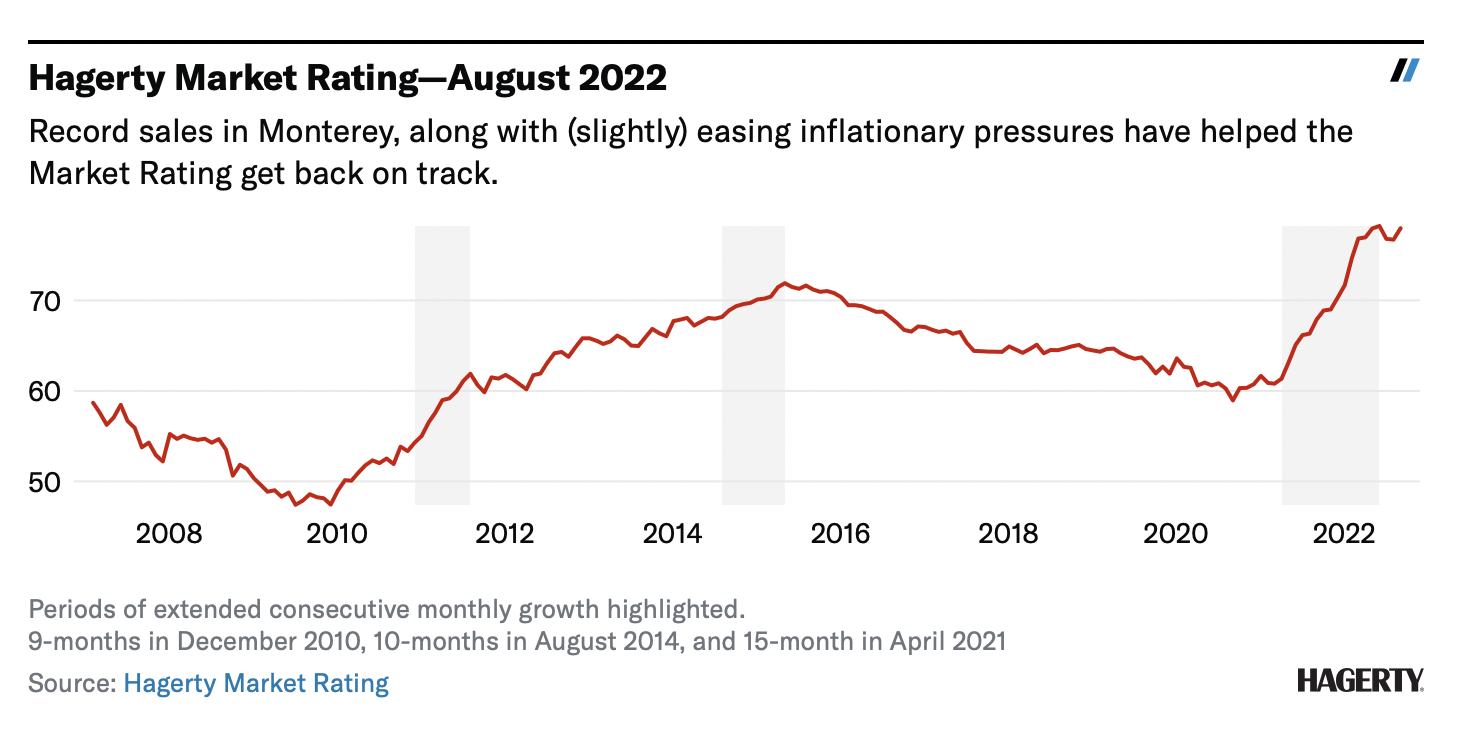 A record number of million-dollar-plus cars (112) found new homes at Monterey, making up roughly three-quarters of the total sales. As UK Hagerty Price Guide publisher John Mayhead noted earlier this week, inflation could actually be driving high-net-worth collectors to put their money into significant cars as a hedge. But what's notable is that in the United States, at least, the middle of the collector car market has also regained some steam.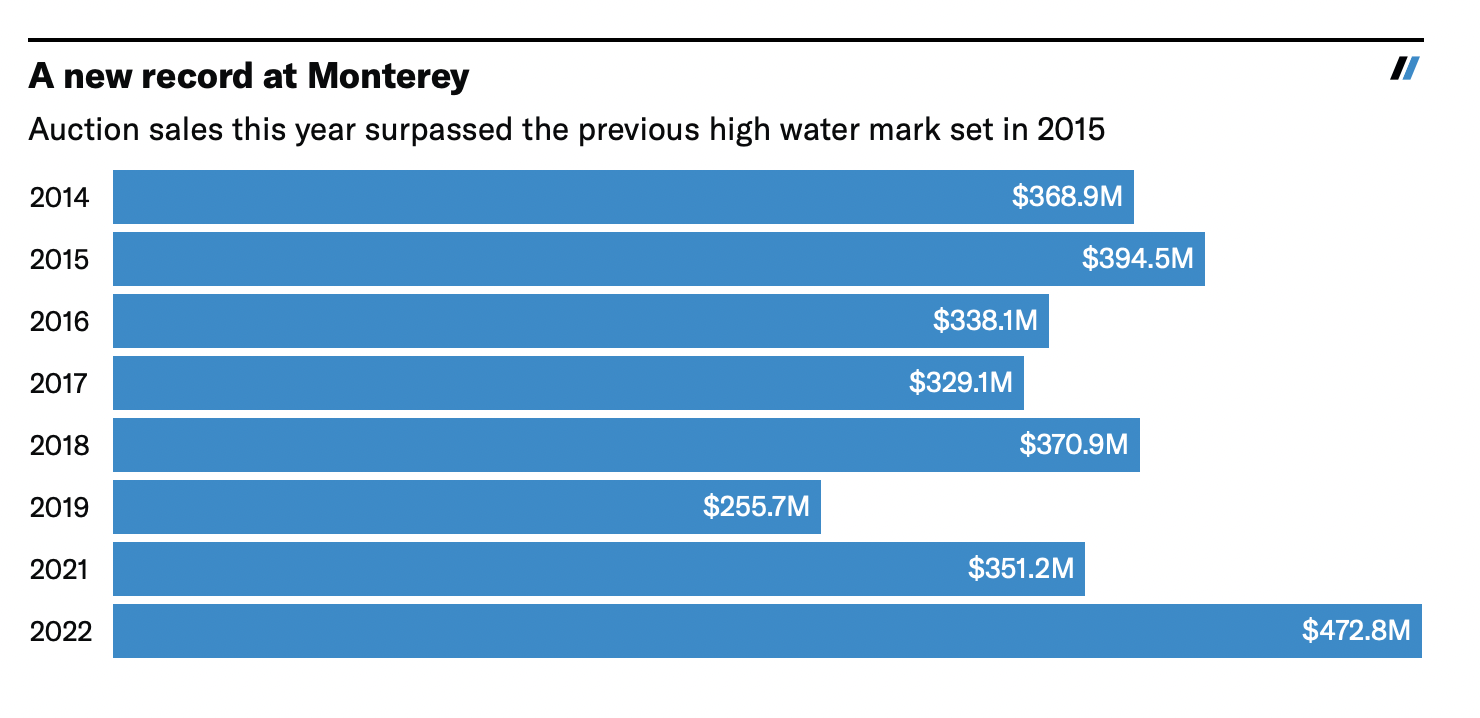 Average and median values in the Hagerty Price Guide are up again this month—and this time they are outpacing inflation. However, the Hagerty Hundred Index, a weighted average value of the 100 most insured vehicles in the Hagerty Price Guide, dropped slightly. This suggests that much of the market growth is occurring outside of the realm of "standard class" and is further broadening the definition of a collector car. Surprising sales from cult classics at Monterey drive this point home, including a $56,000 1972 Honda Z600 and a 1995 Porsche 928 GTS at $406,500, which doubled the previous record.
As values rise, so do owner expectations. Insured values across the board increased for the 23rd consecutive month. A concern in recent months has been that collectors' perception of appreciation might exceed reality. At the moment, that doesn't seem to be happening—more cars sold above insured value than below, proving that demand from buyers is even higher.
Macro-economic indicators used in the Market Rating have reversed their downward spiral and are at their highest point since the start of the year, helped primarily by a bump in the S&P 500 and Gold Price as well as a reduction in inflation. However, the U.S. Median Home Price Index dropped for the first time in two years, suggesting that the market could be cooling on hard assets.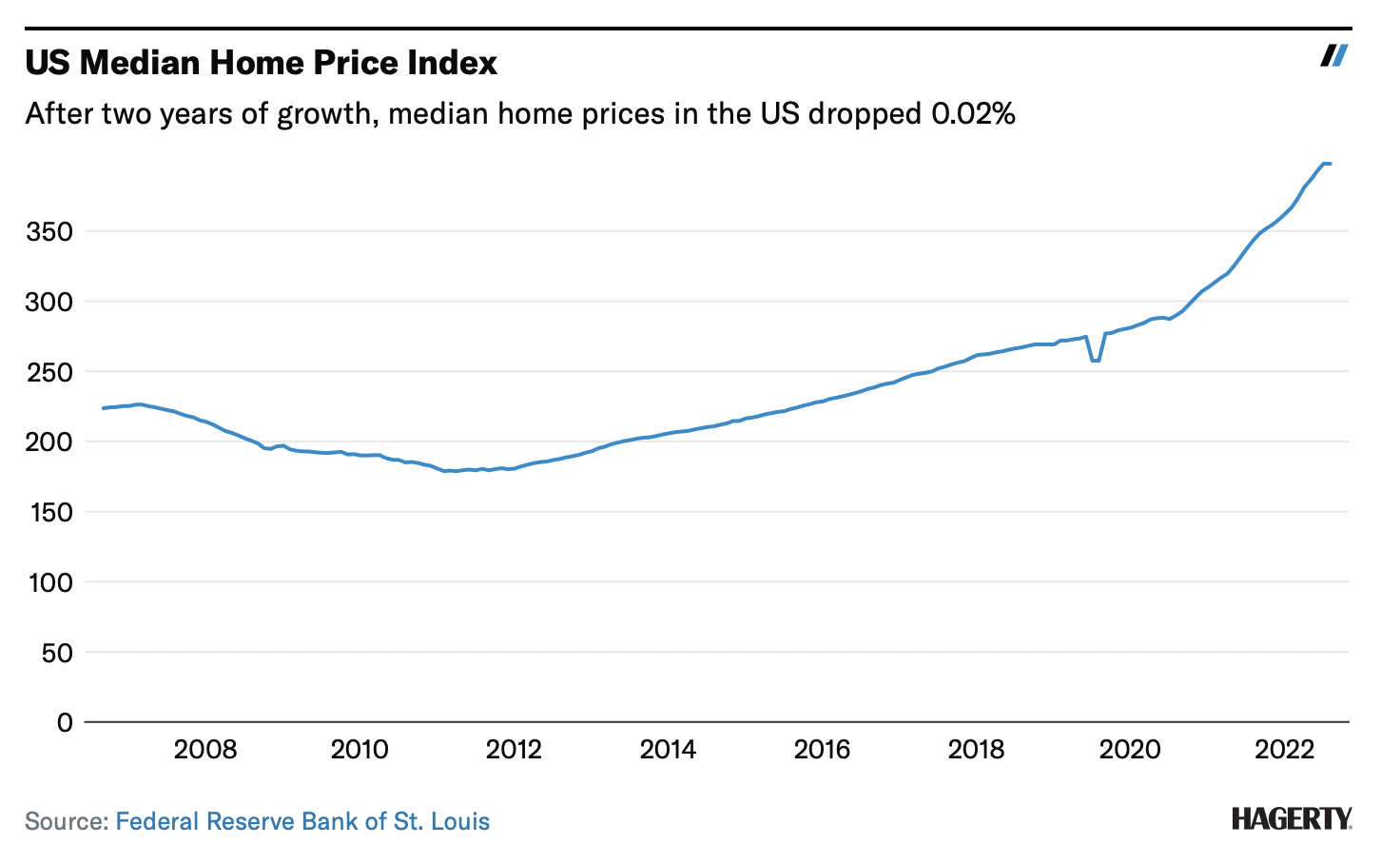 Obviously, those macroeconomic factors remain extremely volatile. Even as we put together the September Rating, which is based largely on data from August, we can't help but note that the S&P 500 has been through a rocky week. Yet the collector car market itself seems far more steady. Considering the wild appreciation we've observed in the last two years, that stability is remarkable.
by Adam Wilcox for insider.hagerty.com